This was our second time attending AnimeFest, but our first time attending as press! Unlike most conventions that last only 3 days, AnimeFest is a 4-day event which goes from Thursday evening to Monday afternoon. There are several anime conventions that share the same name, but this convention is located in downtown Dallas, Texas at the Sheraton hotel.
History of AnimeFest
AnimeFest was founded in 1992, two years after A-Kon, the longest running North American anime convention, was born. Both conventions are based in Dallas, Texas and each easily pull in a large number of attendees. AnimeFest had 10,751 attendees (source: AnimeFest.org) and A-Kon brought in 32,639 attendees this year (source: Project A-Kon Wiki). AnimeFest's "mission [is] to educate the public about animation, cinema, art, music, games, crafting, costume design, dance, and other forms of traditional and popular culture and art." (source: AnimeFest)
Panels
There were so many great panels this year! We managed to go to several of the Japanese animation guests' panels! While we didn't get to attend some other panels like we had wished, we still quite enjoyed ourselves!
Animating My Hero Academia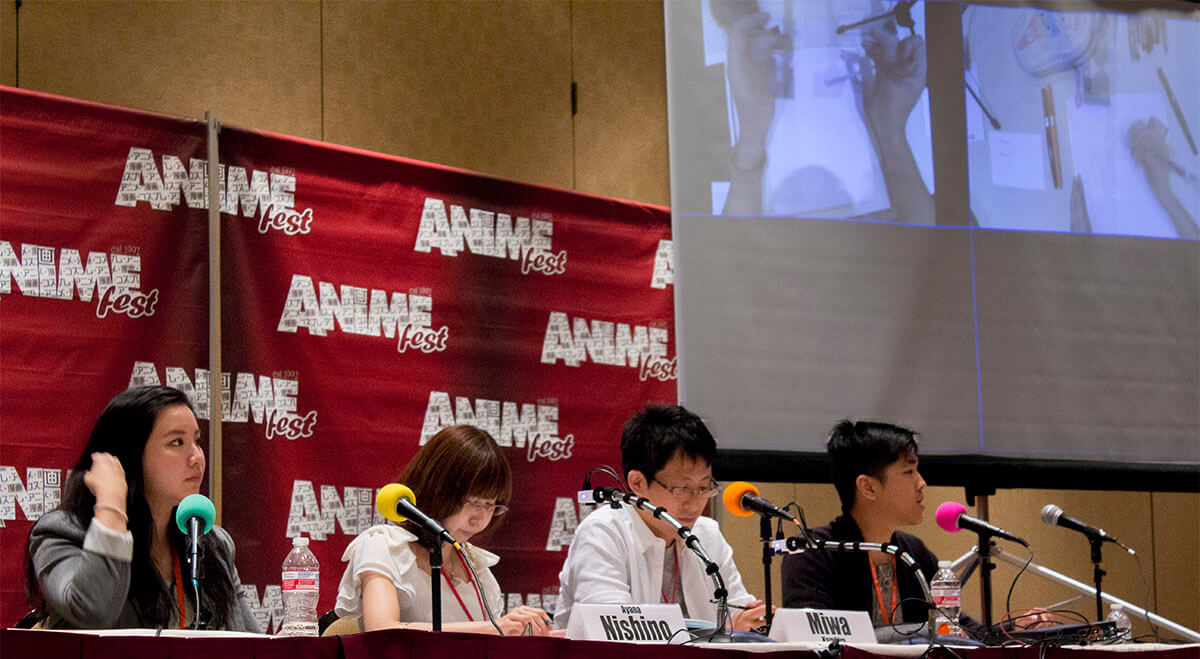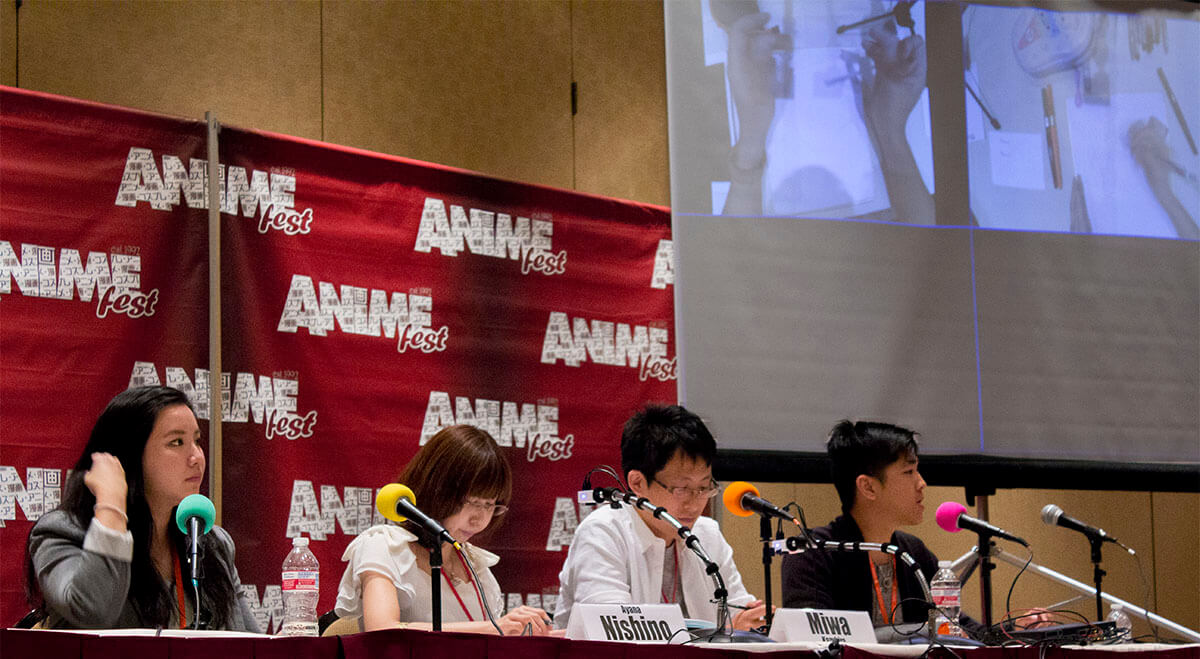 The animation directors for My Hero Academia, Ayana Nishino and Kazuhiro Miwa, shared their experiences in creating the highly popular anime. During the panel, the audience watched as they both drew their favorite characters from the series. The audience was also invited to ask questions during the drawings. The panelists explained the difference between American animation director's roles versus the Japanese animation directors (sakuga kantoku). Most American animation directors oversee one character while the Japanese animator director oversees all the characters, actions, and sequences. Japanese animation directors are behind most of the production of the series and play such a major role.
Tokyo Ghoul Industry Panel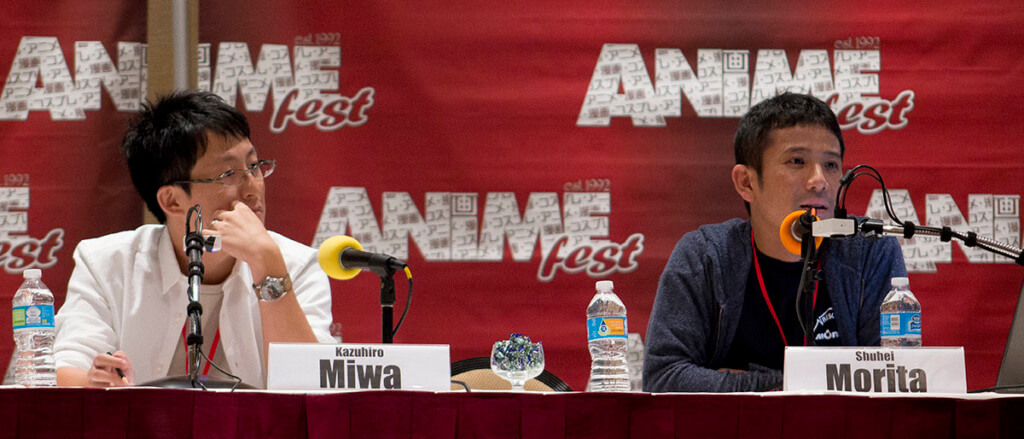 Tokyo Ghoul's Director Shuhei Morita and Chief Animation Director Kazuhiro Miwa both discussed their process and pacing on adapting the anime from the original manga. They mentioned it was difficult trying to follow the manga's storyline closely when it was still being released, all while also trying not to surpass it. Miwa-san calmly drew while both guests answered questions from the audience. Morita also brought along a lot of the original storyboards for the audience to see, and showed initial character designs for Kaneki along with a ton of key animation illustrations that they used in the production of the show.
One-Punch Man Industry Panel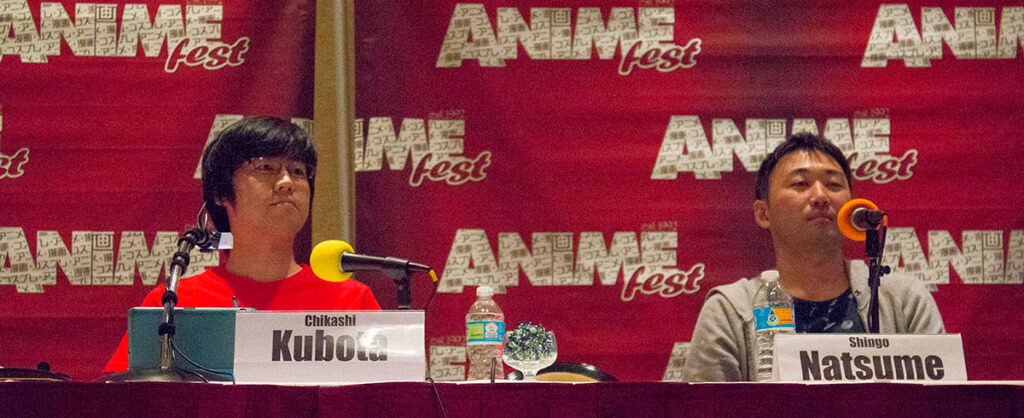 During the One-Punch Manpanel, Director Shingo Natsume and Chief Animation Director Chikashi Kubota talked about the challenges that came along with the show and the effort that went into the artwork. Kubota-san drew while both answered questions from the audience. They both talked about how difficult it was drawing the characters while presenting a detailed and accurate depiction of how muscles move. Despite Saitama's face being rather simple looking, one small mistake while drawing him was highly noticeable. They paid painstaking attention to the smallest details, like Saitama clenching his fist in leather gloves. They spent a lot of time and research on how the human muscles move and flex to accurately portray the fight sequences.
Live-Drawing with Japanese Animators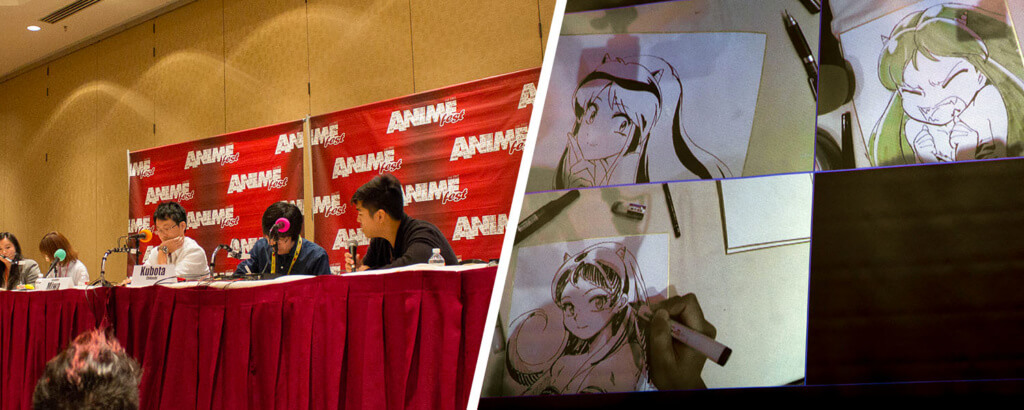 All three Japanese animators, Nishino-san, Miwa-san, and Kubota-san, drew one of their all time favorite characters (Lum from Urusei Yatsura) in their own personal art style while they answered questions from the audience. This was such a fantastic and funny panel! At the last portion of the panel, they had to play Drawing Hot Potato. They had roughly a minute to draw a character of their choosing before switching and receiving another artist's work. They would then have to continue drawing the new character from that point. Needless to say, their choices of Pikachu, Mario and Yoshi got hilariously warped and twisted during the rounds.
Live-Drawing with Akemi Takeda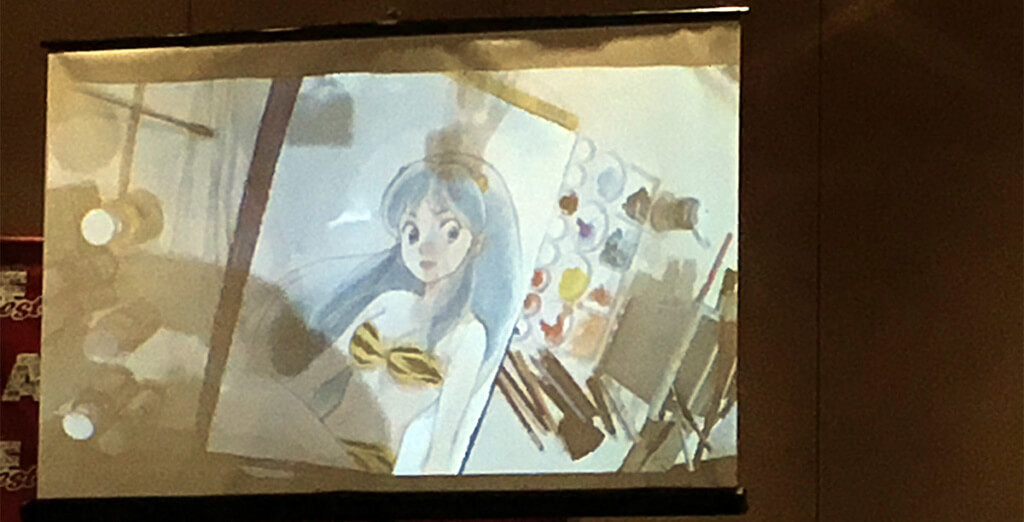 This was the last panel we were able to attend since we were heading home after our Monday morning interviews. Akemi Takada is the character designer and animation director for Urusei Yatsura. Not only did she answer questions from the audience as she drew, but she also explained her process when it comes to drawing. She mentioned that she was in such a rush to catch her flight to the United States, that she left all of her coloring mediums at home and had to quickly purchase some before her panel.
Interviews
Monday morning, we had the highest honor of interviewing several of the Japanese animation industry guests: Shingo Natsume (Director of One-Punch Man), Chikashi Kubota (Chief Animation Director of One-Punch Man), Shuhei Morita (Director of Tokyo Ghoul), Kazuhiro Miwa (Character Designer and Chief Animation Director for Tokyo Ghoul), and Ayana Nishino (Chief Animation Director for My Hero Academia)!
AnimeFest 2016 Breakdown
The Perks
Getting food wasn't hard to come by this year! They had a rather nice range of food trucks and franchise vendors like Dominos and Chick Fil A. If you're up for a short walk, I highly recommend checking out Yolk! Great place for breakfast/brunch (Psst! Try the pulled pork eggs benedict! You will not be disappointed)!
Independent schedule mobile app to use, which is kept up-to-date! Super handy!
Unique Panels: There were a ton of panels I wish I had the time/opportunity to go to!
Several Japanese Industry guests!
Friendly staff! Several staff members went out of their way to help us and guide us to where we needed to go. We had no problems getting our badges and getting setup.
Despite the autograph mishap (mentioned below), the convention is very well organized and the app stayed up-to-date.
The Suggested Recommendations for Goers
The temperature of the convention fluctuated from cool to nose dripping cold. Be sure to bring a light jacket that you can carry around and use when needed.
Parking can add up to be rather pricey if you're not staying at a nearby hotel. We actually saw the parking price double for nearby parking lots during the event. I highly suggest driving around and scoping out the prices before parking.
Another alternative is using the city public transportation systems like the bus or DART rail. There's a DART stop right next to the hotel, which is super handy. We were not staying downtown so we probably should have done this instead of using paid parking. We also could have used Uber or Lyft and saved us some money to spend at the convention.
The Highly Suggested Improvements
Noise from events taking place in the Main Event room overpowered the Japanese industry panels taking place in the neighboring rooms. It was rather difficult to hear the guests and highly disruptive. This isn't the first time I mentioned this issue. I truly hope AnimeFest makes great strides to improve this next year.
Autograph ticket system was a complete nightmare. We got screwed out of getting personal items signed by the guests twice because of poor line management. I truly hope they do away with this system or find a better method.
Overall Thoughts
Chris and I both had a better experience this year versus the previous year. There were still a few problems we ran into that we hope the convention is working on improving, but this was a rather enjoyable convention and I can't wait for next year. If you're wanting a convention that focuses more on getting Japanese guests, does not have as big of a crowd compared to A-Kon, and offers an endless bounty of panels, then I highly suggest going to AnimeFest. You will not be disappointed.
Be sure to check out our other AnimeFest 2016 articles:
Big thank you to our supporters
From their continous support, we are able to pay our team for their time and hard work on the site.
We have a Thank-You page dedicated to those who help us continue the work that we've been doing.
See our thank you page