During this year's AnimeFest, we were given the wonderful opportunity to interview several of the Japanese guests who were attending the convention. This included Ayana Nishino and Kazuhiro Miwa, the respective animation supervisor and key animator for My Hero Academia.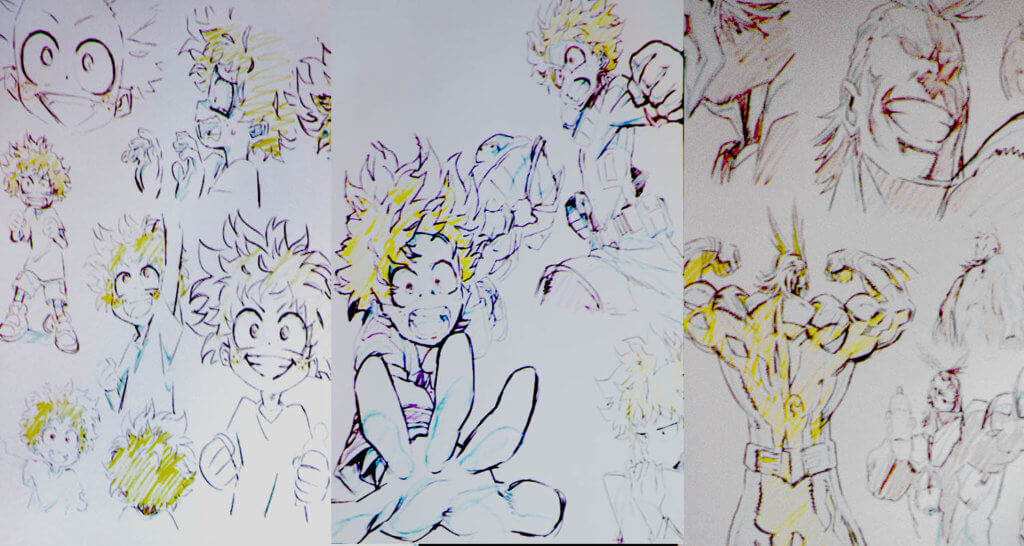 Prior to our interview, we also attended the My Hero Academia panel, where the guests talked a little about the industry before being surprised by the American voice actors for Deku and Asui. During the panel, Miwa-san explained the role of being a chief animator, or sakuga kantoku. The chief animator is in charge of the frames and manages the people who are working on the animation. For My Hero Academia, Yoshida Umakoshi is not only the chief animator, but also in charge of character design, animation frames corrections (shusei), and is animation director for the opening. During the panel, Miwa-san showed the audience frames that Umakoshi-kantoku corrected.
*Please note that the above video is an example of what Miwa-san was explaining below, but this wasn't his own work.
Miwa-san then went on to explain some of his animation processes. In the beginning, he lays out rough ideas and outlines. He explained that it's one of the most difficult parts, but it allows him to get a good grip on the characters and what direction he wants to take the animation. Umakoshi-kantoku would then go through and make corrections to bring everything together. The main animators use these corrections as a reference and add onto it, such as facial expressions, clothes, etc.
And now, without further ado, here is our…
Exclusive Interview with Ayana Nishino & Kazuhiro Miwa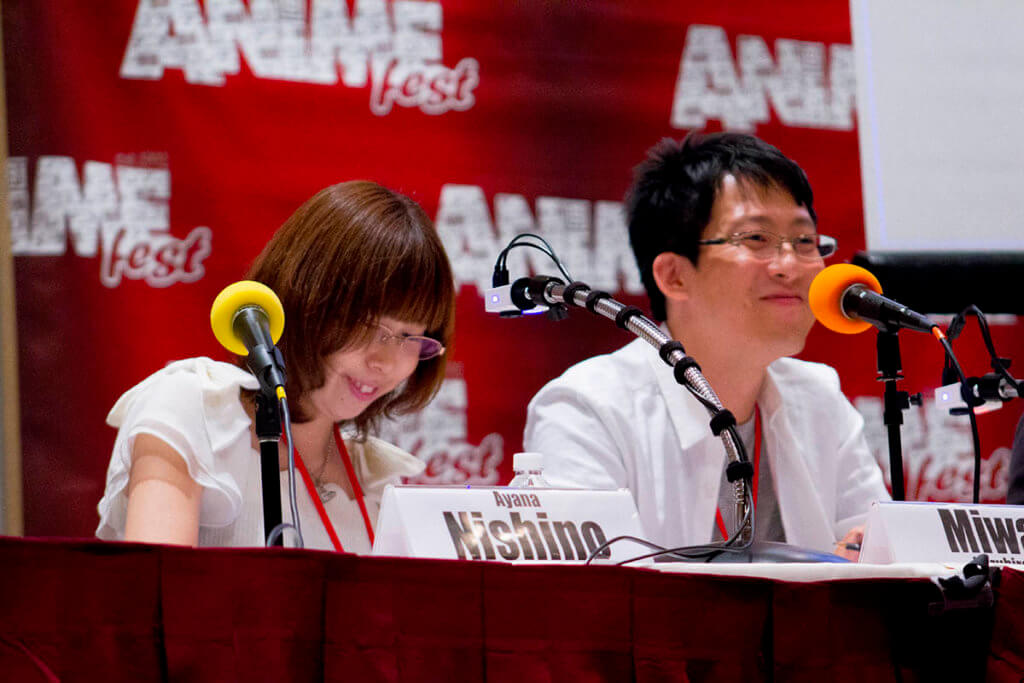 Question for Miwa-san: Is it easier animating a show that is based on a manga and why?
Miwa-san: It was easier with the manga. There is already a fan base, and there are character designs prepped for them so it is easier to move on with production.
Question for Miwa-san: Since you did the key animation for the opening, what was your process for this? Is the music given to you and then you do the storyboard of the opening or the other way around?
Miwa-san: Usually I listen to the song first to get the feel of it before I start drawing it.
Question for Nishino-san: What was it like to work with Yoshihiko Umakoshi? Were you familiar with his work before?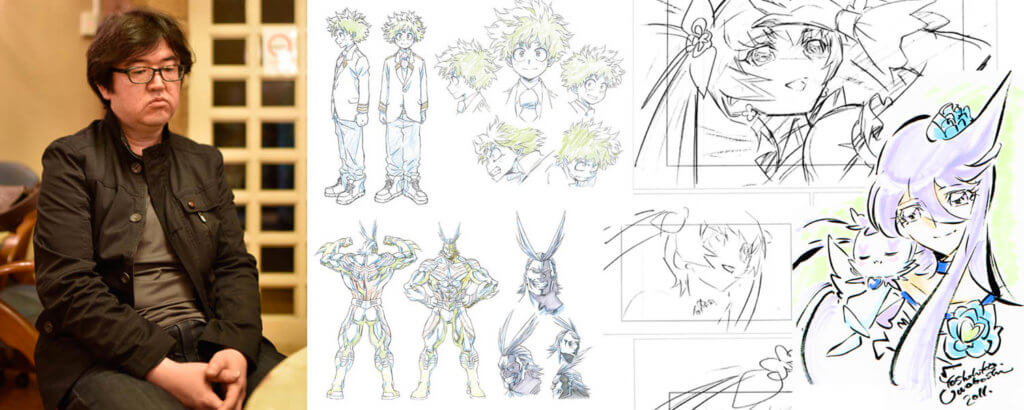 Nishino-san: It was very nice working with him! It was actually my first time working with Umakoshi-san. I had seen his books and his previous work, but that was the extent of my interaction with him, so working on My Hero Academia was my chance to work with him.
Question for Miwa-san: My Hero Academia was notable for having many new animators on the project, such as Miso and Hakuyu Go. What are your impressions of the new generation of animators?
Miwa-san: In any anime, there will be new people. When there is a new person, you are motivated to be really good because you're the role model or the one they look up to. A lot of new people prefer to draw digitally while I prefer pen and paper. I find it interesting when people have a different skill set than me.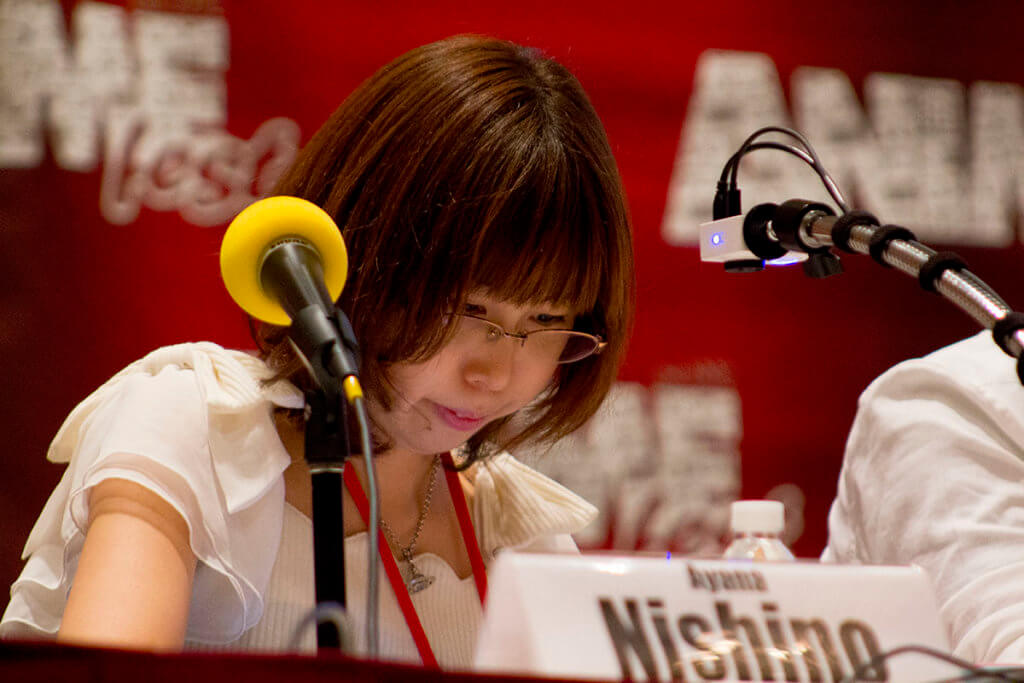 Question for Nishino-san: Is there anything you learned working on Aquarian Evol that you brought over to My Hero Academia?
Nishino-san: Both anime have totally different art styles. I am not sure if I bought much from the previous anime to My Hero Academia. It was kind of the opposite. My Hero Academia is different from the genres I have worked on before. I learned more, different styles while working on it compared to what I learned from my previous work.
Question for Nishino-san: Was there anything that you found interesting about Kenji Nagasaki's direction on My Hero Academia?
Nishino-san: I sat next to Nagasaki-kantoku, but we never really talked to each other. I was hired by another company to work on the show in the middle of production so I had trouble fitting in with everyone. I had to adjust to the pacing fairly quickly.
Question for Miwa-san: You've worked with Bones many times over the years. How do you think it has changed since you were first doing in-between animation on the Cowboy Bebop movie?
Miwa-san: Bones has hired a lot more staff since I started there. They are able to produce more anime from different genres. Also because of that, they are able to produce a higher quality of work.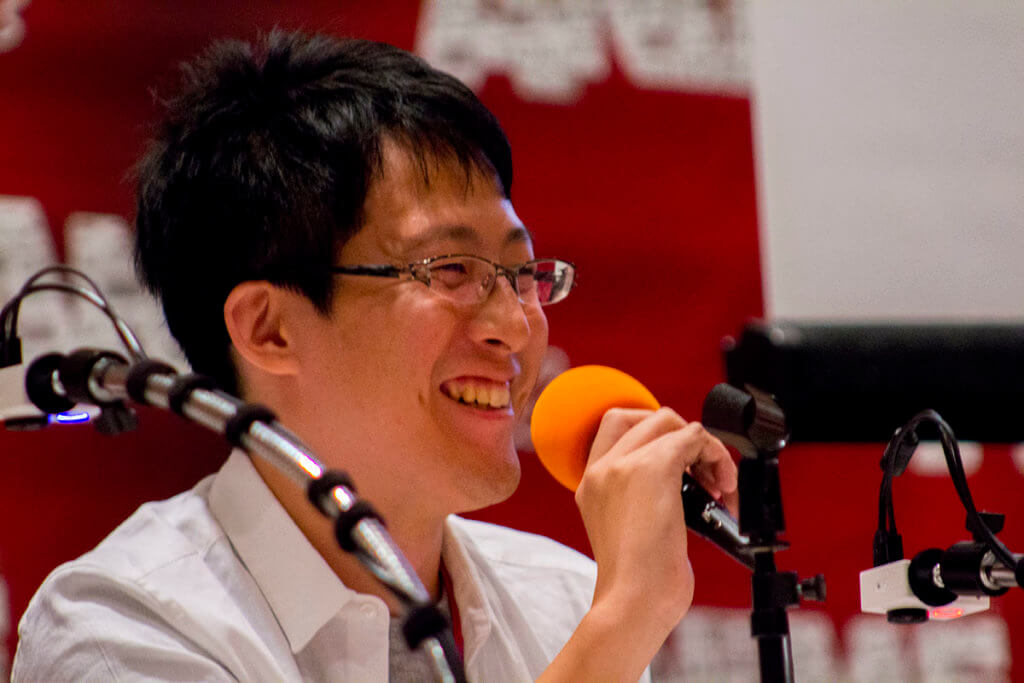 Question for Miwa-san: Would you be interested in directing someday?
Miwa-san: (laughs) Oh no! Not right now. I still want to draw.
Both guests: Is there any particular show coming out soon that you're looking forward to?
Miwa-san: While there isn't any particular show I am looking forward to, I'm excited for the continuation of My Hero Academia and watching it when it airs.
Nishino-san: I am working as a contract for Bones for Mob Psycho 100 and am looking forward to seeing my work.
Both guests: Do you normally watch your own work in general when it goes on air or did you have the "I'm tired of looking at it" mentality?
Miwa-san: I sometimes have those moments where I don't want to see it. I sometimes have those feelings like, "I'm done with this," when it was really hard to make it.
Nishino-san: I always make a point to watch it right after.
Both guests: What was your favorite moment from the show to animate?
Miwa-san: Usually the animation director makes corrections on other animator's works, so it's really nice to start at the beginning, making the storyboard and then creating the initial animations instead.
Nishino-san: I really enjoyed drawing the storyboards for the first time.
---
There you have it! It was such a pleasure and an honor to get a chance to speak with the two of them, and we sincerely appreciated their time. We also want to extend special thanks to Gina Chou for her help translating our questions to the creators. Thank you to our fans for contributing the interview questions, including Callum from the Canipa Effect. With that in mind, be on the lookout for our Tokyo Ghoul creator interviews, set to come out next week!
Until then, you're always welcome to check out our previous interviews.
---
Source: My Hero Academia video clips – sakugabooru
Big thank you to our supporters
From their continous support, we are able to pay our team for their time and hard work on the site.
We have a Thank-You page dedicated to those who help us continue the work that we've been doing.
See our thank you page