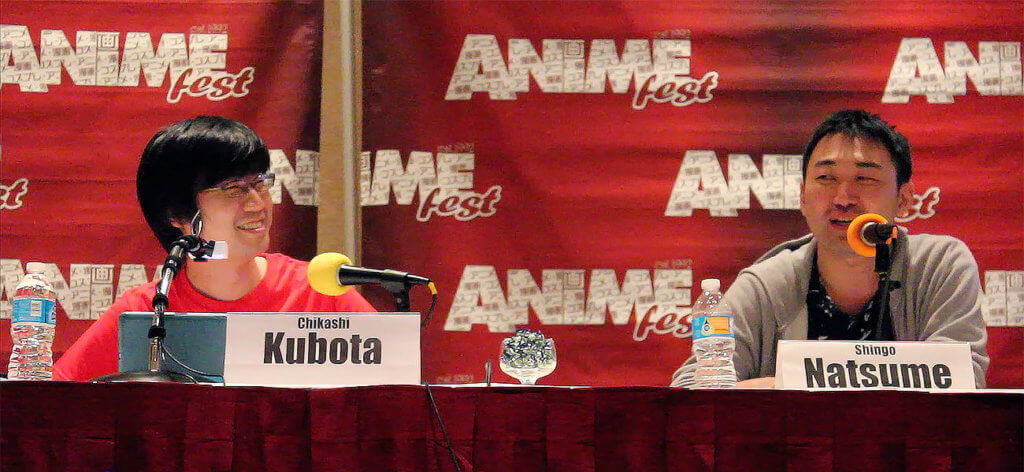 During this year's AnimeFest, we were given the wonderful opportunity to interview several of the Japanese guests who were attending the convention. This included Shingo Natsume and Chikashi Kubota, the respective director and character designer for One-Punch Man. You can skip to our interview below, or read on to find out a little more about how they came to work on such a project!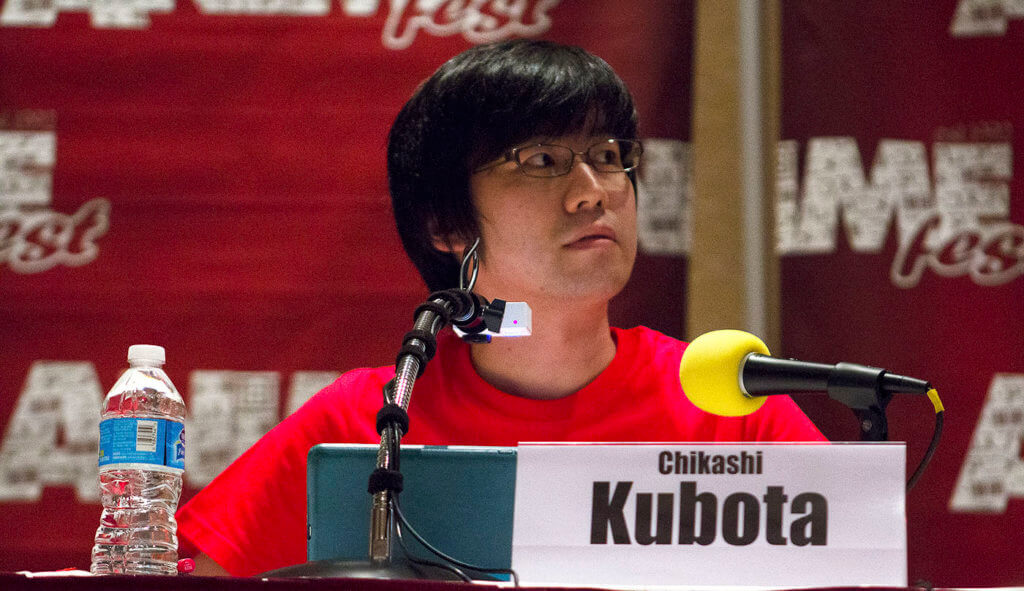 A Little Backstory
The story of Saitama, the titular One-Punch Man, was originally written as a web comic by an artist referred to as "One." It was later adapted by manga-ka Yusuke Murata, who collaborated with One, into the online edition of Weekly Young Jump magazine beginning in June of 2012. After it started to gain traction with audiences, Madhouse Studio then contacted Shingo Natsume with the offer of directing the animated version of the series that they were creating.
Natsume-san found himself tasked with figuring out what parts of the manga should go into each episode to make it as engaging as possible. Not knowing where to start with the anime, and believing his art sucked in comparison to Murata-san's, Natsume-san began to think about who should be in charge of the character design. It didn't take long, since the first name to his mind was Chikashi Kubota, who was already familiar with the manga magazine art style.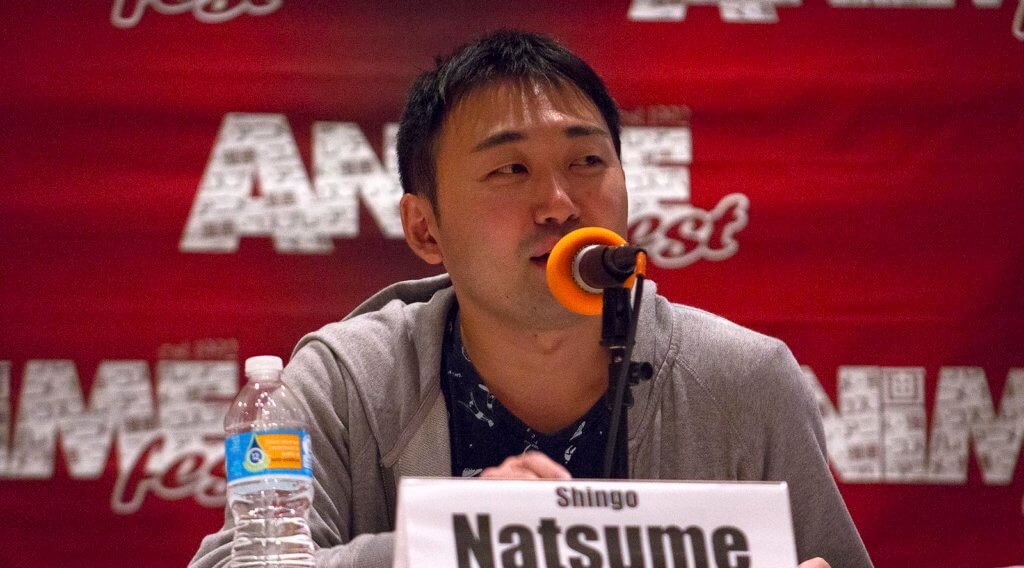 Unfortunately, when Natsume-san extended the job offer, Kubota-san was hesitant to accept it, because he feared that he wouldn't be able to do justice to Murata-san's work. Since the pair had previously worked on Space Dandy together and really enjoyed the experience, Kubota-san was excited at the opportunity to team up with Natsume-san once more, and eventually came on board as the character designer.
To help with the adaptation, the manga-ka Murata-san oversaw the production as kind of their "guidance counselor", giving notes and "grades" based on the work. Natsume-san worried that Murata-san would be very strict with Kubota-san and reject what he came up with. Thankfully, quite the opposite happened, and Kubota-san got checkmarks on his first pass. "I did doubt it for one second", Natsume-san commented.
The whole staff seemed to really enjoy working on One-Punch Man. They had a lot of fun moments and great times when working on the comedic portions of the show, from the dry humor to the straight out funny portions. When it came time to create the fight sequences, Natsume-san made sure to call upon a lot of action animation specialists to not only showcase the intensity, but to also evoke emotions.
In order to accurately animate the movement of muscles, the staff filled the studio with reference books and figures. The downside is that it made walking through the studio awkward, when the whole area consisted of photos of flexing men wearing very little clothing. They received a few strange looks, and some people questioned what they were REALLY working on.
An interesting thing to keep in mind is that the United States actually helped greenlight the series. Back when Natsume-san visited the states for a Space Dandy panel, the experience and turnout solidified the kind of reception a show like that can receive. In Japan, they are used to fans shutting themselves inside their apartments and watching the shows alone, whereas in the U.S. fans really enjoy watching anime together. With that information in hand, the studio was less hesitant to get the project rolling.
And now, without further ado, here is our…
Exclusive Interview with Shingo Natsume and Chikashi Kubota
Question for Kubota-san: Yusuke Murata has a dynamic drawing style and camera point of views. What are some challenges that you faced in adapting his manga to an anime?
Kubota-san: So one thing about the original manga by Murata-sensei, he is very skilled and very in-depth with his drawings. One of the most difficult things we needed to be most careful about was to try to replicate that quality of drawing that he had and develop it into the actual anime as well.
Question for Both: What did both of you think about One Punch Man when you first heard about it/got the project, and did that view change during the project?
Natsume-san: Originally, I had no idea about this creation, so when they first came up to me with this job, I had no idea on the background of it. I actually went and read the comic version of One-Punch Man. I thought, "Wow, this could turn into something amazing." That's when I decided I wanted to make an animated version.
Kubota-san: When I first received the request from Natsume-kantoku, I had heard about the series. I hadn't had a chance to actually review or read it, so at that point, I took a look at it. I knew Murata-sensei and was aware of him. When I did read the manga, there was an impression left from the very first chapters. There was a scene with a purple creature, the big monster from the very first one, and I was shocked at the quality of artwork involved in the comic and felt a lot of pressure as a character designer to replicate that work and make it a reality for the anime version.
Natsume-san: After the project, I didn't feel any different from when I started working on it. It lived up to all of my expectations: the characters, the settings, the action scenes. It was such a thrill and I enjoyed doing it from the beginning to the end.
Kubota-san: After I had a lot of worries, obviously for the character designs, because I had to replicate the work of someone who was really skilled. The actual release of One-Punch Man was in October. In August of last year (2015), we held a viewing party for employees, their families and friends to showcase what the show was going to be. We got such a good response that I felt glad that I worked on the designs for this anime.
Question for Natsume-san: Many fans noticed that a lot of the animation staff involved also worked together on a previous show, Space Dandy. Did you make an effort to keep in touch?
Natsume-san: As far as the anime animators, the community is small. So even though we are working across different studios, we know each other, like recognizing names and faces. When we work on a production together, we put all our time, our blood, sweat, and tears in the production. So through that, we become friends and comrades and I made sure to stay in touch. It just happened that a lot of us came together after previously working on Space Dandy. A lot of them are from the same age/generation as me, so it was easy to get along with everyone. It was a lot of fun to be there at the studio.
Kubota-san: Another thing about the anime community, it's not that one studio producing the anime is really good. The truth is the animation (sakuga) community isn't tied to one studio. Most of them are freelance animators. So in the end, those animators are just borrowing those desks at the studio to work.
Question for Kubota-san: You once put out a tweet mentioning that the reason for One-Punch Man's animation quality wasn't based on the budget, but instead the hard work of the animators. Is this a common misconception that you see with fans?
ワンパンマンは予算が豊富というイメージを持たれがちですが、決してそんなことは無く、あくまで平均レベルです。参加して頂いてるアニメーターの情熱とこだわり、各セクションのがんばりがあってワンパンマンは作られてます。今後もアニメワンパンマンの応援をよろしくお願いします!

— 久保田誓 (@kubo_chika) October 26, 2015
Kubota-san: You guys really do your research well to find that tweet. A lot of people have this common misconception that the quality of the actual animation is based on the production's budget. But in Japan, the TV production world, especially when it comes to anime, generally they all have the same budget. There are really rare situations where some have a little less and some tend to have a little bit more, but nothing that is very drastic. So, in reality, it is based on the staff.
Natsume-san: We were fortunate to have extremely passionate people on this project who were not money-driven. We are really lucky to have this staff around this year because they sacrificed part of their personal life for a while to make this anime a success for everyone.
Question for Natsume-San: As episode director for the first episode, what challenges did you face introducing such a non-normal main character?
Natsume-san: As simplistic as Saitama is, he is a lot more difficult to draw than what we would think. His facial expressions are a difficult part of animating him. Because his face is so simple, if you make a mistake, it is so obvious. We were very careful to make sure his face was drawn very well.
As far as details go, for a lot of anime when you go through the same frames of a character, studios go through it rather quickly. We wanted to change that idea. We wanted to make it as detailed as possible. For example, his gloves when he flexes. We wanted to make sure you saw the wrinkles. Even with his boots, you can see the designs on the soles. We wanted to challenge the idea that if you put too much detail in the frames, you are wasting time.
Question for Natsume-San: You started your career as an animator. Is that something you'd like to return to or are you eager to continue directing?
Natsume-san: Between being an animator and a director, I don't see much of a difference. Both positions are heavily involved with the animation. The only difference is the director has to know the backbone of everything. You have to make everything come together. If a certain character is like this, then he has to move a certain way and act a certain way. I really enjoy putting these pieces together. With directing, I really enjoy that I have a heavy influence on the animation portion as well.
---
There you have it! It was such a pleasure and an honor to get a chance to speak with the two of them, and we sincerely appreciated their time. We also want to extend a special thanks to Taka Shigematsu for his help translating our questions to the creators. Thank you so our fans for contributing the interview questions, including Callum from the Canipa Effect. With that in mind, be on the lookout for our My Hero Academia and Tokyo Ghoul creator interviews, set to come out over the next 2 weeks!
---
UPDATE Sept 25, 2016: It was just confirmed this morning that One-Punch Man will be getting a second season!
本日9/25開催「ワンパン秋祭り」でTVアニメ「ワンパンマン」第2期制作が発表されました。今後の情報は公式サイト&ツイッターで発信していきます。楽しみにお待ちください! https://t.co/ZEx0x1ZFAM #onepunchman pic.twitter.com/f2nsdijGxY

— TVアニメ「ワンパンマン」公式 (@opm_anime) September 25, 2016
---
Source: One-Punch video clips – sakugabooru
Big thank you to our supporters
From their continous support, we are able to pay our team for their time and hard work on the site.
We have a Thank-You page dedicated to those who help us continue the work that we've been doing.
See our thank you page