During this year's AnimeFest, we were given the wonderful opportunity to interview several of the Japanese guests who were attending the convention. This included Shuhei Morita and Kazuhiro Miwa, the respective director and character designer for Tokyo Ghoul.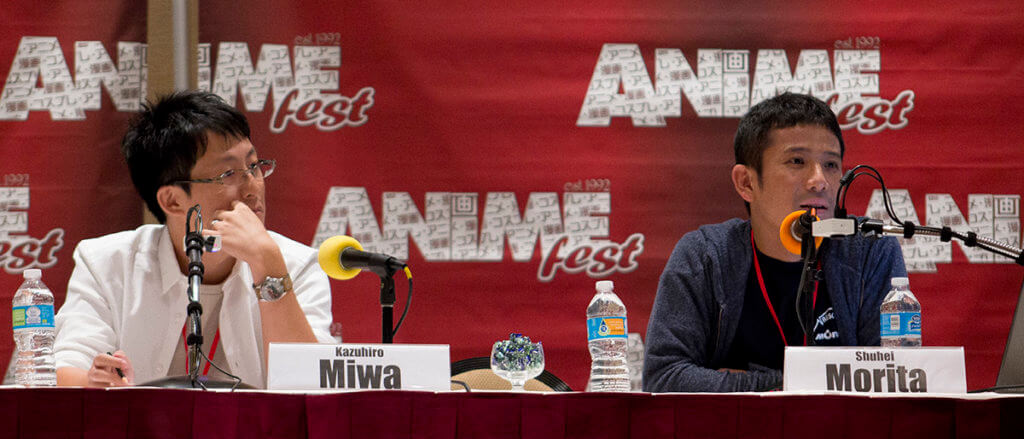 Prior to our interview, we also attended the Tokyo Ghoul panel, getting a chance to hear some of the behind-the-scenes details for the production. For instance, in a "typical" anime production there is the main staff and then there are people they bring on to do the douga (in-between animations). The amount of the main staff is roughly 15-20 people.
When it came to the dubbed translation of the show, Morita-san mentioned that he wasn't in charge of that, but instead relied on a translator who was fluent in Japanese and English. He wished that he could have done it personally, but he didn't have the skills nor the time to oversee how it was being translated. Morita-san was disappointed to hear that the show's script didn't have much of an impact because some of the phrasing was lost in translation. He said that after the script was translated, the sentences were a bit stiff and didn't flow as well as it would have if you were saying it in Japanese.
One last interesting tidbit is that, when it came to picking out the seiyuu (voice actors), Morita-san and Ishida-san (the mangaka) sat on a panel with about 5 people total. Morita-san actually hand-picked who would voice Kaneki (Natsuki Hanae). He's known Hanae-san for about 10 years, so it was a relaxed feeling working with him.
And now, without further ado, here is our…
Exclusive interview with Shuhei Morita and Kazuhiro Miwa
Question for both guests: During the entire time you were working on the series, what left the biggest impression on you?
Morita-san: The Tokyo Ghoul schedule was rather tight, so while it was stressful, it was still rather exciting to work on. We didn't have much time to prepare because the manga was still being published. We started the animation when the 7th installment of the manga came out. It was hard for us because we had to make sure we didn't surpass the manga. So we had to make the series alongside the manga, even though we didn't know how it was going to end.
Miwa-san: It was my first job as a character designer so it was a challenge and I had to try out different methods. The mangaka, Sui-san, let us do whatever we needed to do. Most of the time, the mangaka would be very specific on how they wanted things, but this wasn't the same for them.
good night #佐々木琲世生誕祭2016 pic.twitter.com/RAvhLzIsRf

— 石田スイ (@sotonami) April 2, 2016
For Morita-san: Unravel is by far one of our fan's favorite anime openings to listen to, and TK from Ling Tosite Sigure is phenomenal. Of all the musical talent available, what drew you to TK?
Morita-san: Actually Ishida-san, the mangaka, requested him personally. He really wanted him to sing the song.
For Morita-san: You're known as an acclaimed short film director, particularly with Possessions and Kakurenbo. What skills did you take from your work there onto Tokyo Ghoul?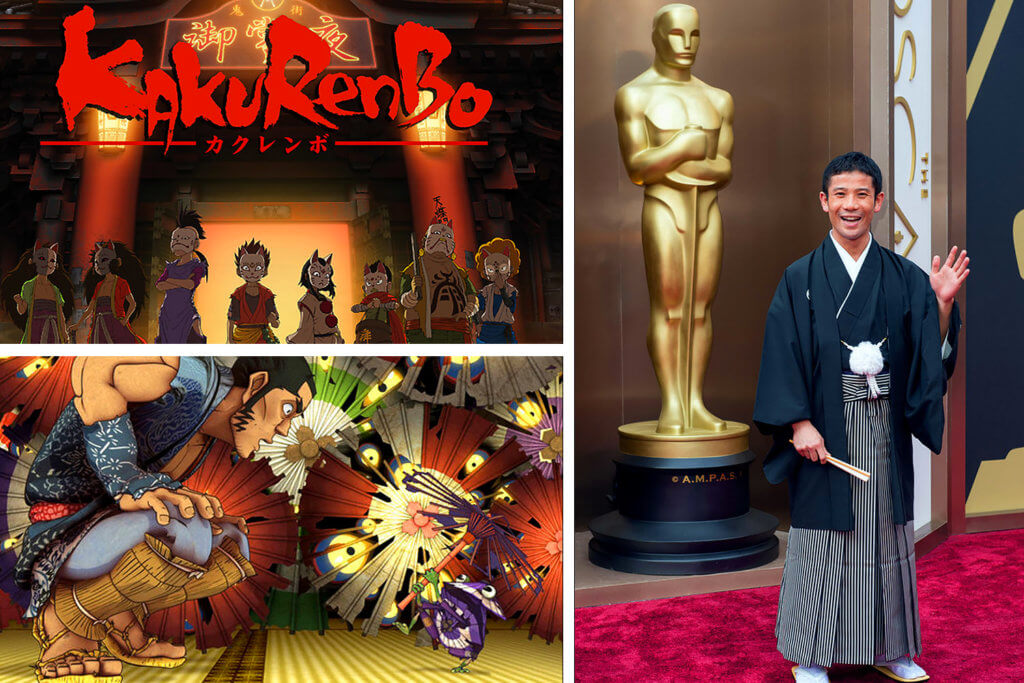 Morita-san: I enjoy working on short films because I like the freedom and entertainment  that comes with it. Tokyo Ghoul is kind of a long series, which is fine with me. I prefer working on a different variety of films, whether it's short or long. While I've been doing short films for a long time, it was a challenge to get the feel or footing on directing an anime since television works differently from film.
For Morita-san: You directed, storyboarded, produced and wrote the 2004 short film Kakurenbo, which happens to be one of my favorite short films. How did you come up with the concept and direction of the movie?
Morita-san: I like traditional folklore and wanted to make a film based around it. The story of the film was an updated take on ancient Japanese folklore that I read as a child. Those kinds of stories don't get much attention. That's also what inspired Possessions' storyline.
For Miwa-san: This was your first character design work. Is it a role you'd want to pursue in the future or do you prefer animating?
Miwa-san: I already owned some of the Tokyo Ghoul manga so when I was asked to do the character designs, I thought "Oh, yes. I can do this." I was already interested in being a character designer, but I wanted my first one to be something that I liked.  I wanted to work on a series that I could get attached to and make me excited to work on. Even then, it was still a rather stressful role to fulfill, physically and mentally.
For Miwa-san: Aside from keeping the character designs similar to the manga, what did you try and emphasize?
Miwa-san: When you are reading the manga, you can pick up an overall environment or great picture. I wanted to bring that into the anime, but there are so many people involved working or animating that overall picture. I really tried to make sure to pick out great scenes from the manga so they could be adapted into the anime.
For Miwa-san: What do you think of Tsukiyama's eccentric personality and how did it help you with the design of his character?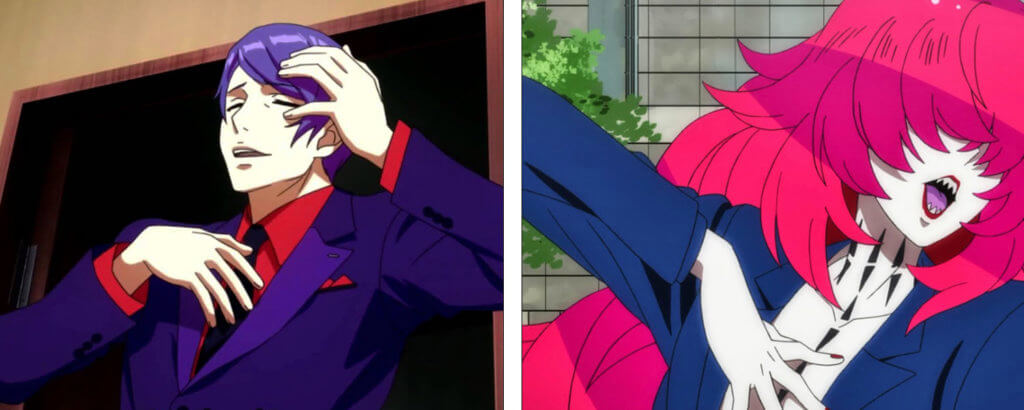 *Miwa-san/Morita-san: Tsukiyama's seiyuu, Mamoru Miyano, worked with us previously on Gatchman Crowds. I gave him the freedom to do whatever he wanted to do. He knew that Miyano's voice could bring to life what Ishida-san envisioned when he created the character in the manga. Miyano-san previously voiced the antagonist from Gatchaman Crowds, Berg Katze, so I knew he would do a great job with Tsukiyama.
*Editor's note: This was a combination of both Miwa-san and Morita-san answering the question interchangeably, although Miwa-san answered a majority of the question. The translator combined their answers together.
Question for both guests: How did you enjoy your stay in Texas, so far?
Miwa-san: It's the first time for me to come to Texas. The passion of the fans here is incredible! This is my first anime convention overseas.
Morita-san: Usually the seiyuu go overseas to participate in the conventions, but this time, the character designer and animation director were able to come, so it was very nice to be here.
During the animation production, we are extremely busy so we don't have an opportunity to meet with fans, especially fans overseas.  When we do meet them, it makes us so happy. Even though it is a lot of hard work to create anime, the fans (local and overseas) really inspire us to keep going and make more.
Question for both guests: Was it overwhelming for you to come and realize how much of a fan base you have here?
Morita-san: So, I knew that there are a lot of fans because I went to Germany before, and I already experienced those fans. The animation actually aired two years ago, so it's not new. Still, we are very overwhelmed by how many fans there are for Tokyo Ghoul– especially in Dallas.
Miwa-san: I knew it was popular, but I didn't know how popular. I also know that about One-Punch Man being popular because it came out recently. So I was very surprised that Tokyo Ghoul was still super popular.
---
There you have it! It was such a pleasure and an honor to get a chance to speak with the two of them, and we sincerely appreciated their time. Thank you to our fans for contributing interview questions, including Callum from the Canipa Effect and our copy editor assistant, Ashley Castillo, for transcribing the interview.
Please take a look at our previous industry interviews, including One-Punch Man and My Hero Academia.
Big thank you to our supporters
From their continous support, we are able to pay our team for their time and hard work on the site.
We have a Thank-You page dedicated to those who help us continue the work that we've been doing.
See our thank you page