Hinako's first day of high school is here, and she's determined to make a fresh start. Having grown up in an orphanage, she was often picked on and wound up in fights with the other kids, which caused everyone in her middle school to keep their distance. That's why she chooses to go to an all-girls high school, and she sets her sights on leaving her fighting past behind.
Too bad life has other plans.
On her way to her first day of high school, Hinako bumps into a boy who looks eerily like her. Suddenly thrust into a whirlwind conversation, she's forced to take the boy's place at his own high school. Tricky, but simple, right? Think again. Turns out, the boy is actually Hinako's twin brother, Hikaru, and he has convinced her to take his place at Shishiku, an all-boys school full of delinquents!
While her original goal was to leave all her fighting in the past and make some friends, she now has to fight not only as part of her school's curriculum, but she has to make sure she's the top fighter in the entire school so her brother can save face with his family! Can Hinako beat all the boys before her time is up, or will her secret blow Hikaru's plans out of the water first? And is there any chance for her to finally make some friends in this crazy environment, even if they all think she's a boy?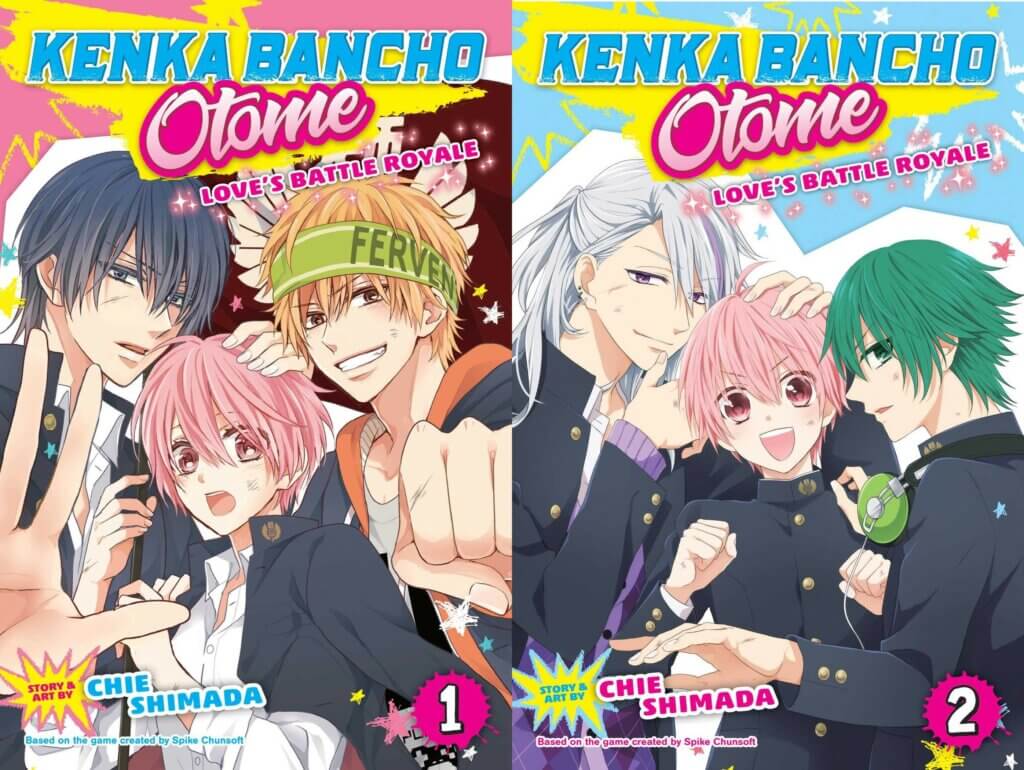 A Unique Start
Kenka Bancho Otome: Love's Battle Royale may read like a typical manga, but the story's creation is very unique: it's based on an otome game which is a spinoff of a fighting game! From there, a two volume manga series was made as well as a twelve episode anime, which can be watched on Crunchyroll.
When it comes to a good otome, you need three key ingredients*: a fun protagonist, hot boys, and lots of over-the-top situations to throw them all into. (*substitutions can be made, and experiences can vary.) In this regard, Kenka Bancho has it all.
While the story is a nice mixture of the otome and shojo genres, it's obvious it leans more towards a typical shoujo, which I find to be a benefit rather than a detriment to the series. Instead of flitting between boys and trying to fit all the routes into a singular, cohesive story, the manga takes a more Ouran High School Host Club-esque path and shows readers all the options without getting too deep in any of them. I prefer this narrative, as it's able to encapsulate more of the overall plot, and the storytelling is smoother than if the MC is dragged between multiple plots like a ragdoll in the hands of toddlers.
As for the story itself, Kenka Bancho does not take itself seriously at all. This is not a series with a ton of suspense, or drama, or high stakes of any kind. Instead, it is an over-the-top, laugh-out-loud comedy where, win or lose, the characters will be smiling at the end. I read Kenka Bancho between harder hitting series like Love and Heart and Something's Wrong with Us, and it turned out to be the optimal time. The series is so lighthearted and cute, it acted like a palate cleanser in some ways, and I found myself relaxing during my reading of it.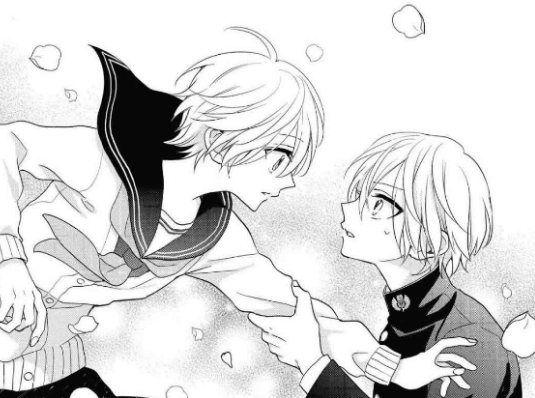 As for the art, it's cute and typical of the genre–nothing to write home about, but nice to look at all the same. Since the series originally debuted in 2015 in Japan (2018 in the U.S.), it does show its age just a bit. Again, in no way am I saying it's bad, but it's something to keep in mind for those more focused on illustrations or those who prefer more modern styles.
A Little Too Easygoing
While I loved how fun the story was, I found it to be a little frustrating at the same time. Big plot points are thrown in without even blinking an eye, some issues and situations are never resolved, and many questions are left to gather dust. While the two shot series is completed, it gave off some unfinished business vibes when I shut the final volume. With how lighthearted the series is, I didn't mind this too much, and it honestly fit the mood the story was trying to convey. But as a person who has a love-hate relationship with cliffhangers and ambiguous endings, I know not everyone will find this acceptable. Good thing there's an anime that'll (hopefully) fill in the gaps?
The Verdict
Kenka Bancho Otome: Love's Battle Royale is an adorable two shot manga series that'll have rom/com lovers in laughing fits for hours. I thoroughly enjoyed my time with the series, and it's one I see myself returning to when I need a quick boost of serotonin, or I find myself in a slump between more mature series. So if you're an otome, shoujo, or rom/com officanado, I see no reason to hesitate on this series.
You can purchase Volume 1 and Volume 2 of Kenka Bancho Otome: Love's Battle Royale on Right Stuf.
---
If you liked Kenka Bancho Otome, you might like…
---
Credits
Story and Art by Chie Shimada
Original Concept by Spike Chunsoft
Video Game Development by Red Entertainment
Translation by JN Productions
Touch-Up Art and Lettering by Inori Fukada Trant
Graphic Design by Alice Lewis
Edited by Nancy Thistlewaite
Published in the U.S.A. by Viz Media, LLC
The Good
Great art and storytelling
Lots of laugh-out-loud moments
Anime adaptation
The Bad
Tons of questions are never addressed
Big thank you to our supporters
From their continous support, we are able to pay our team for their time and hard work on the site.
We have a Thank-You page dedicated to those who help us continue the work that we've been doing.
See our thank you page