Fans of Kiss Him, Not Me!, get ready: Manga-ka Junko is out with a new series, and it's bringing just as many laughs as its predecessor.
Star⇄Crossed!! follows Azusa, a high school girl obsessed with the Prince 4 U band member, Chika-kun. After scoring front row seats to their concert, she's content to watch her favorite idol sing and dance on stage. But when the stage lights start to crash down in a freak accident in the middle of the show, Azusa's body reacts on its own to swoop in and save him. Too bad she only succeeded in killing them both. When they get to Heaven, God explains there was a mix-up and they weren't supposed to die yet, so he sends them back to Earth as good as new. Problem is, he put their souls in the wrong bodies. How are these two going to handle this heavenly incompetence?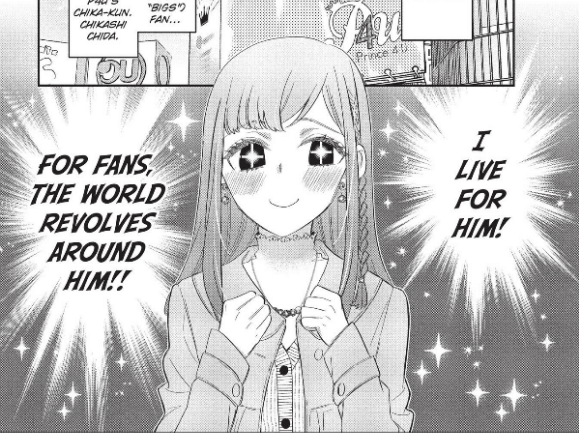 The Good
With cute art, solid characters, and a laugh-out-loud plot that kept me giggling the whole way through, Star⇄Crossed!! has won a place on my ever-full bookshelves.
I'll be honest, I was a little skeptical about the series when I read the description. A story about a crazed K-Pop fangirl? There was a lot that could go wrong. Junko quickly shut down my fears, though. In the first few pages, Azusa shows that while she is absolutely obsessed with Chika, she's not a total walking stereotype. Her understanding of the situation they find themselves in was a relief, and her dedication to keeping Chika's reputation intact without going overboard was very welcome. It made me relate to her a lot more despite not being into the idol scene myself.
The pacing for the volume is great. While the action does keep coming, there are enough exposition and cooldown periods to keep it from being a jumbled mess. I absolutely loved the interactions between Chika and Azusa, Azusa's attempts to be Chika, and the two's complaints to God. Oh, and the side characters, whom I'm excited to see more of. And the–you know what? The whole volume. I loved the whole volume.
The Bad
There is nothing I can put here. I mean, when I bought the volume, my little sister read it on the drive back home despite being more of a Devilman Crybaby and Free! Fan, but she ended up laughing the whole way home. Then my husband read it while I cooked dinner and couldn't put it down, and his favorite series includes Corpse Party. I didn't actually get to read it until the next day. So, I guess… people will want to read your book so you can't?
The Verdict
Star⇄Crossed!! is a win, no questions asked. If you're a fan of Kiss Him, Not Me!, or if you love rom-coms, or you're just looking for pretty artwork with hot boys, then this is what you want to get. Oh, and don't make the same mistake I did where you only buy volume 1 to try it out. Just go ahead and get volumes 2 and 3 to save you a trip back to the bookstore.
---
Credits
Story and art by Junko
Translation by Barbara Vincent / amimaru
Lettering by Mohit Dhiman / amimaru
Editing by Vanessa Tenazas
Published by Kodansha Comics
The Good
Really cute art and character designs
Great pacing and character development
Laugh-out-loud comedy
The Bad
Family kept stealing my copy to read it
Big thank you to our supporters
From their continous support, we are able to pay our team for their time and hard work on the site.
We have a Thank-You page dedicated to those who help us continue the work that we've been doing.
See our thank you page