Rin Miasa is no stranger to high school romances. Though she's written and illustrated three previous rom-coms, With the Sheikh in His Harem is the first of her series to be translated to English.
Penny-pinching Sanagi is as straight-shooting as they come, and there's only one thing on this high school girl's mind: money. How to make it, how to save it, and how to invest it to make more. She's the primary breadwinner for her family of three, and she takes this job very seriously. So when a stranger shows up and asks her to marry him, she wholeheartedly turns him down. But when he reveals that he's actually a Sheikh from a prosperous nation and that he's vowed to keep her family safe and taken care of, Sanagi can't really say no.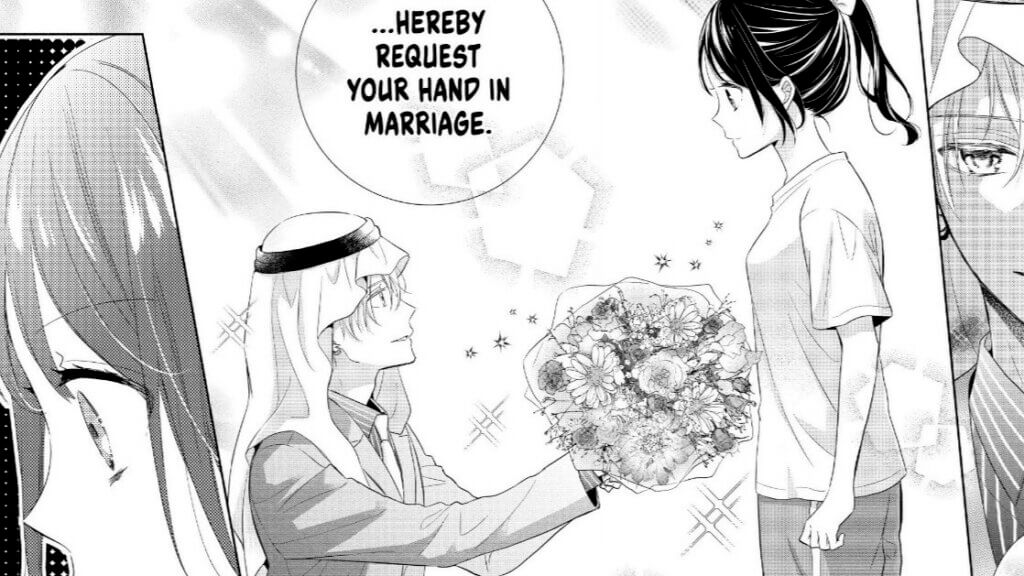 The Good
Guys. This manga is hilarious as shit. I was actually laughing out loud through most of this (which led to some weird looks from the husband) and I am wholly addicted.
The entire time I was reading With the Sheikh in His Harem, I was imagining it as an Ouran High School Host Club fanfic in the best way possible. Sanagi's family is struggling financially and she's the primary bread-winner for the three of them. While she loves to make money–and she's not one to shy away from getting a tip–she still holds fast to her beliefs. Her straight-and-narrow personality is great, and when Sanagi gets mixed up with the overly rich, hot little cinnamon roll Lui (read: Tamaki), things are a blast. Splash in a bit of drama to spice up those pretty drawings and you've got yourself an A+ rom-com that'll have you cry-laughing for more.
The Bad
Literally, nothing.
The Verdict
Like I said before, this volume read a lot like Ouran High School Host Club with some Flowers in a Storm and Takane and Hana mixed in, and it was. Just. Perfect. So if you like rom-coms, read it. You won't be disappointed.
Credits
Story and Art by Rin Miasa
Published by Kodansha Comics
Translated by Kevin Gifford
Lettered by Kyle Ziolko
Edited by Jordan Reynolds
---
A special thank you to Kodansha Comics for allowing us the opportunity to review this title. Receiving a review copy of this title has in no way altered the opinions expressed in this article.
Big thank you to our supporters
From their continous support, we are able to pay our team for their time and hard work on the site.
We have a Thank-You page dedicated to those who help us continue the work that we've been doing.
See our thank you page