Today we are introducing our new podcast, Yatta-Talki, which will be a monthly episodic roundtable discussion on various topics, from anime to living life in Japan. In today's episode, Daniel, Mark, and Katy talk about the origin story of Yatta-Tachi, the downfall of Grooveshark, and thoughts on how the anime/Japanese culture bridged out to other countries…
What did you think of the first episode? Let us know in the comments below! What was the first anime you watched that made you into a full-fledged fan?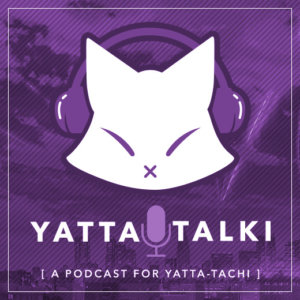 Download | SoundCloud | Follow Us on Twitter & Facebook
Opening/Ending Theme: Cute Glitch-Hop by RobertZahn
Shows Discussed: Big O, Sailor Moon, DBZ, Cowboy Bebop, Neon Genesis Evangelion, Inuyasha, Wolf's Rain & More…
﹋﹋﹋﹋﹋﹋﹋﹋﹋﹋﹋﹋﹋﹋
Podcast Excerpt:
Katy: "I know about Gainax and… uh… uh…what's his name? Uh… oh dear…It's not Takahata…"
Mark: "No, I'm going to make you look that up."
﹋﹋﹋﹋﹋﹋﹋﹋﹋﹋﹋﹋﹋﹋
Links/Articles Discussed in this Yatta-Talki Episode:
Ultimate List of Legal Anime Streaming Sites & What Countries They Are Available In
Big thank you to our supporters
From their continous support, we are able to pay our team for their time and hard work on the site.
We have a Thank-You page dedicated to those who help us continue the work that we've been doing.
See our thank you page