Conmen? Check. Ingenious tricks? Check. Bad guys and adventure? Double-check!
I tell you, we're definitely in for a ride!
Great Pretender was first released on Netflix in Japan on June 2, 2020, and finally became available worldwide on August 20, 2020. Whether you're a lover of crime comedy or not, check out the introduction to this original net animation:
Who tricks? Who gets tricked? Makoto Edamura, the self-proclaimed greatest swindler of Japan, fails for the first time. Trying to swindle Laurent Thierry, a fellow confident man with much more expertise, gets him swindled instead. Now he's caught up in the Frenchman's dirty schemes. Will Edamura find a way out of this situation or find something more?
If you opt to add spice to your scorching summer days, the first thing you'll probably think of is exploring a number of exotic places. But Great Pretender can give you a one-of-a-kind adventure from inside the comfort of your own home. It hits several targets to bring that spice you're looking for.
Target: Story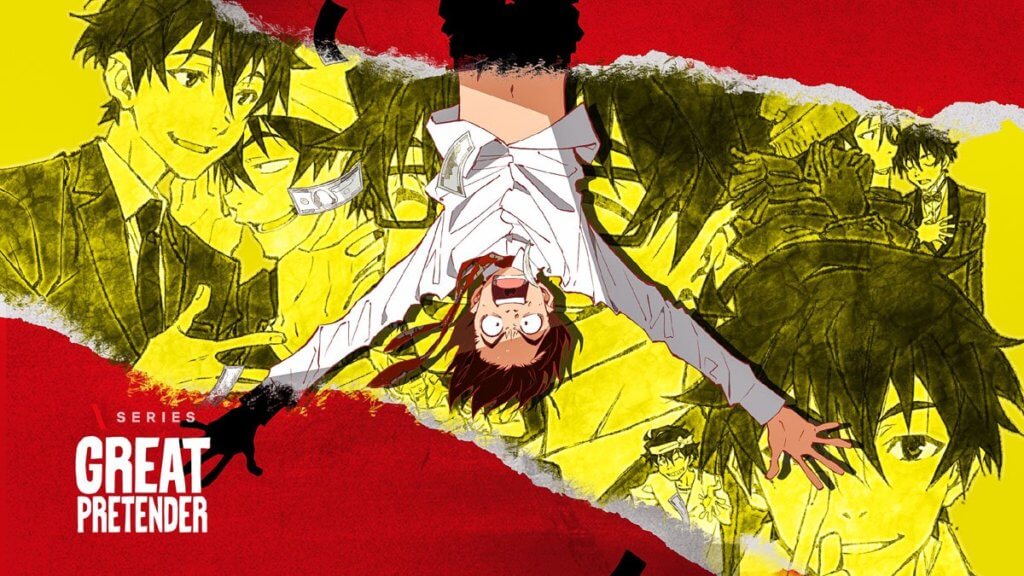 Do you like getting duped? Well, obviously not. Allow me to rephrase that question.
Do you like getting tricked by plot twists? If you're like me, that's a big YES!
Being one of the few anime that shines a spotlight onto con artists, Great Pretender immediately caught my attention. Its story is quite simple, yet it doesn't hold back when it comes to hooking viewers with its amusing premise and can't-stop-watching episodes. Although the tension isn't as high as some action-packed anime, Great Pretender gives you a story you can follow and twists and turns you can enjoy.
It even tricks you into believing that it is just a story of swindling and getting swindled. But it's not! The hilarious adventures of our confidence men in this anime have something much more serious going on. Each case they're in deals with two or more social issues the real world faces today. From the rather subtle to the blatantly obvious, Great Pretender reminds us of life's external conflicts and illuminates our own internal struggles at the same time. It makes sure that while it pulls you in, you still get your medicine as well as your treat.
Target: Music
As I mostly listen to ambient music and J-pop, this was the first time I've heard of the late Freddie Mercury's sensational cover of The Platters' single "The Great Pretender." This anime basically introduced me to it!
It was the first for an anime series to use a song by Mercury. By making it both the theme and ending song, the good old vibe of the late 80's & early 90's revisits our hearts like an arrow from a bow. It resonates with the viewers, both young and old, and resonates with the plot and characters as well. The lyrics about wearing a mask to pretend fittingly identifies with the implications of Great Pretender.
The soundtrack also doesn't disappoint. It perfectly sets the mood in every episode, allowing us to feel the thrill, joy, and heartache along with the characters. Besides, the music was composed by Yutaka Yamada. He was also the one behind those epic and soulful soundtracks in Tokyo Ghoul.
Oh, and if you love cats, you'll see some adorable yet comical fur balls in the ending song. They're quite inspired by Freddie Mercury's music video itself.
Target: Characters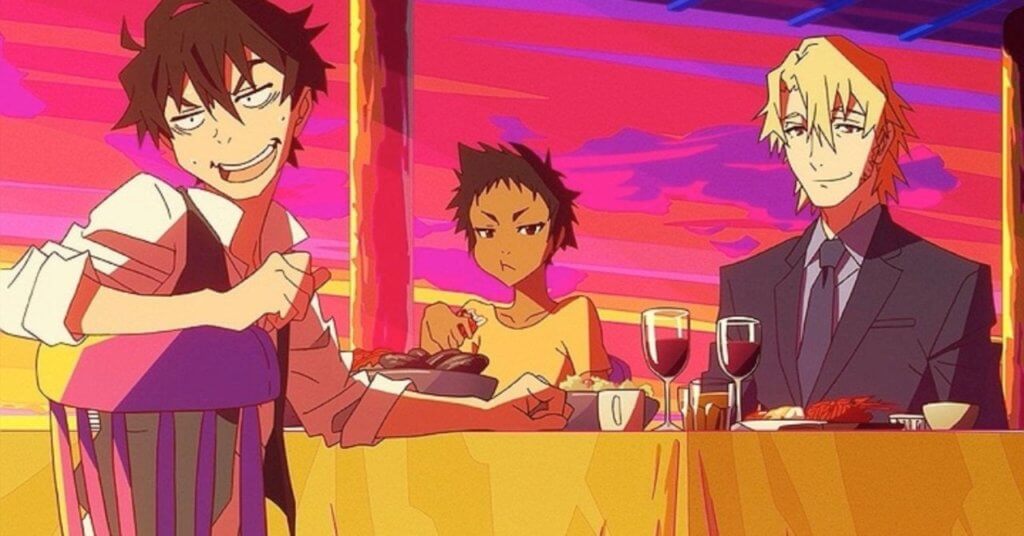 Memorable isn't exactly the right word to describe these clever con artists. Rather, they are intriguing. But if there's something memorable for me, it's Edamame–I mean, Edamura's–accent which is, like what Laurent says, a weird jumble of different dialects.
When it comes to writing a story, I see characters as that ingredient which can't ever be taken away. Great Pretender may lack in the solid formation of an intimate connection with characters, but it does great in developing four intriguing con artists who cunningly drive the plot. They are first-rate actors and actresses with unpredictable trick plans, yet prove they are still shaped by their actions and experiences. They're not merely characters brought to life from intricately written words; they're real people, with flaws and scars just like us.
Try to learn more about Edamura, Laurent, Abigail, and Cynthia by waiting for them to be featured in a specific case or episode. I am waiting too, especially for Laurent's backstory. But while we all sit there with a snack or two, let's allow Great Pretender to transport us to different locales like Los Angeles, Singapore, London, and many more!
What are you waiting for?
Still looking for more anime to spice up your mundane summer days? Look no further and ask no more. Add Great Pretender to your list and you definitely won't regret it!
You can start watching Great Pretender legally on Netflix.
Big thank you to our supporters
From their continous support, we are able to pay our team for their time and hard work on the site.
We have a Thank-You page dedicated to those who help us continue the work that we've been doing.
See our thank you page