Welcome to the Fall 2020 Anime First Impression series! For the uninitiated, here's how it goes: before the start of each new anime season, our readers vote on what series they'd like us to review the first episode of, and we cover the three series that get the most votes. This season our Top 3 were Moriarty the Patriot, The Gymnastics Samurai, and The Day I Became a God. The Gymnastics Samurai was the last of the three to air in English.
Here's how Funimation describes the series:
"Jotaro Aragaki, former member of the national team, had given his whole life for gymnastics and was fighting against his age and physical strength. However, one day he is told by his coach to start thinking of his next career. Jotaro struggles, but his daughter, Rei, is always there by his side. But with one fateful encounter, the Aragakis' lives change drastically."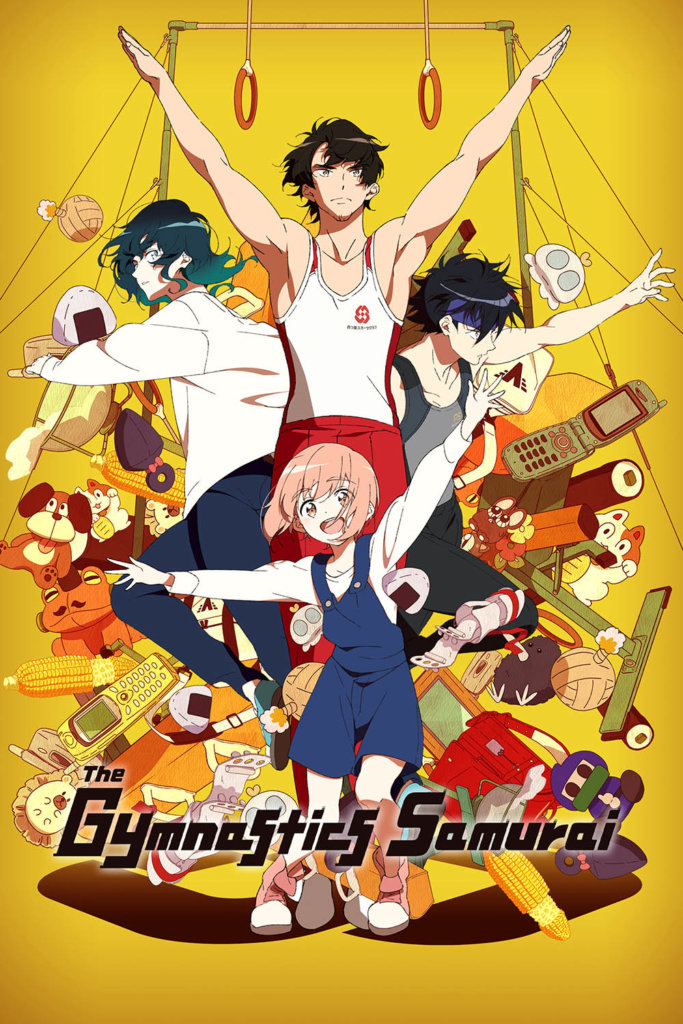 And here's what our team of writers had to say…
When this series was first announced, I didn't know what to expect. All I did know was that it was an original anime production from MAPPA that may focus on a school gymnastics team or something similar to that. To my and many other peoples' surprise, The Gymnastics Samurai offered a lot more than I expected from it.
Offbeat is an adjective that some might use to describe the first episode. I think it's also a mix-up of sorts, featuring many different kinds of styles I wouldn't see in a show focusing on gymnastics. Moreover, it also follows a young father trying to raise his daughter as a single parent. Despite this seemingly sad setup, much of the episode leaned into comedy more than athletics or drama and I enjoyed my time with it.
By taking a glance at The Gymnastics Samurai, you can expect two things from that title: gymnastics and samurai. Or ninja? Yes, expect to see a foreign ninja on the run from the Men in Black or ICE or whatever. Amused by my sentence there? Watch the first episode for yourself and make your own judgement if you want to stay on this show.
P.S Beware of Big Bird. I'm pretty sure that pet is dangerous.
Gonna be honest, this show didn't do it for me.
It starts out okay, and then it gets really weird, and yet somehow manages to stay boring? Despite the really weird bird, and the really weird foreigner, and the really weird breakdance outro, it just fell really, really flat. I wasn't a fan of the art, and everything just felt disconnected. I was supposed to feel bad for the dad, but I didn't; I was supposed to be curious about this ninja foreigner person, but I wasn't; and at the end I was supposed to root for the dad, but I couldn't. This show came off as a mashup of five other hits but wasn't able to make the best of any of them. I don't feel the urge to keep watching this show, especially since there are so many others this season that are much more interesting.
Going into The Gymnastics Samurai, I was expecting it to be a combination of Sad Dad show and Yuri on Ice, insofar as it was about an athlete getting a little old for their sport. Not that that would be a bad combination, but my favorite thing about it was that by the end of the episode it was clear there were like nine more genres and reference points in that mix, and I have absolutely no idea what is happening anymore.
There were shades of samurai and ninja movies, of course, but also political thriller, spy action, and goofy comedy. There's a talking bird that's big and named Big Bird. And maybe I just have my shipping goggles permanently welded to my eyes, but it kinda looks like it might have more in common with Yuri on Ice than I initially expected on another front too, now that our single dad suddenly has another man living in his house. Also, the ED (which might actually be the OP, because there wasn't an OP on this episode) whipped a ton of ass. It was a bizarre dance number featuring the entire cast in color-coded bodysuits and it sets the tone perfectly for this weird little show.
There were a few brief moments of janky looking CG gymnastics that took me out, but otherwise this is a bizarre and engaging premiere and I look forward to seeing if it can pull all of its disparate elements together.
MAPPA is everywhere this season, from JUJUTSU KAISEN, to the Boukyaku Battery OVA, and even the final Season of Attack on Titan in December. I would say give the poor staff there a break, but apparently, their schedule can handle it – I press x to doubt that. MAPPA is also producing the original TV anime The Gymnastics Samurai with first-time director Hisatoshi Shimizu and most of the team behind ZOMBIE LAND SAGA.
Now don't get me wrong, I don't mind a good sports anime, especially one that gets my blood pumping. Sadly though, it seems that affinity stops when it's less "teens doing their best to make it to finals" and more melodramatic; don't ask me why that's the case, I love my melodrama elsewhere!
Surprisingly though, The Gymnastics Samurai caught my attention right away. Instead of being a typical sports anime, the first episode was a father-daughter story that felt all too relatable. Unlike other sports anime that uses the sport to push the characters, the sport here was just a footnote in the emotional part of the story. Literally could have inserted any job instead of being a gymnast and it'd make sense – that's what I liked about the episode.
The rest of the stuff, like the ninja, could probably be done away with. I want the story to focus on a Dad trying to do his best for his daughter in Japan, and maybe grow a bit in the process, trying not to hold onto the past.
On the animation side, it was down to earth and nice to look at. More in the vein of Japan Sinks 2020 than JUJUTSU KAISEN or other anime fair. The movements of the characters in the gymnastics scenes were fluid, as you'd expect from a series produced at MAPPA, making for some wonderful cuts.
The big issue of The Gymnastics Samurai lies with where the series goes from here. The end of the first episode was expected but throws a curveball of unexpectedness over the next few episodes. I just hope it doesn't build up the Ninja character too much.
---
Wondering where you can watch the Fall 2020 Anime season? We've got you covered! See our Fall 2020 Anime & Where to Watch Them list!
Big thank you to our supporters
From their continous support, we are able to pay our team for their time and hard work on the site.
We have a Thank-You page dedicated to those who help us continue the work that we've been doing.
See our thank you page