KWEH!
Continuing the December anniversary train, did you know that December is the birthday month for Hitomi Kanzaki, the heroine of Visions of Escaflowne? Kanzaki's birthday is listed as December 9th. Yes, we are quite late but hey, better late than never! Here is Escaflowne's "Memory of Fanelia" by Yoko Kanno. This TBT will talk about our beloved Yoko Kanno, known for her incredible works.
In last week's #ThrowbackThursday I asked if you could name this week's featured anime. Did you guess it was going to be Escaflowne? If you did, accept this virtual high-five from me!
What is Escaflowne?
Let's talk briefly about what Visions of Escaflowne (天空のエスカフローネ, Tenkuu no Esukafuroone or translated as Escaflowne of the Heavens) is. Shoji Kawamori, the mecha designer and creator of Macross series is said to have thought of the idea for Escaflowne during his trip to Nepal. It is described as "Macross with divination instead of love songs". The Macross series features songs as the central idea of cultural representative and power to alien lifeforms.
Like many other anime, it has its fair share of development problems including: shortening the number of episodes, abrupt ending due to said shortening, and more. There are also a couple of manga series based on the anime as well as a movie that features different art style.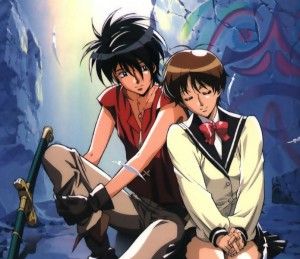 Escaflowne follows the story of Hitomi Kanzaki, who was whisked away from Japan to another planet named Gaea. It is a mysterious planet where she could still see the Earth and Moon. Gaea is also in the midst of wars. The young man who took her away was a mixed-race Fanelian and Draconian named Van Fanel. They both realize that they need to rely on each other to save Gaea.
What about the divination part? Well, Kanzaki is revealed to have strange powers, including some form of precognition. Her powers often help Van win battles.
Yoko Kanno's Involvement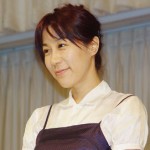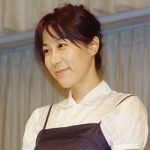 The soundtrack to Escaflowne was written by Yoko Kanno and Hajime Mizoguchi. They were both married for some time before divorcing at 2007. Mizoguchi is a famed cellist in Japan and has also been involved in scoring several anime works. Aside from Escaflowne, he has also lent his expertise on: Dirty Pair Flash 2, Jin-Roh movie, Mobile Fighter G Gundam, and Texhnolyze.
Yoko Kanno's involvement in the series probably happened due to her compositions for the Macross Plus anime series that Kawamori created.
Most of the soundtrack is styled around Classical genre with some contemporary music and Gregorian chant. Perfect for the European-inspired fantasy setting.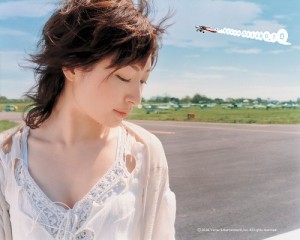 Kanno also launched the singing and voice acting career of another famous industry star, Maaya Sakamoto. Sakamoto rocketed her career voicing Kanzaki and singing the opening song, "Yakusoku wa Iranai" (translated roughly to No Need for Promises). That also marks the beginning of beautiful collaborations between Kanno and Sakamoto.
Kanno's International Recognition
Yoko Kanno is probably the most recognized anime composer internationally. Not long ago, I wrote another TBT article about Cowboy Bebop with its live rendition of "Tank!" that you can visit by clicking here. I am certain that Cowboy Bebop brought Kanno's name Stateside with her jazzy compositions.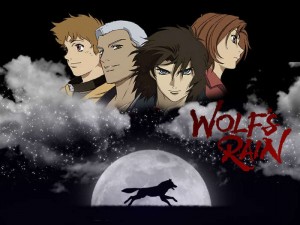 Soon, Kanno began working on many big-named anime series such as: Turn A Gundam, the Ghost in the Shell anime series, Wolf's Rain, Darker than Black, and Macross Frontier. According to an interview by Red Bull Music Academy, which you can read more here, Macross Frontier's songs were very popular in Japan.
Her mastery of various music styles and her dedication to achieve the very best she can are her trademarks.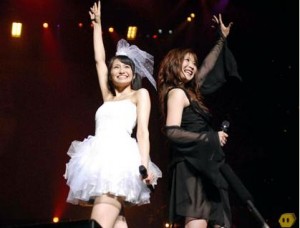 On top of creating her own music, she also collaborates and produces music for many different singers. Aside from Sakamoto, she has partnered with May'n, Nakajima Megumi, Crystal Kay, Aimer, and the late Origa.
Oh yeah, she is also a singer. If you are familiar with Kanno's songs, you may have seen the name Gabriela Robin. Anime fans had long speculated who the person was until it was revealed in 2009 concert. Robin is simply a pseudonym for Kanno, an alter ego for her own vocal creations.
That is all for now. We will be back next week for more #ThrowbackThursday. Have a great Christmas holiday weekend!
Sources: Red Bull Music Academy Daily (interview), Noisey by Vice, Forbes (Shoji Kawamori interview), and All Music (biography).
Big thank you to our supporters
From their continous support, we are able to pay our team for their time and hard work on the site.
We have a Thank-You page dedicated to those who help us continue the work that we've been doing.
See our thank you page