Our First Impressions series continues with more Winter 2020 series! Before the start of each new anime season, our readers vote on what series they'd like us to review the first episode of, and we cover the three series that get the most votes. This time around our winners were Toilet-Bound Hanako-kun, Smile Down the Runway, and Keep Your Hands Off Eizouken! Smile Down the Runway is the last of the three to air.
Funimation describes it like this:
Chiyuki Fujito was going to be a professional runway model until she stopped growing. Poor Ikuto Tsumura is not even sure if he wants to be a fashion designer because of his family responsibilities. Faced with overwhelming adversity, they need to decide if their dreams are worth pursuing. It's not impossible – they'll just have to be creative in how they get there!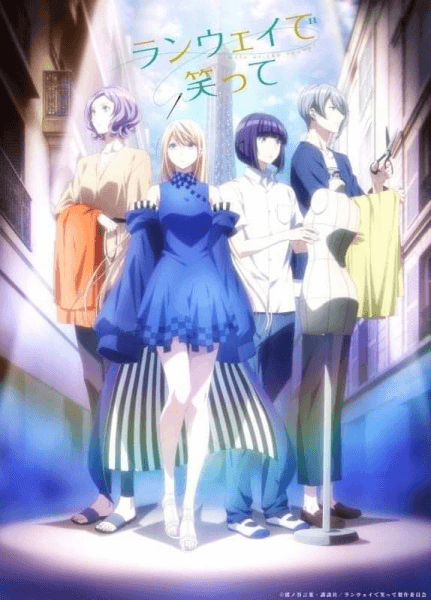 But what does our team of writers think?
I never thought I would see a shonen anime version of America's Top Model, but here we are. All jokes aside, this was a pretty strong premiere for Smile Down the Runway. The shonen aspects of the anime involve two of our main leads – Chiyuki Fujito and Ikuto Tsumura – aiming to be the top model and designer in the fashion world. Both of them have chips on their shoulders and are working hard to one day grace the stage of a Paris fashion show.
It's pretty funny sometimes to watch the confident Chiyuki be so dead set on her goal to be a fashion model, despite her small stature. Her interactions with the more introverted Ikuto provide some really good contrast in personality and it'll be interesting to see how the two collaborate going forward.
To be brutally honest, fashion has never been a topic that appealed to me. I don't know how long I'll stick it out for this anime. So far after viewing the first episode, I can say that I'm intrigued on where the story is going and will stick around for a bit. I'm really looking forward to seeing how Chiyuki and Ikuto work towards the dream they've always desired.
It's funny, you'd think the premise of a fashion model, a designer, and wanting to be in the Paris Collection would make for the perfect shoujo manga series, but Smile Down The Runway is shonen through and through. While watching the episode I couldn't help but think, "this is just Haikyu!!, but with modelling instead of volleyball." The female lead, Chiyuki Fujito, will do anything to be a model, even though she's too short, and the male lead, Ikuto Tsumura, has the ability to create the most beautiful of clothing, but doesn't have the means to pursue being a fashion designer, until they fatefully meet.
Smile Down The Runway doesn't just set up the shonen formula well, it does it with style. The series, animated at Ezo'la in director Nobuyoshi Nagayama's third show for the studio, oozes beauty. Nagayama's credits include work as an animation director on Shaft series, Monogatari and Sasami-san@Ganbaranai, as well as storyboarding work on Re:Zero. Alongside him is the talented Misaki Kaneko as the character designer, who has credits as an animation director on Scum's Wish, and as the chief animation director on the 2019 version of Fruit's Basket. Together they have fashioned a beautiful looking show about beautiful people.
While I can't say for sure if Smile Down The Runway will keep my attention all season, or even if I'll continue it, if you're looking for a show that is your usual uplifting shonen series in a new package, then try it out.
Smile Down the Runway is a fine show. There aren't many anime with a fashion-focused premise like this, and I think the plot will resonate with anyone who has a really long shot goal. After just one episode the characters already have quite a bit of nuance to their personalities. As a man who has a lot of traditionally feminine interests and who constantly hangs on to old stuff to save money, I really vibed with male lead Ikuto. I appreciated that his love of fashion was taken seriously and wasn't the butt of jokes.
Having read all of the manga that's available in English, I can confirm that the plot and characters are only going to get better and more engaging from here. Which is good, because in my opinion this adaptation doesn't have much else going for it. Especially in comparison to the manga, the anime's visuals are a bit of a let down. The manga art is drowning in detail, particularly when it comes to characters' hair and clothes. It uses a lot of really beautiful two page spreads to show off outfits, and builds up to these reveals in a very dramatic way. The anime's outfit reveals are much less exciting. The directorial work and music don't add to the drama, and the pacing feels off compared to the manga's. I realize that the level of detail the manga has in these moments is nearly impossible to achieve on a TV schedule and budget. But it's still disappointing that my favorite parts of one of my favorite comics don't hit the same in animated form.
That said, even if the visuals, music, or pacing never live up to the standard set by the manga, the core content is so good that I have to recommend it. I love this story and I want everyone else to love it too.
---
You can watch Smile Down the Runway on Funimation, AnimeLab, Wakanim, and Hulu.
Big thank you to our supporters
From their continous support, we are able to pay our team for their time and hard work on the site.
We have a Thank-You page dedicated to those who help us continue the work that we've been doing.
See our thank you page