Our First Impressions series continues with more Winter 2020 series! Before the start of each new anime season, our readers vote on what series they'd like us to review the first episode of, and we cover the three series that get the most votes. This time around our winners were Toilet-Bound Hanako-kun, Smile Down the Runway, and Keep Your Hands Off Eizouken! The second of those three series to air is Toilet-Bound Hanako-kun.
Funimation describes it like this:
Kamome Academy is rumored to have many mysteries, the strangest of which involves the mischievous ghost of Hanako-kun. When occult-loving high schooler Nene Yashiro accidentally becomes bonded to him, she uncovers a hidden world of supernatural beings. Now the two of them are conspiring to keep the peace between student and supernatural—that is, if they can only stay out of trouble themselves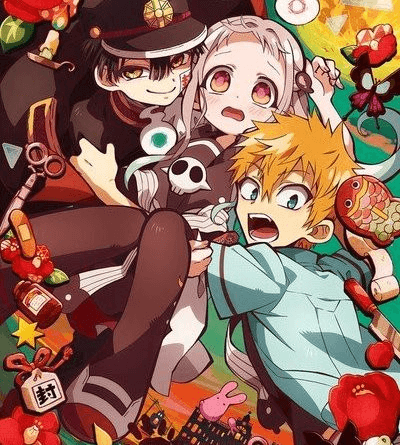 But what does our team of writers think?
Toilet Bound Hanako-kun follows the adventures of a gender-bent Hanako-san and a naive girl named Nene Yashiro. Nene's a hopeless romantic and wishes for the boy she likes in her class to return her feelings. She turns to Hanako-kun for help, but hijinks ensue, and she's now his assistant!
After watching the first episode, I can safely say that I'm intrigued by the premise and the overall look of the show. This is a Lerche production after all, and the split panel transitions of certain scenes is reminiscent of reading a motion comic. It's used especially well to translate some good jokes between Nene and Hanako because the two have a good rapport with each other.
The anime promises many more looks at the Seven Wonders of the School. Hanako is just one of these wonders and considering the rather creative use of a mermaid in the episode, I think I'm looking forward to seeing what this anime has in store.
With the director of Scum's Wish, Masaomi Ando, at animation studio Lerche, it's no surprise that Toilet-Bound Hanako-kun is as stylistic as anime gets. The anime, based off the manga of the same name, centres around a ghastly ghost who haunts the girls bathroom at a Japanese school. Hanako grants the wishes of those who visit but take something from them in return. Equivalent exchange if you will, just with less dog-human hybrids, for now. Of course, in the usual ways, this causes conflict and boom, a story is formed.
While on the surface the plot isn't the most original, the style of the show (and its mythos) is what makes Toilet-Bound Hanako-kun interesting. At points, the anime is more style than substance, but that isn't necessarily a bad thing. As long as the characters are interesting too (which they are) and the plot isn't dull (it's not totally original either, but it's fun none-the-less), you're bound to have a decent time. I sure did!
Now, that's not to say the show will keep me interested past the first few episodes. While it did make me want to watch more of it unless it either: picks up a lot more, or becomes insane, I may just drop it. For now, the visuals and animation quality are keeping me interested.
Toilet-Bound Hanako-kun makes quite an impression right off the bat. Visually it's an impressive hodge-podge of influences, some seemingly taken from non-anime sources. There are images that resemble puppet theatre, kamishibai, and stained glass that all work surprisingly well together. There are of course more conventional anime-style images, which look great too. The character designs are all cute and fairly unique, drawn with super-thick outlines that make them pop off the often busy backgrounds. Despite being ostensibly a horror series, everything is incredibly colorful. And in the second half when major supernatural happenings start up, there's some solid music to accompany the action.
It's a good thing the presentation is so impressive, because the plot and characters leave a bit to be desired. The vibe of the series reminds me of kid-friendly horror fare like 2018's GeGeGe no Kitaro anime or Scary Stories to Tell in the Dark, but without the instantly endearing characters of the former or the genuine creepiness of the latter. This episode's A and B plots were both based on Japanese urban legends and myths, and it seems like it's probably setting itself up for basically a creepypasta-of-the-week format, which has been done maybe not quite to death, but close.
Frankly, if the series is going where I think it is, it won't hold my attention in the long run. But it's very pretty, so I'd still suggest you give the first episode a watch and see if it seems more up your alley than mine.
You can watch "Toilet-bound Hanako-kun" on Funimation, Wakanim, and animelab.
Big thank you to our supporters
From their continous support, we are able to pay our team for their time and hard work on the site.
We have a Thank-You page dedicated to those who help us continue the work that we've been doing.
See our thank you page