We're back once again with our First Impressions series. Before the start of each new anime season, our readers vote on what series they'd like us to review the first episode of, and we cover the three series that get the most votes. This time around our winners were Toilet-Bound Hanako-kun, Smile Down the Runway, and Keep Your Hands Off Eizouken! Of those three, Eizouken is the first to air.
Crunchyroll describes it like this:
First year high schooler Midori Asakusa loves anime so much, she insists that "concept is everything" in animation. Though she draws a variety of ideas in her sketchbook, she hasn't taken the first step to creating anime, insisting that she can't do it alone. The producer-type Sayaka Kanamori is the first to notice Asakusa's genius. Then, when it becomes clear that their classmate, charismatic fashion model Tsubame Mizusaki, really wants to be an animator, they create an animation club to realize the "ultimate world" that exists in their minds.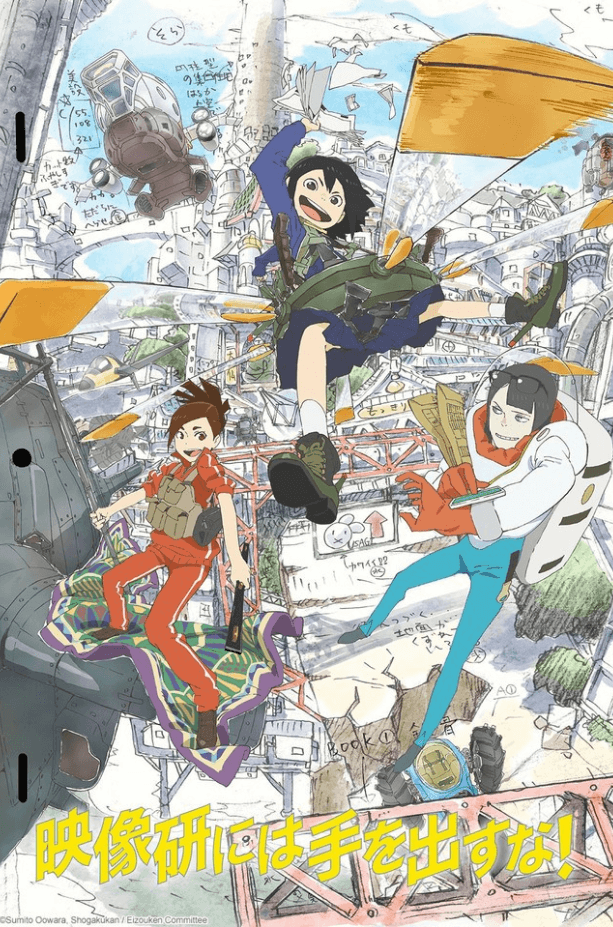 But what does our team of writers think?
Keep Your Hands Off Eizouken is a 2020 anime adaptation of a 2016 manga by Sumito Ōwara. The animation is handled by Science Saru, directed by the great Masaaki Yuasa and produced by Eunyoung Choi.
After watching the first episode, I'm convinced that this project is going to be an ambitious effort overflowing with creativity from the people at Science Saru. Eizouken seems to take some of the anime production elements from Shirobako and brings it down to a grassroots level. It focuses on the broad magic of anime as a whole and has more in common with something like Otaku no Video.
The large school setting offers many things to observe as we follow our three main heroines – Midori, Sayaka, and Tsubame. Midori is the short, socially awkward high school girl who has a great sense of adventure, of which translates into pages of concept art drawings. Her passion for anime helps brings her friends together to realize such a dream. I feel that this is the start of a very good dynamic between them and we'll hopefully see more of their successes and failures as a group.
Considering it's Yuasa and Science Saru we're talking about, there's an especially impressive dream sequence where the three main characters build and ride a dragonfly like plane through Midori's drawings. Not to mention the fresh and very spicy opening is something worth watching through its entirety. Long story short: watch Eizouken and keep it in your queue this season, because I know Midori and the girls have more tricks up their sleeve.
Keep Your Hands Off Eizouken is a love letter to not only anime but the entire anime creation process. The joy the series produces can only be described as childlike wonder. When I started watching anime as more than a fan, there was this moment–it's an indescribable moment–where everything just clicked. For me, that was watching Nausicaa for the first time and seeing Hideaki Anno's Ohm cut. Eizouken, somehow, recreated that moment with Asakusa and Future Boy Conan, another Hayao Miyazaki classic which they reanimated for the episode. I've never seen, or felt, anything like that moment again, but this show brought me back to that.
Eizouken the series is directed by Masaaki Yuasa (Devilman Crybaby, Ping Pong the Animation) at Science Saru, so going into the first episode, I knew I was in for a wild, quirky, and imaginative ride. But I never knew it'd invoke this kind of feeling inside me, one that I haven't felt in a decade. Surrounding that is some of the most interesting and unique animations that I've ever seen in a TV anime series, sprinkled with some of the best sound design since The Wind Rises (yes, voices as sound effects and more). For a fan of sakuga, sound design, and cute girls making things, Eizouken ticks all my boxes.
It might be a little too early to say Keep Your Hands Off Eizouken will be one of the best anime of the 2020s, but every other show that releases after it have a lot to live up to.
(Disclosure: Daryl works as a Japan Correspondent for News for Crunchyroll, who are owned by WarnerMedia. Warner Bros. Japan produced this anime.)
In college my writing professors always told me to avoid using cliches but, like metaphorical vomit, I just can't stop this one from coming out of my metaphorical mouth. Keep Your Hands Off Eizouken is director Masaaki Yuasa's love letter to anime. He loves anime so much that he's making an entire anime series about loving anime so much that you just have to make an entire anime series. And it's beautiful.
Obviously the credit cannot go entirely to Yuasa. The sound designers especially deserve some recognition. The way the sound and music is made from human voices during the extended fantasy sequences is genius. The author of the source manga deserves recognition too. It has really unique character designs and idiosyncratic layouts and lettering (which you can see an example of in this tweet) that are brilliant in their own right, as well as suiting Yuasa's style perfectly.
But the director, producer Eunyoung Choi, and their incredible animation team at Science Saru are the ones that bring Eizouken to the next level. Their love of animation leaps out of every frame. The way the characters move, the way they look, the way the art style and fluidity of motion changes during the fantasy sequences, everything about it is outrageously charming. By the end of the episode I was reduced to a hooting and hollering wreck of a man, severely, even dangerously, overjoyed. Charmed into oblivion.
Masaaki Yuasa loves anime and wants you to love it as much as he does. And if you watch Keep Your Hands Off Eizouken, then by god you will. I can't recommend this one enough.
You can watch "Keep Your Hands Off Eizouken" on Crunchyroll and VRV.
Big thank you to our supporters
From their continous support, we are able to pay our team for their time and hard work on the site.
We have a Thank-You page dedicated to those who help us continue the work that we've been doing.
See our thank you page