It's the final round for this Spring 2022 season's First Impressions! In case you're new or have forgotten, our First Impressions series usually works like this: in the weeks leading up to the start of a new anime season, we run a poll so readers can vote on what new shows they'd like us to cover. We tally up the votes, and the top 3 (sometimes 4, in the case of a tie) get their first episodes reviewed by some of our writers. This season, our winners were Love After World Domination, SPY x FAMILY, and Shikimori's Not Just a Cutie, and Shikimori is the last of them to air.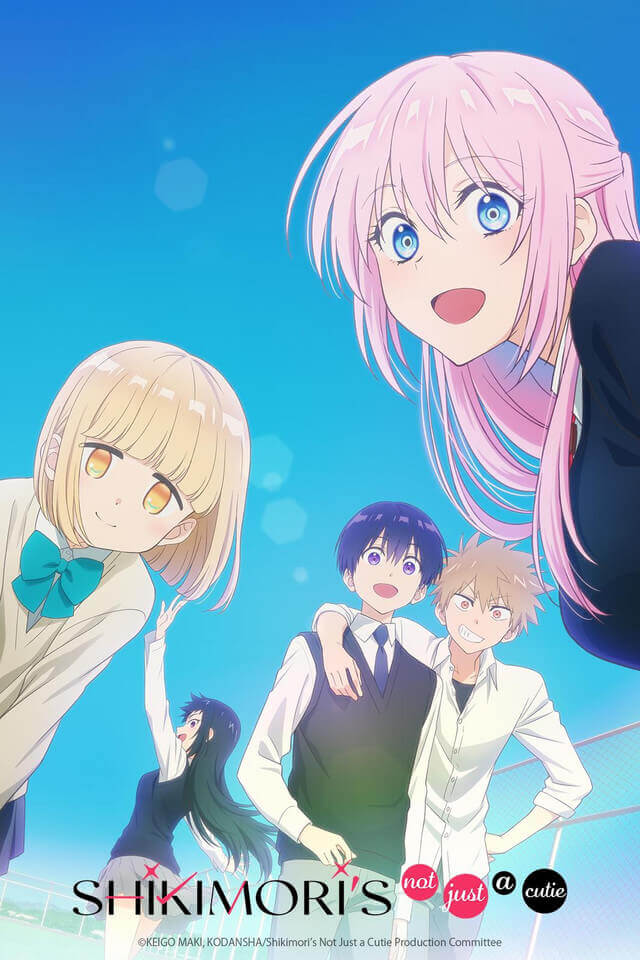 Shikimori and Izumi are high school sweethearts. They hold hands walking home from school, they flirt in the halls, they tease each other. But Shikimori knows what she wants, and how to get it, and she can turn from cutie to cool in an instant. – Kodansha
Let's see what our team of writers had to say!
Kaley Connell
It is so refreshing to go into an anime where not only is the OTP already a couple, but to have the male lead be just as cute as the female lead. Shikimore's Not Just A Cutie is blush-inducingly adorable with artwork that'll keep anyone staring into those fathomless eyes.
Just based on episode 1, the characters all seem well developed and diverse. I love the gender-bent damsel-in-distress plot, and the voice acting was fantastic. In the vein of Horimiya , even the side characters are interesting and seem almost as important as the main characters. I absolutely love their designs and personalities, and I'm very excited to see how they help the main pair progress.
Beyond the adorable story of a boy with bad luck and his cool girlfriend who saves him lies something else–deeper? darker?–that episode 1 heavily hints at. Whatever it is, Shikimori's Not Just A Cutie has me deep enough in its claws to stick around and find out!
---
Daryl Harding
Sometimes there's a deeper meaning in the title of a show (except, those light novel titles!), but Shikimori's Not Just a Cutie is exactly what we get – a series where Shikimori-san isn't just cute, she's also cool as heck. Though, like Izumi, the boyfriend in this scenario, I'd argue that while Shikimori is being cool, she's looking cute while doing so.
One of the best things about Shikimori's Not Just a Cutie is that it's a simple show with a simple premise that is nice and wholesome and just something fluffy to watch. It's not challenging, it's pretty to look at, and the characters are nice. Which seems to be a recurring motif with this season's biggest shows – and like I've said with the other two first impressions, I'm all for.
And being animated at Doga Kobo, with Ryota Ito in charge of direction and NEW GAME! 's Ai Kikuchi making sure the animation is on point as the animation director and character designer, I know it'll be a solid show that has some sweet and funny moments. Though I do feel like Shikimori's Not Just a Cutie is more of a "watch when you get some time" rather than "watch as soon as the episode releases" kind of show – which is perfectly okay, the sweet tale of Shikimori and Izumi is always there to enjoy.
Disclaimer: Daryl Harding is a Japan Correspondent for Crunchyroll News/Feature. Crunchyroll is on the production committee and co-produces Shikimori's Not Just a Cutie
---
Bill Curtis
Shikimori's Not Just a Cutie is the surprise of the season for me, but not in a good way. From the look of the trailer and the way people talked about the manga online, I expected something along the lines of My Dress-Up Darling, a goofy dork x popular girl romance. I am a sucker for that kind of thing. But tragically Shikimori did absolutely nothing for me.
I think this show falls into the same trap that a lot of harem anime fall into, actually. It relies far too much on the appeal of the main girl and completely forgets to give the boy redeeming qualities of any sort. His entire personality is that he loves his girlfriend. He's a 15-year-old wife guy. I get it and I respect it but as we've seen with Dress-Up Darling, or even trashy harems like High School DxD, giving the main boy some interiority beyond "Wow! Girl(s)!" can take a show from forgettable to great.
Because the main boy has negligible personality, there's not really any interplay between the two of them. He's just a camera through which we view Shikimori. The show assumes the viewer will be as impressed with her as our viewpoint character is, but I just don't quite see what he sees in her, I guess. It completely failed to hold my attention. This one gets a big old shrug from me.
---
You can watch Shikimori's Not Just a Cutie on Crunchyroll.
---
Wondering where to watch Spring 2022 anime? We can help with that!
Big thank you to our supporters
From their continous support, we are able to pay our team for their time and hard work on the site.
We have a Thank-You page dedicated to those who help us continue the work that we've been doing.
See our thank you page