Round 2, start! In case you're new or have forgotten, our First Impressions series usually works like this: in the weeks leading up to the start of a new anime season, we run a poll so readers can vote on what new shows they'd like us to cover. We tally up the votes, and the top 3 (sometimes 4, in the case of a tie) get their first episodes reviewed by some of our writers. This season, our winners were Love After World Domination, SPY x FAMILY, and Shikimori's Not Just a Cutie. Of those three, SPY x FAMILY is the second to air.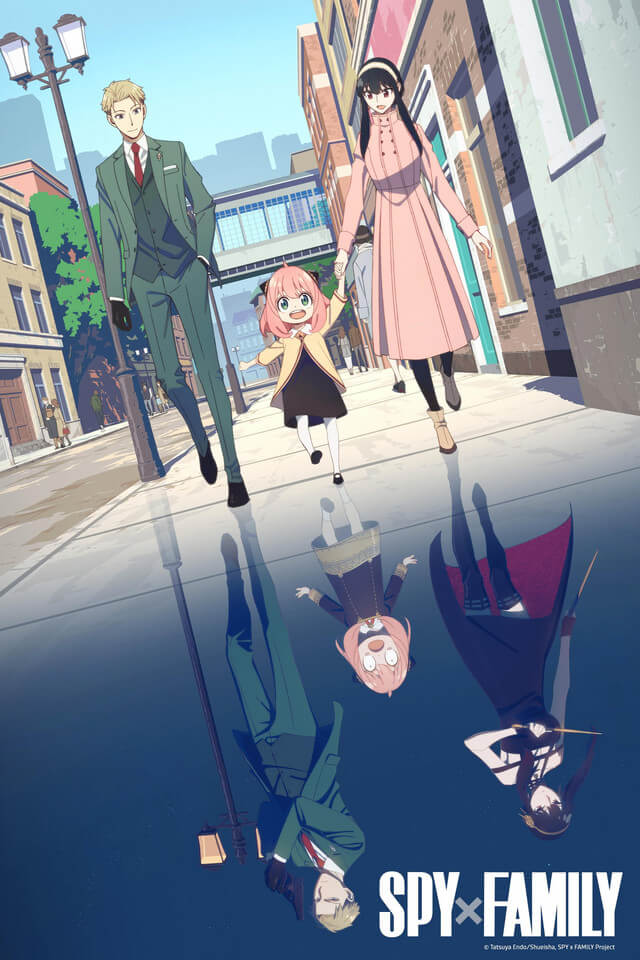 Master spy Twilight is the best at what he does when it comes to going undercover on dangerous missions in the name of a better world. But when he receives the ultimate impossible assignment—get married and have a kid—he may finally be in over his head! – Viz
Let's see what our team of writers had to say!
Kaley Connell
Top secret missions, secret identities, action-packed fights–SPY x FAMILY has it all, and more.
Fans of Bond movies and other spy films will find more than a few nods and winks to the classics, and anyone looking for a show full of intrigue, smooth fight scenes, and a healthy dose of comedy will adore this found-family show.
After hearing about SPY x FAMILY coming out as an anime, I did some looking and found that Viz had already started localizing the manga. So a week before the show aired, I picked up the first volume. And then I went and picked up the following six volumes because it was just that good. But all the manga did was make me even more excited for episode 1 to air. The show does a great job of sticking to the source material, and the voice acting really brings the characters to life. Add in the pretty art and wonderfully done action sequences and I couldn't ask for a better episode 1. The story is the shining star of the series. I loved Loid's reactions to Anya and her typical, childlike behaviors, and watching Anya try to discern the meanings behind Loid's thoughts is adorable and endearing. As a fan of the manga, the show was in no way a disappointment. It met every expectation I could have had. In fact, even if I hadn't read the series first, the show still would have drawn me in.
Anyone looking for a salty-and-sweet action-drama will be missing out if they don't watch SPY x FAMILY this season.
---
Daryl Harding
SPY x FAMILY is the most hyped show this anime season – for a good reason. The manga by Tatsuya Endo is utterly superb. Not because the story is groundbreaking, but because the writing is some of the best in manga, the characters are charming as heck, and the art is sweeter than a pound of sugar. I'm already a huge fan, so the anime has a lot to live up to.
On every front, the SPY x FAMILY TV anime feels like a perfect adaptation. It delivers on all the charm the original manga has while transferring most of the beautiful art to animation. Though, I feel this is one series where accents would suit the Cold War Berlint setting.
But, this is also where the first episode falters just that little bit. Much of my enjoyment of the series comes from the family dynamics of the Forgers and the hijinks of them being undercover with an adorably rambunctious child. The anime isn't there yet and reminds me how the manga took some time to get its brilliant groove going. I'm sure the anime will get there in due time, especially as Yor gets introduced and Anya goes to school.
I'm overjoyed we finally have a SPY x FAMILY TV anime, and 100% will be watching the wholesome fun every week knowing that the only way is up from here. Like I said in the Love After World Domination impression, wholesome is the new king of anime and I couldn't be happier.
---
Bill Curtis
Not that I expected anything less, but SPY x FAMILY kicks a ton of ass. I love the manga and the anime delivered everything that makes the manga great and then some. The source material's solid action, cute kid antics, good dad content, and dry humor are all intact and look fantastic in motion. It's already the breakout hit of the season and it's easy to see why.
If I had to bring up one tiny complaint, it's that one of the main characters doesn't get introduced in this first episode. The episode is great without this character but if they were there, it would be even better. A huge part of my enjoyment of the series is its ensemble nature, so not getting the whole ensemble together as quickly as possible feels like a bit of a missed opportunity.
Even so, SPY x FAMILY rules. It's a must-watch if you like good cartoons, and more than likely it will only get better.
---
---
Wondering where to watch Spring 2022 anime? We can help with that!
Big thank you to our supporters
From their continous support, we are able to pay our team for their time and hard work on the site.
We have a Thank-You page dedicated to those who help us continue the work that we've been doing.
See our thank you page