Since we first reported on the death of Nintendo President and CEO Satoru Iwata, fans and colleagues alike have expressed their condolences. Across the internet, fans have been posting art in response to the news, and websites have dedicated posts to Iwata-san.
Anime News Network posted pictures of tweets expressing both gratitude and mourning for Satoru Iwata's life and death. The tweets primarily show fanart created in his honor along with the hashtag #ThankYouIwata.
https://twitter.com/projectTiGER_/status/620580677214273536/photo/1
Siliconera posted an article on Mario Kart players racing as Satoru Iwata's Mii. The article includes a QR code so others can join in and race as him in Mario Kart 8. The hashtag for this initiative is #RaceForIwata. The article also posted various fanart in the wake of Iwata's sudden death.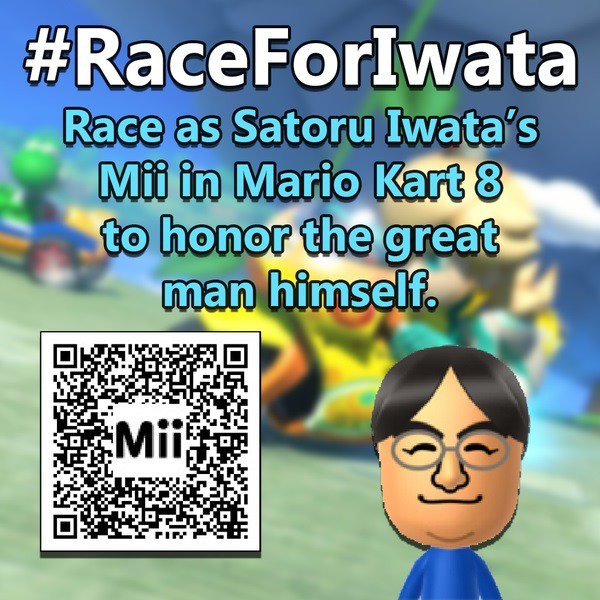 Aside from fans, Iwata-san's colleagues have also reached out. Nintendo abstained from using social media to pay respect for his passing, and Nintendo World has set up an area in their store where visitors can write condolences. IGN released a report on Shigeru Miyamoto's statement regarding the death of Satoru Iwata, who was both a colleague and friend, as well as a statement from Nintendo of Europe President Satoru Shibata. Miyamoto's statement is as follows:
I am surprised at this sudden news and overcome with sadness. The entire development team at Nintendo will remain committed to our development policy which Mr. Iwata and we have been constructing together and to yield the development results which Mr. Iwata would appreciate.
IGN also posted an article listing Satoru Iwata's 11 most memorable quotes. The quote at the top of this article can be found on the site's list. They highlight the aspects of the games industry that he was both weary of and enthusiastic about.
While this sudden passing is a time of sorrow within the video game community, the outpouring of warm regards for Satoru Iwata and how much his efforts meant to so many is a beautiful thing to behold. Let us continue to come to terms with his death by remembering his legacy. If you have any comments, fanart, condolences, or stories regarding the impact of his passing or his legacy, please share them in the comments section below.
Big thank you to our supporters
From their continous support, we are able to pay our team for their time and hard work on the site.
We have a Thank-You page dedicated to those who help us continue the work that we've been doing.
See our thank you page