KWEH!
Goodness me, another weekend is here! Here are some of the news articles that you may have missed.
Let's start with something rather weird, shall we? A group of office ladies in China wore Kaonashi (No-Face from Spirited Away) masks for a day. The PR stunt/experiment was "[…] designed to help relieve the pressure of smiling to customers and clients." Thankfully they were only wearing the mask, not the full costume. Can you imagine the office workers going around and working looking like this guy below?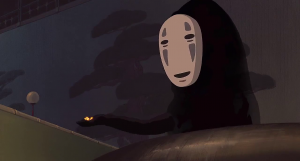 Gundam fans (myself included) may be interested in this exhibition titled The Art of Gundam going on now until the end of September this year. For those of you who cannot visit, Kotaku and Gizmodo Japan have got you covered. This is one post where I would encourage you to scroll down to the comments section because other Gundam fans are sharing some of their knowledge.
You probably have heard about the Final Fantasy VII Remake that was announced during E3 some time ago. Siliconera put together an article about how hyped the fans are, including some famous Youtubers courtesy of The Fine Bros.
Meanwhile, I am psyched for the new Persona 4: Dancing All Night game! It is now confirmed that the game will launch in the US on September 29. I am already addicted to one song in particular. You can check it out below.
If you are excited for the live-action Attack on Titan movie, here is a bit of news that you may be interested in. RocketNews24 reported that in order to fit the story to a more Japanese-based setting, there are some changes necessary, including the exclusion and introduction of characters. Supposedly some of the changes were requested by the author himself.
Here is an interesting article about how certain works of fiction are altered to be culturally relatable. In the new Pixar movie, Inside Out, there is a scene in which the protagonist, Riley, refuses to eat broccoli. It is based one the trope that broccoli is unappetizing to kids everywhere. However, the said vegetable does not have the same meaning in Japan. Do you want to know what is the most hated vegetable in Japan? Click over to RocketNews24 to find out.
Visual Kei bands have been around for about 30 years. The Japan News recently reported that a band named Golden Bomber is trying to do something unconventional to the genre. It seems that what they have been doing has caught the eyes (and ears) of a certain niche audience.
Here is a collaboration that should have been made long ago: Doraemon and Hello Kitty. The two cat-inspired characters will appear in a series of cute merchandise.
That is all I have for this week. Hope you had a good read (with a bonus song). Come back next weekend for more!
Note: there were two news articles from Japan Times that I wanted to include but the links do not seem to work. I will keep a lookout for them for next week's compilation.
Big thank you to our supporters
From their continous support, we are able to pay our team for their time and hard work on the site.
We have a Thank-You page dedicated to those who help us continue the work that we've been doing.
See our thank you page