Exciting new for Rurouni Kenshin fans who have been waiting for the live-action movies! Funimation Films just announced that it has acquired the rights to the Rurouni Kenshin film trilogy! The three films, distributed by GAGA Corporation, include Rurouni Kenshin: Origins, Rurouni Kenshin: Kyoto Inferno, and Rurouni Kenshin: The Legend Ends. The movies will be released in Japanese language with English subtitles.
The schedule is as follows: Rurouni Kenshin: Origins will be screened August 8-10, Rurouni Kenshin: Kyoto Inferno will be screened September 12-14, and Rurouni Kenshin: The Legend Ends will be shown October 3-5.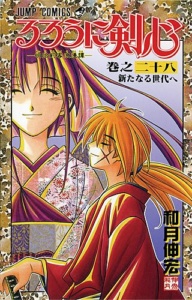 The Rurouni Kenshin trilogy is adapted from a world-wide hit manga of the same name written by Nobuhiro Watsuki. The story is set in Japan during the Meiji period, when the country is going through rapid modernization. Kenshin Himura is a former assassin who wants to turn a new leaf: living an ordinary life, atoning for his sins, and protecting those dearest to him. Alas, his past catches up to him and entangles him in brutal conflicts, with the nation and people around him at stake.
In regards to the release, Gen Fukunaga, CEO and founder of Funimation has this to say: "We're excited to be working with GAGA to bring this international box office hit trilogy to North America. This collection of movies stands out as an incredibly authentic film adaptation that faithfully honors the original manga series. We're eager to share 'Rurouni Kenshin' with U.S. audiences in August."
Aside from keeping close to the original material, the films are known for stylish action sequences. Believe me, I saw the first movie (during a long flight) and the sword fights are amazing.
Kenjin Tanigaki was the action director of the trilogy. If you are fans of action flicks, Tanigaki has worked with Donnie Yen on Ip Man and Dragon, as well as in movies such as: Blade II, Kill Zone, and Legend of the Fist.
So far the films have earned more than $160M internationally. Critics have praised the movies saying: "[t]he sword fighting is amazing, the directing is brilliant, the casting nearly perfect… " and "…Maybe the single best Japanese live-action adaptation…" proclaimed Kotaku.  "…Delivers grand thrills." hailed Twitch Films. "Choreography is fast and furious…" said The Hollywood Reporter. "…A well-shot swordplay spectacular" declared The Guardian.
Where is the trailer, you ask? Funimation Films has partnered with IGN.com to bring you the exclusive sneak peek at what you can expect from the action-packed samurai films.
Some fun facts about Takeru Satoh who plays Kenshin in the movie: he is no stranger to manga adaptation, because he has played in live-action adaptations of Shinigami no Ballad, Bakuman, Bloody Monday, and Beck. Aside from that, he is also the main character of Kamen Rider Den-oh.
You can find out more about Funimation Film's Rurouni Kenshin's theatrical release by going to funimationfilms.com/rurounikenshin.
Big thank you to our supporters
From their continous support, we are able to pay our team for their time and hard work on the site.
We have a Thank-You page dedicated to those who help us continue the work that we've been doing.
See our thank you page