Our Summer 2019 Anime First Impressions series was a hit, so we're back for Fall 2019! Before the new season of anime started, we ran a poll asking our readers what new non-sequel, non-spinoff anime series they wanted us to investigate. Over the last few weeks, our team of writers have been watching the first episode of the poll's top 3 shows and telling you if they're worth putting into your queue. The poll winners were Ascendance of a Bookworm, Africa Salaryman, and Case File No. 221: Kabukicho. Case File No. 221: Kabukicho (also known as Kabukicho Sherlock) was the last to air.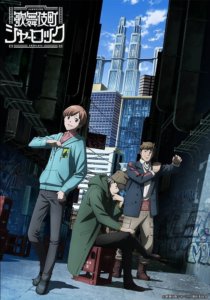 Funimation describes it like this:
"In Kabukicho, the home of Tokyo's famous red-light district, neon lights shine brightly but they harbor Tokyo's darkest evils. Mrs. Hudson runs a tenement where seven strange but colorful individuals reside — including the detective, Sherlock Holmes. The stage is set for Sherlock when a bizarre murder occurs involving Jack the Ripper!"
Now what does the Preview Team think?
Fall 2019 is turning out to be a great season for neo-noir mystery shows. Between Psycho Pass 3, Babylon, Special 7, and No Guns Life, Kabukicho Sherlock takes an oddball comedic twist on a classic story, while also adding in crime procedural elements. The anime sets its tone right off the bat by highlighting the sleazy urban Tokyo setting of Kabukicho, accompanied with low jazz music. Having been somewhat of a Sherlockian, it's great seeing all the characters from Sir Arthur Conan Doyle's books like Holmes, John Watson, Mrs. Hudson, James Moriarty, and Inspector Lestrade interact with each other in a Japanese setting. Throw Jack the Ripper into the mix and you have a show to keep an eye on.
It seems finding Jack will be the main objective throughout the duration of the anime. Sherlock himself seems to be an aloof fellow whose relationship with Watson will develop over time like in the original books. I don't know how accurately they'll keep the story of the characters they've borrowed. Nonetheless, I expect a good retelling of sorts with plenty of twists and revelations.
Often – but not always – you have two different types of original anime series: one being the series that feels unrestricted in its use of the medium without being tied to a manga or light novel, or two, a series that probably should have gone through the manga/novel process so enough eyes edited it down to something great. Sadly, the oddly titled (in English) Case File nº221: Kabukicho – its Japanese name being Kabukicho Sherlock, I wonder why that was changed… – should have been put back into the oven to cook a bit longer.
While Case File nº221: Kabukicho had a lot of really interesting ideas, its first episode didn't capitalize on any of them. Why was Kabukicho different in the show? Why do they play detective games? Why does everyone, despite being Japanese, have English names? Why Rakugo? Yeah, these will likely be answered in later episodes, but they weren't intriguing enough to leave me wanting to find out.
I could imagine some people having problems with the setting of this show, but funnily enough, I thought that was the most interesting part. No, it's not a 1-to-1 recreation of Shinjuku's Kabukicho district, but it had all the elements that made Kabukicho feel like Kabukicho. Tanned guy trying to hustle guys into his soapland, check. Getting robbed? Check. Over-exaggerated drag queens? Check. Hostess clubs that are way too gaudy? Double check. You can see all of these walking down the streets of Kabukicho at night – not that I'd recommend that at all, since Shibuya is much nicer.
I feel the problem rests in the director, Ai Yoshimura. Coming from a comedy, or romantic comedy, background, she doesn't have the chops yet to bring Taku Kishimoto's series to life. Kishimoto, who has composed series like ERASED, Joker Game, and Fruits Basket, has experience with a more serious type of show. While Case File nº221: Kabukicho is clearly not trying to be as serious as Joker Game or ERASED, the silliness feels forced, cheapening anything above it.
I won't be continuing Case File nº221: Kabukicho. Unless the series suddenly is great, I don't see it being worth my time. Why did they need everyone to be Sherlock characters anyway?
I'll be completely honest here. I find almost every detective-esque story or show completely boring. I never could get into Sherlock Holmes regardless of who was playing him. So when I saw the title for this I audibly sighed. What a boring, overdone concept.
Wrong. Reader, I was very wrong. Gone is the dreary landscape that seems to plague every show that involves a detective or mystery of any sort. Instead we get the shining lights of a Shinjuku setting with all the modern bells and whistles. The colors are bright, in your face, and dancing on the line of being too much. The characters are just as obnoxiously campy, twisting tropes and turning cliches on their head.
At the end of the episode, I wasn't entirely sure what I watched. There was enough jazz to get my foot tapping and enough jokes that I truly laughed out loud. It was theatrical, over the top, and truly bizarre.
---
"Case File No. 221: Kabukicho" is streaming on Funimation.
Be sure to check out our first impressions of Ascendance of a Bookworm and Africa Salaryman!
Big thank you to our supporters
From their continous support, we are able to pay our team for their time and hard work on the site.
We have a Thank-You page dedicated to those who help us continue the work that we've been doing.
See our thank you page