Holy cow… 4 years?! Our anniversary honestly snuck up on us this time around. It's been a whirlwind of a year. Lots of changes, lots of new adventures, and more of both happening soon! But for now, let's take a look back, shall we?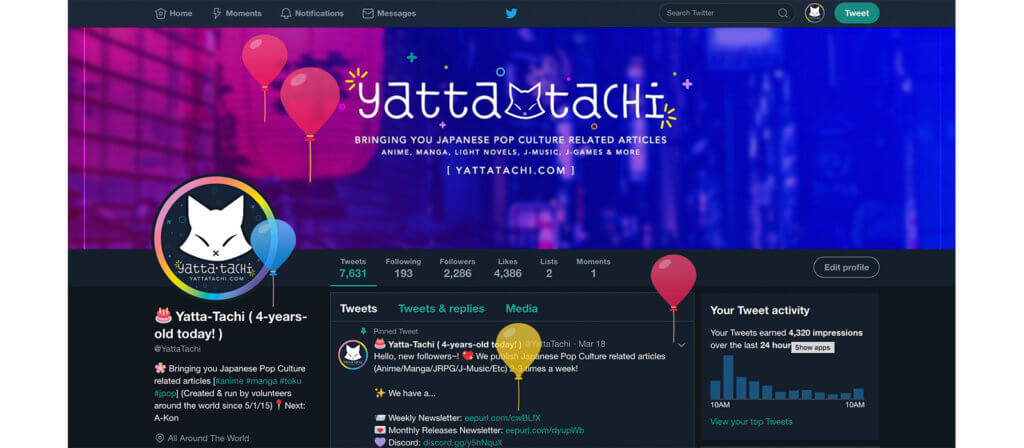 A look back
Last year, I said, "Just like the year before, we broke our record on the highest number of views yet again, and are on track to doubling our yearly traffic as well!" Guess what? We did! Last year was a huge success!
During the last 365 days, we covered more conventions, had more giveaways, and have now accumulated around 30-35 contributors! We've also brought onboard 2 senior staff contributors and 5 intermediate contributors! Our community, writers, and staff have been growing over the past year and we wouldn't be here without the help of the many amazing people who volunteer their time and effort to help us get where we are today!
A little redundant, but it's an honor and a privilege to promote our contributors' works and I couldn't be any more proud of them. We continue to stand out from the crowd because of them and for that, I'm truly thankful.
If you're interested in volunteering, please have a look at the Why Should You Write For Yatta-Tachi? article.
A look forward
So what's on the horizon for 2019? We already have a few collaborations and a possible event in the works with other great sites that we hope to announce soon! Also convention coverage-wise, we are amping it up this year and plan on covering more conventions outside of Texas!
Also if you have stuck around with us for a while, you may have noticed changes happening to the design and structure of the site. Chris and I have been slowly implementing updates to help improve your experience when you visit Yatta-Tachi. We have a lot more rolling out over the next few months, so please be looking forward to that.
As mentioned, there are a lot of exciting things happening in the near future for Yatta-Tachi. Leave a comment below on what you would like to see! Be sure to follow us on our social media for all the latest updates. Once again, thank you to all of our fans for your dedication and for believing in us.
Big thank you to our supporters
From their continous support, we are able to pay our team for their time and hard work on the site.
We have a Thank-You page dedicated to those who help us continue the work that we've been doing.
See our thank you page