Another year has gone by and it feels like it was only yesterday when we celebrated our first year anniversary. In two year's time, our site has grown exponentially thanks to the hard work and dedication of the staff, contributors, and you, our fans.
Yatta-Tachi is an ever-evolving site. When we first started out, we didn't know what to expect or where we would find our special nook in the community. While I can't say we are quite there yet, I can say that I strongly believe we are on the right track.
Since last year, we have launched the mini gift guides microsite, did a mini collaboration with Crunchyroll, had a giveaway, started a podcast and now have over 15 folks from around the world volunteering their time to write for Yatta-Tachi.
This month broke our record on the highest views ever in the last two years and I can't help but thank all the staff and contributors for writing such fantastic content. It brings me such great joy to promote their works and I couldn't be more proud of each and every one of them. They manage to bring something to the table that helps us stand out from the crowd. If you're interested in volunteering, please have a look at the Why Should You Write For Yatta-Tachi? article.
A Few Thank you's from the Yatta-Tachi Staff:
"Already two years, eh? It was hard enough to believe when we hit one. What's next? Three? Jeez. No matter how long, we wouldn't have lasted a month without our fans supporting us, a week without our great team, or a day without our tireless leader. I want to thank each and every one of you:
To our fans: Thank you for the opportunity to share things I love with all of you, I hope you've enjoyed it too. You all have been so supportive of all our efforts.
To the team: Not only have we worked well together to put out some great content, we've also had a lot of fun along the way.
To our leader, Katy: We would never have gotten this far without you pushing us to continue. You do so much behind the scenes, I don't know how you manage. Without your hard work putting our name out however you can, the site would not be as close to the success it is.
And so I'll sign off, hoping to see everyone follow us into year three and beyond!" – Zeke (Mark), Yatta-Tachi's Copy Editor
﹋﹋﹋﹋﹋﹋
"Has two years passed already? It only seems like last month! Thank you for reading and commenting on my articles! At first, I wonder if there were anyone who would be interested in my series. The comments made me happy to know someone is reading. Please keep following and supporting us. We promise there is more to come!" – detrop, one of Yatta-Tachi's Senior Contributor
﹋﹋﹋﹋﹋﹋
"It's been another crazy (good) year here at Yatta-Tachi, especially thanks to all of you reading this! While I don't write a lot on the site, I DO see all the interactions happening because of the posts we put out. I really appreciate our fans and my fellow contributors, and if there's something you'd like to see added to the website to make it better, don't hesitate to let us know!" – Chris, Yatta-Tachi's Associate Editor/Web Developer
2nd Year Celebration Event! Come Join Us!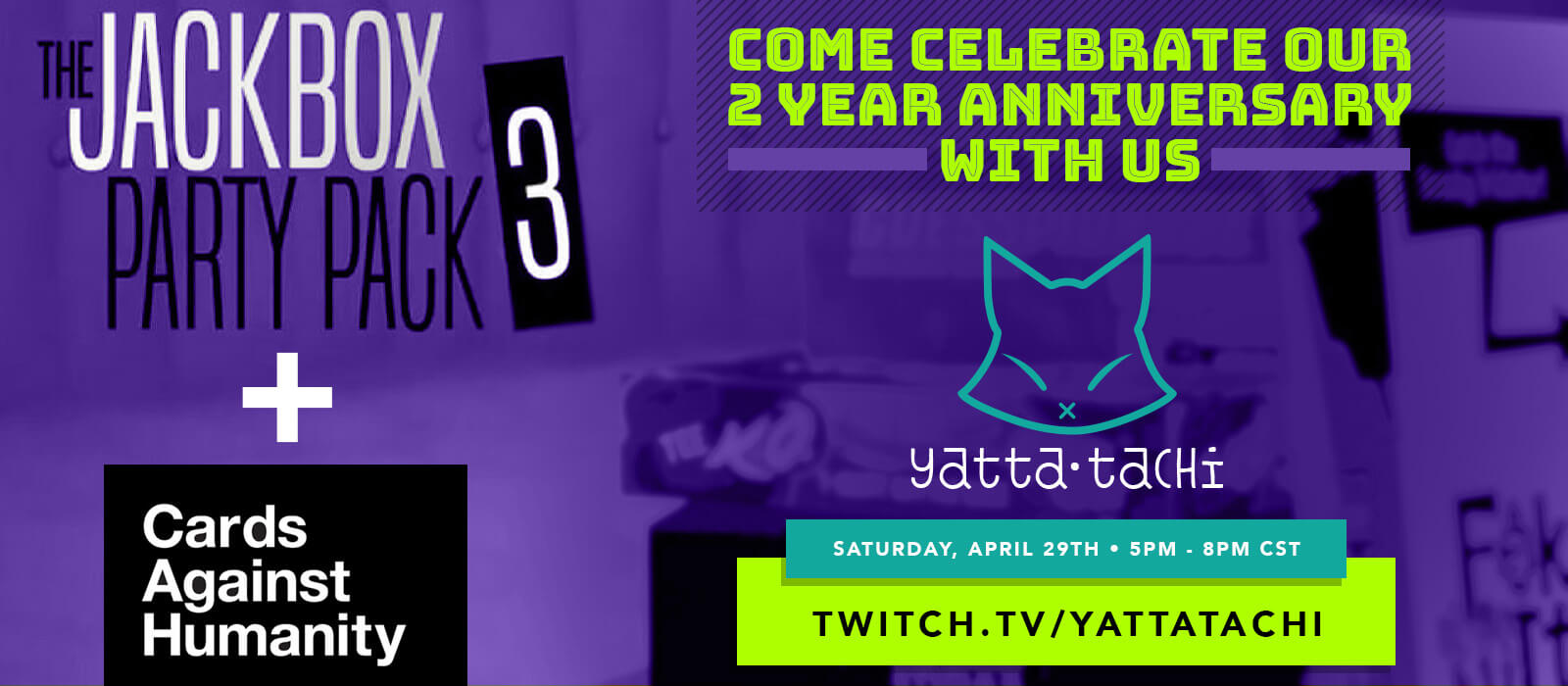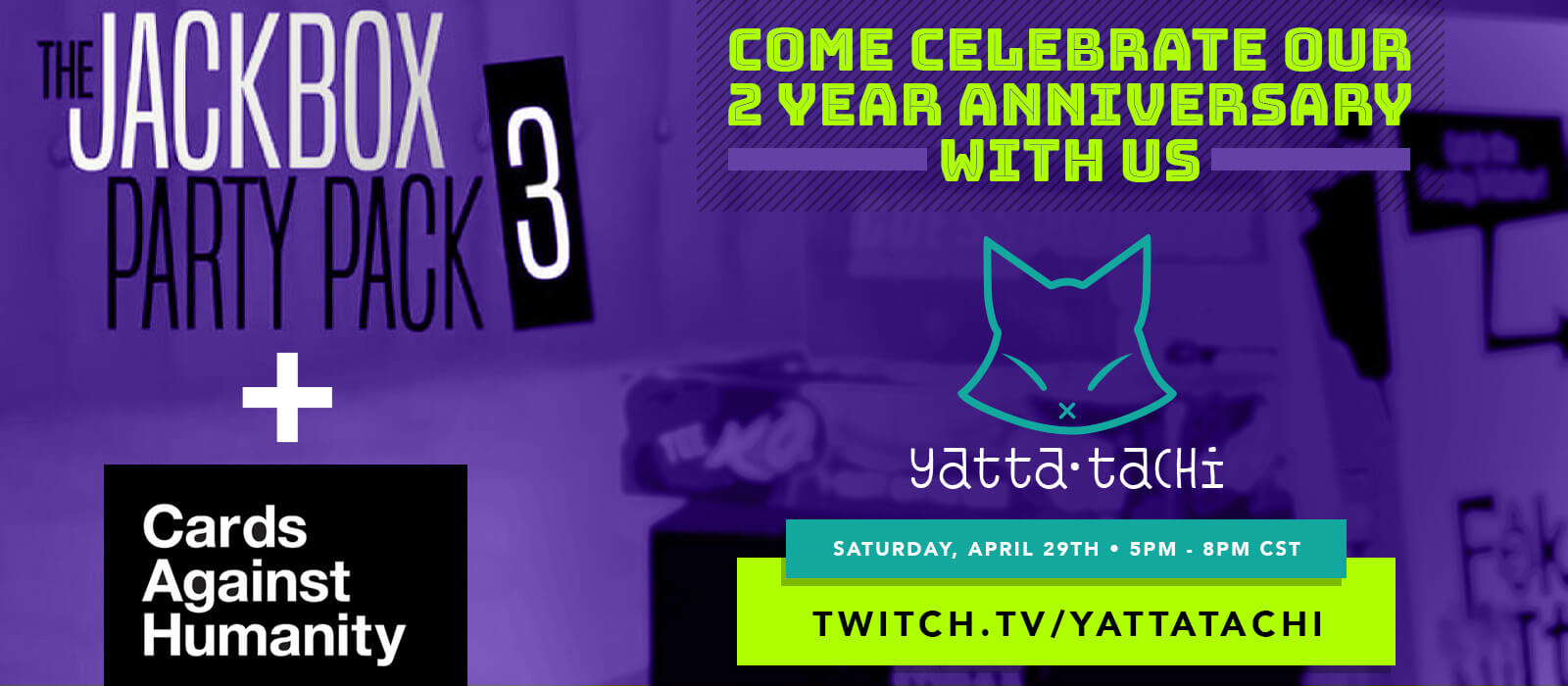 In honor of our 2 year anniversary, we will be doing a live stream of us playing games. Be sure to tune in and join us from 5 pm – 8 pm Central Time on Twitch while we play games from Jackbox.Tv, Cards Against Humanity and more on our Twitch channel!
What's next?!
I have extremely high hopes for Yatta-Tachi for the coming months ahead. The staff and I have several projects in the woodwork and can't wait to announce them. We have already announced a couple of things this month, such as…
We Launched A Podcast!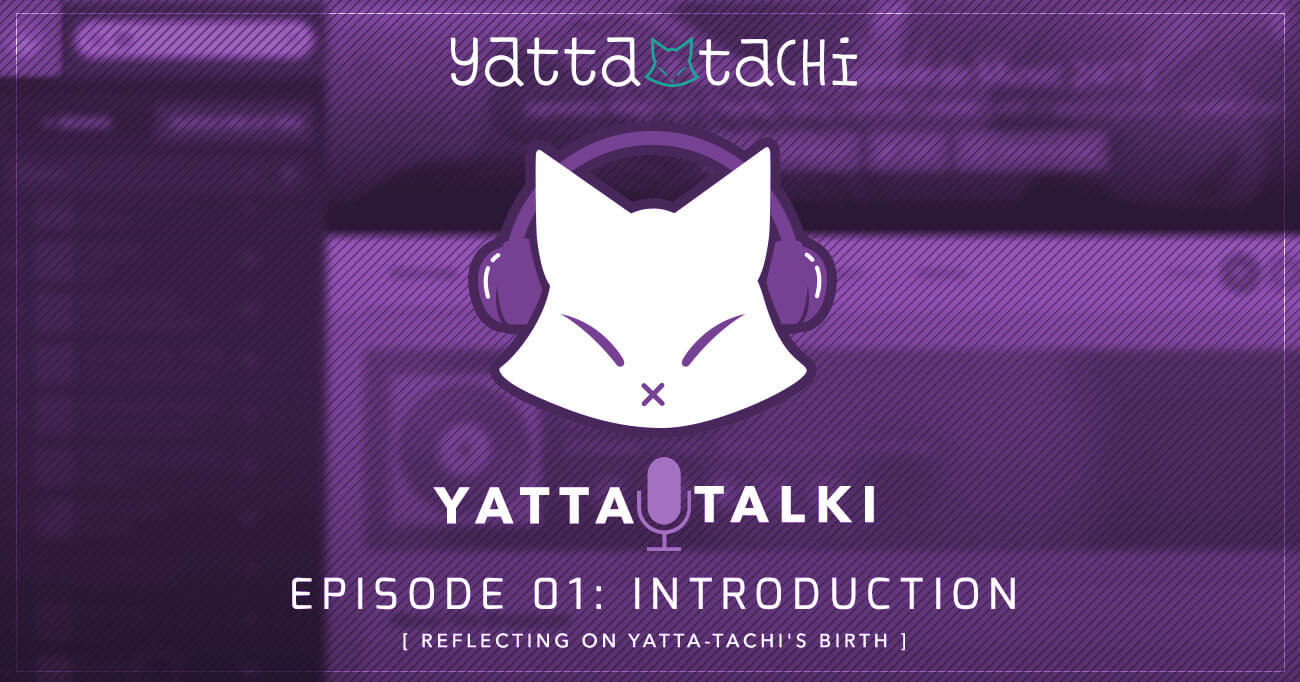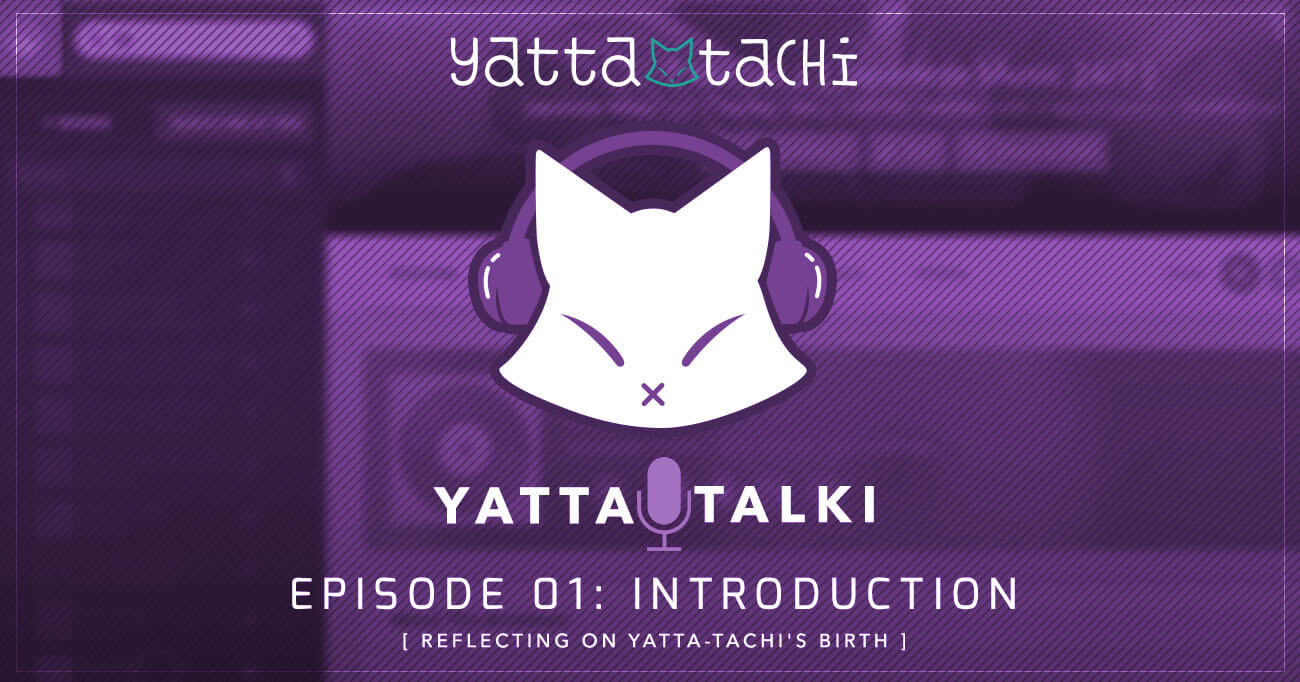 Mark (Zeke) and Daniel (My Little Death Pony) have teamed up to give you a monthly podcast episode of news, discussions and more on Japanese pop culture! Be sure to check out our first episode with me as the guest!
And We Are Covering Two Conventions!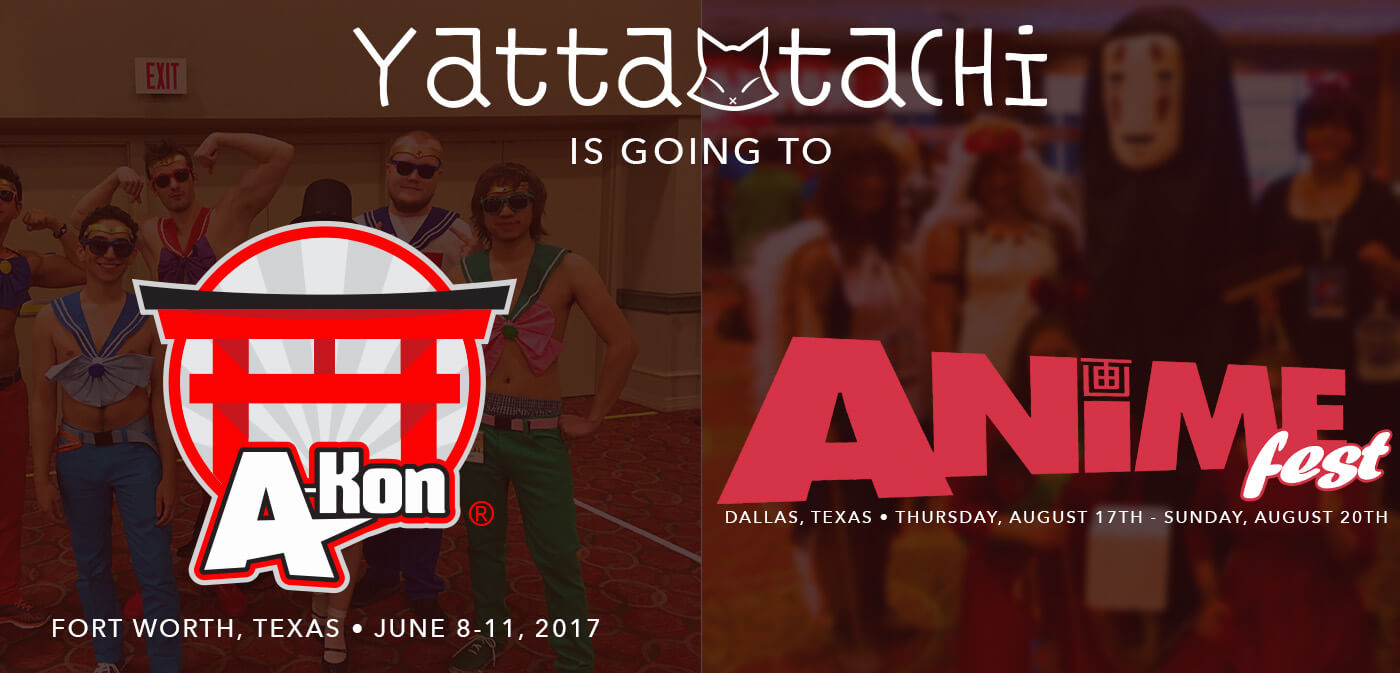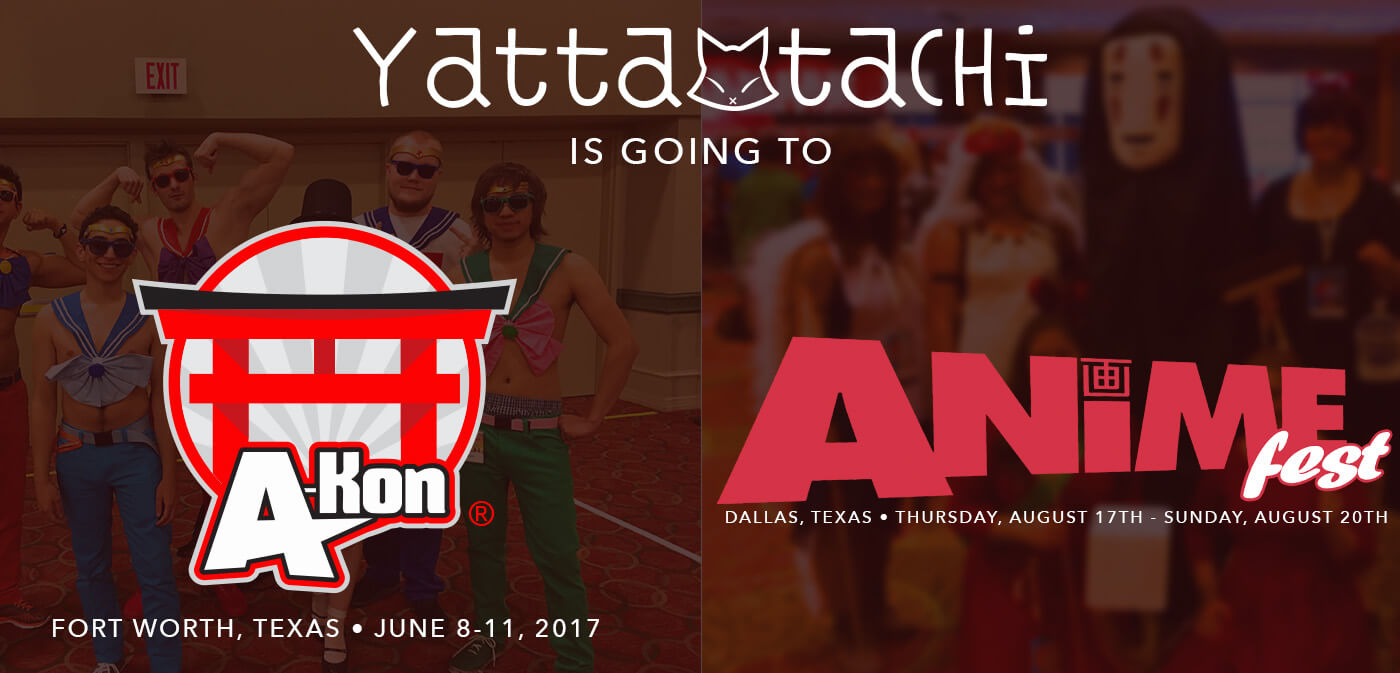 Convention season is around the corner which means we will be busy, busy with convention coverage. This year we will be once again going as press for both A-Kon and AnimeFest! Both conventions have announced some rather exciting guests that we can't wait to interview (including the staff of Yuri!! On Ice)! What can you expect from our coverage? A ton of photos of cosplay, interviews from Japanese industry guests, panel discussions, and more!
﹋﹋﹋﹋﹋﹋
As mentioned, there are a lot of exciting things happening in the near future for Yatta-Tachi. Leave a comment below on what you would like to see! Be sure to follow us on our social media for all the latest updates. Once again, thank you to all of our fans for your dedication and believing in us.
Big thank you to our supporters
From their continous support, we are able to pay our team for their time and hard work on the site.
We have a Thank-You page dedicated to those who help us continue the work that we've been doing.
See our thank you page