Game Content Warnings: Mild language, violence.
Route Content Warnings: Violence.
Nayuta Yagami Route Guide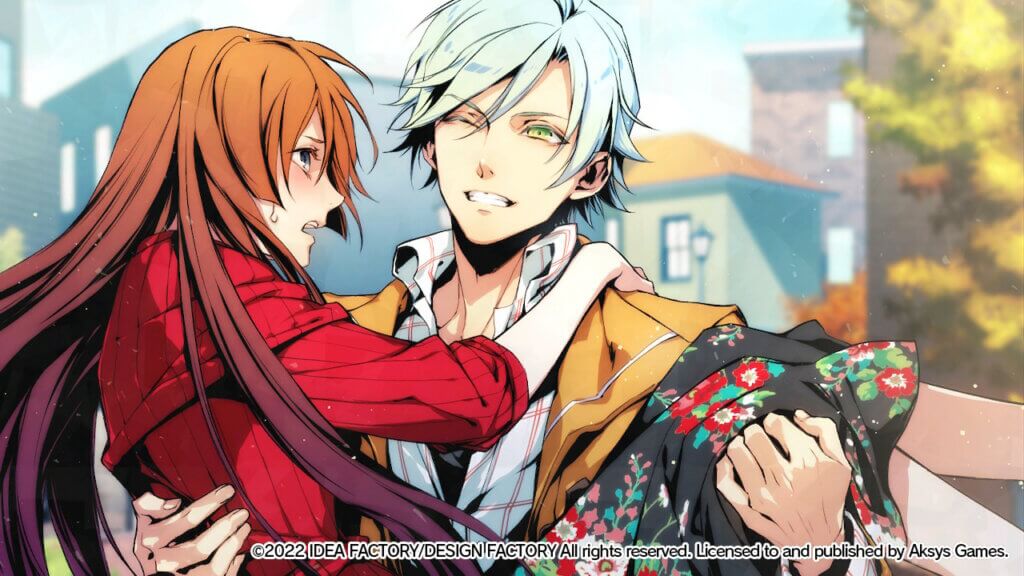 Things to keep in mind: This Variable Barricade walkthrough is as spoiler-free as possible, and following it will lead to 100% completion of the route.
Some choices may be out of order based on whether Continuous Play is turned on or off.
During the common route, the Level 1 Barricade Board for each of the love interests must be played. It does not matter which order these are completed in, only the choices made during the route. The same goes for selecting the boys throughout the common route.
If this is not the first route played, the common route can be skipped by starting a new game and selecting "Skip to 'Make a Choice'." I personally do not recommend doing this as new dialogue will be missed.
After completing this route, the corresponding After Story will become available.
Once the Love End for all four LI's has been completed, the True End Board unlocks. To access it, start a new game and follow the prompts.
This route also includes Bad End (18).
Nayuta Yagami
Common Route
Save 1
Ignore them.
Nayuta Yagami
Ichiya Mitsumori
Taiga Isurugi
Shion Mayuzumi
I'm not in the mood.
Nayuta Yagami
Stop pushing yourself so much.
Ichiya Mitsumori
Don't you get tired of jousting wits with me?
Taiga Isurugi
Yes, I know.
Shion Mayuzumi
Then I'll do it.
First Level 1 Barricade Board Choice: Nayuta Yagami
Why is he like this?
I'm worried about you.
You did great.
His directness.
Fall Down!!
Second Level 1 Barricade Board Choice: Ichiya Mitsumori
I'm not that particular.
You aren't a servant.
Let go of my hands.
Why go that far…?
Defended!!
Third Level 1 Barricade Board Choice: Taiga Isurugi
Because you're my suitor.
Arguments are problematic, and should be avoided.
It was frightening.
Scold him.
Defended!!
Fourth Level 1 Barricade Board Choice: Shion Mayuzumi
I like how I am now.
Do you not like pets because you're so similar to them?
It's difficult.
Rally more cats.
Defended!!
Common Route
Save 2
Make a decision.
Nayuta
Nayuta's Love End (15)
Save 3
You didn't hurt yourself, did you?
… I'm honestly not sure.
I was so scared.
Gosh, what are the chances?
I'm better off with you.
Save 4
No, that's not why.
I don't want to choose.
I liked Kevin.
I believe in Nayuta.
No, I'm not.
I can't.
Nayuta probably likes them.
I Absolutely Can't!
---
Nayuta's Marry End (13)
Load Save 1
Take the orange rose.
The Graveyard of Life ~Nayuta Ver.~
---
Nayuta's Bad End (14)
Load Save 3
Be more careful next time.
I'm considering it.
I'm fine.
Thank you for what you did.
If I'm bothering you, just say so.
…
They're all out of the question.
I liked the heroine.
Never Look Back
---
Nayuta's Another End (16)
Load Save 4
…
They're all out of the question.
I liked the heroine.
Is that what you really want?
It is what it is.
I appreciate it.
They sound pretty childish.
Just can't wait to…
---
Bad End (18)
Load Save 2
I can't choose.
An Empty Marriage
---
Variable Barricade Walkthroughs and Route Order Recommendation
All four LIs are available from the start and can be played in any order. In all honesty, there's no real reason to play one before another as all the routes are separate from the others. That being said, my recommendation is based on which stories I found the least engaging to the most.
Nayuta Yagami (You are here!)
---
Curious what I thought? Check out Kaley's review for Variable Barricade!
Big thank you to our supporters
From their continous support, we are able to pay our team for their time and hard work on the site.
We have a Thank-You page dedicated to those who help us continue the work that we've been doing.
See our thank you page