TokyoTreat were kind enough to send us their May 2023 box!
While this time around we did not do a full detailed review like we've done with our previous gifted TokyoTreat box, we still would love to let you know more about TokyoTreat, what they offer, and our thoughts on this month's box, along with a selection of a few of our favorites!
So let's get started!
What is TokyoTreat, what do they offer, & how much do they cost?
TokyoTreat is a monthly subscription box full of exclusive Japanese candy and snacks (such as Japanese Sake flavored KitKat, Sakura flavored Coca Cola, etc), delivered straight from Japan to your door! TokyoTreat's boxes come with a different and fun theme every month, keeping things exciting and fresh!
The Biggest Japanese Snack Box On The Planet!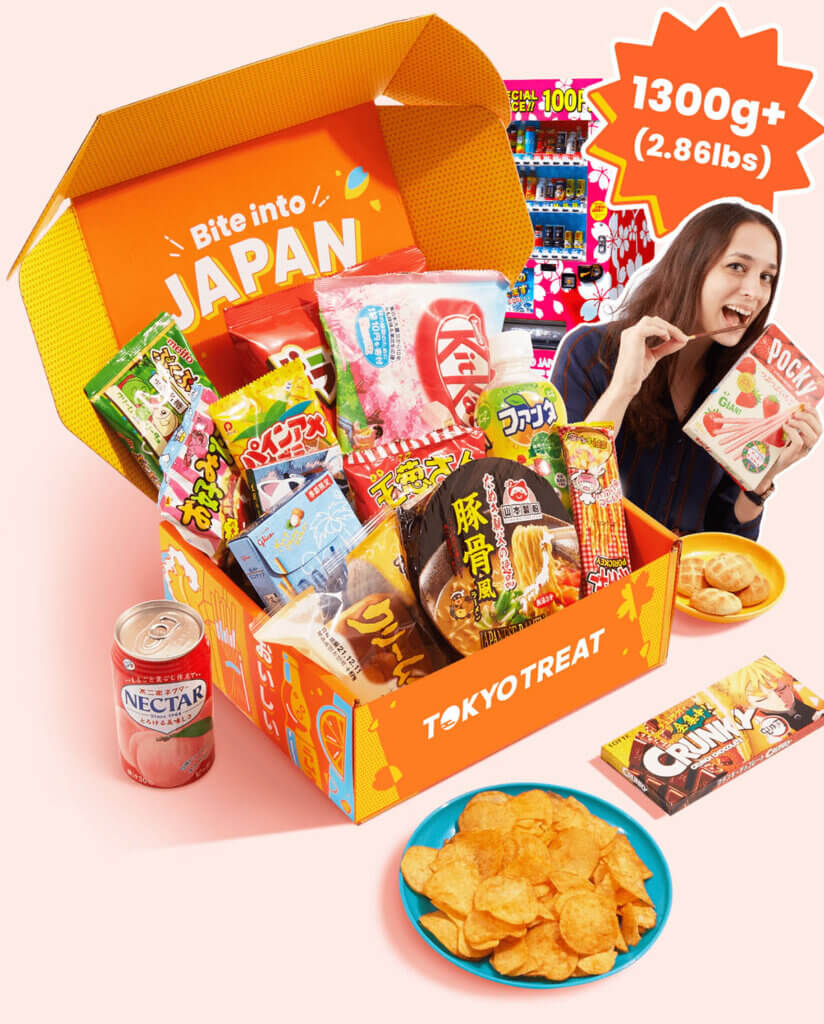 15-20

Full Size Japanese Snacks • Worldwide Express Delivery • Complete Allergen Info • 24 Page Culture Guide
Exclusive Japanese Drinks – Coke, Fanta, Ramune & More!
Japanese Instant Ramen – Tasty ramen, soba and udon!
Rare Japanese KitKat Flavors – Japan-exclusive and seasonal KitKats!
Crunchy Chips, Salty Snack – Japan exclusive savory snacks!
Crazy Japanese Candy – Chocolate & candy with awesome flavors!
Cakes, Cookies + Breads – Japanese-style bakery goods!
How much does it cost?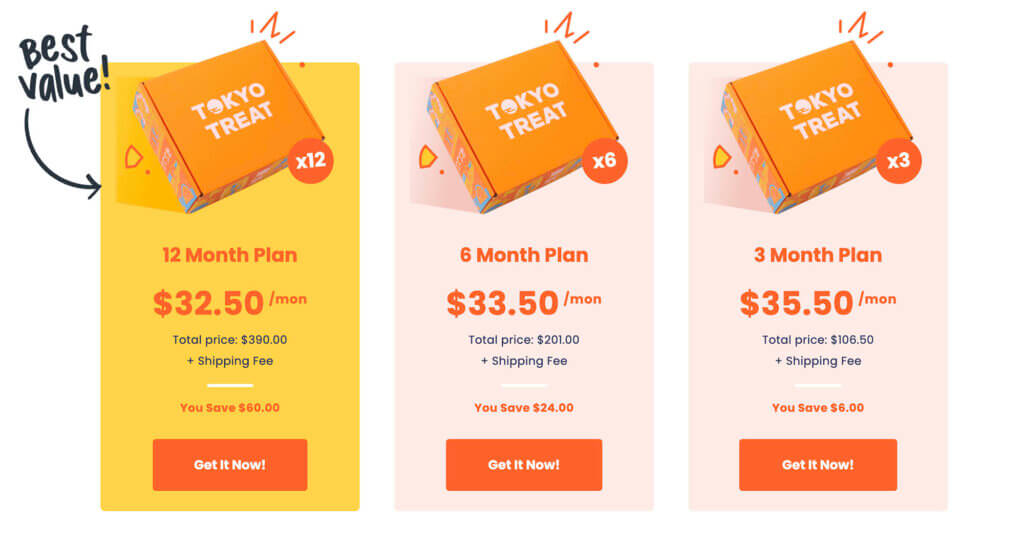 12 Month Plan
$32.50 per month
$390 USD total (You save $60)
6 Month Plan
$33.50 per month
$201 USD Total (You save $24)
3 Month Plan
$35.50 per month
$106.50 USD Total (You save $6)
Monthly Plan
$37.50 per month
What's the theme for TokyoTreat's May 2023 Box?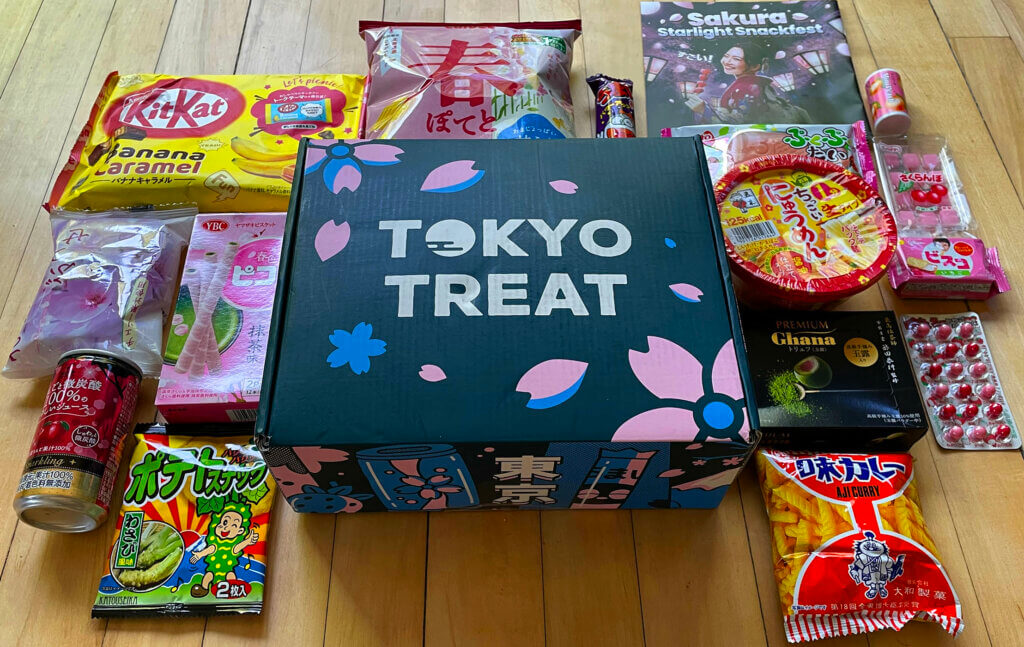 Sakura Starlight Box – A Night of Festive Blossoms!
Get ready for a magical night, cause we're taking you to a cherry blossom festival filled with delicious street food, exciting games, and– of course– tons of beautiful cherry blossoms!

As hanging lanterns light up the pink blossoms, the festive night time atmosphere starts to feel like a dream!

Wherever you are, we want you to experience this feeling too, so we put all our favorite sakura snacks into a cute limited-edition box. Now it's time to enjoy your own Sakura Starlight Snackfest! – TokyoTreat's Website
What's in the box?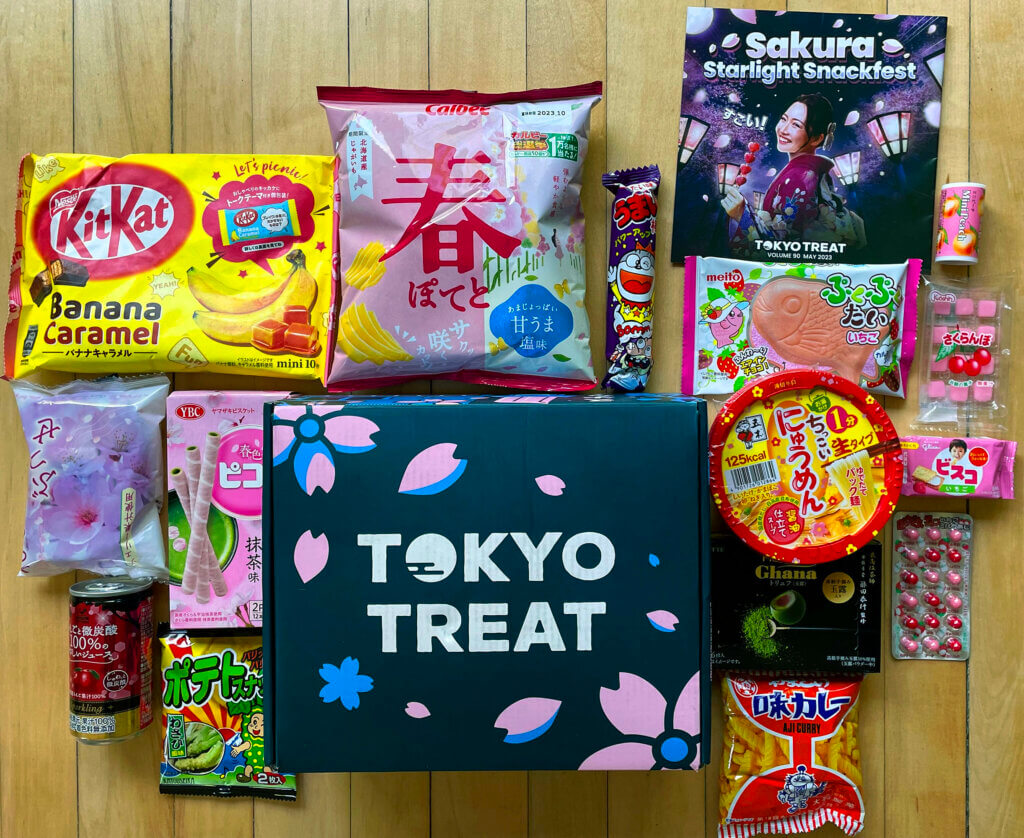 KitKat Banana Caramel: These limited-edition KitKats are deliciously sweet and taste just like choco bananas from a festival!  Take a bite and give your taste buds something to celebrate!
Puku Puku Tai Strawberry: No sakura festival would be complete without these cute lil fish-shaped treats!  Crunchy wafer on the outside, airy strawberry cream on the inside. This little guy is great for snacking on the go!
Kobe Sparkling Apple Juice: While taking in the sights of lantern-lit cherry blossoms at night, it's important to stay hydrated.  Made from 100% Kobe apples, this carbonated juice is sweet and tangy– perfect for quenching your thirst!
Mini Peach Ramune: Cherry blossom festivals are all about celebrating long-time traditions with friends and family.  These sharable candies come in a cute retro-inspired can and melt in your mouth with their juicy peach flavor!
Bisco Mini Strawberry Cream: Bring the festival to your taste buds with smooth strawberry cream sandwiched between lightly sweetened biscuits. The flavor reminds us of the strawberry cream filled crepes you can get at festival food stalls!
Mini Cherry Mochi: This one goes out to all the mochi lovers out there! Cute, bite-sized, and filled with cherry flavor. Use the toothpick to get these mini rice cakes out of their adorable package!
Sweet & Salty Spring Chips: Like the potato snacks sold at cherry blossom festivals, these crinkle cut chips are great for snacking on the go. Made with Hokkaido potatoes and filled with sweet & salty umami flavor that's perfect for spring!
Nyumen Soy Sauce Ramen: We wouldn't want real blossoms in our ramen, but cute sakura-shaped fish cakes are another story!  These boiled ramen noodles pair nicely with the light soy-sauce based broth.
Ghana Matcha Truffle: Take a break from the sakura festivities to indulge in another Japanese tradition: matcha green tea!  Savor three distinct layers: a milk chocolate center, a gyokuro green tea coating, and a dusting of matcha powder.
Piccola Sakura Matcha: Similar to cherry blossoms, the flavor of these cookie rolls have a depth beneath their pretty appearance!  The delicate aroma of sakura mixes with rich cream made from Uji matcha, making a delightful and surprising combination!
Sakura Cherry Bouchée: We picked out the perfect treat to eat while pondering the many meanings of sakura! Boucheé are delicate cake-like pastries filled with sweet cream. This one is bursting with cherry flavor!
Yamato Curry Senbei: These curry flavored rice crackers are here to spice up your cherry blossom experience! Crunch into these addictive senbei packed with savory spices and tons of curry flavor!
Wasabi Potato Snack: We hope you're ready to kick the festival into high gear, cause these wasabi snacks pack a punch!  Crunchy, tangy, and with just enough bite. These snacks will keep you coming back for more!
Umaibo Mentaiko: Nothing like a savory snack with a bold crunch to satisfy your festival munchies!  These corn snacks are bursting with the umami goodness of a popular Japanese flavor: mentaiko, spicy marinated cod roe!
Strawberry Choco Pop-Out Fortune: Believe it or not, these strawberry choco balls are actually a fortune telling slip! Pop out each of the 18 choco balls to see what your future holds!
Which were our top 5 favorites?
Bisco Mini Strawberry Cream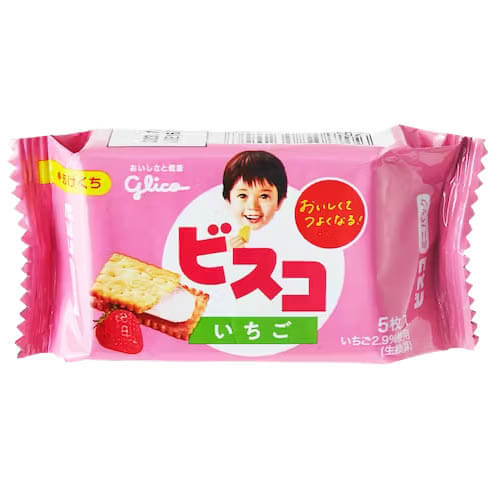 Light, airy, and mildly sweet! These tiny little treats were one of the smallest items in the box, but probably our absolute favorite! A little sad there were only 5 and not an even amount for sharing. They are so small, they are hard to split in half. We wished there were two packages so we didn't need to share!
Sweet & Salty Spring Chips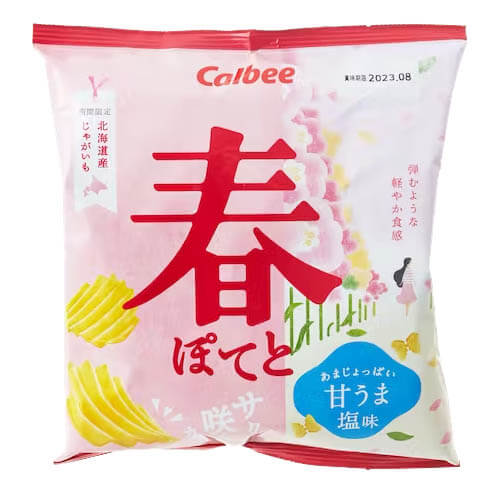 It's like Ruffles, but with bigger ridges & slightly sweet! It's a decent size bag so it's enough to be able to share with someone if you choose to.
KitKat Banana Caramel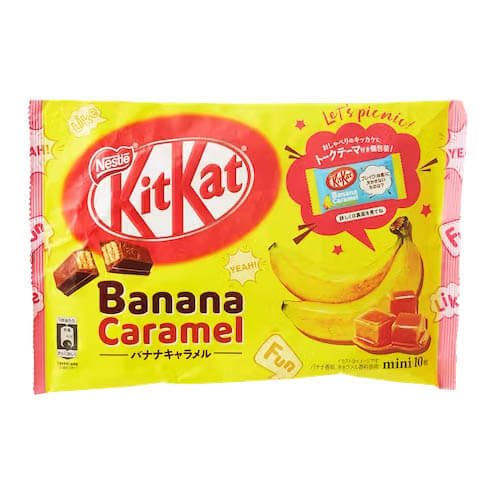 If you like chocolate banana anything, you will LOVE these KitKats! Mildly sweet without an overpowering flavor of banana is just the right amount of balance for this treat! Too many times banana candies can go a bit too ham on the artificial flavor, but that isn't the case here!
Puku Puku Tai Strawberry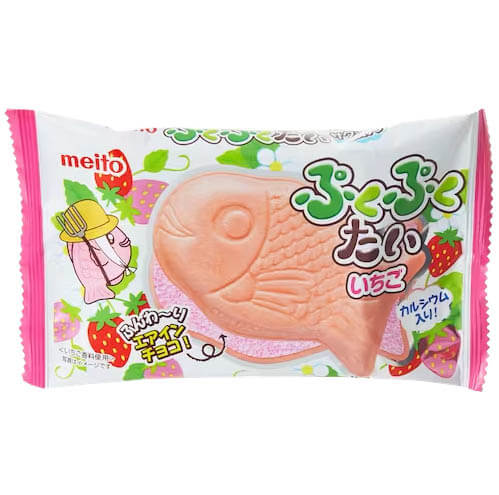 This lovely fish-shaped wafer was an absolute delight! It was basically an inverted Strawberry KitKat! The outer wafer dissolves as soon as it hits your tongue and you're left with the light, whipped, creamy strawberry cream in the middle. Delightful!
Kobe Sparkling Apple Juice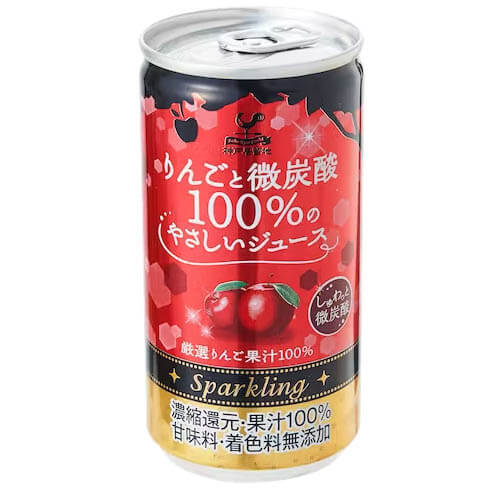 Throw this sucker in the fridge and on a warm day, pop this baby open and it's a refreshing, crisp drink! Light, slightly sweet, and bubbly! It reminded us of Martinelli's Sparkling Cider!
Would we recommend TokyoTreat?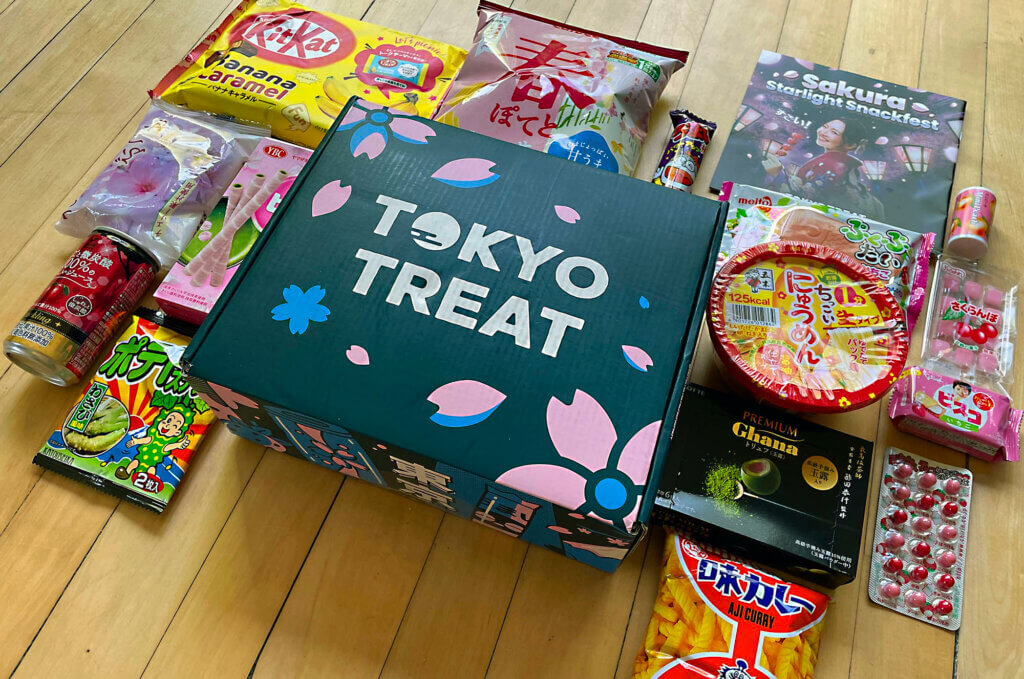 Absolutely! It's definitely worth the price considering you're getting items that you can't get in the United States unless you live near an Asian grocery store like Daiso, Mitsuwa, or H-Mart. One bag of specialty KitKats is roughly $7-$12 a bag and that is only one of the 16 items you get each month! The box arrived at our doorstep quickly and everything was packed well. It's always a fun and exciting surprise to get each month and each box is well-curated.
---
A special thanks to TokyoTreat for allowing us the opportunity to review their subscription box. Receiving a review box has in no way altered the opinions expressed in this article.
This article contains affiliate links, which allow Yatta-Tachi to receive a small commission when you use the link to purchase the item. You don't pay more, but you will help offset the costs of running the site. Thank you for helping us out!
Big thank you to our supporters
From their continous support, we are able to pay our team for their time and hard work on the site.
We have a Thank-You page dedicated to those who help us continue the work that we've been doing.
See our thank you page