When Yatta-Tachi received an email from TokyoTreat asking if we wanted to review their September 2021 box, of course Chris and I had to say, "absolutely!" But thankfully, unlike our massive Pocky haul article, we broke up trying these snacks over the course of a few days, instead of in one sitting.
What is TokyoTreat & what do they offer?
TokyoTreat is a monthly subscription box full of exclusive Japanese candy and snacks (such as Japanese Sake flavored KitKat, Sakura flavored Coca Cola, etc), delivered straight from Japan to your door! TokyoTreat's boxes come with a different and fun theme every month, keeping things exciting and fresh!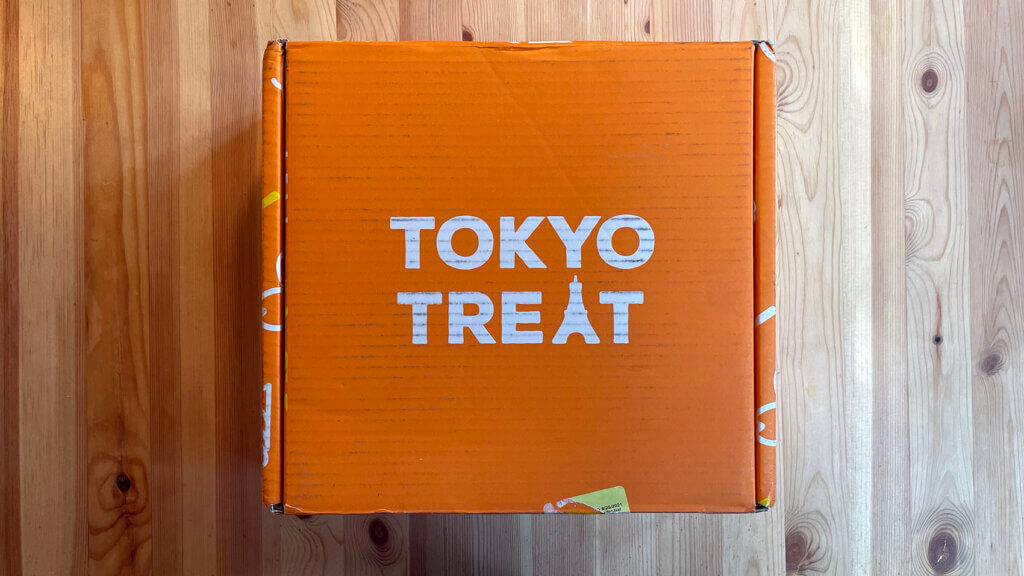 TokyoTreat's Premium box has a Monthly Plan and several Prepaid Plans:
Monthly: $35 per box, charged every month
3 Month Prepaid Plan: $33.50 per box, charged every 3 months
6 Month Prepaid Plan: $32 per box, charged every 6 months
12 Month Prepaid Plan: $31.50 per box, charged every 12 months

What comes in each TokyoTreat Premium box:
Japan Exclusive Drink (180-500ml)
Rare KitKat Party Pack (12 pcs.)
2.7 lbs+ (1.2kg+) of Japanese Snacks
Full-Sized Japanese Crazy Candy, Crunchy Chips & More
Snack Guide + Member Reward Program 'Streaks'
What's in the September 2021 box?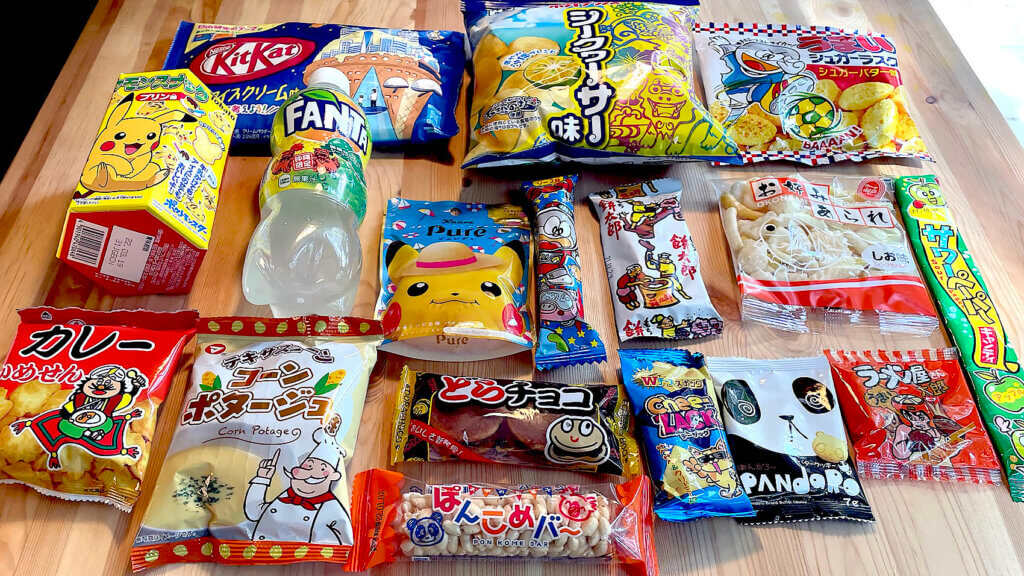 Classic Items
Calbee Okinawa Shikuwasa Potato Chips
Pokemon Snacks Pikachu Pudding Flavor
Umaibō Tonkatsu Sauce
CheeZack
Okonomi Arare
Mochi Taro
Umaiwa Sugar Rusk
Ramen Shop Taro
Pandaro Butter Cookie
Curry Turtle Crackers
Ponkome Rice Bar
Texas Corn Potage Flavor
Premium Items
Dorachoco
Sour Paper Candy Apple Flavor
Pure Gummy Tropical Flavor
KitKat Summer Ice Cream
Fanta Okinawa Shikuwasa
Classic Items
Calbee Okinawa Shikuwasa Potato Chips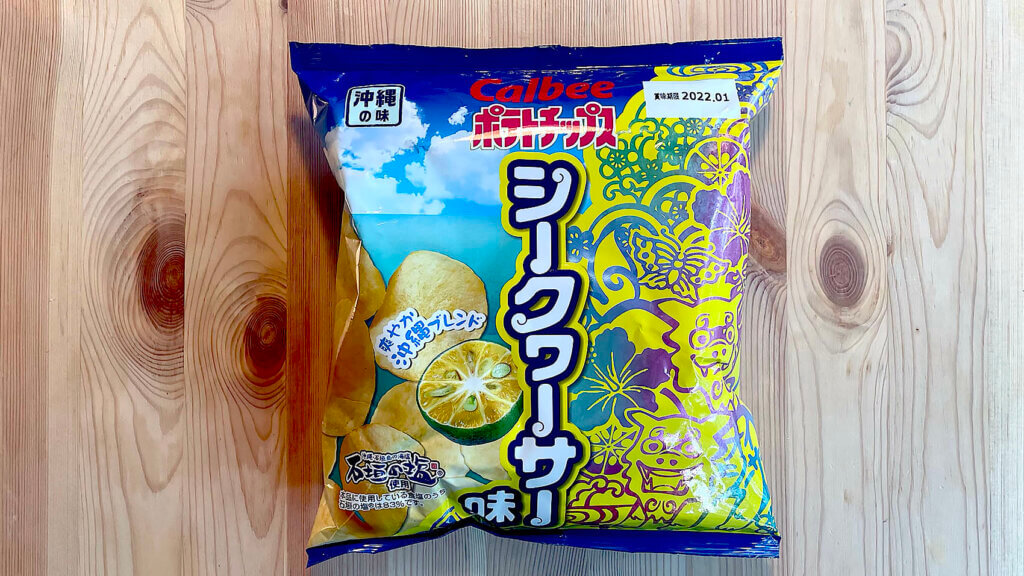 We're heading to Okinawa bestie! These chips are made with Okinawan shikuwasa citrus, and Okinawan salt for a crunchy and refreshing snack. – TokyoTreat
Katy: The package is giving me Yatta-Tachi branding color vibes. lol
Chris: I will say… when I think of snacks, potato chips are one of the first things that come to mind. These hit you with a very vinegary smell upon opening the bag. On first bite, I got a citrus-y, orange-y flavor that I wasn't expecting (although the booklet says it's made with shikuwasa citrus and salt, so I shouldn't really be surprised).
Katy: It smells like salt and vinegar chips and mayyyybe a little citrus? It tastes very light as far as flavor. I could probably eat this whole bag. XD
Overall Thoughts: These are very good, but they might need a dip or something to go with them. The flavor isn't overpowering, and we made sure to save some to have with the Fanta!
---
Pokemon Snacks Pikachu Pudding Flavor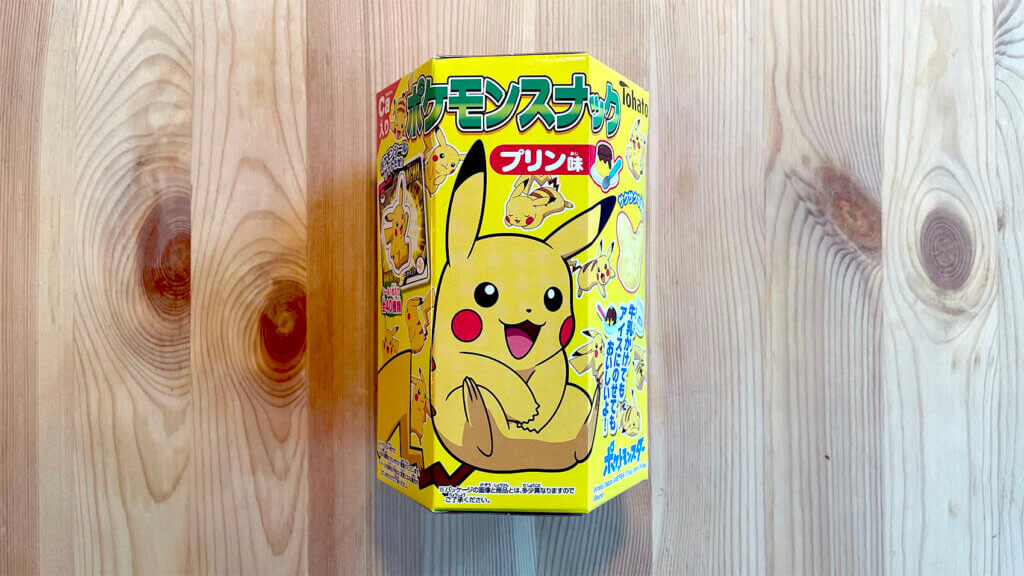 Pika Pudding! Pudding fans are in for a treat with these crunchy corn Pikachu shaped snacks filled with pudding flavored goodness! And score one of 40 collectable stickers. – TokyoTreat
Katy: I wonder if these are gonna be like those Hello Panda cookies. *opens package* umm… these look like nothing I was expecting. These are fried puffs shaped like Pikachu and they smell like diner-style pancake syrup.
Chris: Oh, these are good and SWEET. They are kind of like cereal in a way. Similar to French Toast Crunch.
Katy: They are so tasty! Maybe a little too sweet for me, but I can see having these with a black coffee or tea.
Overall Thoughts: Wow, these were very yummy! We thought there weren't going to be enough in the box, but even the amount we ate was *almost* too much. Almost.
---
Umaibō Tonkatsu Sauce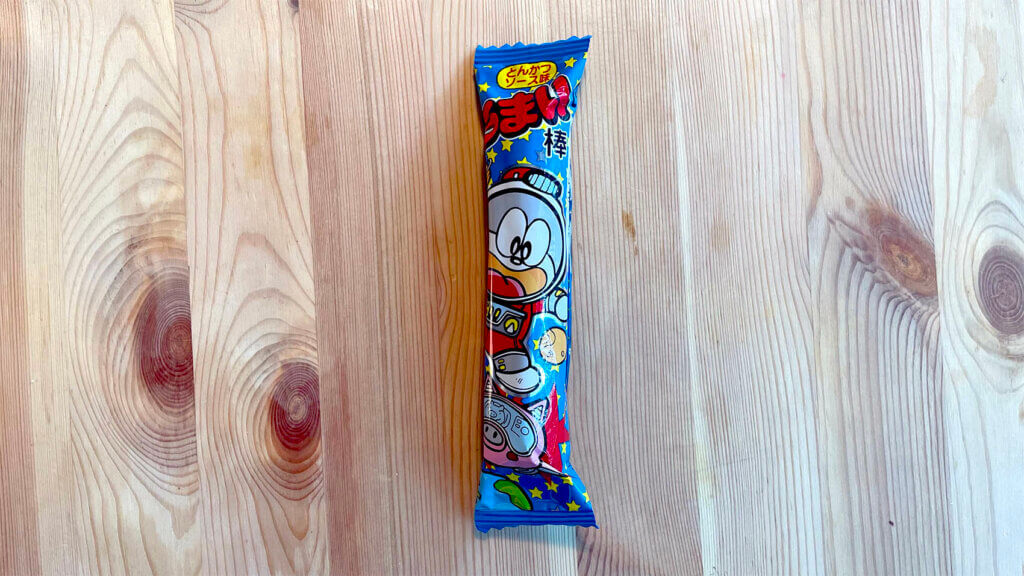 Nothing is more mouth watering than savory Tonkatsu sauce! Enjoy the tangy goodness of Tonkatsu Sauce in crunchy Umaibō form! – TokyoTreat
Katy: Mmmmm! Smells like bbq sauce! I mean I know it's tonkatsu sauce, but still! My first thought was bbq chips, but after trying it, it's definitely tonkatsu sauce. A little spicy, but sweet. I like the texture of the airy corn puff.
Chris: It looks like a cheese puff with no cheese, shaped like a taquito. Definitely a nice savory flavor. Has a good amount of spice that lingers a little after you eat it.
Overall Thoughts: The corn puff was reminiscent of pork rinds, with a mix of sweet and savory. Very tasty, and we could imagine picking up several to chow on for a midday snack. These would make a great party snack as well! They would probably stack on a plate like logs!
---
CheeZack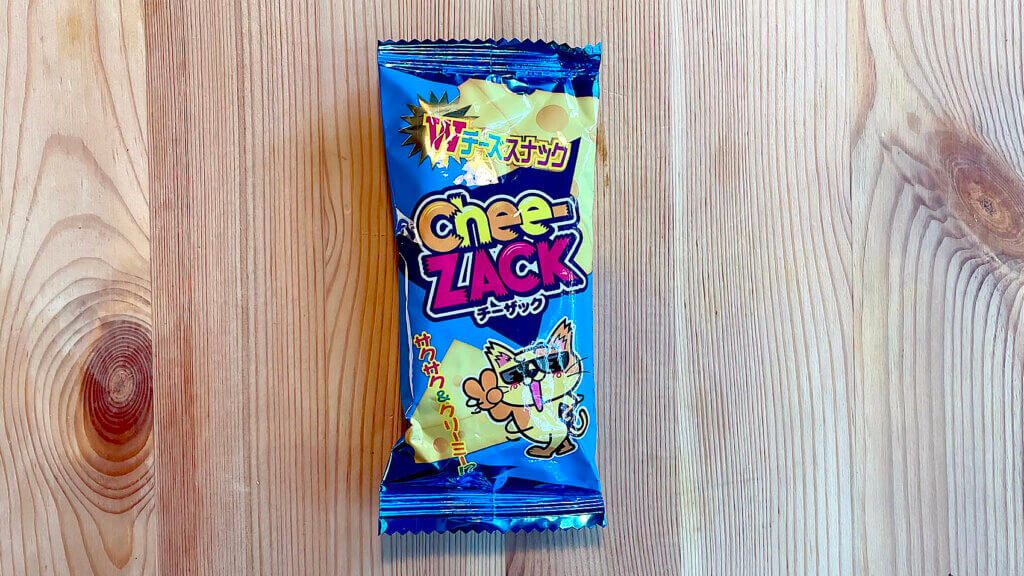 Chessy goodness never looked so cool! These mini cheesy treats are a crunchy salty snack that will make any cheese lover's September. – TokyoTreat
Katy: CHEEZACK! One giant Cheeto!
Chris: The color and smell are giving me big Cheetos vibes. However, the taste is like a… sweet Cheeto? Almost as if you crossed Cheetos with Kettle Corn popcorn. Also, I was not expecting it to come as 1 puff.
Katy: It's a bit messy to eat. XD I'm not sure if I like it? I mean I would eat it if someone gave it to me, but I wouldn't go out of my way to get it.
Chris: Needless to say, it's certainly an interesting flavor! I can see why it was chosen for this Okinawa box since it's focused on summertime snacks. I can imagine kids chowing down on these at the beach.
Overall Thoughts: Our overall thoughts are a bit mixed. Katy isn't a very big fan of it, while Chris seems fine. It's definitely powdery and can make a mess if you're not careful, but it is something different to try.
---
Okonomi Arare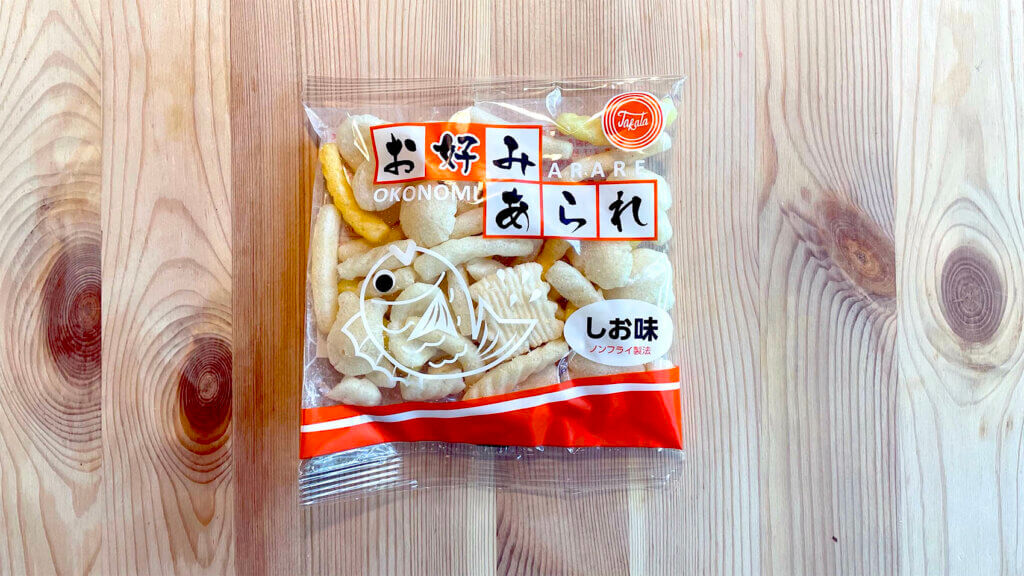 Crunchy, salty, and mega addictive, these Japanese crackers are super simple, but loved by people all over Japan! Try them and you won't be able to put them down!- TokyoTreat
Katy: "Crunchy, salty, mega addictive", eh? Those are some strong words…
Chris: That description leaves a lot to answer for. What ISSSSS it? Okay, after tasting it, I can see why it's hard to describe. The crackers, for lack of a better term, don't have a lot of flavor themselves, so you find yourself wanting to eat a bunch at a time to get a bigger taste hit.
Katy: They remind me of Mexican chips called Chicharrones De Harina I had growing up. These would probably be good with a soda. LOL
Chris: Honestly, I can imagine these served in a bowl to guests as something to eat while waiting for the main meal.
Overall Thoughts: These aren't bad, but they probably should be eaten in accompaniment with something else, like a beverage or in a snack mix.
---
Mochi Taro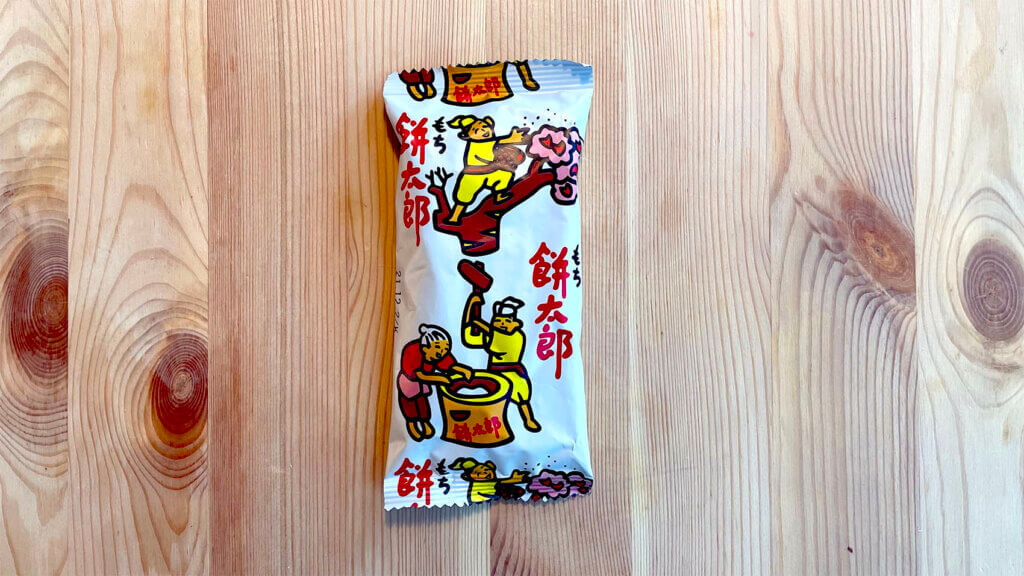 Giving us major retro vibes, this friend mochi and peanut snack is an addictively salty and crunchy late summer treat! – TokyoTreat
Katy: I like the package of the two people pounding mochi.
Chris: It certainly is cute. The smell reminds me of roasted peanuts.
Katy: It doesn't look like what I was expecting? I mean… I don't know what I was expecting to be honest. The taste… well… it's very bland. It made my mouth dry. I wonder if these would be good with a soda?
Chris: The pieces have a kind of buttery or fried type of taste, if that makes any sense.
Katy: I found a random peanut! Everything in the bag was just puffs. Honestly, the peanut has more flavor.
Overall Thoughts: Not our favorite thing in the box for sure. If you have a nut allergy, definitely stay away from this obviously.
---
Umaiwa Sugar Rusk
This sweet, light, and crunchy snack from the Umaibō family is just what we need for an energy boost before some summer sports! – TokyoTreat
Katy: Rusk? Not rush? *looks it up* Nope.. it's rusk. Glancing at the package, it looks like it would be savory, but the booklet says it should be light and sweet.
Katy: *opens package* Oh… these are gonna be messy. WAIT. *smells it* Close your eyes and smell. Think of a movie theater.
Chris: It's like my nostrils are being hit with movie theater popcorn. Like I just picked up my tickets and am deciding on what I want from the concession stand before going to my theater. Oh wow… these are way more delicious than I was expecting!
Katy: You know those videos of people giving cotton candy to a raccoon and the raccoon goes to wash it in the water and it disappears? That's how it is when the chip hits your tongue. A shot of sweetness and immediately dissolves. Wow… I'm taken aback. Based on the smell, I was probably not going to like it, but these are so yummy!
Overall Thoughts: These were pleasantly surprising, and became one of our top favorites after giving them a try! Sweet, light, and crunchy – the perfect combo for what you want in a snack.
---
Ramen Shop Taro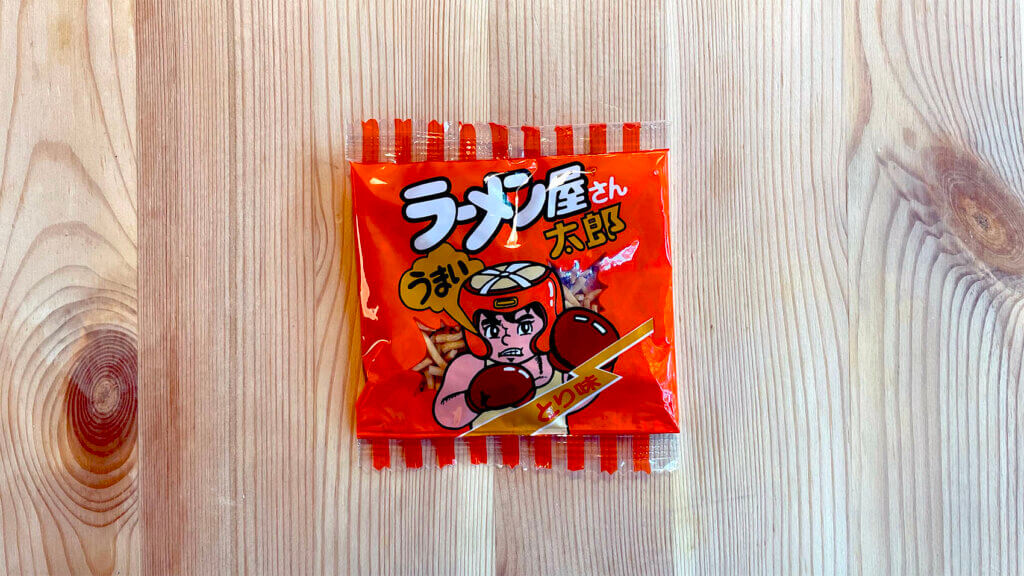 We'll be heading to fall soon… and fall has all the best food! We're already starting our fall carb-loading with this savory ramen snack! – TokyoTreat
Katy: It's got a little boxer character on the package. The snack looks like those crispy chow mein noodles you put on top of your salad or something.
Chris: You know I love those noodles, so I've got high hopes for these.
Katy: There's a little animation on the back showing us pouring some into our hand and popping them into our mouth, so let's do that! Honestly, these taste better than those noodles. So much more flavor and better texture for sure. For some reason, they are reminding me of those crunchies you get in the bottom of your Long John Silvers' meal!
Overall Thoughts: These are really good, but there aren't a WHOLE lot of them in the package (which is probably for the best, based on the description of "carb-loading"). Much saltier than the chow mein noodles, but a nice and easy snack!
---
Pandaro Butter Cookie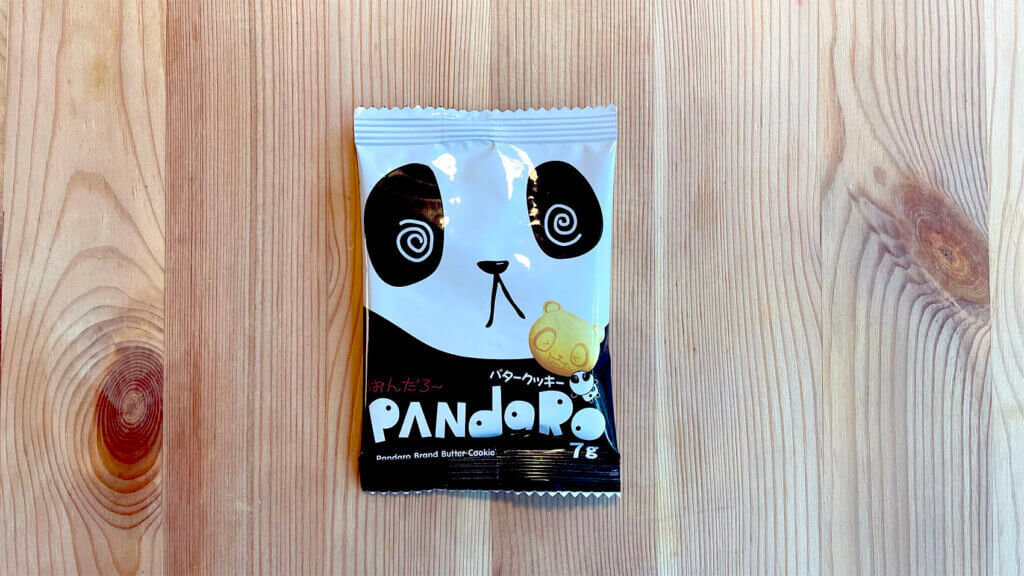 With a smooth, buttery sweet flavor, this cute panda shaped Japanese cookie is one of our favorites this late summer season! – TokyoTreat
Katy: This is supposed to be one cookie, but I can already tell it's broken into small bits. It smells like coconut? Mmmm! It tastes like those Danish cookies your mom would get during Christmas.
Chris: Definitely smells and tastes like them. Not that I'm complaining! There seems to be something about butter cookies that give off a slight coconut aroma.
Overall Thoughts: We both enjoyed the cookie and agree that they would be great with a warm beverage, like coffee, to dunk it in! It's slightly sweet, but not overpowering.
---
Curry Turtle Crackers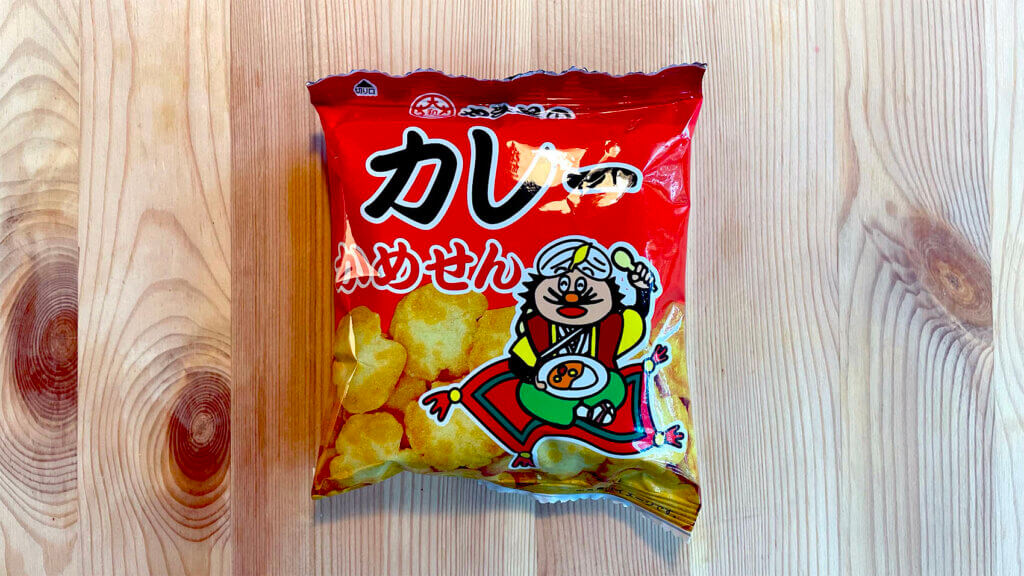 Okinawa's oceans are filled with life! We wanted to bring you some seaside vibes with these tasty and crunchy crackers with a spicy twist that are inspired by the pattern on turtle shells! – TokyoTreat
Katy: Mmm… curry! Smells like curry… but will it taste like curry??
Chris: I find it hard to believe it will, since it's a cracker and not… you know… curry.
Katy: No curry flavor…? Actually tastes like corn nuts, but just plain corn nuts.
Overall Thoughts: While not really giving off a curry flavor, these are still good and another snack we could see being eaten on summer break down by the ocean.
---
Ponkome Rice Bar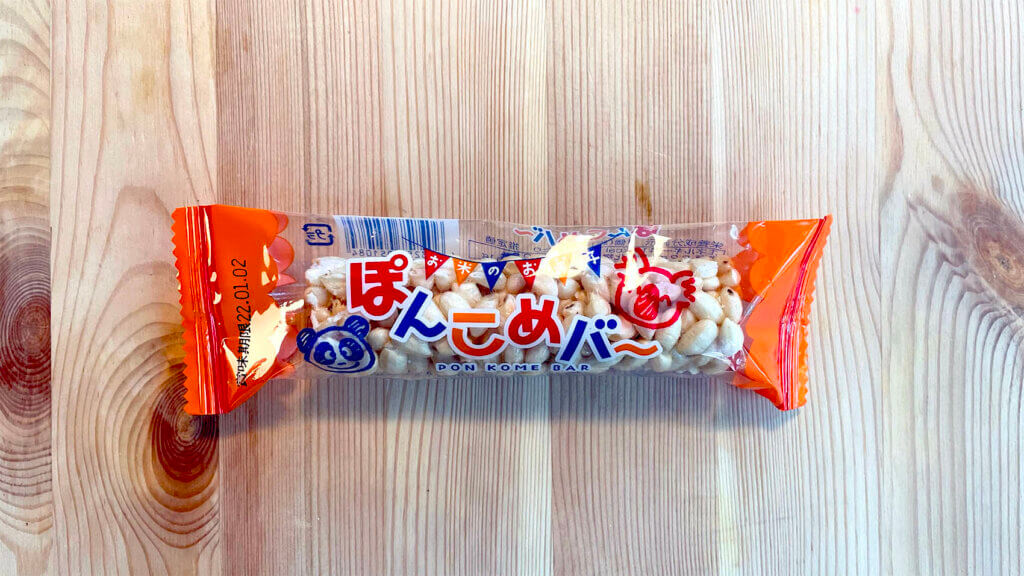 Losing your appetite in the summer heat? Light and crispy Japanese puffed rice treat Ponkome has a sweet and spicy soy sauce based flavor that is just what you need. – TokyoTreat
Katy: It looks like a rice krispy bar.
Chris: But the book says it's got a soy sauce based flavor… *shrug emoji*
Katy: Ah, I can smell the soy sauce. Now I'm very curious! I was expecting a sweet smell.
Chris: Didn't break off like a rice krispy treat, and has a little sweetness to it. It reminds me of trying to eat a popcorn ball around Christmastime.
Katy: I don't like rice krispy bars since they are usually too sweet, but this wasn't. It was sweet but a little savory from the soy sauce. It definitely has a good crunch to it.
Overall Thoughts: We both liked the rice bar and would stash some in our pantry for when we want to chomp on something and get a hit of sweet & savory.
---
Texas Corn Potage Flavor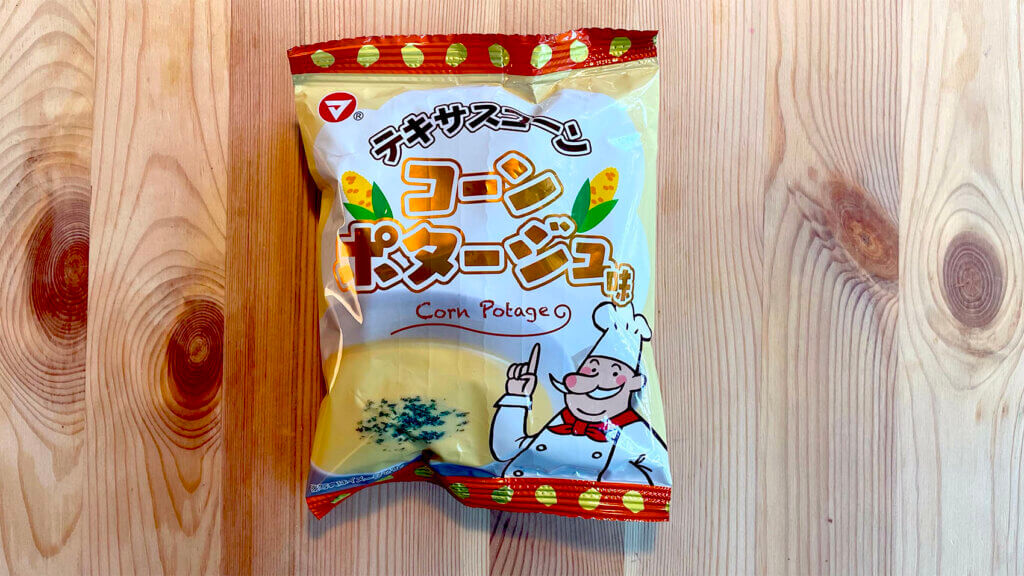 Giving us more fall vibes – the warm, tasty goodness of salty and creamy corn potage is here in Japanese crunchy snack form! – TokyoTreat
Katy: Potage? That's a French dish, but it says Texas?
Chris: I'm more confused about the whole "Texas" thing, since we're both from Texas and I'm not sure I've ever heard of such a thing.
Katy: I'm assuming it's going to be like a corn soup or maybe cream of corn? Definitely smells like a can of corn and they are in little popped corn shapes.
Chris: I don't know how I feel about this, but down the hatch it goes!
Katy: *eats one* Nope. I'm good. I like corn, but I do not like that at all. The weird thing is I love corn in general (elote, on the cob, cornbread…), but this is not what I was expecting.
Chris: It DOES taste like corn, but there's some weird texture/aftertaste going on that I'm not sure how I feel about.
Overall Thoughts: Unfortunately, this is our least favorite of the snacks. If you like the smell and taste of corn, then these definitely might be up your alley!
---
Premium Items
Dorachoco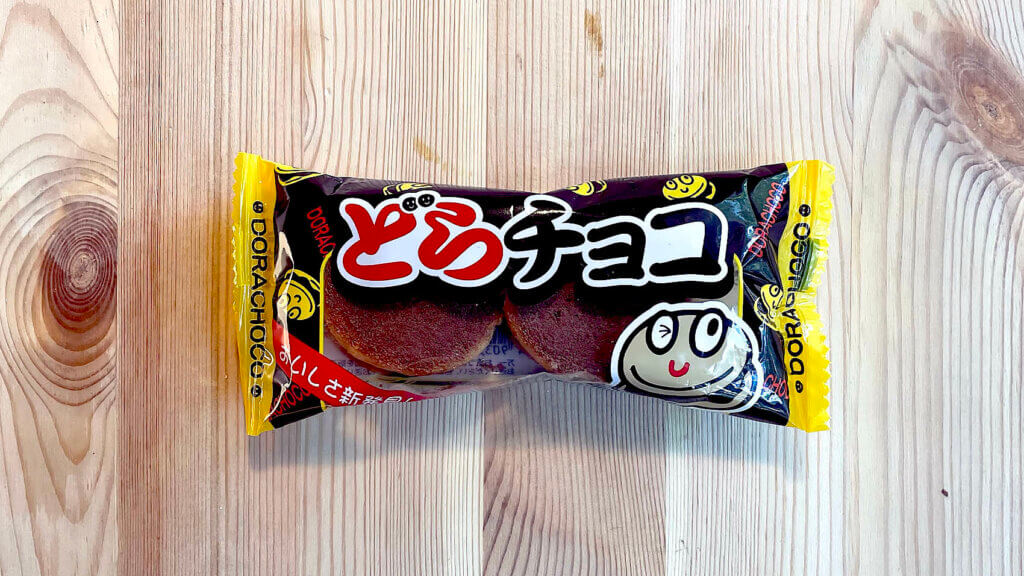 TokyoTreat is bringing you some chocolate goodness this month! Inside these fluffy dorayaki pancakes you'll find a creamy chocolate surprise! – TokyoTreat
Katy: Mini dorayaki! I'm super excited about these!
Chris: I've tried regular dorayaki before, but I didn't particularly care for the red bean filling in them. However, these are chocolate cream, so it's already got that going for it. It just looks like tiny little pancakes with a dollop of chocolate wedged between.
Katy: These smell so good and fluffy! :3 It's got chocolate and I'm a huge fan of Japanese chocolate! There's a small hint of coffee liqueur?
Chris: My biggest complaint? There aren't enough of them (2 total, 1 for each of us).
Katy: Seriously agree! These are amazing and I hope we can find a way to get more of these!
Overall Thoughts: The chocolate is very smooth and creamy. The mini dorayaki pancakes are soft and moist with probably a little bit of syrup. We were both bummed that there were only 2 in the package. We would both definitely want to get more of these if we can!
---
Sour Paper Candy Apple Flavor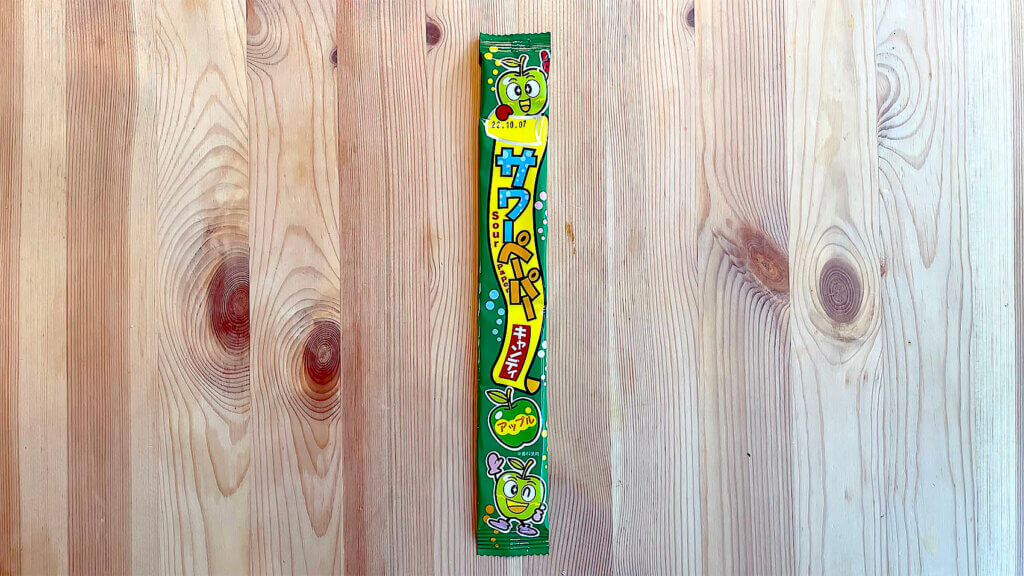 Sofy and chewy goodness that packs a punch! This sour apple treat is the perfect Japanese candy for giving you a boost of summer energy. – TokyoTreat
Katy: Based on the name, I wonder if it would be like fruit roll-ups.
Chris: The package looks like a longer version of Airheads.
Katy: *opens the package* Oh… actually it looks like an Airheads! Rad!
Chris: The look and taste are very similar to sour straws, but maybe a tiny bit sweeter. The sourness isn't as strong, which is a nice balance.
Katy: I like how it tastes, but I kind of wanted it to be a bit sourer. I still enjoy it though!
Overall Thoughts: The candy gave both of us the nostalgia of eating sweet and sour candies as a kid. While we hoped for a little more punch to the sourness, it was still rather pleasant, and we would definitely buy these to snack on if given the chance!
---
Pure Gummy Tropical Flavor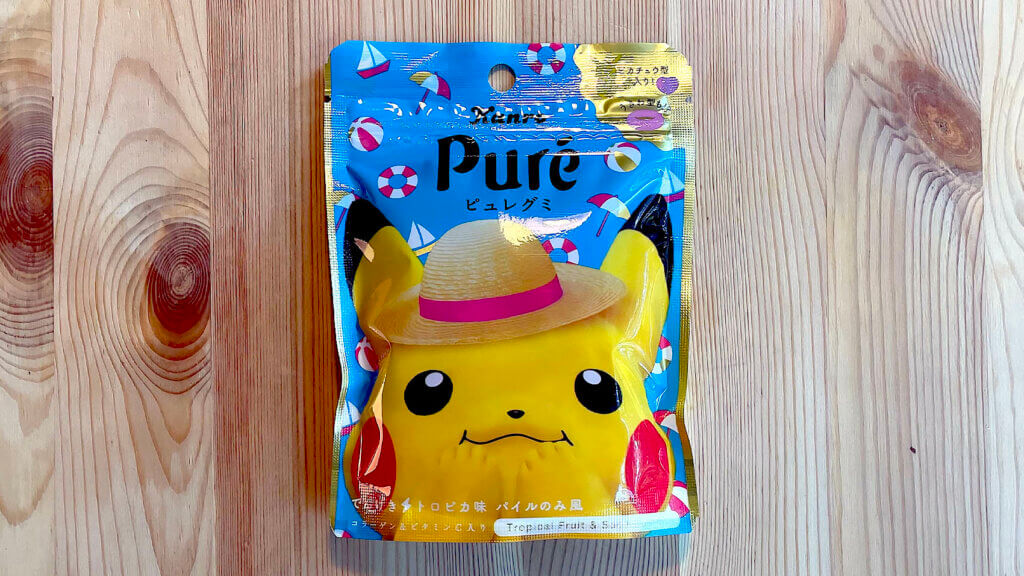 Pikachu is chilling out in tropical style this summer with Pure Gummy! Enjoy the fruity, sweet and shocking sour orange, mango, and pineapple flavored Pikacha gummies! – TokyoTreat
Katy: This packaging is sooooooooooo cute!!! Ahhh! OMG! The gummies are Pikachu, heart, and circle-shaped and so adorable!
Chris: And the packaging is resealable! Yes, that's right, I'm talking about functionality for summer snacks.
Katy: Just ate a yellow Pikachu one and it's delicious. Sweet and sour like a sour patch kid!
Chris: I *know* there's a difference in flavors, but it's a little hard to tell when eating them back to back. Either way, they're all tasty!
Overall Thoughts: We both really enjoyed these gummies! Sweet, sour, cute, and fun!
---
KitKat Summer Ice Cream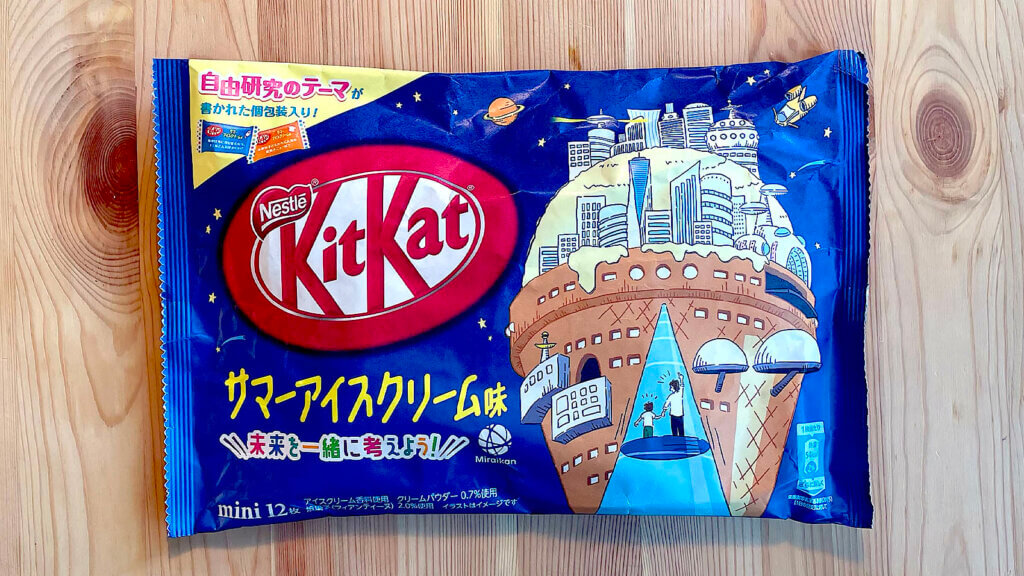 How do you cool down in summer? Ice cream – duh! How about we wrap up all that ice cream goodness in a form of Japan limited edition KitKats? EVEN BETTER! – TokyoTreat
Katy: Japanese Kitkats always have the best kind of packaging and flavors. I'm already super hyped for this one!
Chris: I know that I already like most of the specialty KitKat flavors, so I'm not expecting disappointment with one aiming to be "ice cream."
Katy: Aww… I think they are all melted, but that's okay. These snacks came directly from Japan!
Chris: It's got a white chocolate coating on the wafer, which isn't everyone's cup of tea, but mmmm… I don't mind it one bit. Super good, as per usual.
Katy: Yuuuumm! Sweet, but not too sweet! Creamy and a little hint of waffle cone.
Overall Thoughts: Like we were expecting, these were a hit and are the kinds of sweet snacks we would enjoy all throughout summer (or any other season, really). While the KitKats were a little melted, it was expected since it was sitting outside for some time in the Texas heat, but they were still absolutely delicious!
---
Fanta Okinawa Shikuwasa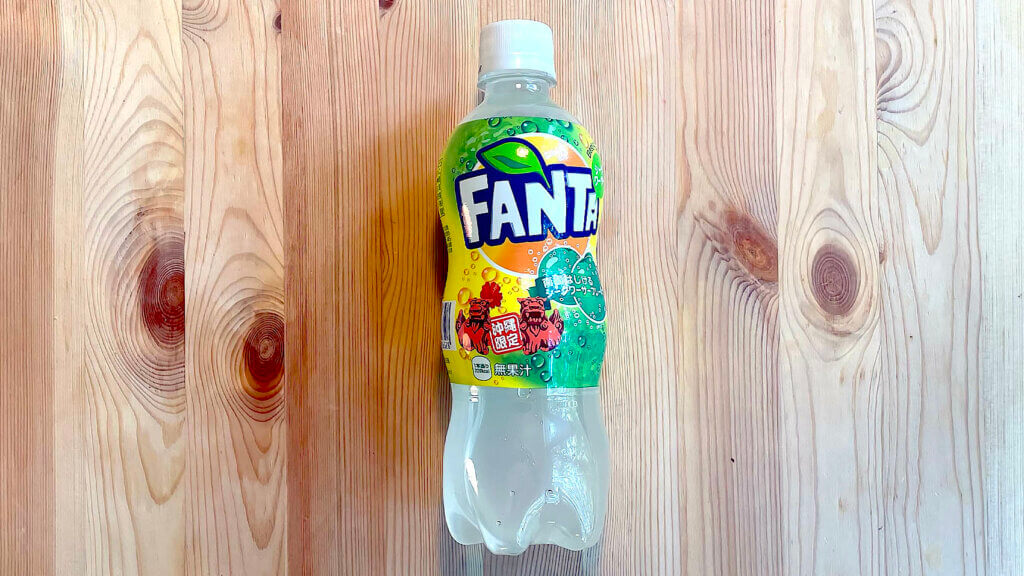 You can only score this refreshing Fanta in Okinawa… but we had to share it with you guys! Enjoy the fizzy and sour goodness of this rare Fanta on a hot day! – TokyoTreat
Katy: Wanna, wanna! Don't you want a Fanta?
Chris: So, I've had one or two Fanta before, but usually in cans, and only like the Orange or Grape flavors. Since this seems to be a lemon type of citrus, I'm interested to see how much it comes across.
Katy: It smells so clean and citrusy! We made sure to put this in the fridge earlier today so it's nice and chilled.
Chris: The smell makes me think lemon-lime, similar to Sprite or 7Up.
Katy: It tastes like a spritzer. An orange & lime spritzer. Although a bit sweeter than I was expecting.
Overall Thoughts: If lemon-lime sodas are your thing, this Fanta is sure to delight your taste buds. It's sweet and citrusy in one package.
Would we recommend TokyoTreat?
Absolutely! It's definitely worth the price considering you're getting items that you can't get in the United States unless you live near an Asian grocery store like Daiso, Mitsuwa, or H-Mart. One bag of specialty KitKats is roughly $7-$12 a bag and that is only one of the 16 items you get each month! The box arrived at our doorstep quickly and everything was packed well.
---
A special thanks to TokyoTreat for allowing us the opportunity to review their subscription box. Receiving a review box has in no way altered the opinions expressed in this article.
Big thank you to our supporters
From their continous support, we are able to pay our team for their time and hard work on the site.
We have a Thank-You page dedicated to those who help us continue the work that we've been doing.
See our thank you page