I played Yakuza because I heard great things about Shenmue and that Yakuza was a spiritual successor. Unfortunately, I did not play Shenmue since I did not own a Sega Dreamcast and thus, I cannot make any comparison. However, I can say that Yakuza was a peculiar game for its mature themes, bombastic action gameplay, and the romanticism of the Japanese underworld.
As far as I know, the franchise is the globally largest game series that uses Japanese underworld as its main theme. Over the years, the Ryuu ga Gotoku games have become one of Sega's large and beloved franchises for home consoles.
History and legacy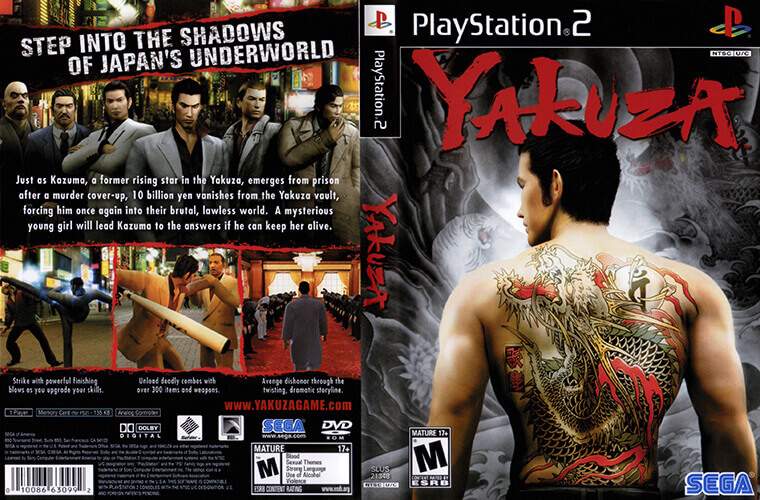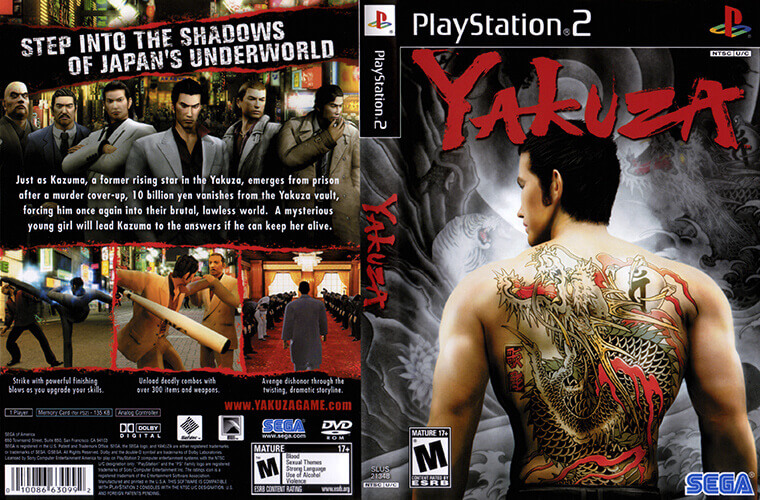 Ryuu ga Gotoku (龍が如く or, Like a Dragon) was released in 2005 for the Japanese market on PlayStation 2. It arrived Stateside in 2006 as Yakuza for simplicity's sake. The development team, often represented by the game's producer and longtime Sega employee, Toshihiro Nagoshi, wanted to accurately portray certain aspects of being in a yakuza society. They used the real location of Kabukichou in Shinjuku, Tokyo as the base for the fictional Kamurochou, where most of the first game takes place. Kabukichou is a well-known red-light district with many forms of adult entertainment and the presence of the yakuza.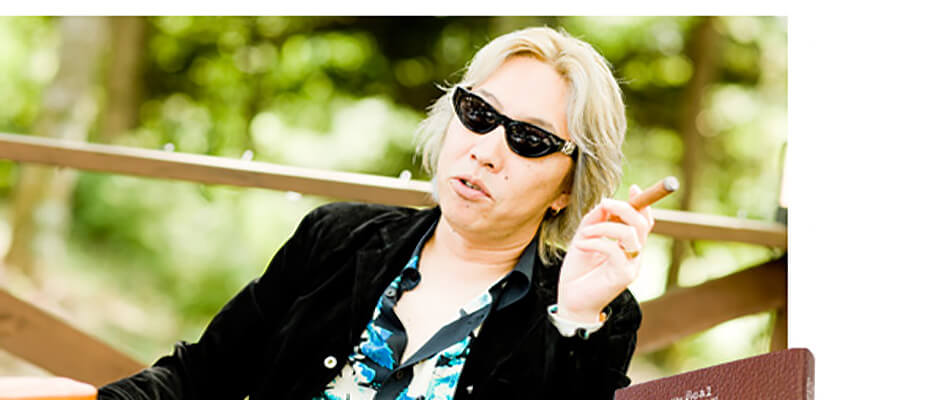 The team brought in a famous Japanese yakuza novelist named Hase Seishuu to write for both Yakuza and its sequel, Yakuza 2.
Sega spent a good sum of money localizing Ryuu ga Gotoku for the US market. There was an English voice cast and a decent marketing promotion for this risky game. Though reviewers and players loved the game, the sales figures in the Western market were less than magnificent.
Nevertheless, Sega has continued creating sequels and spinoffs of the game because of the success and high demands from the Japanese market. During a survey by Sony and Sega, many Yakuza fans in the West voiced their desire to have the series continued to be localized. As such, Yakuza 5 was released in the US fairly soon after and there are plans for bringing upcoming games too. The latest sequel, Ryuu ga Gotoku 6: Inochi no Uta, arrived in Japan in December 2016. Sony and Sega will be releasing the game globally in 2018 as Yakuza 6: The Song of Life.
Story
Tojo clan's Kazuma Kiryuu (桐生 一馬, Kiryuu Kazuma) has just been released after a ten-year imprisonment for taking the blame for a murder of his boss, Sohei Dojima. Years prior, Dojima was the Dojima Family captain, an influential group within the Tojo clan. One night, Dojima brought Kiryuu and Akira Nishiki's love interest, Yumi, against her will to his office. Nishiki arrived in time to save her but killed Dojima in anger. Kiryuu who came for them soon after stayed to confess as the murderer, allowing his best friends to get away.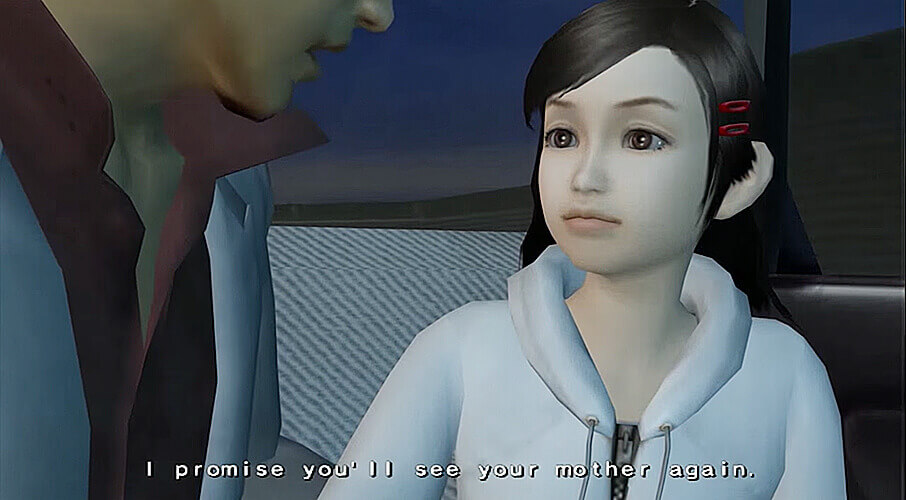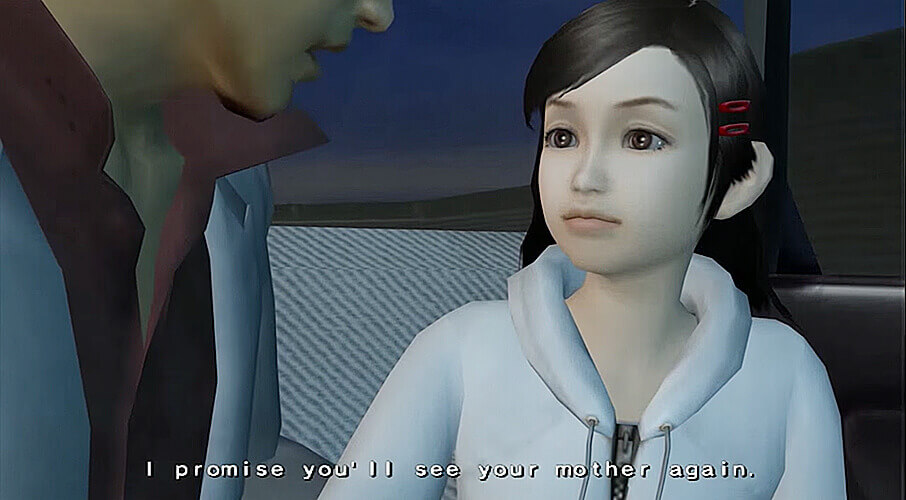 In the present day, Kiryuu comes back to Kamurochou to find a bounty on his head. He also learns about a large sum of stolen money from the clan and a nine-year-old girl named Haruka who is at the center of the conflicts. As he tries to contact Nishiki, Kiryuu realizes that his best friend has turned into a power-hungry, and ruthless person. Kiryuu gets some unlikely help from detective Date and Yumi in solving the mystery of the missing money and stabilizing the Tojo clan. Will Tokyo's underground societies be the same again?
But, who are the yakuza?
Yakuza (ヤクザ) is the name for one of the largest organized crime networks in the world, based in Japan. They are also known by other names such as gokudou (極道) or bouryokudan (暴力団, or violent groups). Though the yakuza's history started long ago, the number of members peaked around the 1960s with approximately 180,000 personnel. Modern yakuza own businesses, both legitimate and semi-legit ones, and engage in drug trafficking, prostitution, gambling, and more. However, they are also charitable. Certain yakuza groups very quickly provided aids to the victims of the Kobe earthquake in 1995 and the earthquake and tsunami disasters in 2011. The clans have been influential in Japanese politics too. There have been reports of yakuza heads using their connections to shape Japanese policies. Their reaches go beyond Japan and can, reportedly, be felt as far as certain cities on the Western and Eastern US coasts.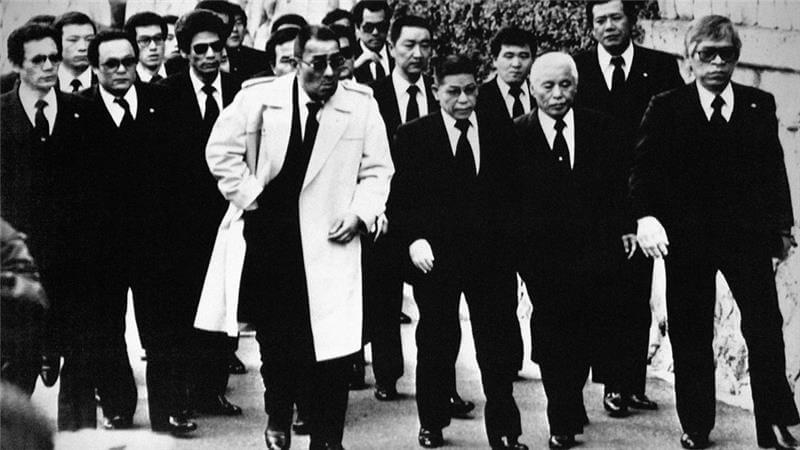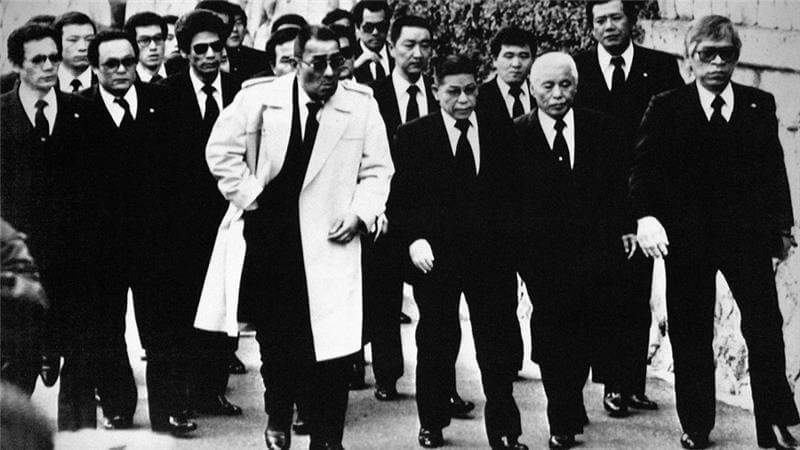 A lot of things we know come from ex-yakuza member interviews, anonymous sources, or from what the media reports. More visible signs of their members include amputated fingers and tattoos. Some public baths or hot springs (onsen) do not allow tattoos or need them to be covered because of the associations with yakuza. Though in modern times, the punishment of cutting one's little finger off has been in decline, probably in favor of other less conspicuous ones.
If you like to learn more about the often mysterious society, there is a book named Yakuza: Japan's Criminal Underground. David E. Kaplan and Alec Dubro wrote it based on many interviews.
Are there similarities to the real yakuza?
Yes, but note that Ryuu ga Gotoku is a fictional work and the developers aim to provide a highly dramatized experience. The creators took inspirations from records of the organizations' inner workings and brought them into the game. The story depicts the yakuza's ranking system well. The media have documented clan feuds over the decades, so the power struggles in the game are plausible. Those shady business deals that you see in the game's sidequests seem believable, even though they are exaggerated.
Kiryuu is often involved in many fist dances but the modern yakuza is largely non-violent, preferring intimidation and influence to get things done. Plus, if someone were as entangled as Kiryuu in street fighting, he would not live very long to become a legend.
What I love about Yakuza
A variety of things to do
Aside from feeling like I was in a yakuza movie, the fighting mechanic is fun and loose. Interacting with the many items you can use as impromptu weapons is wildly empowering and satisfying. The first game did not require much skill or have complicated combos to execute. However, the later installments expand on fighting styles for Kiryuu and other playable characters. These enhancements brought more finesse and upped how extreme the brawls could be.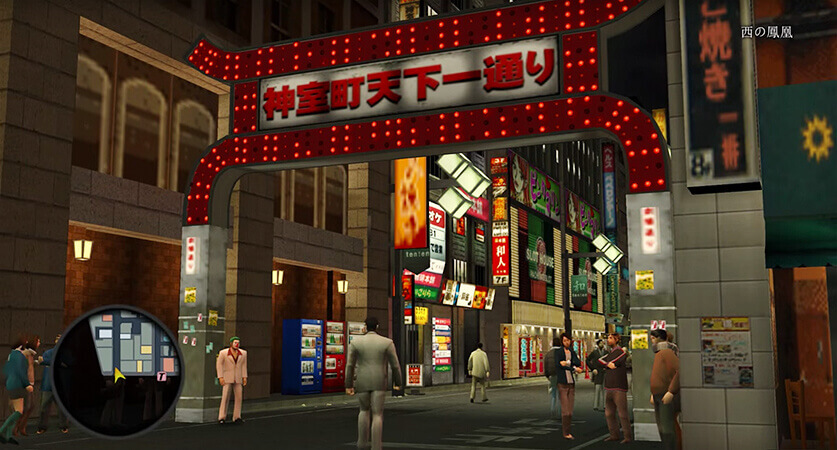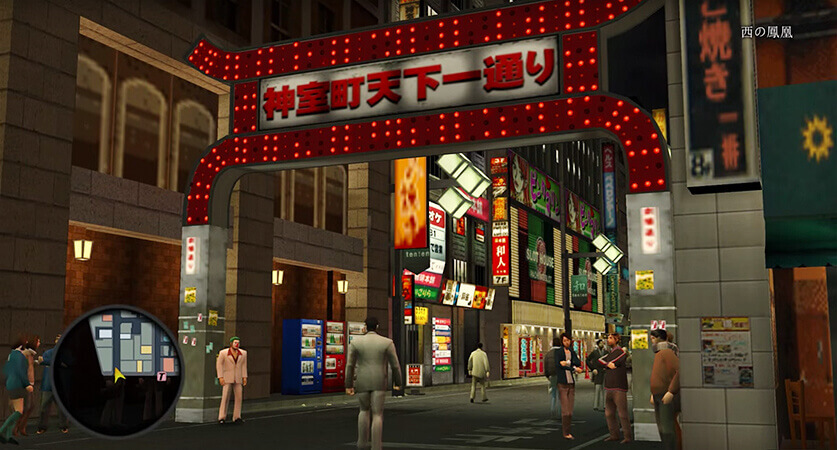 Kamurochou is a small area if you compare it to recent open-world games, but it is full of life. The developers included many product placements from liquor brands to convenience stores. They even placed a couple of Club Sega stores, an arcade franchise with games made by the company. I first heard about various Japanese spirits made by Suntory, one of the largest beverage companies in the country, from this game.
The sidequests shine amidst the dreary and twisting main scenario. Often times they are zany and humorous, providing welcomed distractions to the heavy happenings of the Tojo clan. Some are mundane while several others reward you with unique items or short heartwarming stories. Contrasting hilarious situations with Kiryuu's stoic and very serious reactions is their go-to brand of humor.
Not shying away from mature themes
Yakuza contains a lot of adult content, involving violence, sex, and alcohol. While many games use those themes as seasonings and fan service, Yakuza franchise embraces them as secondary ingredients. They work because they are important parts of the narrative and world building. Sexual themes and alcohol exist, but the player will need to actively look for them because they are somewhat hidden. However, the game is very gratuitous in violence because brawling is its main gameplay. Arguably to play up the legendary status of Kiryuu as an extremely competent fighter.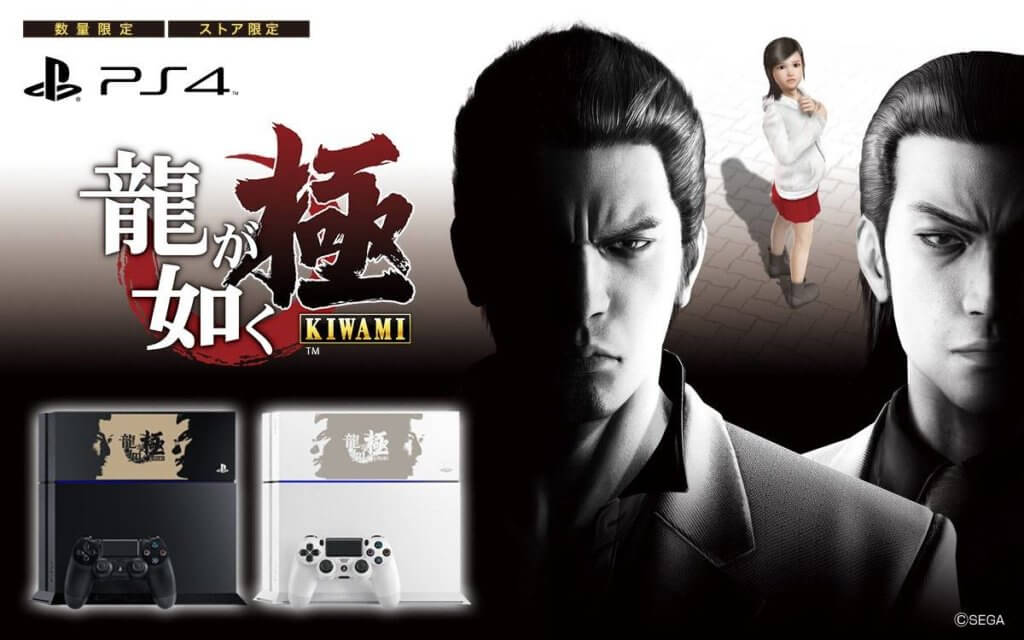 For those of you who are interested in the game, Sega has announced that a PS4 complete remake of Yakuza named Yakuza Kiwami (or Ryuu ga Gotoku: Kiwami) will be coming to the US in Summer 2017. Aside from a fresh rework of the game, the developers added other mini games, features, and more story bits too. As a longtime Yakuza fan, I am excited to get my hands on it! Are you?
Big thank you to our supporters
From their continous support, we are able to pay our team for their time and hard work on the site.
We have a Thank-You page dedicated to those who help us continue the work that we've been doing.
See our thank you page