Before the Summer 2019 anime season started we ran a poll asking you, the reader, what shows you wanted us to investigate for you. Over the next couple of weeks, our team of writers will be watching the first episode of the poll's top 3 shows and telling you if they're worth putting into your queue. Our winners were Dr. STONE, Vinland Saga, and given, with Dr. STONE being the first of those to air.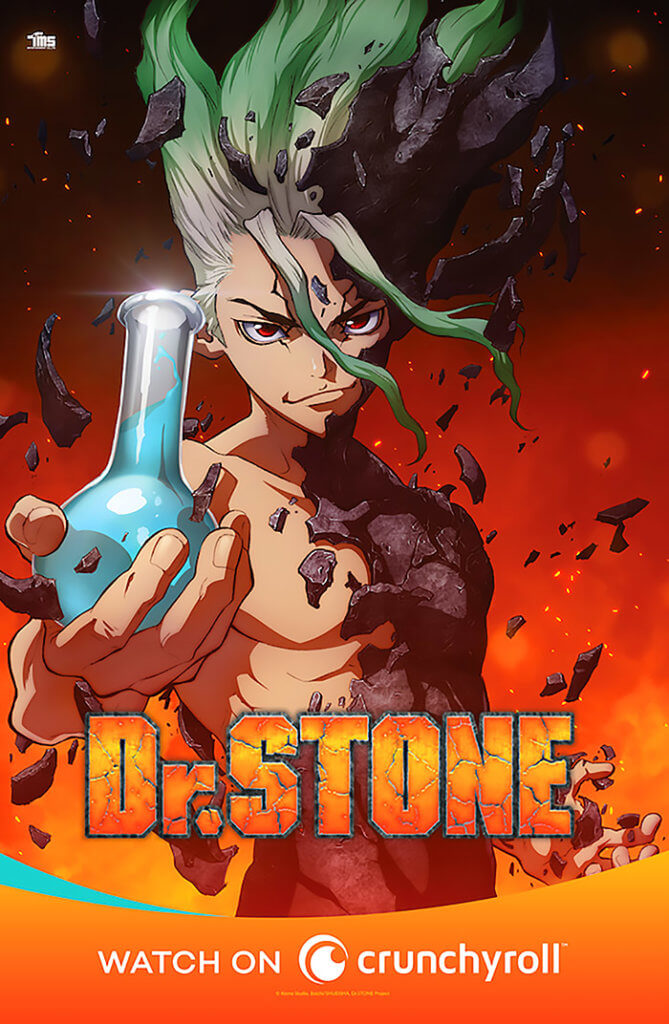 Crunchyroll describes it like this:
"Several thousand years after a mysterious phenomenon that turns all of humanity to stone, the extraordinarily intelligent, science-driven boy, Senku Ishigami, awakens. Facing a world of stone and the total collapse of civilization, Senku makes up his mind to use science to rebuild the world. Starting with his super-strong childhood friend Taiju Oki, who awakened at the same time, they will begin to rebuild civilization from nothing… Depicting two million years of scientific history from the Stone Age to the present day, the unprecedented crafting adventure story is about to begin!"
But what does the preview team think?
Within seconds of starting the episode, I felt like I was thrown back in time to the early 90's when shonen anime had those sharply drawn lines, exaggerated expressions, and a main character that's immediately recognizable by his absurdly strange hair. I instantly became nostalgic for my childhood: collecting Yu-Gi-Oh cards, painting rocks to look like Dragon Balls with my cousins, and spending hours waiting for the next episode to come on 4Kids or Toonami. But the art style is where any relation Dr. STONE has to these older shows ends.
This new take on a post-apocalyptic/mad scientist plot seems pretty interesting in the first episode, but the artwork throws off my perception throughout the episode. I can't tell if the protagonist and his bulky companion are going to save the world, take it over, or start playing a children's card game. But I feel like that's one of the appeals of the show. The stereotypical character being best friends with one that's seemingly plucked from a totally different genre of anime makes an interesting combination for a world-saving duo. I haven't read the manga, so all of my thoughts are based only on this first episode, which didn't hook me like I felt it was trying to. Key plot-points that are driving the characters' actions just didn't resonate with me.
There just wasn't enough time in the first episode to make me connect with any of them. I also can't figure out if the show is supposed to be more of a comedy or a drama, based on events from this first episode. (How the characters react to the world basically ending is an example of this.) However, the show also hasn't put me off watching it due to these reasons. So while I'm not eagerly awaiting the next episode, I'll be keeping it on my queue list for now.
---
The ideas behind the first episode of Dr. STONE were interesting, coupled with great looking art, but the show was also given horrible pacing and uninteresting animation. This makes sense when you look at who was behind the episode – aside from director Shinya Iino (assistant series director on Made in Abyss), you'll find talent who can make even the most hyped of premises seem a little lifeless. While the show adapted the art from Bocchi's original manga beautifully (with the story being done by Riichirou Inagaki), they didn't leave much room for the art to move besides a few seconds of half-decent animation. We are treated to a fantastic sequence of the world crumbling apart, seeing overgrowth on the NTT Docomo building and Tokyo Skytree decaying, but even then, the animation is too stiff for my liking.
The biggest issue I felt with the entire episode was the pacing. Instead of building up a world and then breaking it to get into the real plot (a la Attack on Titan's first episode), the whole first 13 minutes crams everything interesting in so we can watch what should be episode two (or even three) be rushed through in episode one. In the first minute alone we go from world-building to silly anime tropes and it just feels weird, especially when you have "THE WORLD HAS ENDED" next to "DRINK A LOVE POTION TO ASK OUT MAIN GIRL."
I think my biggest gripe with the episode is that the premise of the series is actually really cool. You don't often see an adaptation from Shonen Jump about science and how to survive in a post-apocalyptic world using your brain instead of brawn. Maybe it's just "first episode kinks" to work out and once the formula is solidified it'll become a great series. I'll keep watching to hopefully see that happen.
---
Dr. STONE is Crunchyroll's most heavily marketed title this season and I'm starting to see why. The first episode doesn't waste any time getting right into the story of Taiju's motivation and Senku's mission to find a way to de-petrify humanity. These characters have a great dynamic akin to Pinky and The Brain and Rick and Morty. Taiju is a loveable, go-getting dork who handles all the physical labor, while Senku uses his intellect of a determined mad scientist to experiment on things. Kudos to the large, green onion hair, by the way.
I feel that there's plenty of groundwork the first episode has introduced so far and anticipate more challenges to come in the anime. There's good bits of comedy as well as effective moments that display the bond between Taiju and Senku. Considering it's based on a Weekly Shonen Jump title, I expect there to be some more action at some point, and look forward to what's in store next week.
---
Dr. STONE can be watched on Funimation, Crunchyroll, VRV, and bilibili.
Be sure to check out our other Summer 2019 anime first impressions:
Summer 2019 Anime First Impressions BONUS –Do you love your mom and her two-hit multi-target attacks? (Coming Soon)
Big thank you to our supporters
From their continous support, we are able to pay our team for their time and hard work on the site.
We have a Thank-You page dedicated to those who help us continue the work that we've been doing.
See our thank you page