Hibike fans rejoice! You're not only getting a second season, but also a movie! What a double-whammy!
Over the course of last week until this morning, Kyoto Animation announced they will be continuing the slice-of-life school band anime, Sound! Euphonium, for another season. They also announced the series will be getting a film titled Gekijō-ban Hibike! Euphonium ~ Kitauji Kōkō Suisōraku-Bu e Yōkoso~ (Sound! Euphonium the Movie: Welcome to the Kitauji High School Concert Band). The movie will be a recap of the first season.
This morning, Kyoto Animation released a teaser video for the show's sequel.
Translation taken from ANN :
Noboru Taki: Well then, let's start.
Text: Special Announcement
Text: A film version that will look back at the TV series!
Noboru Taki: Now, go and show me the true strength of Kitauji.
Text: Has been decided!
Text: Road to nationals
Text on Board: National competition participation
Text: And!
Text: Sequel work decided!
The highly popular anime's first season was released in Spring 2015. The story follows a high school band as they band together, facing trials and drama, all while competing for the nationals.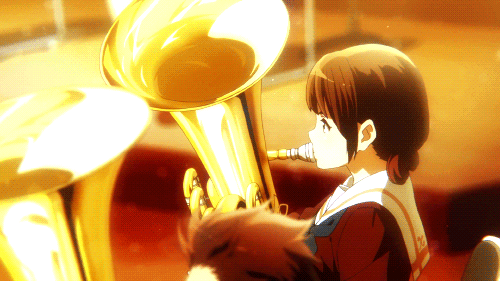 "The story follows the Kitauji High School Concert Band, which used to always advance to national competitions. Ever since the adviser changed, though, it has not advanced past the Kansai tournament. However, thanks to the newly appointed adviser's strict instruction, the students are steadily improving. The band members' daily lives are full of ups and downs including fights over solos and the decision to resign extracurricular activities to focus on studies."  (ANN)
There isn't a release date for either the movie or second season currently. In the meantime, you can watch/re-watch the first season on Crunchyroll! Get a Crunchyroll Premium Membership and enjoy the show commercial-free!
Big thank you to our supporters
From their continous support, we are able to pay our team for their time and hard work on the site.
We have a Thank-You page dedicated to those who help us continue the work that we've been doing.
See our thank you page