Welcome to the last of our Winter 2022 First Impressions! In case you're new, or in case you've forgotten, this is how we typically run these things: in the week or two before the start of each new anime season, we do a poll for our readers to vote on what series they'd like us to cover. We then review the first episode of the three series with the most votes (and sometimes more than three, in the case of a tie or other extenuating circumstances). So far this season we've covered In The Land of Leadale and World's End Harem, and My Dress-Up Darling. Sasaki and Miyano is the 4th and final to air.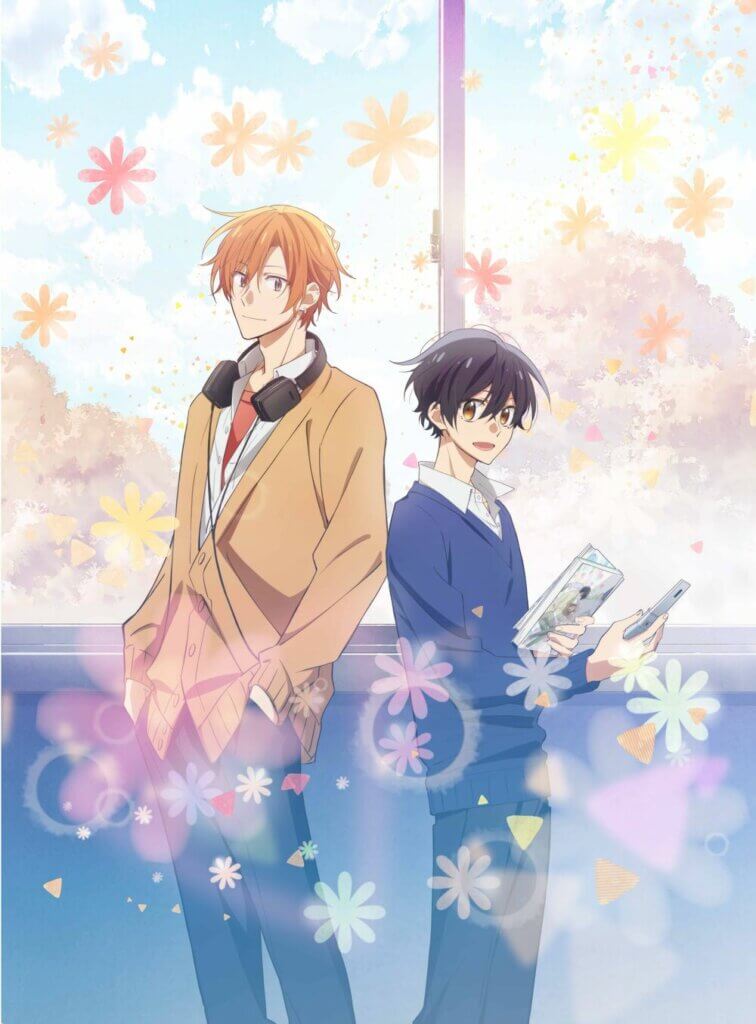 Miyano's world of Boys' Love manga turns to reality when chance leads him to Sasaki. Now, Sasaki wants to spend every opportunity with him. – Funimation
Let's see what our team of writers had to say!
Romances aren't typically my thing. But the relationship dynamic of the show is one that interested me. One character is soft, and the other is a delinquent that's actually nice. Kind delinquents are one of my favorite tropes, but I felt this anime didn't do much to capture my attention and endear me to its characters.
After meeting Miyano, the delinquent Sasaki starts hanging out with Miyano, but in a very pushy and obnoxious way, such as being very touchy. I assume the creator was going for wholesomeness here, but I didn't feel it.
This episode consisted of short segments showing the character's relationships, such as bonding over boys love manga. Over the course of the episode, we slowly start to see Sasaki come to terms with his feelings for Miyano. Unfortunately, I just found it boring.
I'm not a huge fan of pure fluff. If you are, you may find this anime to be right up your alley, especially if you are a fan of boys love stories. Otherwise, I would suggest skipping like I will do.
---
I liked how Sasaki and Miyano sets up the boys' initial attraction – Sasaki steps into a fight to help Miyano, and the framing makes you think Miyano will fall in love instantly. But it's actually Sasaki, ostensibly the dominant bad boy, who's instantly smitten.
And on a larger scale, the show appears to be from Miyano's point of view at first but is actually a collection of Sasaki's memories of how they got to know each other through sharing BL manga. It's this pair of fun little writing/framing tricks that helps the show not feel like yet another in a long line of "One character rescues another from some rough situation, and the second character instantly falls in love" plots.
I do have a few gripes though. It's very minimally animated. It's not full of super wacky physical comedy or anything, so it's not in dire need of top-tier animation. But it would have benefitted from some more detail put into character expressions and movement. How people move can add tons of depth to our understanding of them as characters, and a character-driven show like this one loses a lot when it's missing that element of "acting".
And finally, it's paced like a comedy, and sets up punchlines like a comedy, but unfortunately, it isn't very funny. It's cute for sure, but it feels like it's telling me to laugh when there hasn't really been a joke. Maybe my sense of humor just doesn't vibe with the show's.
Regardless, I had a decent time with Sasaki and Miyano. If you want a sweet show about nice boys falling for each other, you'll find that here. I'll probably wait until a few more episodes build up and then give it another try – I've heard the source manga is kind of a slow starter too, and I think the potential is there.
---
Let me be real with you all: BL isn't for me. That being said, there are exceptions such as Banana Fish and Given that have a certain edginess that appeals to me. Sasaki and Miyano errs more on the slice-of-life romcom angle similar to Horimiya. Being based on a webcomic, the chronological order of the story is mixed around, often starting at different points of the plot. The anime plays like a series of connected vignettes that highlight the burgeoning relationship between the two lead characters.
Although I thought this was nice, there wasn't much that was pulling me into this episode. The overall design is simple, bright, and colorful enough to be pleasant and easy on the eyes. However, the story, the characters, and everything else were played pretty straightforwardly, with a tease that Sasaki's attraction to Miyano will gradually grow. If you love your standard slice-of-life romance anime and are a BL fan, you'll definitely be satisfied with this premiere.
---
Sasaki and Miyano is the tale of two boys who are falling in love, not knowing where their feelings are taking them or if the feelings are even real–though being a BL series, it probably is. The series feels fluffy and full of warm wholesome feelings, as long as the two mains aren't discussing the ins and outs of the BL genre with … certain aspects that may not be good conversation topics in the hallway at a school.
The style of the animation, produced at Studio Deen under the direction of Fairy Tail director Shinji Ishihira, invokes the feeling of older romance anime like My Love Story! and the original Fruits Basket rather than the more modern BL series like given. Though, unlike those series that build up the cast of characters over time, Sasaki and Miyano just throw the viewer straight into the budding relationship, which was a little confusing at first but started making sense as the episode continued … mostly.
Being said, due to how the first episode was set, rather than being introduced to the characters and getting invested in them, we barely know them. I'm sure this type of storytelling works for some, but with Sasaki and Miyano being as slice-of-life as it is without the deep characters, it just isn't for me.
---
---
Wondering where to watch Fall 2021 anime? We can help with that!
Big thank you to our supporters
From their continous support, we are able to pay our team for their time and hard work on the site.
We have a Thank-You page dedicated to those who help us continue the work that we've been doing.
See our thank you page