Mark your calendars, Yattans! Fan-favorite Reol is finally releasing her first album. Known for sharing her covers of songs on sites such as Niconico Douga and YouTube, Reol's freshman release is set to feature eight original songs out of the sixteen that are planned to appear. According to RocketNews24, her frequent collaborator Giga-P joined her on this project, as well. At the time of their report, only one original track had been revealed, along with eight other tracks contributed by various artists. Her album's full track list is as follows:

Her eight original tracks listed are: "-nil-"; "-orderly-"; her first single off the album titled 「極彩色」 (gokusaishiki, or "Richly-Colored"); "Harushian"; "Ra Tatan"; "Some" (or somari, Dye); "mede:mede"; and "ROXY." The other eight revealed songs are: "Logic Agent"; "Midnight Stroller"; "Seimeisen" (Lifeline); "Syrup"; "Suitei Yuu Hodou" (Sidewalk Floating at the Sea-Bottom); "MONSTER"; "Behind The Night"; and "Yakusoku no Ao" (Promise of Blue).
The album, also titled 極彩色, will be released by Victor Entertainment in three different editions–Regular Edition, Limited Edition A, and Limited Edition B. Regular Edition is the standard, album-only release; Limited Edition A includes a DVD with music videos and a making-of video, plus a fragment of Reol's lyrics booklet; and Limited Edition B comes with an illustration book containing illustrations, cover artwork of the album, an artwork making-of, and more, as well as a fragment of Reol's lyrics booklet.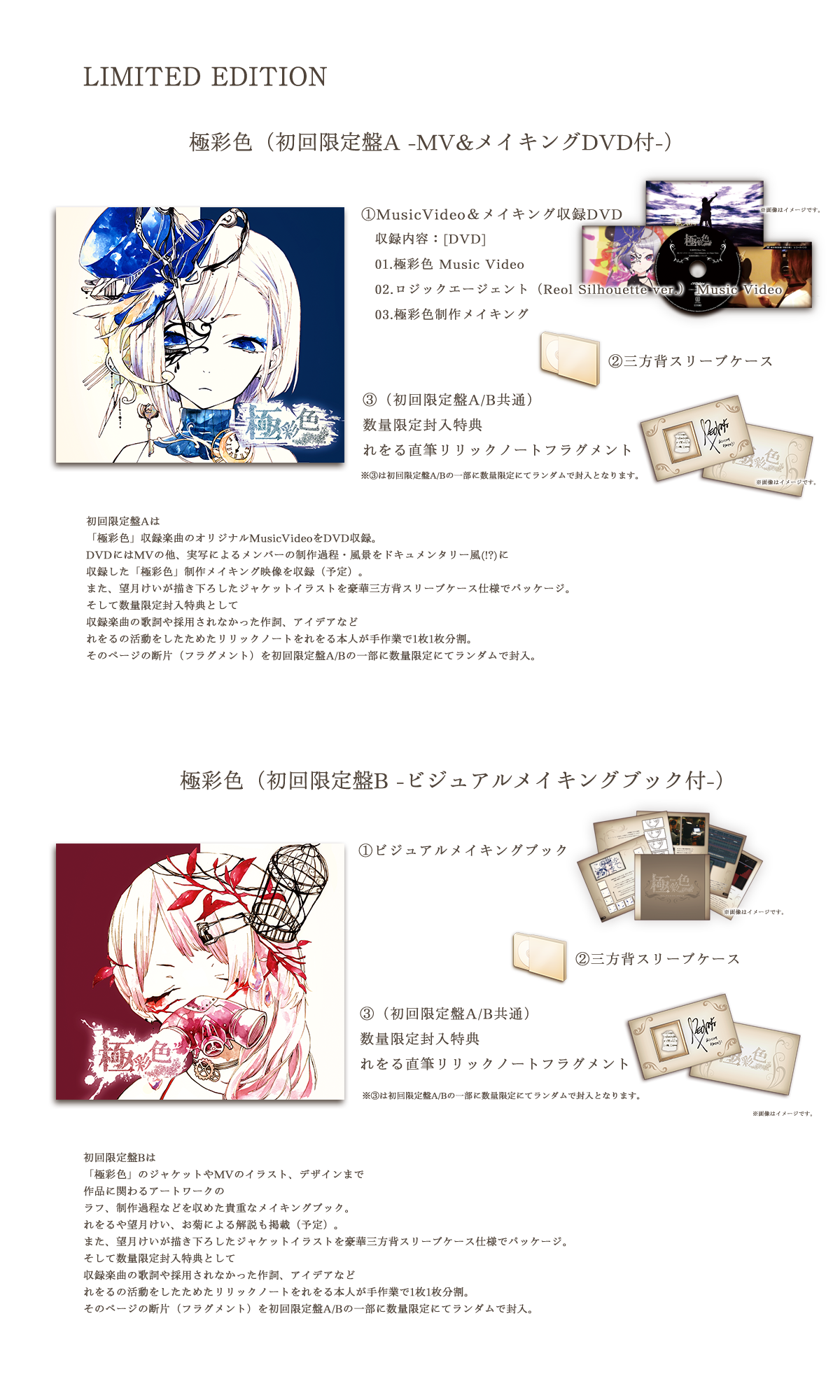 The regular edition of the album will be priced at ¥2,300 plus tax, and Limited Edition A and B will both be priced at ¥3,000 each. While it's unclear whether or not her album will be available for download in Western markets, fans can currently import Reol's first release from CDJapan (links below). Finally, Reol's music video for her first single off the album was uploaded to YouTube on May 25. You can check it out below. Here's hoping Reol has a successful debut!
---
Source: RocketNews24
Purchase Gokusaishoku: Regular Edition, Limited Edition A, Limited Edition B
Big thank you to our supporters
From their continous support, we are able to pay our team for their time and hard work on the site.
We have a Thank-You page dedicated to those who help us continue the work that we've been doing.
See our thank you page