The title gets right to the point: Mine-kun is asexual. Murai finds herself infatuated with him and this title explores them navigating their relationship while being at odds. Murai is very physically affectionate – she likes to cling, hold hands, hug, and be close to those she cares about. Mine-kun, on the other hand, has no interest in physical signs of affection. Can a middle ground be reached between these two?
Mine-kun Is Asexual is a doujinshi, but this is not a work of art for adult eyes only. Although doujinshi has a reputation in the west for being strictly not safe for work (NSFW) stories or parodies/fan works using existing intellectual properties, the term 'doujinshi' refers to all self-published works by manga artists. Doujinshi manga tends to be shorter and more compact than commercial manga but can explore different creative facets that may not be otherwise possible.
The Good
Mine-kun Is Asexual is a delightful short read that you can easily consume in one sitting (I did!). I have not seen a lot of manga mention the topic of asexuality, so it was really refreshing to see one did, in fact, exist! This is made even better by the fact that the story is not resolved by "solving" asexuality or changing the character to otherwise get over it.
Their date nights, conversations, and personal struggles all feel like real, authentic experiences between two people. Neither is really demonized or highlighted as the better or correct side. There are highs and lows the two of them experience that really hit close to home no matter if your experience is as someone who is asexual or someone who has been in a relationship with one who is. These are things you could realistically see in a relationship. Murai confides in a friend throughout the story about her roller coaster of feelings, and we get this outside perspective that draws attention to the things that maybe you don't want to think about. At its core it's not even exclusive to a relationship as or with someone who is asexual – it's all boils down to your preferences and the preferences of your partner(s).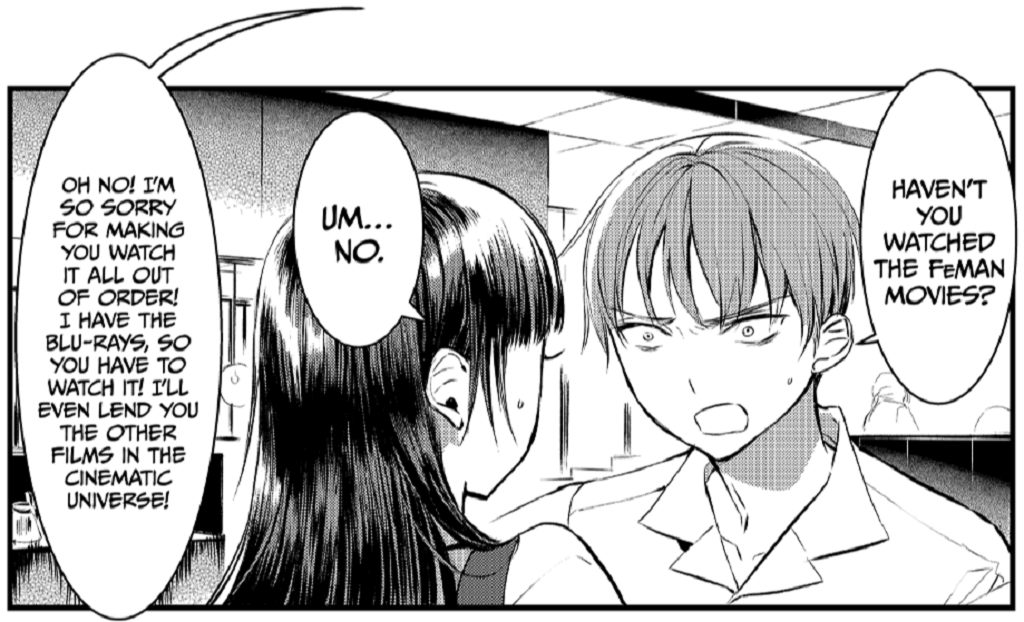 The Bad
Although the story length felt satisfying, one character gets a proper 'epilogue' of sorts while the other is left to a small doodle after a word from the author. I wish we had gotten just another page to flesh out these epilogue sketches and tie the entire story to a close.
The Personal
It isn't something that comes up a lot, or that I talk about often, but here seems a fitting place as any! I tango a bit with asexuality; graysexual probably is the term that best describes how I feel most of the time. My preferences are not the same as Mine-kun, but his experiences with a partner who wants to be very physical hits at least within eyesight of home. That's what makes this story feel so real; they speak to at least a small portion of my own experiences in a way I have never encountered in any other manga.
The Verdict
This title is a no-brainer if you're looking for manga with an asexual character. But! I urge anyone who likes romance manga to consider checking this out. This is a more 'mature' story in that the characters aren't in middle school or high school, yet it's still a light-hearted romantic tale. I think this is a great first look into what an asexual person might experience. Beyond that, it really speaks volumes about relationships in general and finding your right fit. This kind of tale I find invaluable for those who may be entering the dating scene in young adult life, or even if you just need a reminder.
---
Mine-kun is Asexual Credits
Original Story and Art By: Isaki Uta
Translated by: Ed Ayes
Lettering by: Tim Sun
Compiled and Formatted by: CC Sū
Quality Assurance by: On Takahashi & Zhuchka
---
Huge thank you to Irodori Sakura for providing us a digital copy to review!
The Good
Features an asexual character
Interesting look at some of the complications of romance
Great short read
The Bad
Only one character gets a proper epilogue
Short length may leave you craving more representation
Big thank you to our supporters
From their continous support, we are able to pay our team for their time and hard work on the site.
We have a Thank-You page dedicated to those who help us continue the work that we've been doing.
See our thank you page