Welcome to the final round of the Yatta-Tachi Summer 2022 Anime Season First Impressions series! In case you're new or have forgotten, it usually works like this: in the weeks leading up to the start of a new anime season, we run a poll so readers can vote on what new shows they'd like us to cover. We tally up the votes, and the top 3 get their first episodes reviewed by some of our writers. This season, our winners were Phantom of the Idol, Tokyo Mew Mew New, and Lucifer and the Biscuit Hammer. Of those three, Lucifer and the Biscuit Hammer is the last to air.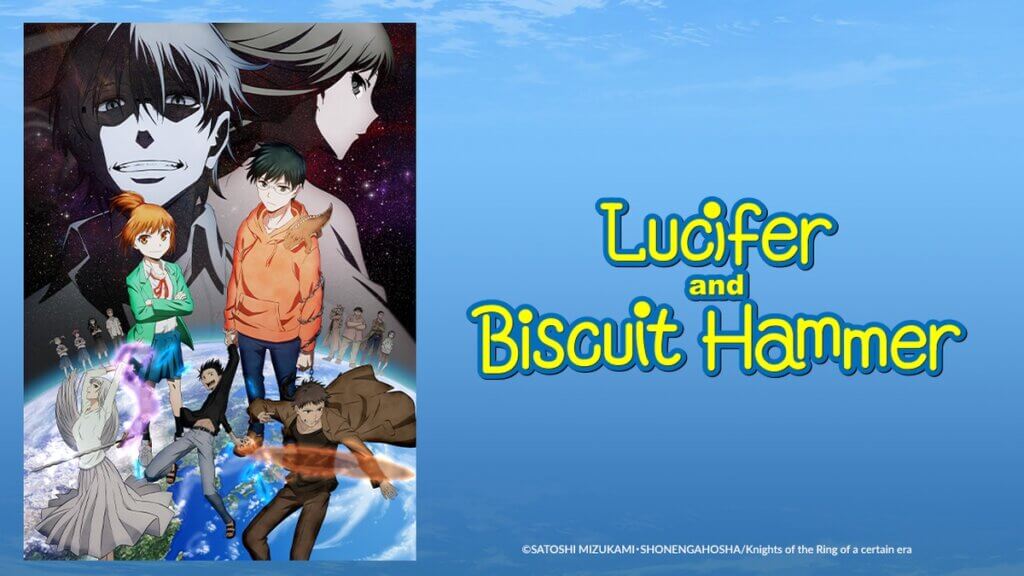 Everything about college student Amamiya Yuuhi is average: grades, looks and his blasé outlook on life. So what happens when he awakens one day to a talking lizard, who informs him that there is a gigantic hammer in outer space, poised to split the Earth into pieces, and requests his allegiance in the fight against the forces of evil? Pretend it never happened! Unfortunately for Yuuhi, a little bit of coercion in the form of a super-powered princess prevents him from returning to his mediocre life-as-usual.

In the adventure of his lifetime, Yuuhi will join forces with the unpredictable princess and seek out a motley crew of companions to fight back against an evil mage and his horrifyingly powerful homunculus before the Biscuit Hammer destroys the planet!
Let's see what our team of writers had to say!
---
Daryl Harding
I mean, it's not as bad as Hand Shakers from GoHands, but Lucifer and Biscuit Hammer is trying. It is really trying to be just as bad. The sad thing is, Biscuit Hammer made me genuinely laugh out loud in places and casting of Kenjiro Tsuda as Noi Crezant was utterly brilliant, but my eyes, they can't handle the sheer lack of effort put into the production values.
To put it in perspective, when the first scene was playing out, I didn't think it was all that bad. Sure, Yuuhi had no expression on his face, maybe that's his character. Crezant is a lizard, why would he have expression? Fine. Going forward into the episode, yeah, the animation is stiff, that's okay, at least the composition of the shot with the blur looks halfway – oh, it's just a filter over every shot? They're panning into the filtered area. Who directed this awful thing?
And that fighting "animation"? No words.
Listen, I get the anime production landscape is kinda dire right now, and I get that all the big anime studios are booked up for years at this point. But for a property, as loved as Lucifer and Biscuit Hammer, we could have waited until those years ran out. In fact, the production committee is damaging the brand with this anime.
At least they may get more manga sales of this, cause even though I haven't read it, it couldn't be worse than this. Poor Tsuda can't catch a break. Go watch him in The Ingenuity of the Househusband on Netflix instead, he deserves that much.
---
Bill Curtis
The Biscuit Hammer manga ended over a decade ago. During that time, this cult hit's vocal fanbase (me included) has been clamoring for an anime adaptation that it seemed like they'd never get. But now that they have it, they might wish they never got it.
For better or worse, it's adapted pretty faithfully. The quirky characters, surreal concept, and strange sense of humor of the original are all here and intact. The more conventional anime "jokes" from the 2000's are here too – skirt flipping and various other forms of sexual harassment. Personally, I can look past it because I know it becomes less of a focus as the story develops into something extremely worthwhile. But it definitely shows its age.
The real issue, though, is that it looks like complete and total ass. The character designs are fine and faithful to manga author Mizukami's original art. But they barely move. I have seen Powerpoint presentations with more motion. When they do move, they look clunky and weightless. There are some baffling camera cuts and directorial choices. It's just a really ugly show.
I, unfortunately, do not recommend it in its current state. If the premise intrigues you, try to track down the manga instead, or wait until a few more episodes have come out and see if a more fleshed-out cast and plot can save it. I promise the story is worth the time. It's just hard to imagine anyone watching this steaming pile long enough to find that out.
---
You can watch Lucifer and the Biscuit Hammer on Crunchyroll.
---
Wondering where to watch Summer 2022 anime? We can help with that!
Big thank you to our supporters
From their continous support, we are able to pay our team for their time and hard work on the site.
We have a Thank-You page dedicated to those who help us continue the work that we've been doing.
See our thank you page