Greetings ladies and gentlemen! My name is Chris, and I'm here to tell you about a fun product to consider getting for your favorite Otaku (although, let's be honest, that might just be you!) for the holidays, birthday, or just because.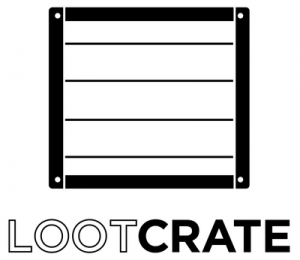 For those who are unfamiliar, Loot Crate is a subscription box service described as "mystery geek and gaming gear, delivered monthly". How it works is you sign up for their service, and once a month you receive a box to your door full of themed geeky items. Those items can be anything from t-shirts and mugs, to comics and figurines. They were the first of that type I had ever heard of when I signed up for them over a year ago, and while that market has since exploded, with EVERYONE offering knick-knacks and trinkets on rotation, Loot Crate is the grandaddy of them all. In fact, they even released their first television commercial, which is currently airing on SyFy, Spike, Adult Swim, Comedy Central, FX and more! How many other subscription boxes have you seen with enough support to do that?
"But Chris", I hear you saying, "that's nice and all, but I don't see much in those boxes for my anime/manga loving self." Well, fear not intrepid reader! If you've made it this far (or just read the title of my article), you may have guessed that Loot Crate has unveiled a separate Anime themed subscription box to suit your needs. They describe it as, "a monthly mystery bundle of figures, collectibles, manga, apparel, accessories and more from some of your favorite anime and manga series with a new theme every month! $60+ value in every crate!"

The first box's theme is "Brawl", and will feature items from Naruto Shippuden, Attack on Titan, and more! But you'll need to hurry, the deadline to get December's loot is November 27th at midnight EST/9PM PST. So what are you waiting for?? Go and get your Looting on!
Big thank you to our supporters
From their continous support, we are able to pay our team for their time and hard work on the site.
We have a Thank-You page dedicated to those who help us continue the work that we've been doing.
See our thank you page