Welcome back to our final installment of First Impressions for Winter 2021! For the uninitiated, here's how it goes: before the start of each new anime season, our readers vote on what series they'd like us to cover, and we review the first episode of the three series with the most votes. This season our Top 3 were So I'm a Spider, So What?, Otherside Picnic, and Horimiya, and Horimiya is the last of those three to air.

Here's how Funimation describes this series:
"A secret life is the one thing they have in common. At school, Hori is a prim and perfect social butterfly, but the truth is she's a brash homebody. Meanwhile, under a gloomy facade, Miyamura hides a gentle heart, along with piercings and tattoos. In a chance meeting, they both reveal a side they've never shown. Could this blossom into something new?"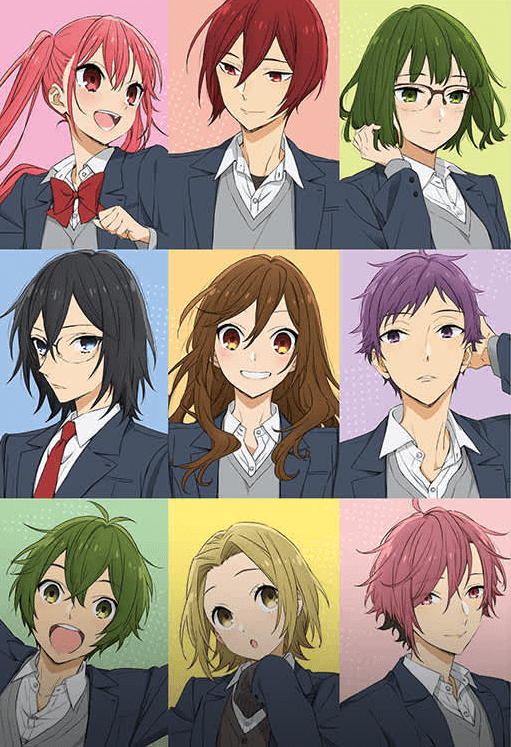 And here's what our team of reviewers thought:
I heard some good things about Horimiya on Twitter beforehand and was curious about what the first episode was going to be like. After finishing the episode and hearing about all its praises, I can safely say that Horimiya is off to a good start. It also has the best anime OP+ED combo punch this season.
For the most part, it follows the lives of ordinary high schoolers Kyouko Hori and Izumi Miyamura who both don different images at home, contrary to how they present themselves at school. This aspect is the main charm of the anime and it delivers some pretty good laughs from time to time. The story and pacing of the show played out pretty straightforward, but I could still see the quick set up and punchline style from the original 4 koma manga present in this anime's delivery.
It's a pretty simple anime with an interesting setup and I can't wait to see how Hori and Miyamura's relationship develops throughout this run. Give it a watch and see the first episode for yourself.
---
If you're looking for a cute rom-com this season–which I am, always–then look no further. With absolutely stunning visuals, great voice acting, and some new twists to fairly typical tropes, Horimiya's episode 1 has some great promise.
Even though the show has the generic school life trope going on, the little changes they throw in right from the beginning are great. With so many different plot points circling around, I thought for sure there was enough content to drag the series out for a while. The main characters have different sides to themselves outside of school that their friends don't know about, a love rivalry gets implemented, some secrets get mentioned, and more. But instead of setting these up to play out over the course of 13+ episodes, they took all of these stereotypical plots, threw them in, and resolved almost all of them before the credits rolled.
I haven't mentioned this enough yet, but the art is amazing. It's so, so, so, so, so beautiful–the lines, the style, the movement, and ohmygod the colors. I couldn't stop staring at Miyamura's eyes the entire time. The blue is so (watery description) that I found myself (water sport or manner of death) in them the entire episode. Then my heart went all dokidoki with his swishy hair and his eyes and his cinnamon roll personality and I was hooked. Kou, my beautiful boy, our time together was wonderful, but you've been relegated to the back burner. Miyamura is my husbando this season and I can't wait to scream delighted giggles at all his cuteness until my actual husband gives up and keeps his headphones on until the show finishes.
---
There's sweet, then there's a Krispy Creme doughnut, then above all that is Horimiya. The high anticipated romantic-comedy series finally gets its debut from the staff at Cloverworks, led by directing and animation legend Masashi Ishihama (Persona5 the ANIMATION, animation director on Welcome to the NHK). 
Director Ishihama though is a funny beast, there's no objection to the fact that he's an amazing anime creator, none. But instead of most anime creators building on already existing works and elevating them to amazing highs, Ishihama needs the core of the story to be there to make it shine. Thanks to series composer Takao Yoshioka (who did the same job on Your Lie in April, and High School DxD) adapting the already great manga by HERO, Ishihama is able to make an amazing first episode which largely, in my opinion, moved very fast, in a good way!
Ishihama's background is in animation direction rather than overall direction, and the first episode of Horimiya really shows that off. No scene is without movement, and no movement is without purpose. During one conversation, as the feeling of the two main leads drift apart from each other, colored shadows are seen drifted apart in the background, then slowly coming together. The method showed not only a deep understanding of the emotions of the characters through what they were saying but also how animation can express that emotion without being too heavy-handed. Though I did like the dramatic, visual-novel-esque, doom music that was played during the confession, got a giggle out of me.
Horimiya is a sweet show that will likely lead to a sweet relationship between two characters that are worlds apart in style but close in heart, and I'm thankful the team they have working on the anime can bring it to life.
---
I really really like the central relationship and how it progresses in this show. There is a formula that much romantic comedy anime follow for how a relationship should progress. Horimiya doesn't follow that formula at all and is better for it. It does seem to move very fast, but it works.
I think two kids finding out that they have something abstract and unlikely to be relatable to their peers in common and quickly becoming strangely attached and attracted to each other is much more believable than two kids spending their high school years pining after each other and blushing at the mere thought of the other and then somehow managing to not just get over their terminal shyness to ask the other out but to make it work clear through the trials and tribulations of puberty and into college, marriage and beyond to spend a blissful life with their very first love (as much as I love that kind of stuff). Basically, Hori and Miyamura's relationship immediately feels more real than that of 90% of romcom couples.
I also really like the two main characters by themselves. The idea of a character presenting one facet of themselves at school and another at home isn't really new (Natsumi Aida's Switch Girl did it 15 years ago, for example) but I feel like in other manga that use this trope, the two facets often feel like two totally different characters. But Hori feels like a single cohesive character. It's not that she hides her responsible homebody side on purpose – people just seem not to notice it due to her popularity, and she doesn't correct them because it suits her desire for privacy.
Miyamura is a character type that we basically never see – a pierced and inked person who isn't a one-off gimmick, the butt of a joke, or a villain. That alone makes him interesting, but I also like that you can see right away what makes him attractive to Hori. It's not just his looks (though that's clearly a factor). He's helpful, non-judgemental, and easy to talk to, as long as people will start the conversation for him. He's far more appealing than your average love interest.
If I had to gripe, it would be about the weird artsy red and blue shadows thing. In an otherwise well-directed, very grounded-feeling show, the occasional crossfades to paper-like backgrounds behind two characters, each with a different colored silhouette floating nearby was kinda baffling. There didn't seem to be much rhyme or reason to when this technique was used. To me, it felt like visual funkiness for its own sake, which isn't a bad thing exactly but I don't think the show benefited from it. It didn't do it for me.
I also wasn't a big fan of the OP or ED. The songs for both were boring, and while the OP animation was very pretty, the ED animation was actively ugly. But ultimately the part between the OP and ED is what we all come here for, and that part was very good. The Horimiya manga is something of a cult classic, and it's easy to see why. I'll definitely keep watching and I suggest you do too.
---
---
Wondering where you can watch the Winter 2021 Anime season? We've got you covered! See our Winter 2021 Anime & Where to Watch Them list!
---
Show Credits
Script Translator: Katrina Leonoudakis
Big thank you to our supporters
From their continous support, we are able to pay our team for their time and hard work on the site.
We have a Thank-You page dedicated to those who help us continue the work that we've been doing.
See our thank you page