We've finally escaped 2020, and with the start of 2021 come the year's first new anime, and thus our first round of First Impressions for the year. For the uninitiated, here's how it goes: before the start of each new anime season, our readers vote on what series they'd like us to cover, and we review the first episode of the three series with the most votes. This season our Top 3 were So I'm a Spider, So What?, Otherside Picnic, and Horimiya, and Otherside Picnic is the first of those to air.

Here's how Funimation describes this series:
"Moments from death, Sorawo is saved by the mysterious Toriko in the world of the Otherside. Entranced by its beauty, she discovers that this dimension is inhabited by monsters once thought imaginary. Joining with Toriko in her search for a missing friend, they set out to explore this nightmare realm and maybe make a little money. What they encounter could bring enlightenment—or drive them mad!"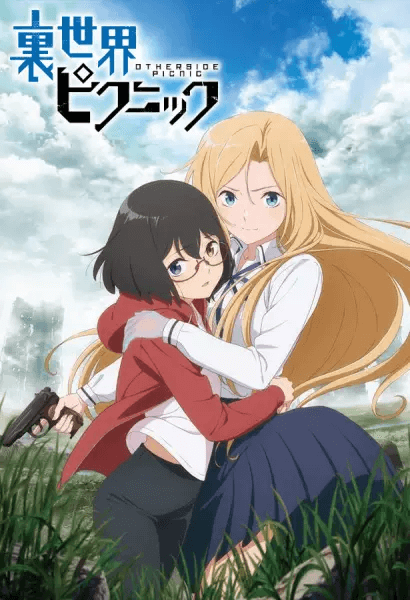 And here's what our team of reviewers thought:
Last season's yuri offering gave us the slow, moody musings of two high school girls in Adachi and Shimamura. Otherside Picnic offers a somewhat similar story with an overt supernatural edge I find interesting. I'll be intrigued to see how our two leads, college students Sorawo and Toriko, deal with the various urban legends that are haunting them in everyday life.
Sorawo calls them "wiggle-waggle" which is funnier than intimidating if I'm being honest. I'm hoping we can figure out where these monsters are coming from and how the girls are transporting to the other side of the world in the first place.
One thing I liked about this premiere is the music and sound effects during specific jump scare moments in the episode. The production team did a good job keeping us on our toes and roping us into the girls' interaction with their mysterious surroundings. Otherside Picnic overall had a strong debut and I'm hoping it can go dark and really explore some of its horror elements.
---
I'm so glad you all voted for this show because it was definitely in my Top 3 Gotta Check This Out list. I love fantasy/paranormal shows, especially when it's Low Fantasy like this. Having a whole secret world or alternate dimension everyday people can get to by finding the right door or hitting elevator buttons in the right order is something that always intrigues me. Plus, the art is super, super good for this show, and I'm all about the cuteness.
Episode 1 was a really fun watch. It gives you a good feel for the two main characters, it introduces a lot of burning questions that'll have you wanting to know the answers to, the pacing was just right, the story felt unique, and have I already mentioned the art? Because I love it. Except for when it switches to the 3D models. Which I hate. But it only happens a couple of times, and it only does it when it shows a far-off shot of the characters to fit in more of the environment. But I still hate it and wish they'd stuck with the normal medium instead. Other than that, the episode was solid. There's just enough character exposition, and not nearly enough world setup, but that's the whole point of this being an episode 1–it's got to make you want to come back. And yes, I will be coming back. Every week.
---
I was not expecting to go into Otherside Picnic and enjoy it as much as I did. The series, adapted from a light novel series written by Iori Miyazawa and illustrated by shirakaba, starts off moody and continues that same moody throughout the series, injecting a little bit of humor with the characters and their struggle with the absurd world they are choosing to enter.
One great thing about the first episode is that it doesn't bog down with exposition. The director of Otherside Picnic, Takuya Sato, has been involved with some great series with a great first episode. Steins;Gate, the original Fate/stay night adaptation. While some have panned out better than others, one thing is for certain, the man knows a good first episode and Otherside Picnic is up there.
Being said though, the insertion of hard cuts for comedic purposes felt jarring when spliced into scenes that were otherwise serious. The comedy came mostly from the interactions between Sorawo and Toriko, and them coming to terms with the worlds around them.
Interestingly, when the two girls were further away from the camera, instead of animating in "low-quality", the teams at Liden Films and Felix Film chose to animate them in 3D, usually only reserved for background, non-important, characters. Both teams did a great job of transition between the 2D and 3D while retaining the aesthetics of the rest of the scene.
All in all, an enjoyable first episode for a promising series.
---
---
Wondering where you can watch the Winter 2021 Anime season? We've got you covered! See our Winter 2021 Anime & Where to Watch Them list!
Big thank you to our supporters
From their continous support, we are able to pay our team for their time and hard work on the site.
We have a Thank-You page dedicated to those who help us continue the work that we've been doing.
See our thank you page