Prior to its announcement, I had heard of the Flying Witch from a few friends of mine who are fans of the series. From what I have been told, the series combines genres of supernatural, comedy, and slice of life. This is proven true since it is centered around multiple characters. The art designs released with the announcement looked pretty, but I never thought I would end up reviewing this series….until I saw the first episode. With that, does Flying Witch turn to be any good? Let's get into it.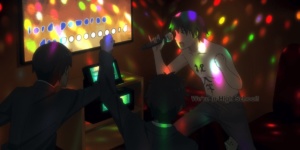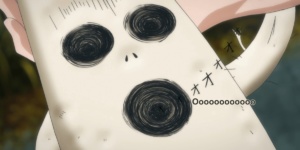 So, what is Flying Witch? It is a monthly shounen manga written and illustrated by Chihiro Ishizuka. Flying Witch, based on the first episode alone, is a slice of life that focuses on the main character, Makoto Kowata, and the people around her. If you're looking for a series with a lot of action or drama, you won't find it here. You see, there isn't much story in Flying Witch, but that is fine. Rather, the story lies within the characters and their interactions by keying in on their actions, words, and reactions. At the same time, it's not just your standard slice of life anime either, since Flying Witch combines other sub-genres, such as comedy and supernatural, to keep things interesting. Concerning the plot, we do find out about how common witches are and why Makoto moved in with her relatives. I believe the mix of sub-genres goes well in this series. The supernatural aspect of Makoto's ability to fly as a witch and the reactions of people witnessing her power is what brings life to the comedy and it is all fascinating. Although, the supernatural bits are not the only thing that brings the laughter, as even Makoto's character quirk of getting lost is amusing. Basically, If you are here to see a refreshing slice of life with comedy and supernatural bits, then you have chosen the right anime to watch.
The characters are the spotlight of Flying Witch, as the first episode introduces them and gives each character their own moment with the main character. We have Makoto Kowata, the eccentric and friendly witch who is staying with her second cousins Kei, a 15-year-old boy who is entering high school and his 9-year-old little sister, Chinatsu, as well as Kei's friend, Nao. I enjoy how the episode lets each character shine a little in order to gain a basic grasp of their personality. It goes to show you that these characters are going to stick around and are important. I have very few problems with the characters themselves. They all seem nice and easygoing, but if there are any gripes I have, it would be that we do not know enough about them. Even so, this is only the first episode, so as the series continues, it is sure to dive into the characters that surround Makoto.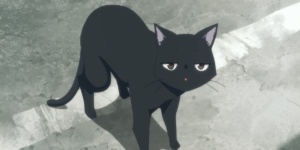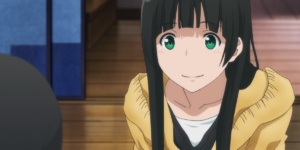 The art in this episode was gorgeous. From the background scenery to the mountains, and even the grass, it all looked fantastic; It appears as if it were painted in an art museum. There was even a moment when I thought I was watching a Studio Ghibli film due to the atmosphere. It felt as if I were in a fantasy. I am surprised Flying Witch is actually a shonen manga because the characters appear as if they belong in a shoujo manga. If there are any issues with the art, it would be that I think Makoto's design stands out too much. Everyone around just looks….normal compared to her. It could be due to the color of her eyes and charming personality she gives off. This could be because Makoto is a witch. Perhaps the series will show other witches that look more flashy than Makoto, which would be interesting for the supernatural aspect. Concerning the animation, there really isn't much to say about it in this first episode. Actually, I wouldn't be surprised if the animation quality ended up being not as good as the art, since this is a slice of life character-based series. Those types of series are usually easy on the animation and heavy on the art, backgrounds, and character designs. Despite that, the animation does excel in basic features such as eye contact, body language, and character movements, which is plenty for a series like Flying Witch.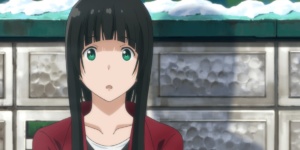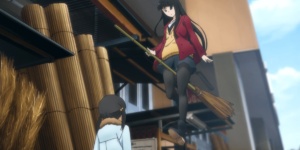 Overall, if you are looking for that laid-back anime you watch to relax after a hard day, then Flying Witch is for you. The use of multiple genres, as well as interesting character designs and personalities are sure to bring a refreshing feeling when watching this series, and who knows, you might even get a nice laugh out of the first episode; I know I did!
Just like My Hero Academia and Kiznaiver, I will also be keeping up with Flying Witch and reviewing it at the end of the season to give my final assessments on it. There are so many new titles this season and I look forward to what they all will bring us. Please feel free to follow me on my social media profiles to discuss them with me or comment below. See you all at the end of the season!
Big thank you to our supporters
From their continous support, we are able to pay our team for their time and hard work on the site.
We have a Thank-You page dedicated to those who help us continue the work that we've been doing.
See our thank you page