Over Easter Weekend, Chris, Bill, and I covered our first East coast anime convention of the year, Anime Boston! For Chris and I, this was our first anime convention since 2019 as well as our first east coast one! For Bill, this was only his second convention ever (both for Anime Boston), and the first in many years!
So what did we think of Anime Boston 2023?
About Anime Boston 2023

Anime Boston is a three-day convention held annually in Boston, Massachusetts, USA under the supervision of the New England Anime Society. Their focus is to celebrate and promote Japanese animation, comics, and pop-culture.
Anime Boston 2023 Dates & Location
April 7th – 9th, 2023 at the Hynes Convention Center in Boston, Massachusetts.
Boston's Weather
Temperatures were in the high 50's/low 60's during the day and mid-30's at night. It was sunny and windy for most of the weekend.
Where Did We Stay?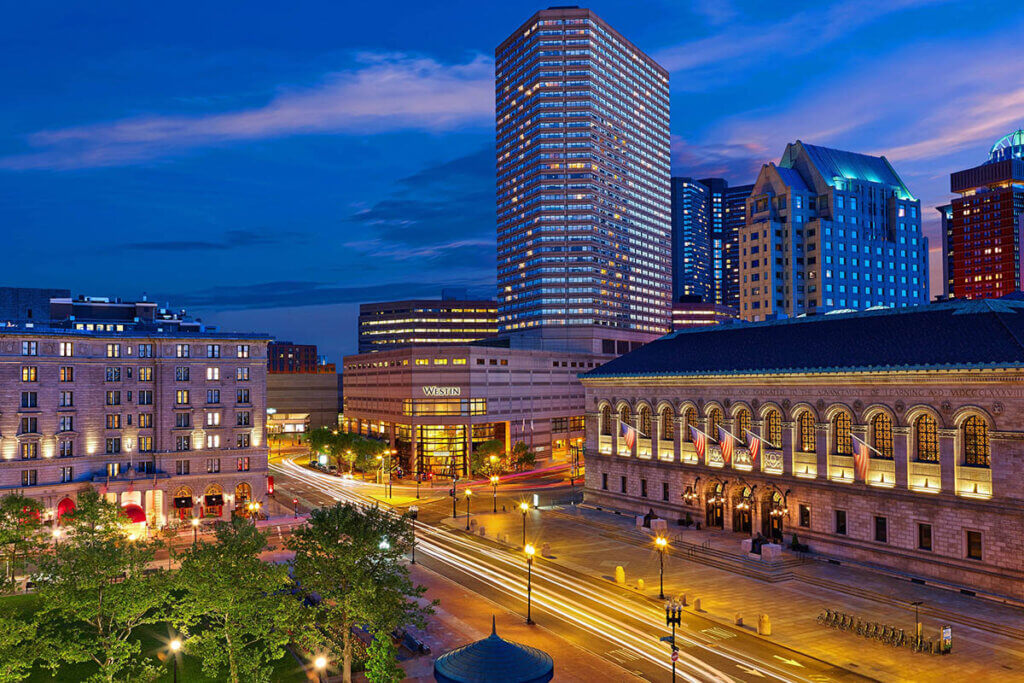 We ended up getting into town a day before the convention started so we could get settled and pick up our press passes. We stayed 3 nights at The Westin Copley Place – Boston. Overall a very beautiful hotel!
Upsides
The Hotel View & Room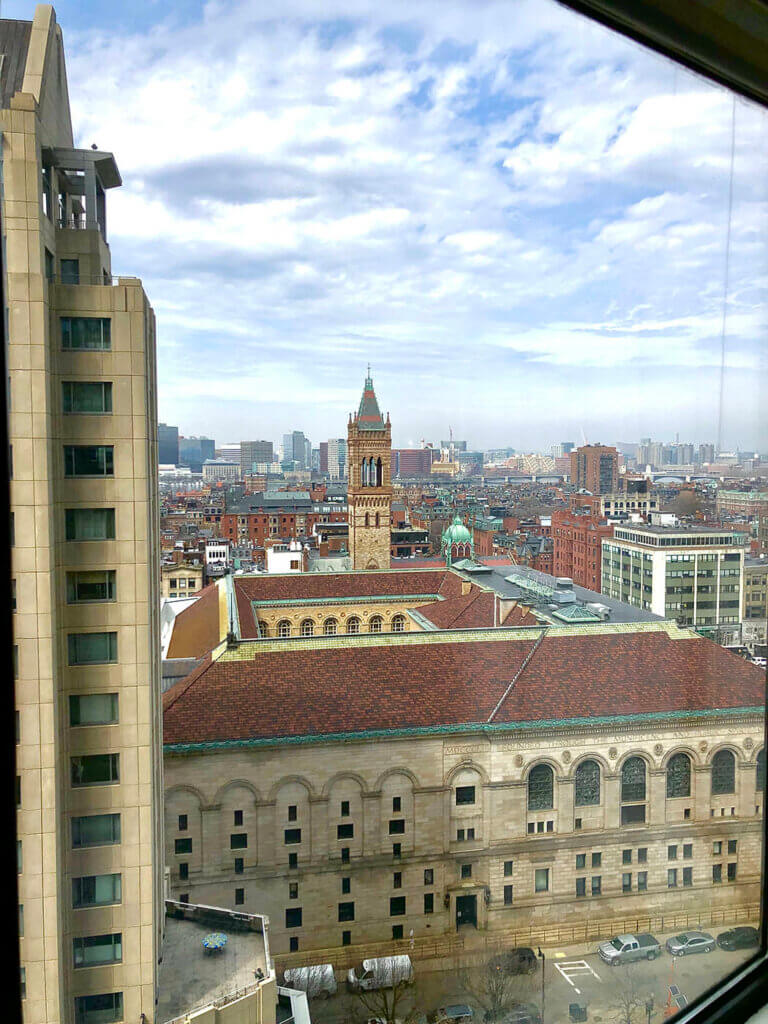 Our room was quite nice & the bed was comfortable, which was super nice in comparison to sitting on the cold convention floor to rest our feet.
Downsides
Pricing
It was definitely one of the higher-priced hotels available via the convention's hotel portal. Most of the other hotels were booked by the time we got around to booking, so we had very few options. On top of it, it was also Easter weekend which probably inflated the prices even more so. We are hoping that next year prices should be less since it won't be taking place during Easter weekend at that time. (Just kidding! 2024 Anime Boston will be taking place over Easter Weekend, so something to keep in mind!) We also drove to Boston so we had to pay for valet parking which was an additional $70 a night.
Walking distance
It was a bit of a walk for us to haul our equipment/backpacks around so we couldn't quickly head back to our room to decompress or take a nap. It wasn't until late Saturday night that we realized we could have gone through the mall and pedestrian crossway to get right to our hotel. It was still a walk, but at least we didn't have to brave the bone-chilling wind going to and from. If we have to stay here again, we will make use of the alternate route.
Where We Ate While In Boston
Coffee & Desserts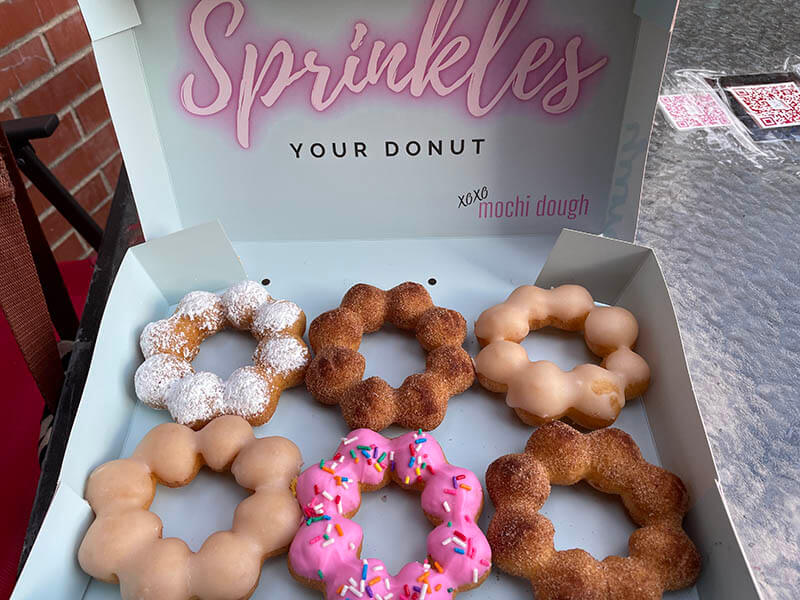 Places We Checked Out
Newbury Comics – Flagship of the franchise only steps away from the convention! Just know it's two floors, but no elevator.
Anime Zakka – A cute, quaint anime store. It's located below the street level and can only be accessed via a large set of stairs, unfortunately.
Places of Interest
Anime Boston 2023 Panels We Went To
Anime Sites from Yesteryear
Hosted by Kennedy
From Anipike to Gaia, anime fans have always found hubs to talk about anime online. In this nostalgic panel, we'll talk about these sites, their history with the anime fan community, and the impact that they've had on anime fandom even today.
Overall thoughts
Our first panel of the day! It took place early in the morning and the panel room was a bit tucked away from everyone, which was a bummer because we truly loved this panel. Kennedy (RedBard) & Sam (Anime Herald) did a fantastic job turning back the clock and bestowed the relics of ye ol' web. From Gaia Online to AMV.org to even FanFiction.net, I, personally, felt very called out in a good way.
---
Sniffing Glue: The Punk Energy of Early British Anime Fanzines
Hosted by Helen McCarthy
The 1990s: the youth of Britain was mad for anime and manga, The Government of Britain wanted to ban what they saw as oriental filth. The fanzine creators of Britain came out of nowhere, literally smelling the Cow gum as they pasted and stapled and photocopied their tributes to their passion in 20-to-50 issue print runs, many of which would not survive into the digital era. Helen McCarthy was part of the insanity. She'll tell you why it was so important to the growth of British fandom and where to track down some of the surviving relics of those crazy days.
Overall thoughts
If you ever see that Helen McCarthy is going to be hosting a panel at a convention you're attending, absolutely make it your priority number 1 to attend & line up rather early (they are usually capped well before it starts). For those who may not know, Helen is the British author of multiple anime-related books such as 500 Manga Heroes and Villains, Anime!, The Anime Movie Guide, and Hayao Miyazaki: Master of Japanese Animation. She is the co-author of The Anime Encyclopedia with Jonathan Clements. Helen is an absolute delight. You always walk away from her panels with new-found knowledge about the anime industry and how things were before the digital era. In this panel, in particular, she went over how fanzines in Britain came to be, the struggles of producing them (one person was printing long-running fanzine Trash City (NSFW) using their work's photocopier!), and running her own zine in the 1990s.
---
The Legacy of Leiji Matsumoto
Hosted by Zack Davisson, Helen McCarthy, Neil Nadelman, Darius Washington
In February, one of the most influential manga artists of all time, Leiji Matsumoto, passed away at the age of 85. As the creator of Galaxy Express 999, Space Battleship Yamato, Interstella 5555 and others, his influence on manga and anime both in Japan and worldwide is immeasurable, influencing fans of many generations. Guest panelists Helen McCarthy and Zack Davisson have studied and written extensively on Matsumoto's work. They join us as we honor the memory, celebrate the life, and examine the lasting legacy of this larger-than-life creator.
Overall thoughts
Helen, Zack, and two other panelists chatted about various ways Leiji Matsumoto's work and his influence made the anime and manga industry and the impact on their lives. It was quite insightful since Chris and I up to that point haven't watched or read any of his works, but have known about him through osmosis.
---
Um, Actually!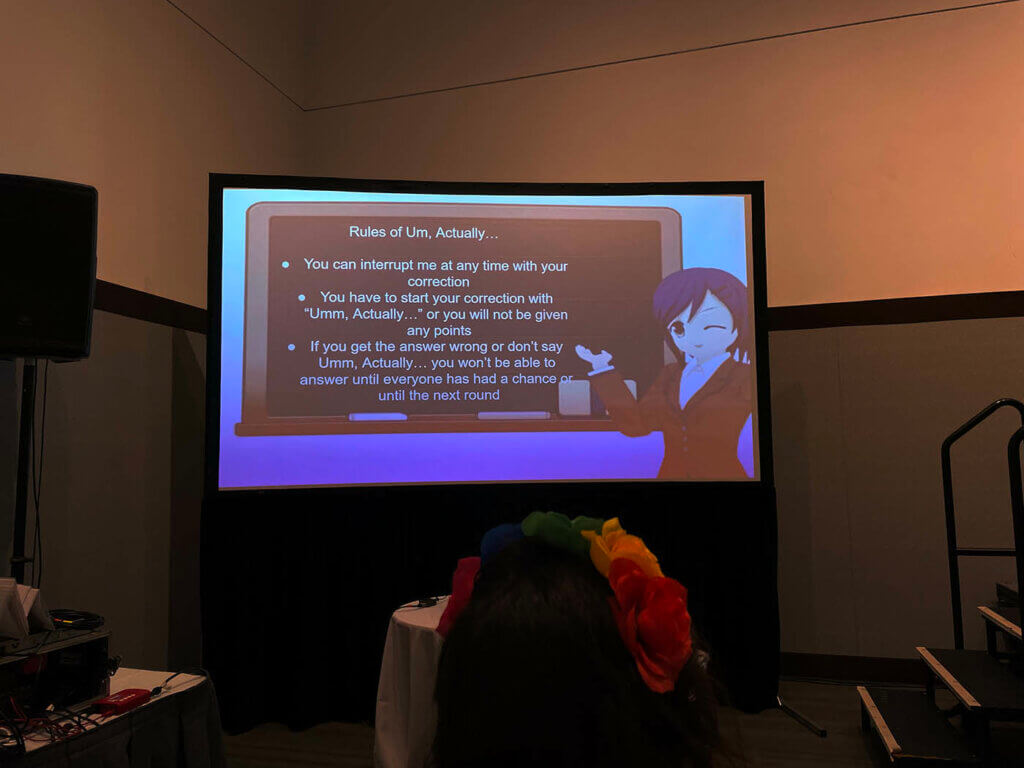 Hosted by Evan Hevey
Um, Actually is about what nerds love most, and that's correcting people. First featured on Dropout, it's Um, Actually!
Overall thoughts
If you're a fan of Dropout's Um Actually show, then this is one panel you didn't want to miss out on! This is probably the most fun & hilarious panel we went to! Whether you've heard of the show or not, it's something anyone could participate in easily. The premise was tweaked slightly to incorporate more than 3 contestants, but most of the rules are the same.
Several contestants (picked randomly from the audience) are all attempting to win bragging rights by correcting incorrect statements given by the host on various pop culture topics (in this case, it was mostly anime & video games).
There are only two rules to the game which are mentioned at the beginning to everyone; all of the corrections must be preceded by the phrase "Um, Actually…" and you can interrupt the statement at any time. If you don't precede the correction with "Um, Actually…", you lose the point and someone else can buzz in to steal the point. You are allowed to interrupt the host from finishing their statement if you already spot the error.
Chris and I both truly hope they bring this panel back again and again. The panel went through two batches of contestants but we had to duck out after the first one since we needed to head off to the Masquerade.
---
Masquerade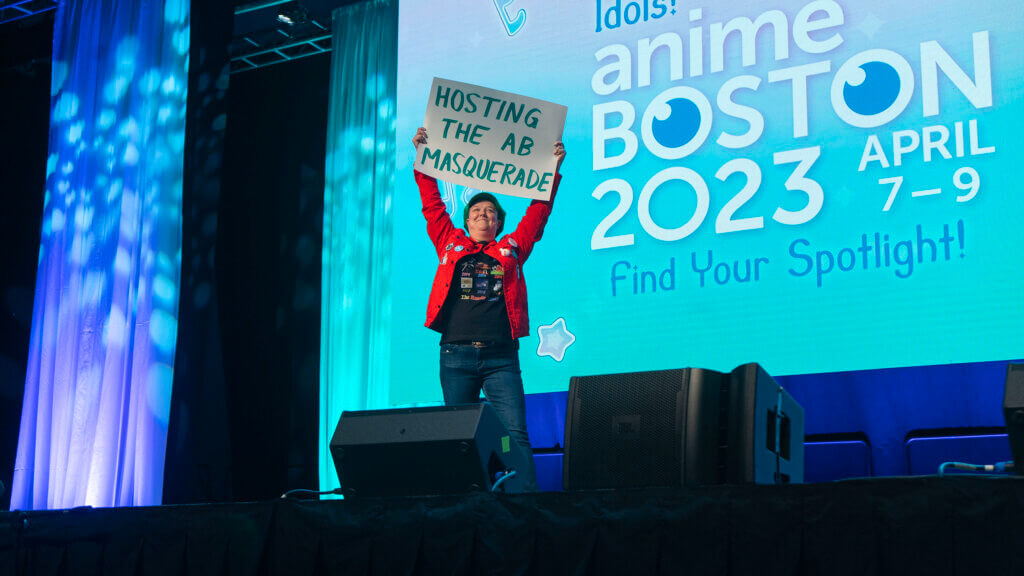 Hosted by Cosplay Events Staff
Presented by Anime Boston
The Masquerade brings together our Craftsmanship and Performance cosplay contests. Performance skit entries compete, while the Craftsmanship entries showcase their work. Come see cosplay, Anime Music Video winners, and more at the biggest event on Saturday night! Pick up your free seating pass at the pass table on Saturday.
Overall thoughts
We are so used to these events being called the Cosplay Contest, so it took us a moment to realize that the alternative name used at Anime Boston is Masquerade and not an actual masquerade ball. I'm a sucker for Princess Tutu so when there was a legit ballerina cosplaying as Princess Tutu dancing to The Nutcracker, Op. 71, Act II: No. 14a, Pas de deux. Andante Maestoso, I was in full-on tears through their whole skit.
Check out our Anime Boston 2023 Masquerade Gallery!
---
That 2008 Feeling: Exploring the Era of the 2000s Anime Bubble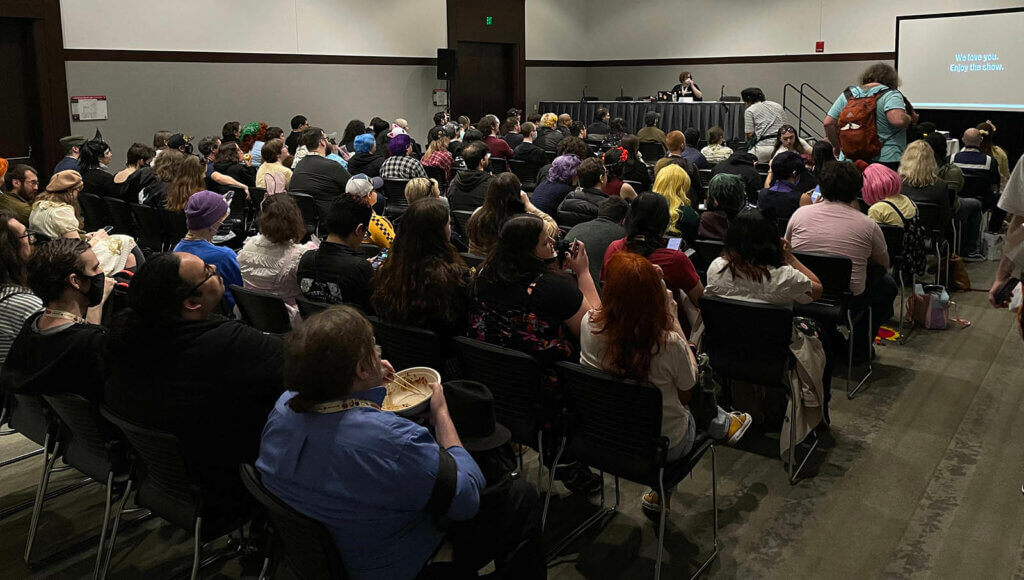 Hosted by Samantha Ferreira
In the beginning, the anime community was small, scattered, and quiet; cons like Anime Boston were but a pipe dream, and the "newest anime" was whatever your local connection could scrounge together. Suddenly, in 1998, a Pikachu-shaped meteor crashed into the fandom, causing seismic ripples that would reshape the industry today. In the years that followed, the quirky subculture we all knew and loved would blossom into a behemoth, as new fans entered the hobby by the thousands, and publishers scrambled to keep them happy. It seemed like the great times would last forever, though if one put their ear to the ground, they could hear the sounds of a bubble that was getting ready to burst…Samantha Ferreira delivers an on-the-ground chronicle of the 2000s anime bubble, combining years of research and contemporary sources, to paint a picture of the times leading up to and through the period, and the immediate aftermath.
Overall thoughts
Sam (editor-in-chief at Anime Herald) presented a very in-depth, insightful panel about the rise and fall of the anime industry in the 2000s, along with giving her predictions on what might be on the horizon. Chris, Bill, and I learned a lot from this capped panel! While it was very information dense, it also leaves you thinking about all the pieces long afterwards. Hopefully, Sam will be able to present this panel again and in an even bigger room!
---
What We Loved About Anime Boston
Gender-Neutral Bathrooms
Creating an inclusive experience at the convention is great to see! I wish there were more conventions that would adopt these inclusive options!
Many Food Options & Available Transportation
As you can see from our Where We Ate section, the convention is located in an area with a ton of food options & grocery stores within walking distance. It's also located near a subway station and if we chose to, we could have taken a train instead of driving.
Diverse Panels
There was a wide range of various panels happening, which is refreshing in comparison to other conventions we've gone to. There were several POC & Queer panels that we really wanted to go to. We ran into the issue several times where there was more than one panel we wanted to go to, but were happening at the same time. Hopefully next year the ones we missed will be happening again.
Mishaps/Sour Notes We Encountered
Thank You For Masking Up?
Despite Anime Boston posting signs & flashing "thank you for masking up" on their panel screens, a vast majority of folks were unmasked. Our staff and other press members wore N95 masks, but for every panel we went to, only a handful wore masks. We are very thankful none of our staff got sick, but we were seeing posts from con goers via social media getting very sick during and right after the convention. One upside is that the convention was enforcing folks to show proof of COVID vaccination. I know as time goes on, the policies will become more and more lax, so I know there isn't much that can be done, which is a bit frustrating.
"I hope it's worth the NOISE"
Blaring portable speakers are being carried around by con-goers. While most of the time, they are okay, there was one individual who had it blaring so loud past the panel doors that at least one staff member warned them, telling them to turn it way down. If you're playing music out loud, just be courteous to the folks around you. Also, there are folks who are sensitive to noise so blasting loud music could make them very comfortable and cause them distress.
Artist Alley Bottleneck Nightmare
Most of the convention was fairly spaced out and didn't feel overwhelming, but once you got into the artist alley, it was a different story. The front entrance area was probably the least packed area, but the far back of the alley was almost impossible to walk through. The alleyway was narrower than the others and at times folks had to shout for people to move. One person using a wheelchair was completely stuck and had to go backwards to get out of the thick of it. I personally tried to get through so I could see the tables there, but ended up feeling overwhelmed and made a beeline out of that area.
Press Badge hiccups
We had a few issues/delays getting our press passes, which stemmed from a massive miscommunication issue between AB staff. It was a bit frustrating, but the staff apologized and mentioned they will be overhauling the process so there shouldn't be an issue going forward.
No Press Room Available
Wishlist-wise, it would be nice if there was a press room, so the press would be able to sit down, charge their phones, get internet access to post on social media/publish content, and have a moment to decompress. Once we are out there, it's very much go, go, go. Blue Bottle was a little press meet-up area where we got to sit directly outside the convention, but the seating was very limited and rather crowded.
Quick advice to remember for next year:
Use the pedestrian bridge! This probably would have saved us a little bit of time and less dealing with the chilly weather.
Take advantage of the coat check-in at the convention. Be sure to take a photo of what you check-in in case you lose your ticket. Can't remember if it was cash only so be sure to bring some cash to pay for it.
Do a bit more research on better parking. The hotel charged an additional $70 per day. We did see some day parking that was $33 for anywhere between 2-12 hours and $45 per day max. Not sure if that allowed overnight parking, but something to consider. Or maybe take the train next time.
A Quick Overall Of Our Thoughts of Anime Boston 2023:
Despite the hiccups we experienced, we absolutely loved attending and covering Anime Boston! The staff did a fantastic job in running such a great convention! With all the things we learned this year, we know come next year we will be better prepared! It was great to meet up with other press and industry folks and the energy of the attendees was invigorating!
What was our…
Rose: Our first East Coast Anime convention and our first convention since 2019!
Thorn: The lack of folks masked up, miscommunication from Registration
Bud: Looking forward to next year with the knowledge we learned from this year!
Other Anime Boston 2023 Articles
---
A special thank you to Anime Boston for giving us the opportunity to attend this year's convention as press! We are looking forward to covering next year's and many more after that!
Big thank you to our supporters
From their continous support, we are able to pay our team for their time and hard work on the site.
We have a Thank-You page dedicated to those who help us continue the work that we've been doing.
See our thank you page