Chris and I are back with another subscription box unboxing! Today, we are taking a look at an anime subscription box from Texas called Anime Bento!
What is Anime Bento?
Only a couple of years old (started in 2015), Anime Bento is a subscription company located in Pflugerville, Texas that curates items such as snacks, t-shirts, figures and other collectibles. Below is their company's About Us statement:
"Anime Bento is a subscription delivery service bringing Japan right to your door. Each month you'll receive Japanese snacks and imported collectibles from your favorite characters or newly released animes. Our service allows fans and collectors of Japanese pop culture to receive the products they love directly to their doorsteps. We'll handpick the best products each month, from the best animes and deliver it in a box full of awesome! We do our research into what's trending in Japan and get it to your hands first because were[sic] Otaku just like you."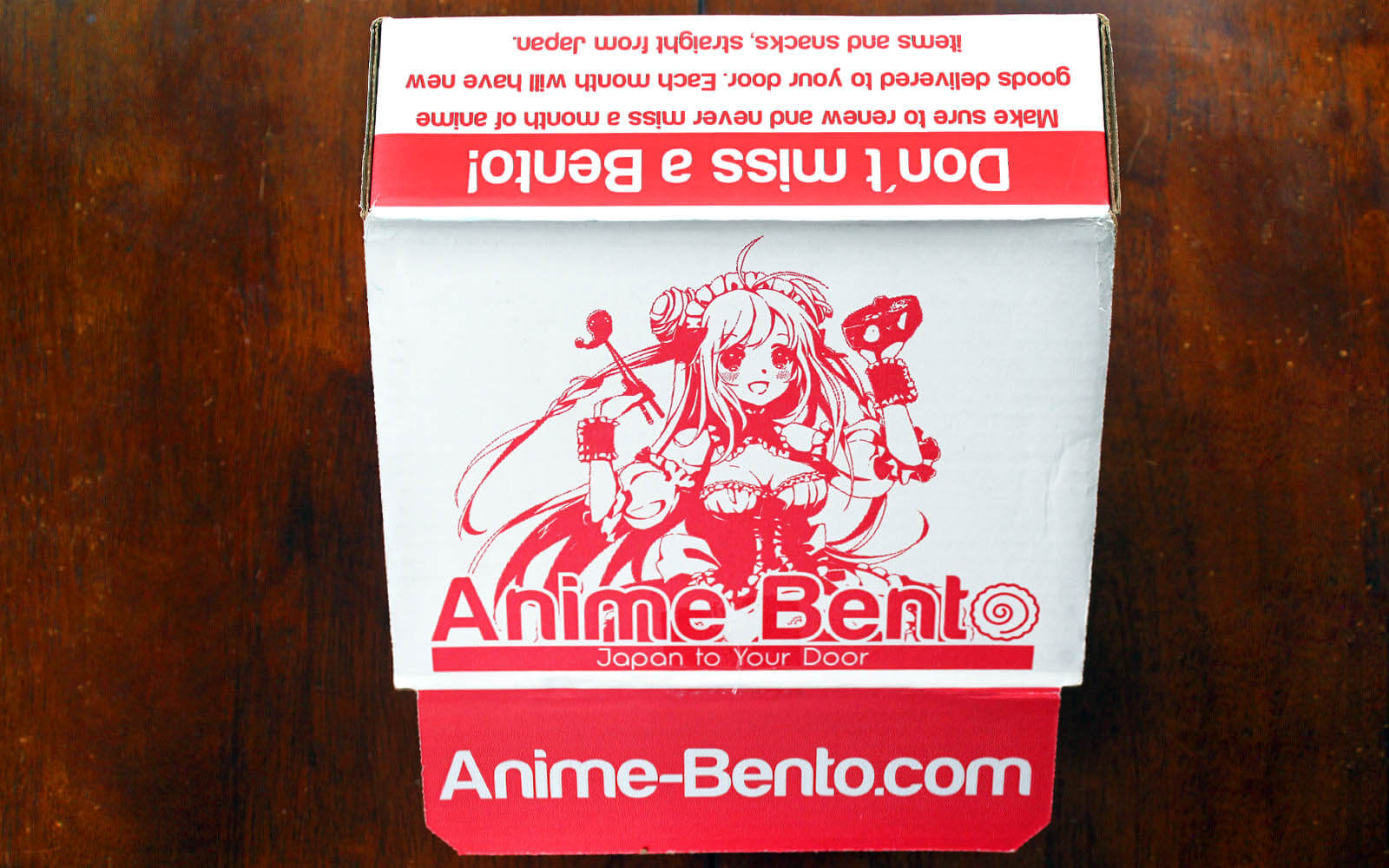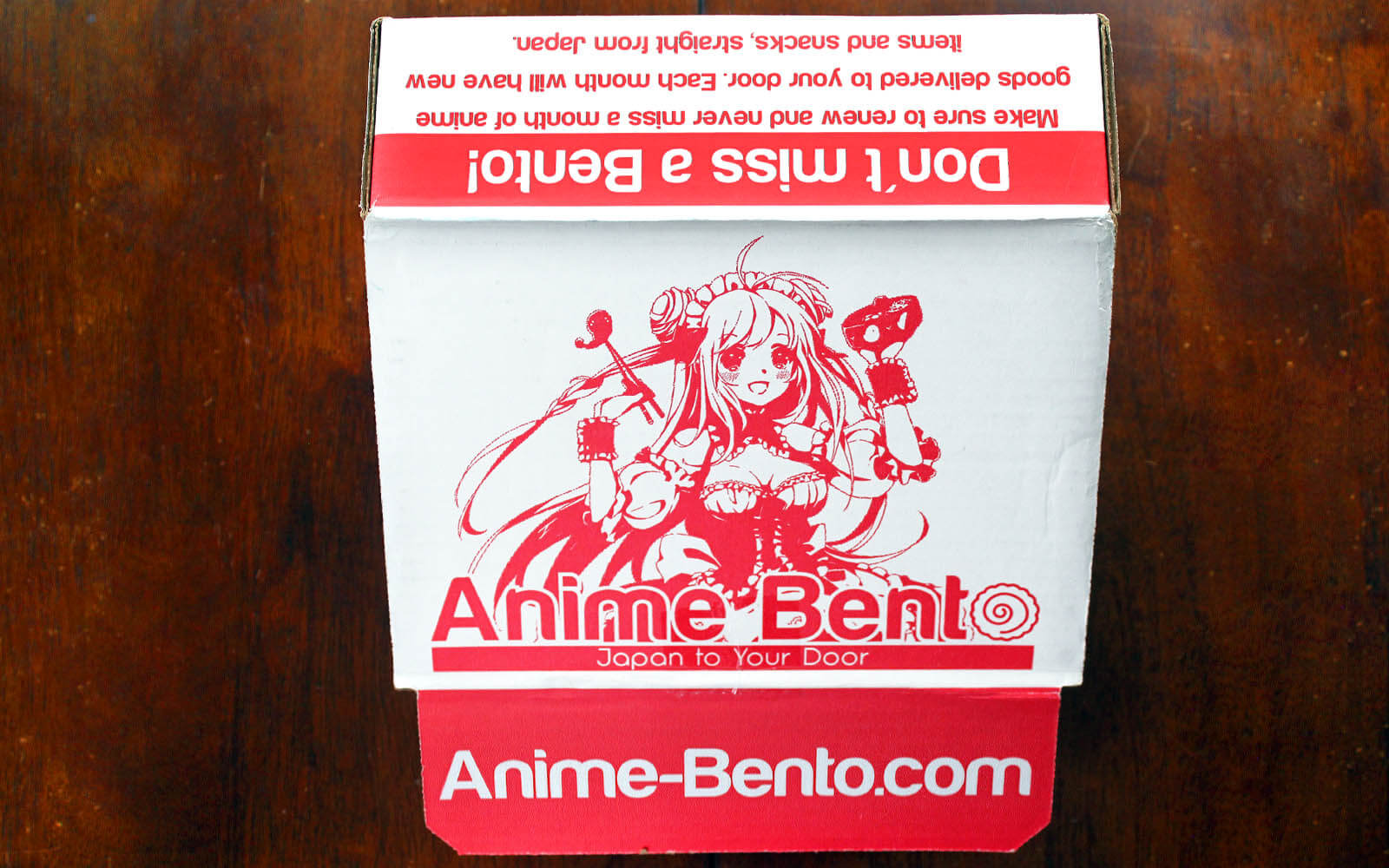 They offer three types of subscription boxes:
Chibi Bento: $25 USD per month (A collection of previous items including figures & accessories. Each box is different but all boxes will contain 4-5 items and average a $40 value.)
Anime Bento: $35 USD per month (Each month receive anime goods delivered right to your door. Each bento will include trading figures, accessories, and snacks straight from Japan. On their Facebook page, they state the price value you receive each month is $50.)
Anime Bento Plus: $200 USD per 3 months (Every 3 month's you will receive a new Anime Bento Plus box. This plan renews after the first box. This box includes full sized figures, model kits, large accessories & apparel. Shipments are sent 4 times a year: March, June, September, & December)
Unlike most subscription boxes that deliver Japanese items to your doorstep, shipping isn't free so you will have to pay an additional free (for us it was $8.32 USD). They ship globally, but there isn't a fixed fee. It is based on location, and since our package was delivered within the same state as the company resides, you can safely assume what we paid is around the lowest cost on shipping. I can't imagine how much it would cost to ship internationally.
Also, Anime Bento has a return policy (somewhat): "Refunds are only offered within 24 hours of ordering. We bill the first week of the month, and ship around 10 days before the end of the month. Also, please keep in mind that partial refunds are not offered for 3, 6, or 12-month subscriptions that have already started. We do not accept returns."
Readers keep in mind: For this unboxing, Anime Bento gave us a 20% off coupon to review their product, which only paid for a majority of the shipping. We still had to pay out of pocket. Yatta-Tachi wasn't/will not be paid to review this subscription, and this review is 100% unbiased. 
With that said, we (Chris and I) went ahead and ordered the standard Anime Bento box, which was delivered approximately two weeks after.
Here are a few key questions we will be addressing in this review/unboxing:
With a projected price value of $50, did we get our money's worth?
Were we satisfied with the items received?
Would we order this subscription box again?
Before we jump into the price values and answering key questions, let's take a look at what we got for the February 2017 box.
"Come on… What's in the box?!"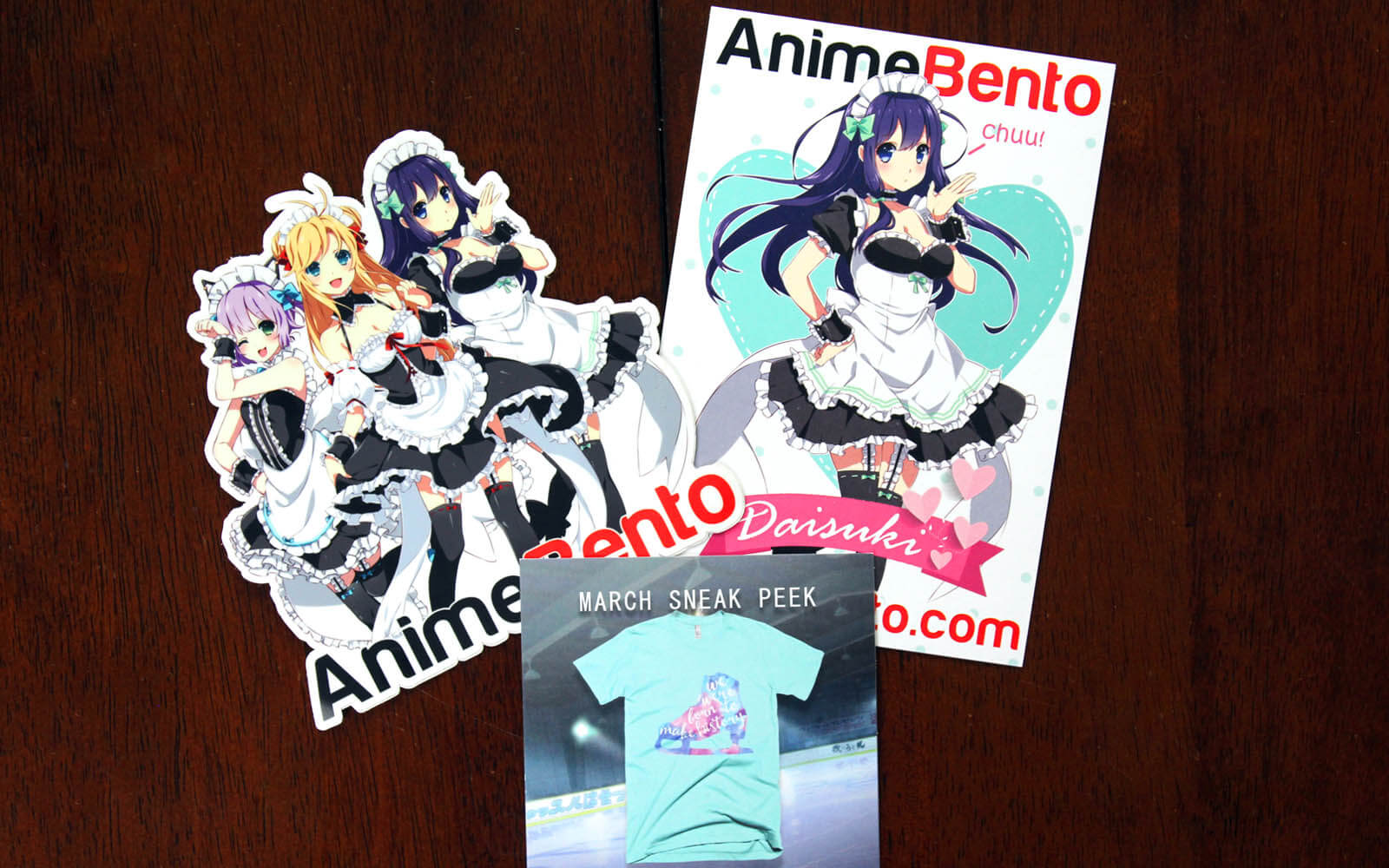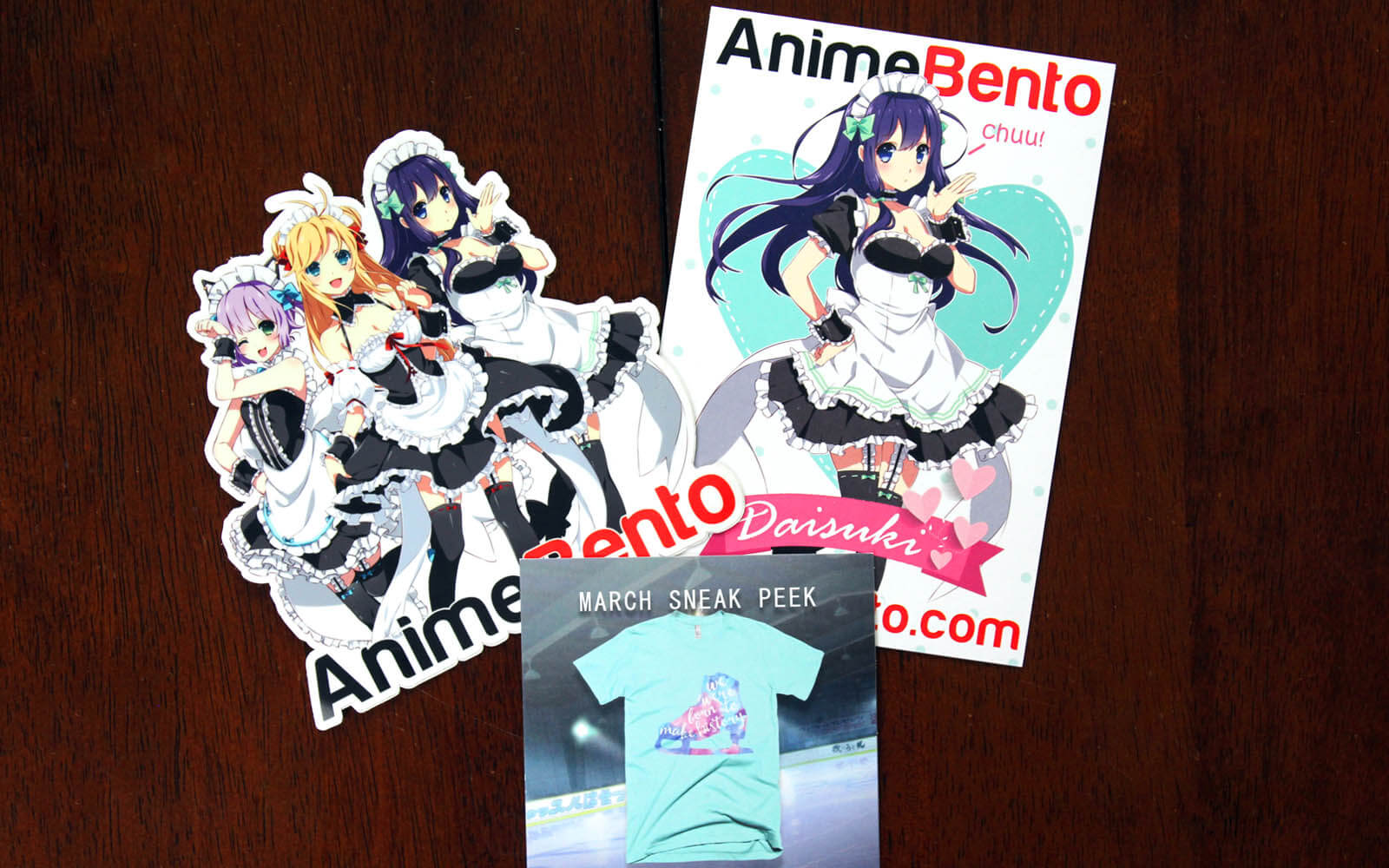 To start things off, each box contains the three items above: an Anime Bento die-cut sticker of the three maid mascots, a card which lists the items you received in the box, and a sneak peek card depicting an item you will receive in the next month's box.
There isn't too much to say about these. The sticker is printed on good quality paper which has a matte finish. The sneak peek card is meant to entice you to pay for the next month's subscription.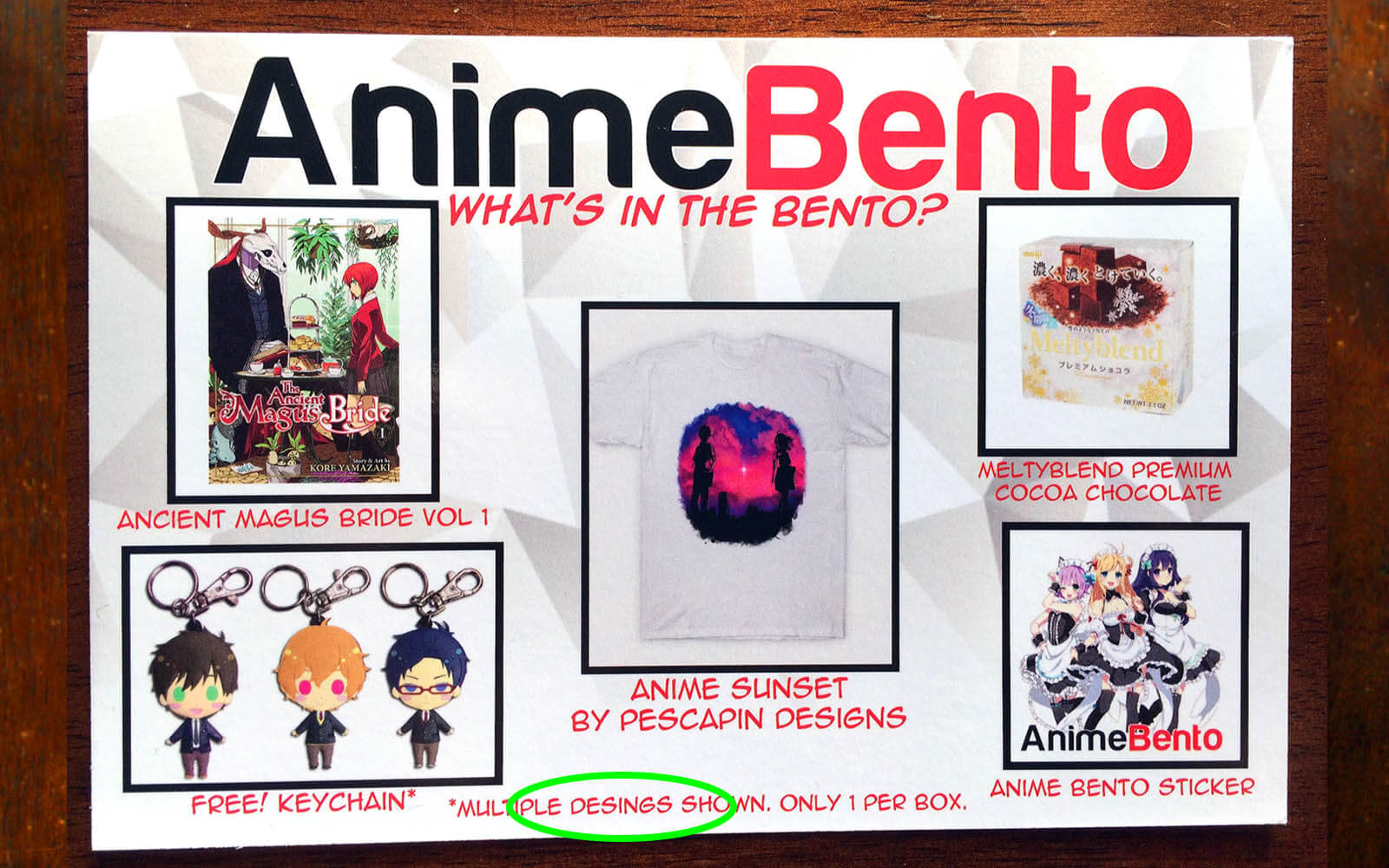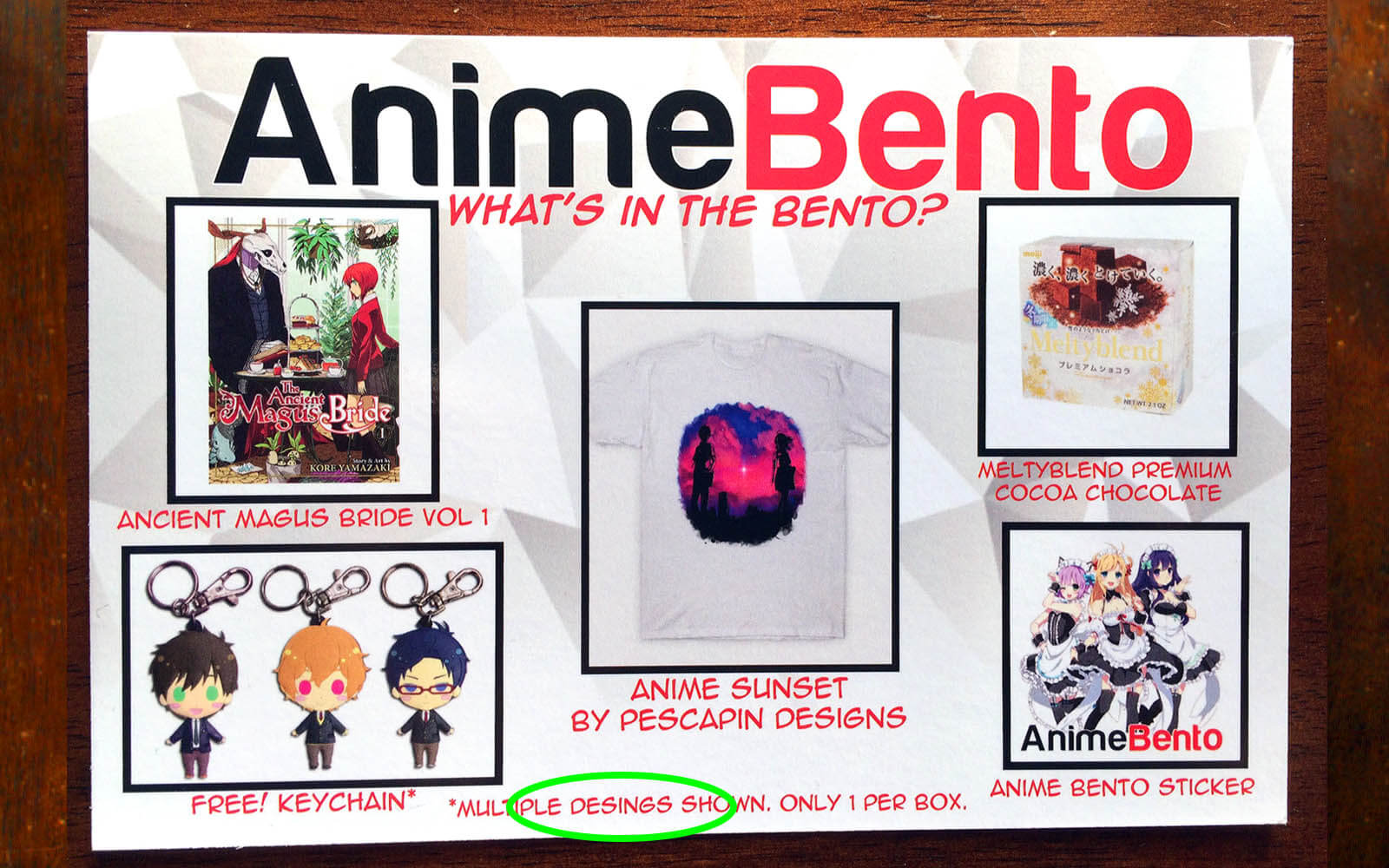 The received item list card from a design standpoint is unfortunately poorly designed and not spell checked, as the word "design" is misspelled. I checked previous cards through Google Images and noticed this error has occurred in several previous boxes. I'm rather surprised this hasn't been corrected yet.
Gimme Chocolate…\m/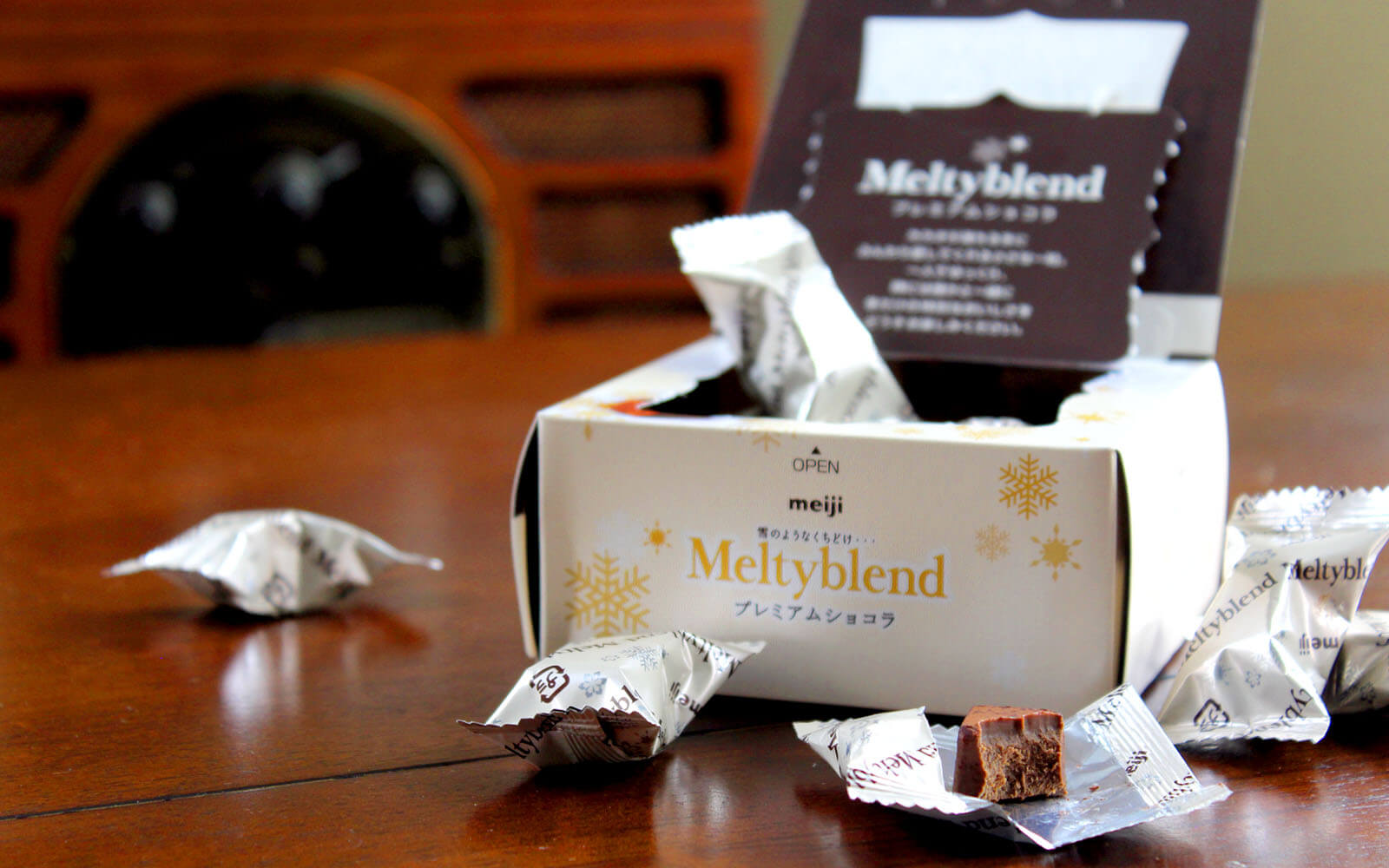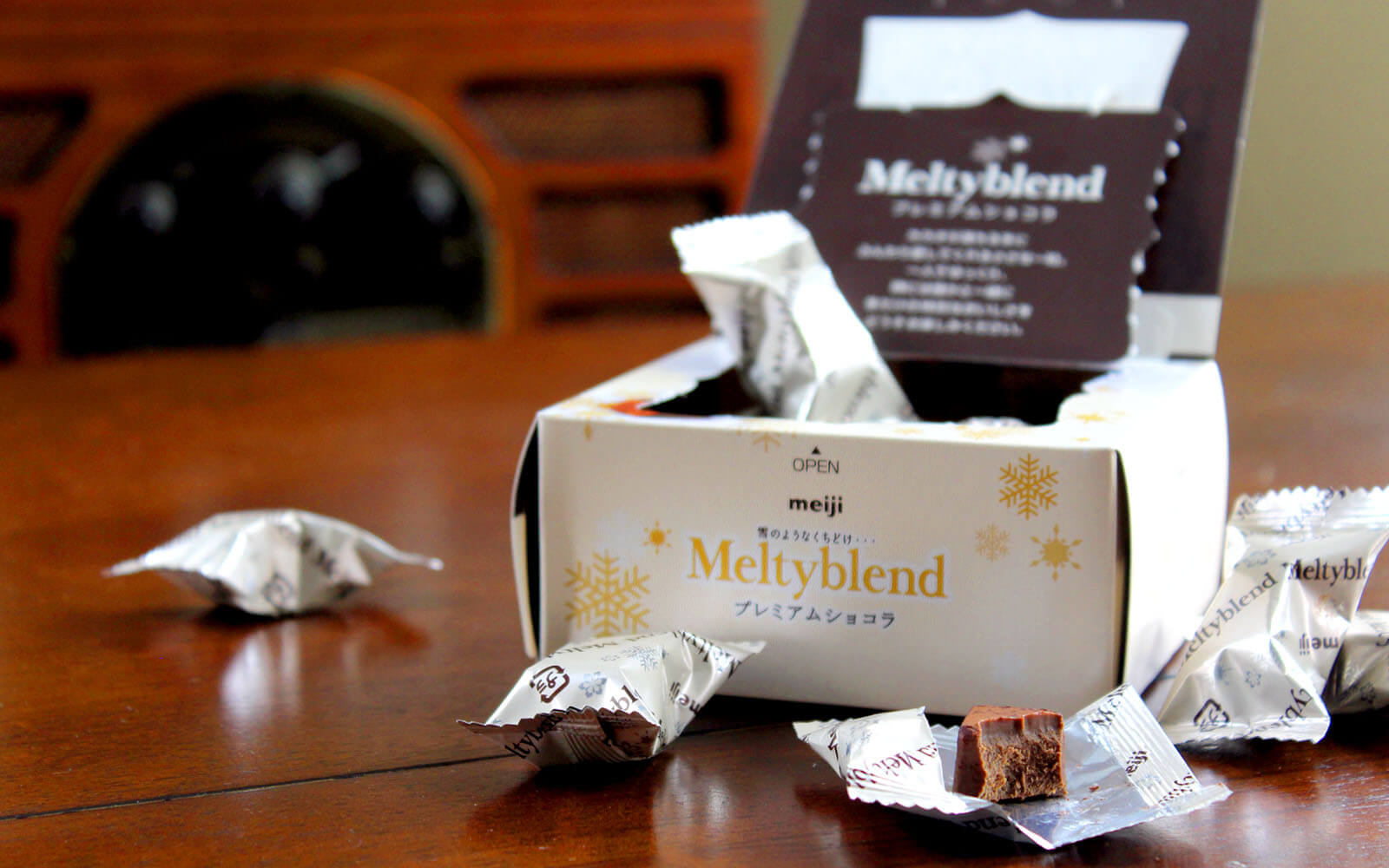 The first item from this month's box is a package of Meiji Meltyblend Premium Chocolate – 2016 Winter Limited Edition. These individually wrapped chocolates have a mousse-like texture and the outside is dusted with cocoa powder. They are a bit on the small side, but you receive 15 of them, so try not to gobble them all at once. Personally, I am not a huge milk chocolate fan (dark chocolate all the way). I thought they were alright, but Chris quite enjoyed them.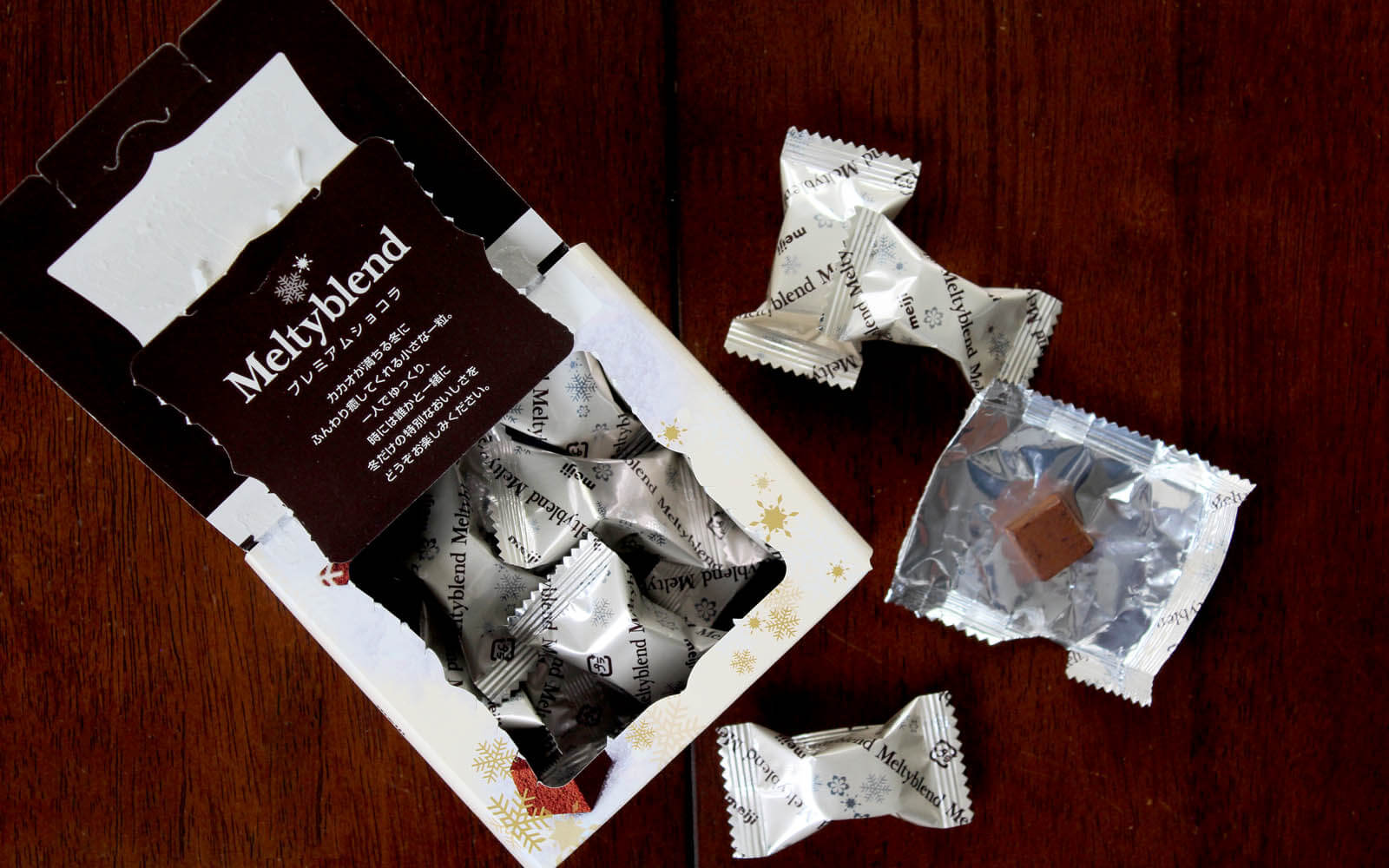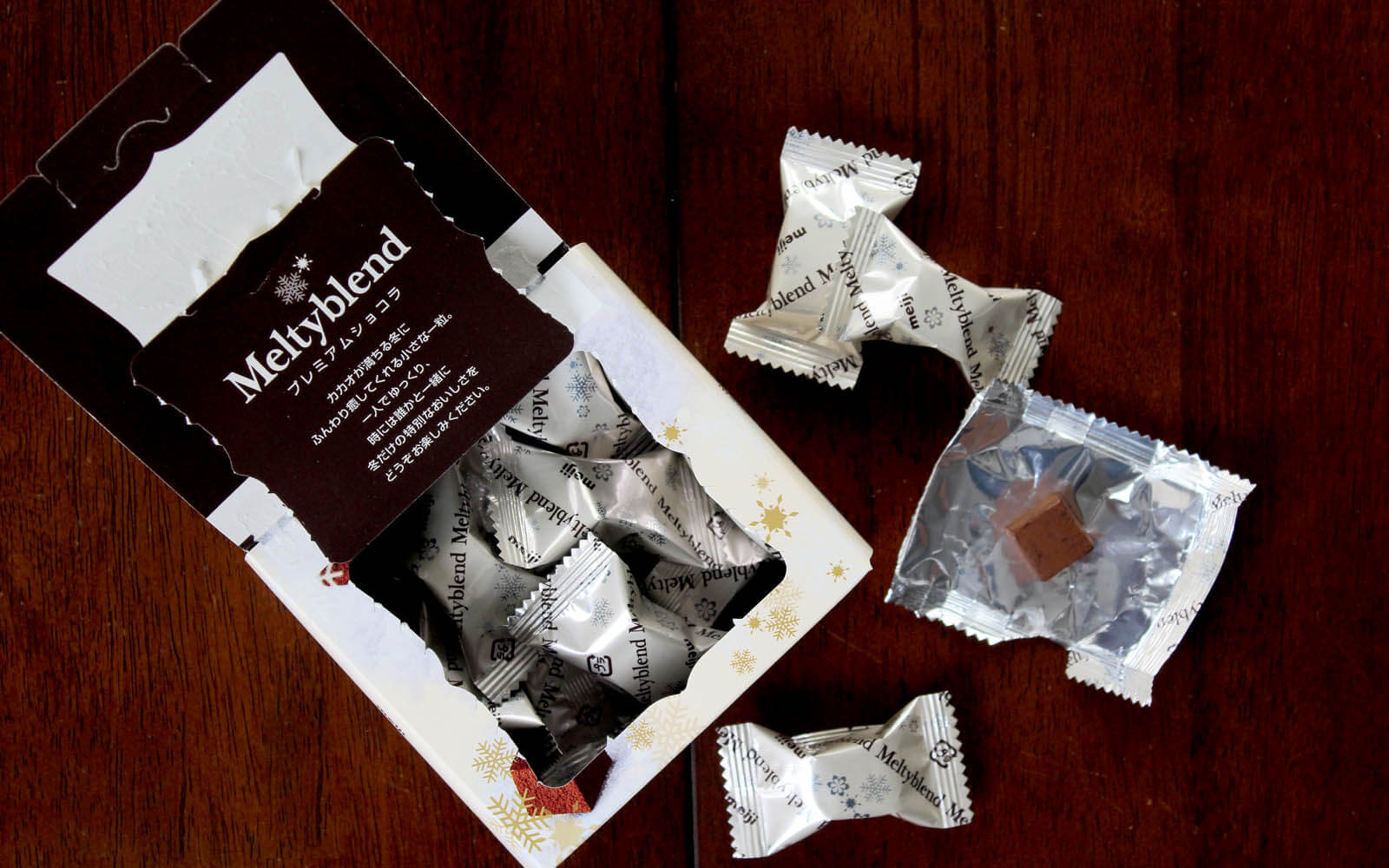 The chocolates come in a well-designed box, which could potentially make a decent display to offer to guests. Online market value for this specific edition of the Meltyblend is $4.28, which you can order through Amazon. It's not a bad price for Japanese imported chocolates.
Omou youni… Set, set, set!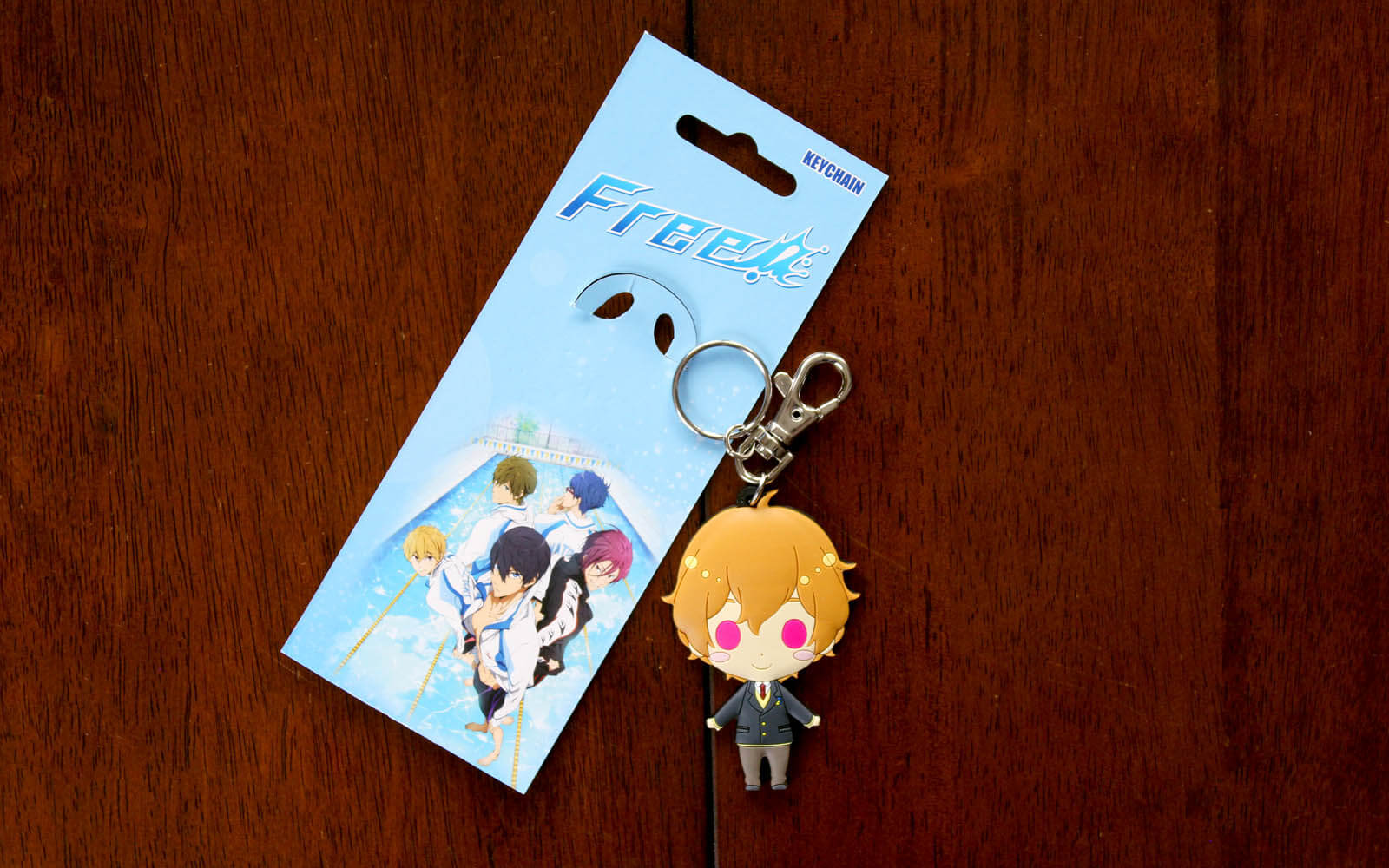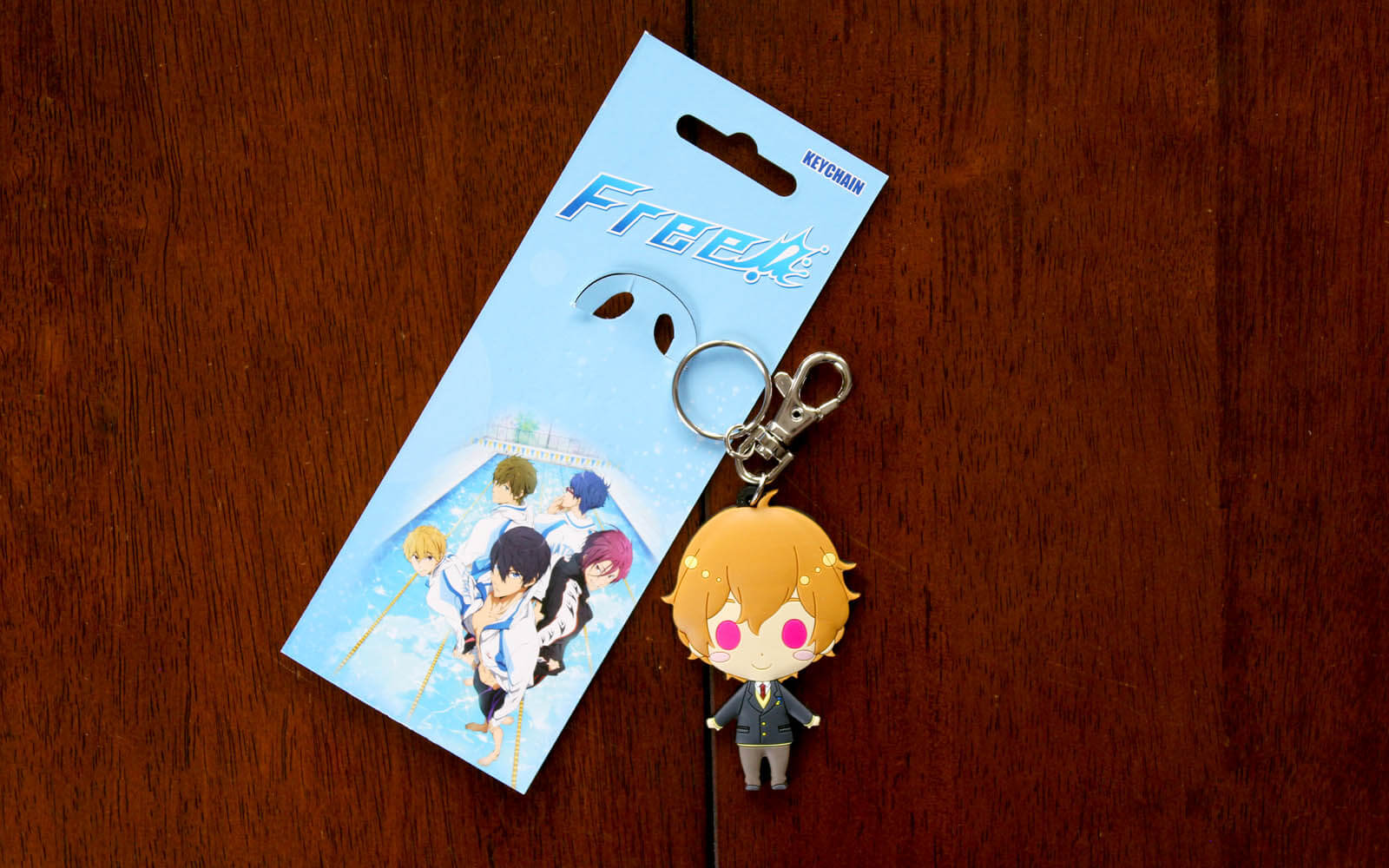 I wish I had more hype for this PVC keychain, but I have a confession. I JUST started watching Free! last week, so I can't say too much about this keychain. According to the received item list card, there were three different character keychains you could have received: Makoto, Nagisa, and Rei. Unfortunately, in my case, I received Nagisa. I've seen enough of the show to know he isn't my favorite of the bunch. Since I tend to favor megane characters, I wish I had received Rei instead, but alas, the Heart of the Cards Keychains were not with me this time. Chris hasn't seen the show either and expressed zero interest in the keychain.
I used my awesome detective skills to track down a place that sells this specific character keychain online and found it after some rather deep searching. The retail price is $4.99, but on Anime Poko it lists it at $3.67 (Due to the inactivity on Anime Poko, we unlinked the source as it isn't a trustworthy site to order from. Thank you, Usamimi, for the heads up!).
Anime Sunset?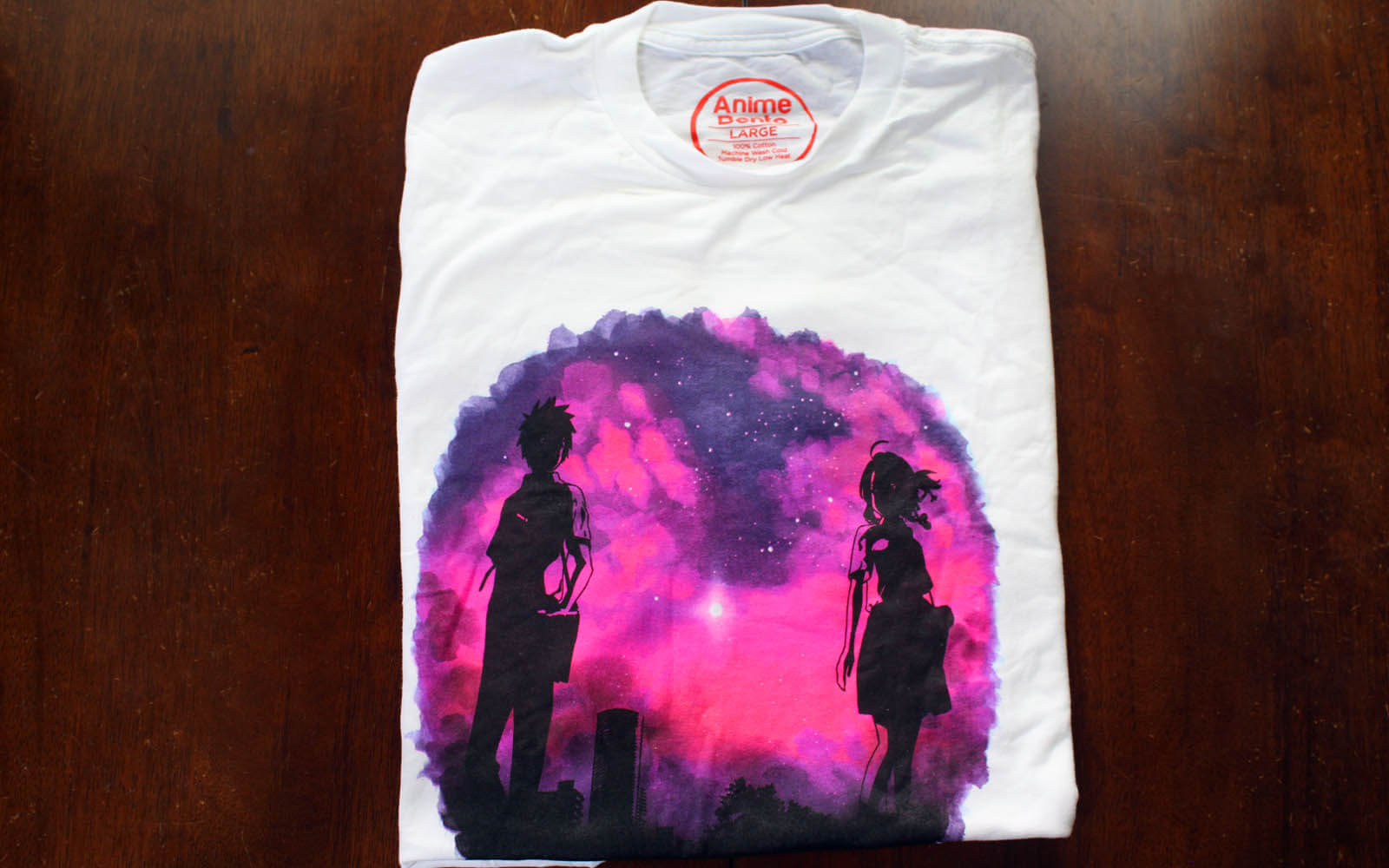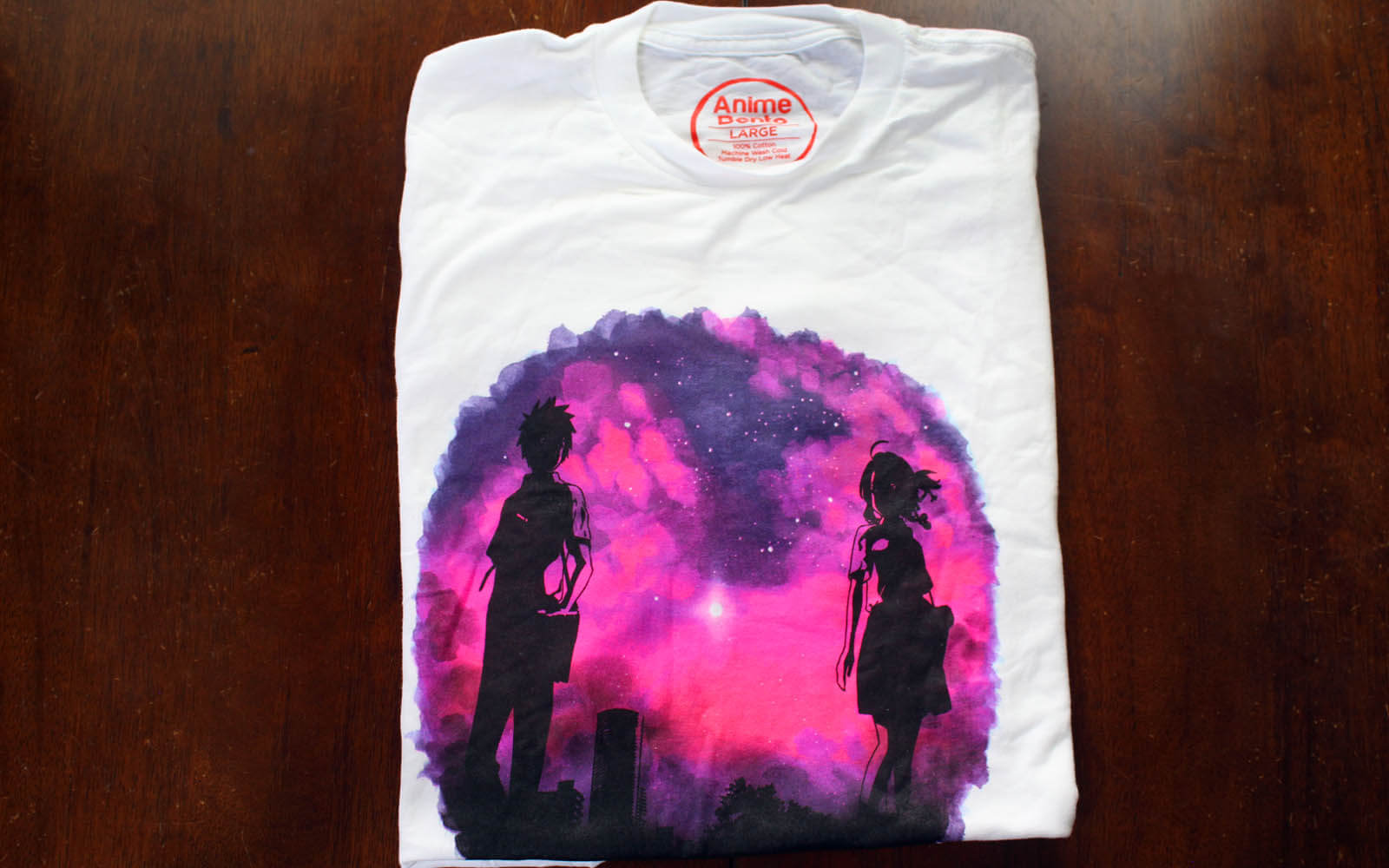 So this is the most disappointing item from the box. The shirt is called Anime Sunset, but let's be honest here: it's a blatant rip-off and unlicensed shirt for Your Name (Kimi no Wa).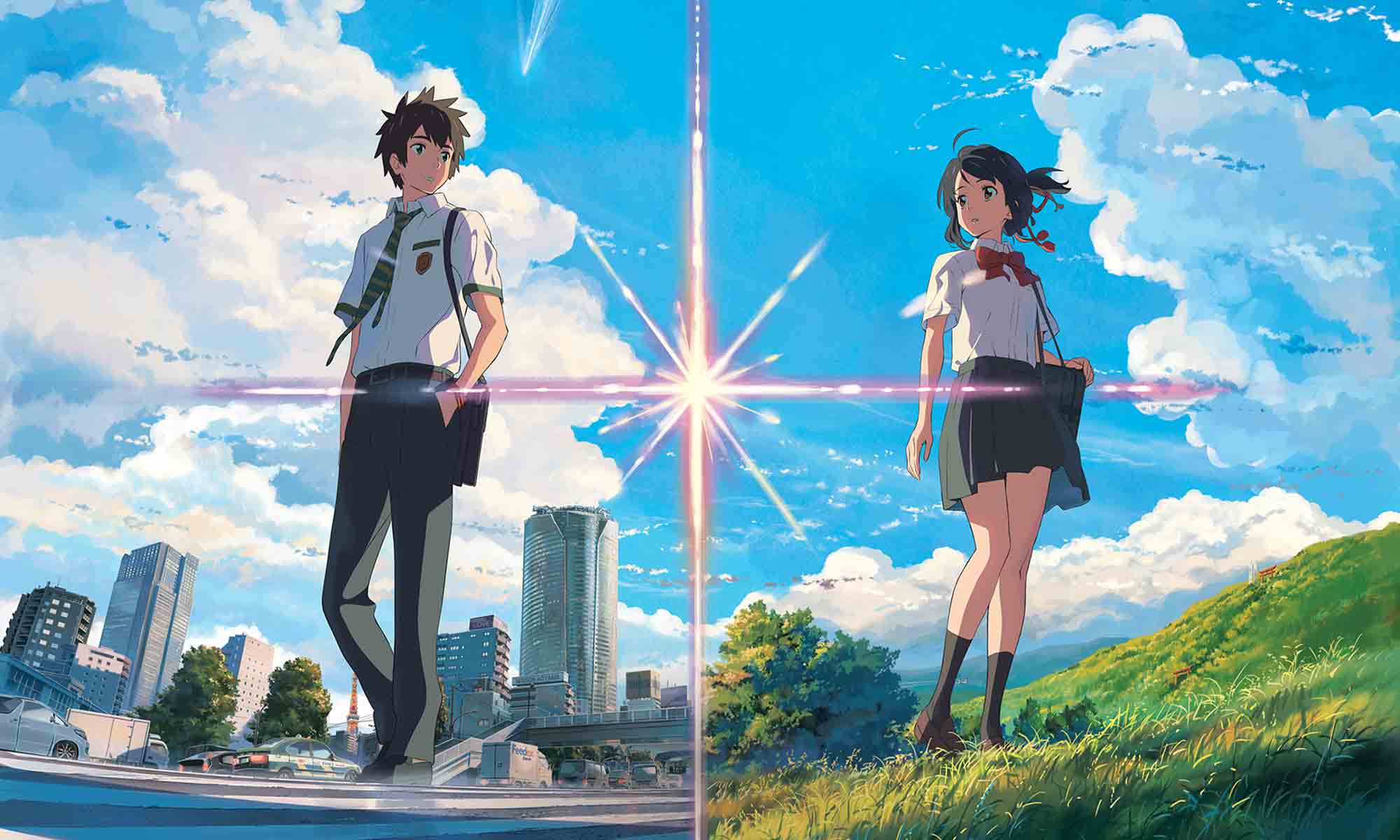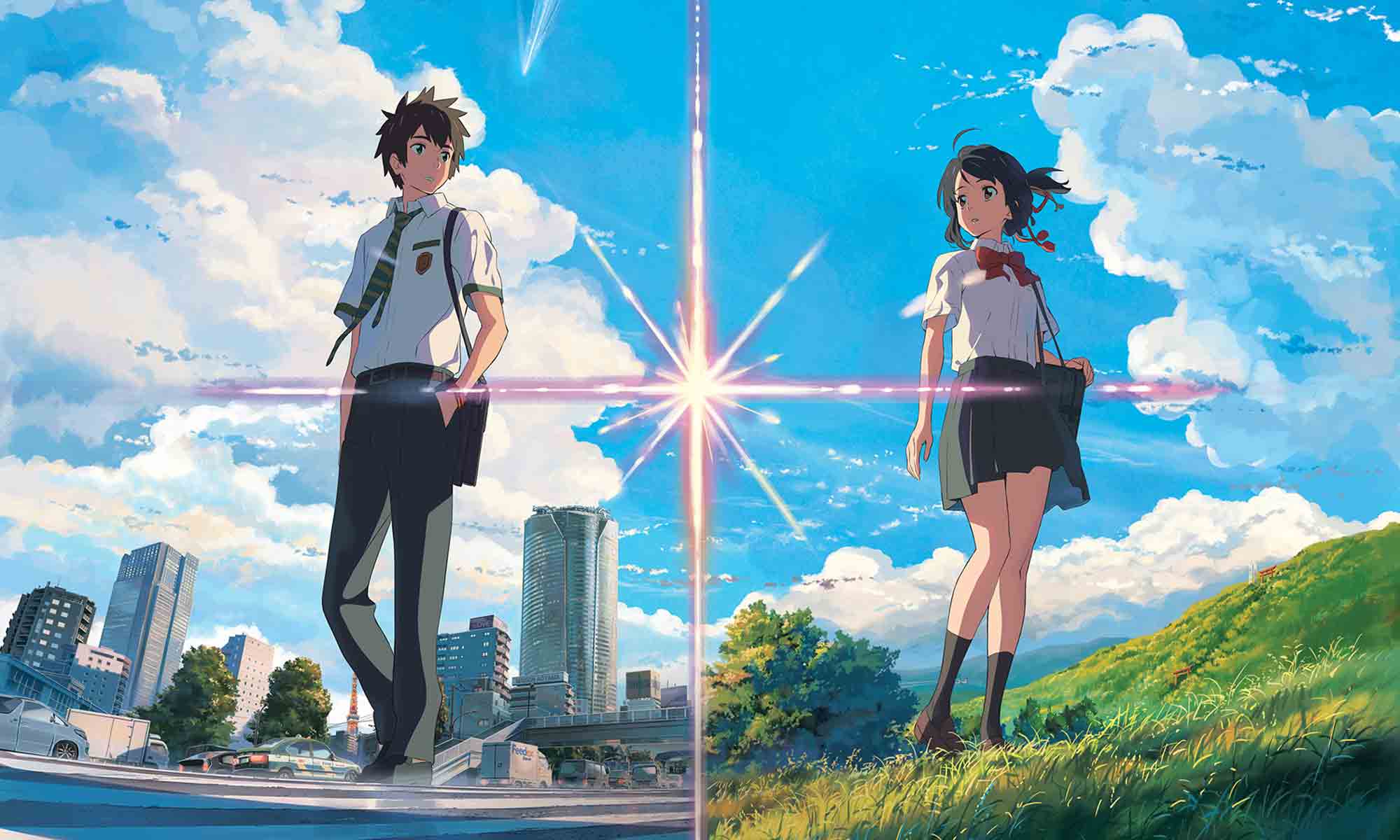 It is cheaply screen printed using terrible quality ink on a standard men's shirt. I wish we had positive things to say about this shirt, but the legality and quality of it is an extreme put off for me. I found the shirt on TeePublic for $20, but I honestly won't pay that amount for it.
"April showers bring May flowers"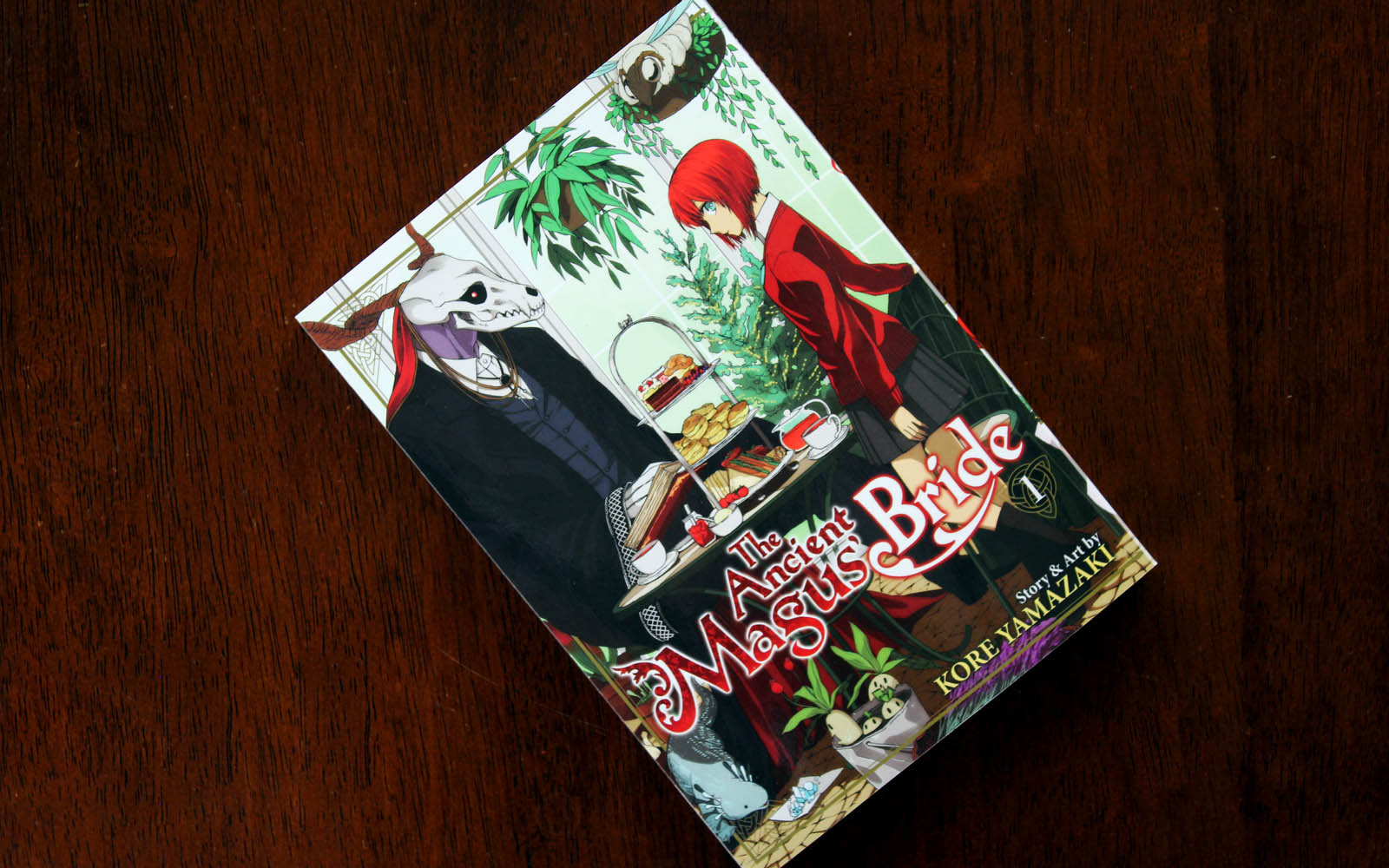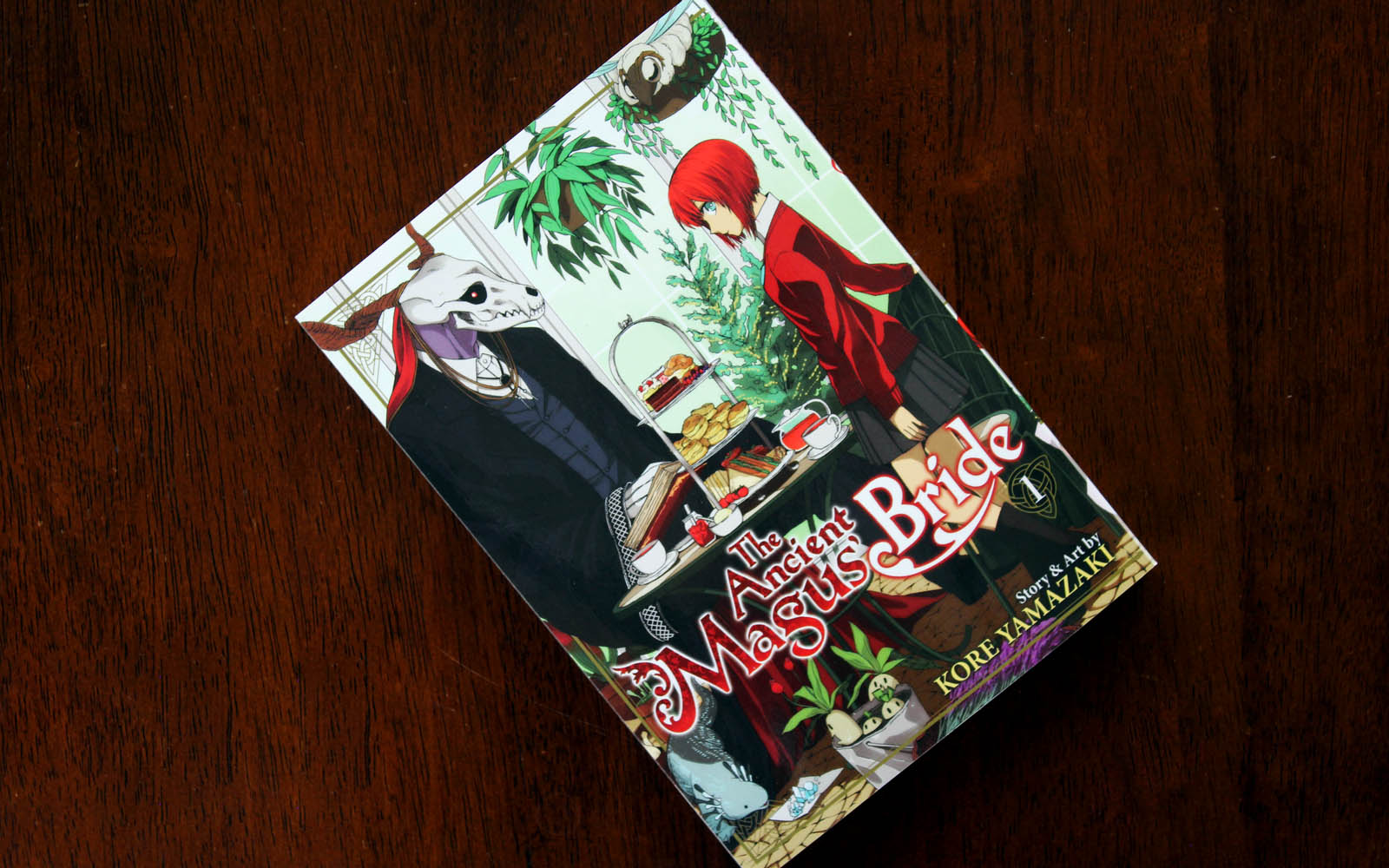 So I will admit, I did gasp in surprise to see this beautiful The Ancient Magus' Bride Volume 1 manga underneath the other items. I've been meaning to start reading this series since I fell madly in love with it after watching the first two parts of the anime OAD with Chris.
Synopsis from ANN: "15-year-old Chise has lived a life of rejection and isolation. She is passed around by family members who don't want her, and she has difficulty making friends because of her ability to see otherworldly beings such as fairies and evil spirits. This ability lands her in a black market auction house, where she is bought by a mysterious and ancient magus named Elias, a creature neither human nor fae, with the face of a dog's skull. He tells her she will be his apprentice and one day bride, and for the first time in her life Chise begins to feel a sense of belonging."
Crunchyroll doesn't have it available to read online currently, but even if they did, there is just something so satisfying having a physical copy of the manga. You can purchase the first volume on Amazon for $10.38.
Now for the Nitty Gritty…
To circle back around, let's take a deeper look at the items we received. As Chris and I broke down and looked at the pricing for each item, we started to see some discrepancies between Anime Bento's promise and their delivery.
Did we get our money's worth?
Let's have a look and add up the cost of the 4 items:
Meiji Meltyblend Chocolate – $4.28
Free! Nagisa Hazuki PVC Keychain – $4.99
"Anime Sunset" Shirt – $20
The Ancient Magus' Bride Volume 1 – $10.38
Total: $39.65
With the 20% discount, the total amount to order this came out to be $36.32 with shipping included (original price: $43.32). 
If we just stick with the original price + shipping of the subscription box we would have paid for ($43.32), in actuality, the value of the box is $-3.67. Also, other key points come into play as well. It is advertised that the subscription boxes are worth $50 in value, when that doesn't appear to be the case at all. That's a $10.35 difference. So to answer our first question, did we get our money's worth? Sadly, no, we lost money.
Most subscription boxes give you equal or more value to give you a better deal. I'm not sure why this isn't the case for Anime Bento, when I'm certain the prices listed would be cheaper for them if they purchased all the items in bulk, especially the t-shirts.
Were we satisfied with items received?
Honestly, it's a mixed bag for me. If I didn't get The Ancient Magus' Bride manga, I would have called this whole thing a bust. While the chocolates were not for me (Chris liked them, though) and Nagisa isn't my favorite Free! character, that's based on personal preference. Chris and I both agree the t-shirt was horrible no matter how you sliced it.
Also, the price tag doesn't reflect on the number of items you receive. To spend over $40 and only receive 4 items doesn't feel justified. Loot Crate, which is a famous subscription box, only costs $21.60 per month and you receive over 5-6 high-quality items each month, including beautifully designed graphic tees.
On a separate note, Anime Bento's website states the following:
Each bento will include trading figures, accessories, and snacks straight from Japan
Maybe they need to fix their wording, but I really wish I had received a figure like they advertised would be included in the box.
Would we order again / Our overall thoughts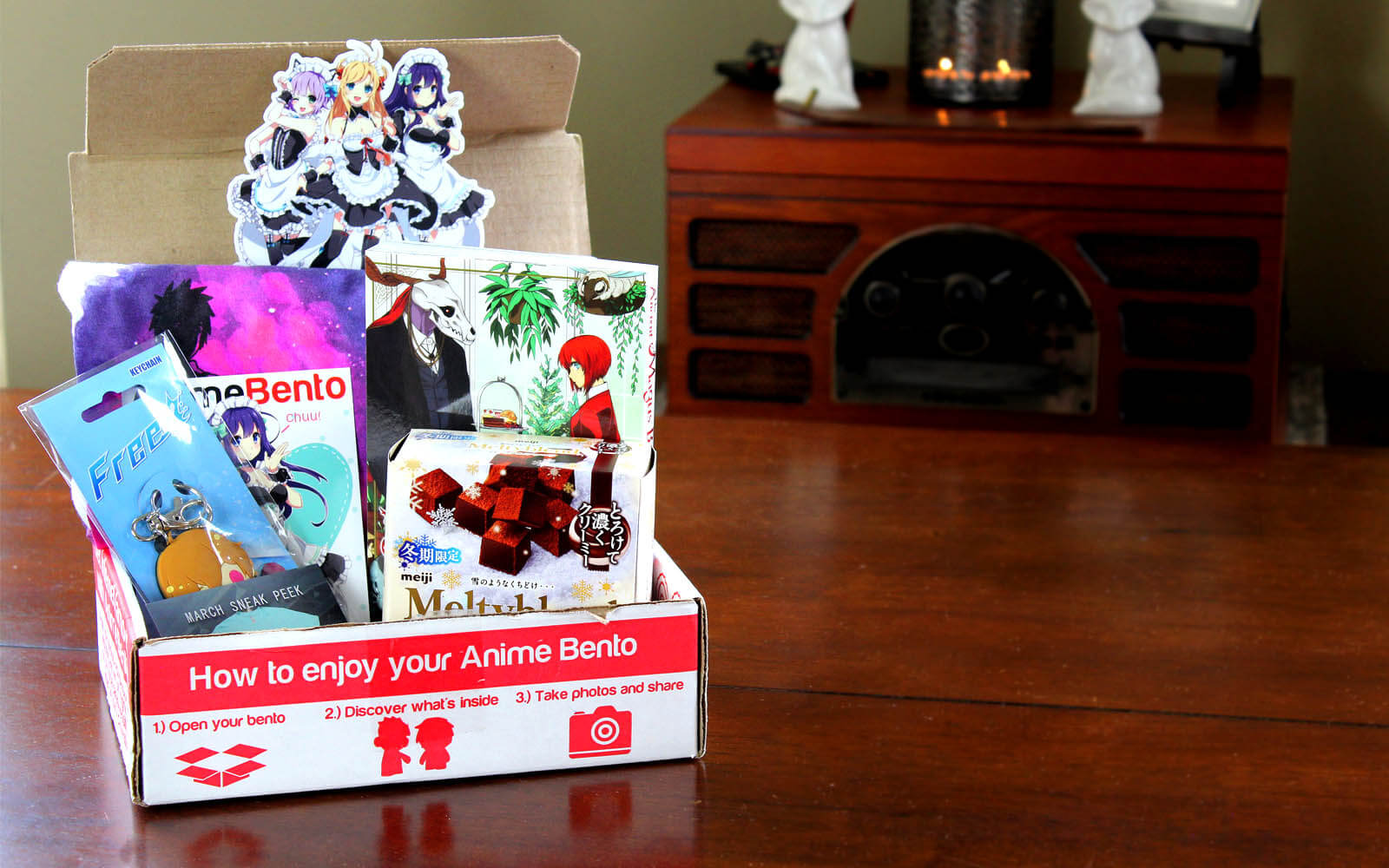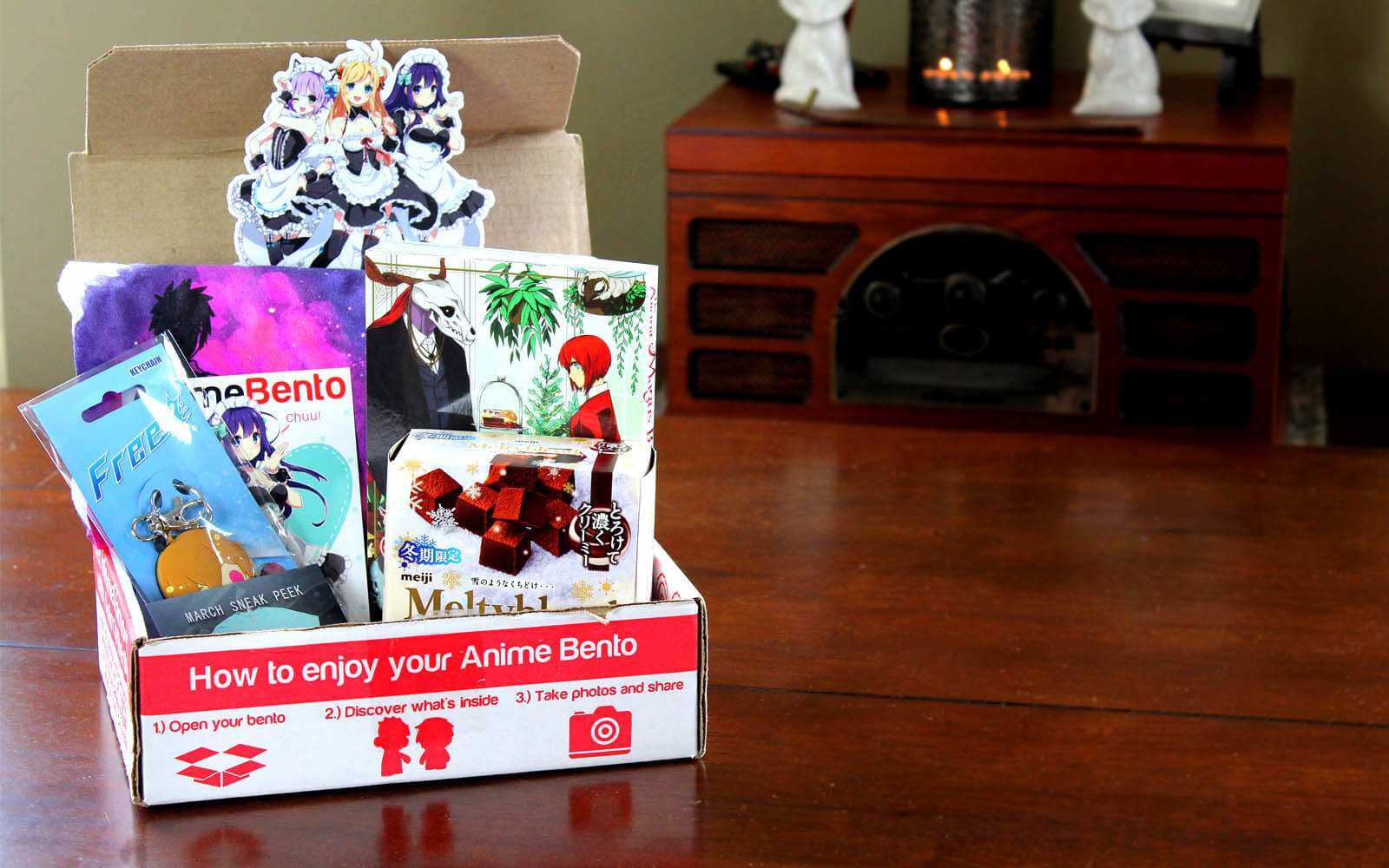 While Chris and I weren't completely satisfied with this month's subscription box and feel a little bit gypped, there were a couple of items we enjoyed. We hope that Anime Bento takes our review as constructive criticism to see where they need to improve. We would probably not order another box until we know they have improved the overall quality of their product and get our money's worth. If you're interested in trying out Anime Bento, our discount code YATTA10 will take 10% off your order.
The Good
Received The Ancient Magus' Bride manga
The MeltyBlend Chocolates would make a nice gift
The Bad
For this month's box, not getting money's worth
Only received 4 items
No figure as advertised
Expensive cost per month with no fixed shipping fee
Big thank you to our supporters
From their continous support, we are able to pay our team for their time and hard work on the site.
We have a Thank-You page dedicated to those who help us continue the work that we've been doing.
See our thank you page