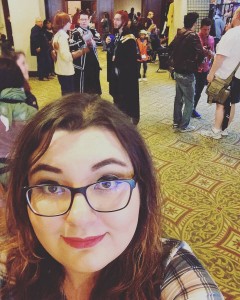 Phew! This has been a rather active con going year for me. I managed to go to not one, not two, but THREE conventions. I can happily say that Anime North Texas is the last convention of this year, and my wallet thanks me for it.
Anime North Texas, or ANT (visit the convention site), was founded in 2013, so it's a rather young convention compared to the other two main Anime conventions in the Dallas/Fort Worth Metroplex (A-Kon & AnimeFest). From what I heard at the closing ceremonies, the turnout for this year was 50% more than last year. They mentioned that roughly 2,000+ people attended the convention over the weekend. So yes, a rather small, intimate convention compared to the 15,000+ attendees that either A-Kon or AnimeFest can easily produce.
As a small convention, Anime North Texas is a great place for first time con goers and children/young adults to attend. It's rather hard to get lost and has small rooms for the panels. Registration, Dealers Room/Artist Alley, and a couple of panels are located on the second floor, while the rest of the panels, game room, and maid cafe are located on the third floor.
Anime North Texas is situated deep in the heart of downtown Fort Worth, located near Sundance Square. Unlike A-Kon and AnimeFest, which don't offer many food options other than food trucks/hotel food vendors at night and paid parking, ANT fortunately has the opposite. Taking place in the Hilton, the convention is conveniently located near multiple restaurants and an active nightlife, with pricing to fit any budget. With a Starbucks store stationed inside of the hotel and several located throughout the Square, it's easy to get your caffeine fix. There are several parking garages located all throughout the downtown area, which offer FREE parking on weekends and nights after 5pm.
For cosplaying, downtown Fort Worth offers a ton of great scenes/backdrops for photoshoots. From the art deco historical buildings to the Water Gardens, you will have a wide range to choose from and won't be disappointed. At night, the streets are well lit with string lights wrapped around trees and criss-crossed over the streets.
Unfortunately, since I only went the final day (Sunday), there were fewer panels to attend, and the dealers room/artist alley started the day with a few vacancies. With that said, the panels I did go to were pretty entertaining & informative.
Greggo's Game Shows: Face/Off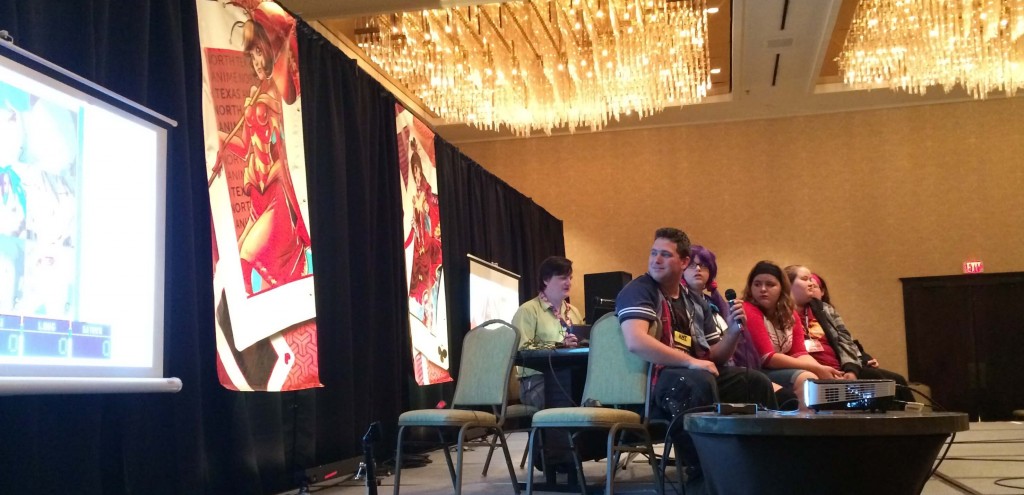 Five contestants face off to see which one knows the most about anime. It was a rather fun panel that I wish I had a chance to participate in (the cocky side of me thinks I would have easily won). The contestants were shown nine faces of characters from different anime series, and had to buzz in and answer a question based on the face they chose. If they didn't know the answer, they could challenge another contestant to try. If the challenger succeeded, they got the points for the answer. If the challenger failed, the original contestant got the points, and play continued down the line. There were 3 elimination rounds, where a hidden "trap" under one of the 9 depicted faces that caused the current player to choose a challenger and go head-to-head. Whoever was first to 4 correct answers won the face off, and the other player was out of the game.
Getting Your Friends into Anime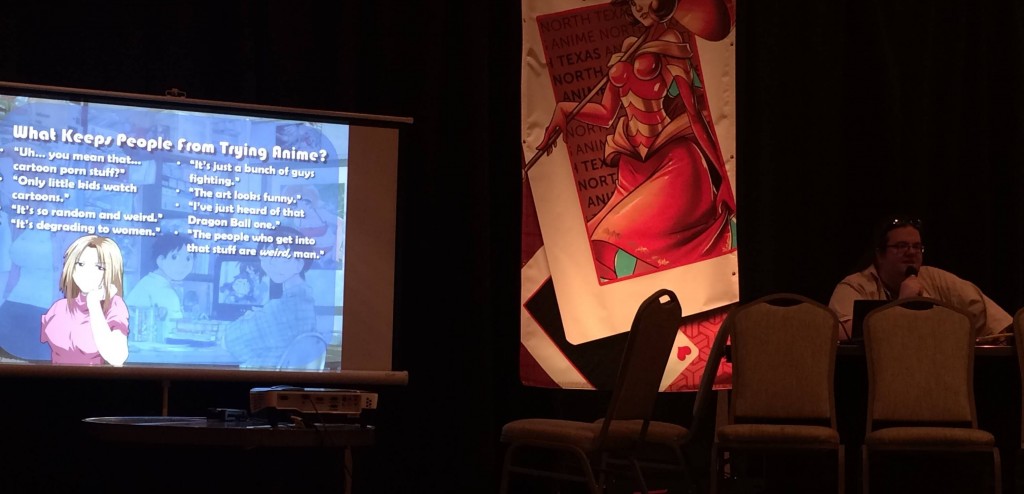 This panel focused on a little background history of anime fans and the term "otaku". The panelist discussed how anime-loving people are often perceived by others, and why they might have a negative reputation. It also explained how to "ease" your non-anime friends and family into watching anime. Suggestions included items like: Don't start with a series that has hundreds of episodes (hard to digest), potentially lead with dubbed series as they are easier to understand for the beginner, and Japanese culture reference heavy shows might confuse people who aren't familiar with the references. The panelist recommended finding anime that matches your friend's taste, instead of throwing everything at them just to see what sticks.

Located at the Downtown Fort Worth Hilton
Tons of bars/restaurants within walking distance that are open late (Bird Cafe, Flying Saucer, Razoos, The Cheesecake Factory, etc)
Plenty of nightlife entertainment (Piano bars, Sundance Square, Jazz Lounge, AMC Movie Theatre)
Several Starbucks located in the area including one in the hotel
Cooler weather (No melting cosplay makeup)
Tons of beautiful locations for photoshoots (Water Gardens, Sundance Square, Bass Hall)
Lots of Free Weekend/Night Parking behind the Bass Performance Hall
Great for First time Con Goers or Young Teens/Children
Terrible Timing (School, Finals, Holiday Season vacation blackout, Parade of Lights festival)
Water Stations: Open pitchers (Possibility to be tampered)
Paying Big Con prices for a small convention
Lack of identification of Con Volunteers (Plain clothes so they didn't stand out/hard to find)
Made the admission FREE 2 hours before the convention ended (My $50 spent felt pointless since I showed up a couple hours before and felt gypped)
While my personal experience wasn't stellar, there were quite a few people who had a more pleasant experience than I did. It was rather unfortunate that there were quite a few hiccups on both the convention and my own side that caused me to almost regret going in the first place (feeling gypped, having a cold, also attending the Parade of Lights). I'm hoping the convention staff will take the critiques & comments provided from the feedback panel/survey and improve the convention next year. With that aside, the convention is still young and has plenty of room to mature into a well-rounded convention. With a lot of bonus perks that other local anime conventions don't have, I hope you take a shot and try attending this expanding convention next year!
See the previous 2015 conventions I went to:
Big thank you to our supporters
From their continous support, we are able to pay our team for their time and hard work on the site.
We have a Thank-You page dedicated to those who help us continue the work that we've been doing.
See our thank you page