If it's breaded and fried, I'm usually the first person in line and tonkatsu definitely isn't the exception.
First question, what is tonkatsu?
It's a very common Japanese dish that which a pork cutlet is coated with panko crumbs and deep-fried. It is served with rice, a special sauce, and shredded cabbage.
The word Ton (豚) comes from "pork" and Katsu (カツ) is an abbreviation of Katsuretu (カツレツ), derived from the English word "cutlet." – Just One Cookbook
Not very vegan-friendly, eh? Let's fix that.
Substituting the pork cutlet with extra firm tofu is a crowd-pleasing, plant-based alternative. I've personally made it many times over for Chris and myself and when I'm hosting. It's always been a major crowd-pleaser, even for folks who normally don't care for non-meat meals. Pair it with perfectly cooked rice and cold, crisp shredded cabbage slaw and it's just *chef's kiss* perfect.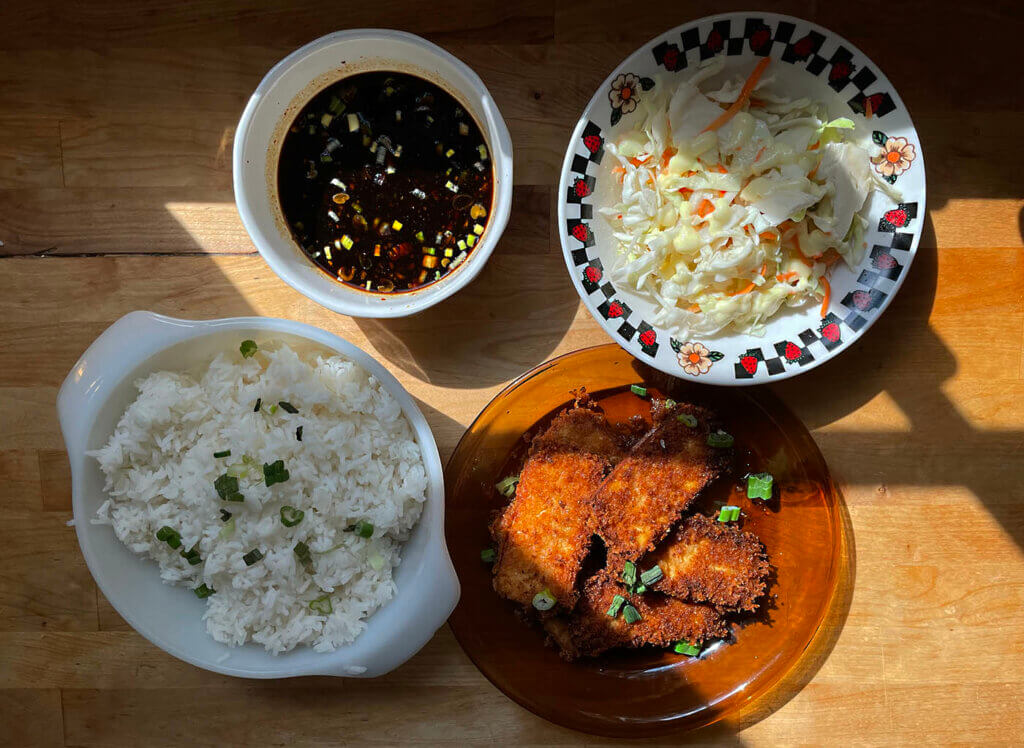 There are two routes you can take to make this dish. You can either fry it up in less than 30 mins or you can extend the time to a few hours to overnight. Either option works and honestly, it's really up to how much time you want to take. There are days when I just want something NOW and not in a few hours and then there are days when I think about it a few hours in advance.
What are the major differences?
Besides time? There is a slight textured, firmer, and flavor difference if you take the longer route. To create a heartier/firmer texture, you can freeze your tofu (after you pressed out as much water carefully), and allow it to thaw out during the day in the fridge. Another option is you can marinate your tofu to give it more flavor. We will be doing a quick marinade in the shorter version, but if you extended the time to a few hours, it allows the tofu to absorb more.
If you wish to freeze your tofu, Food52 has a great tutorial on how to do it.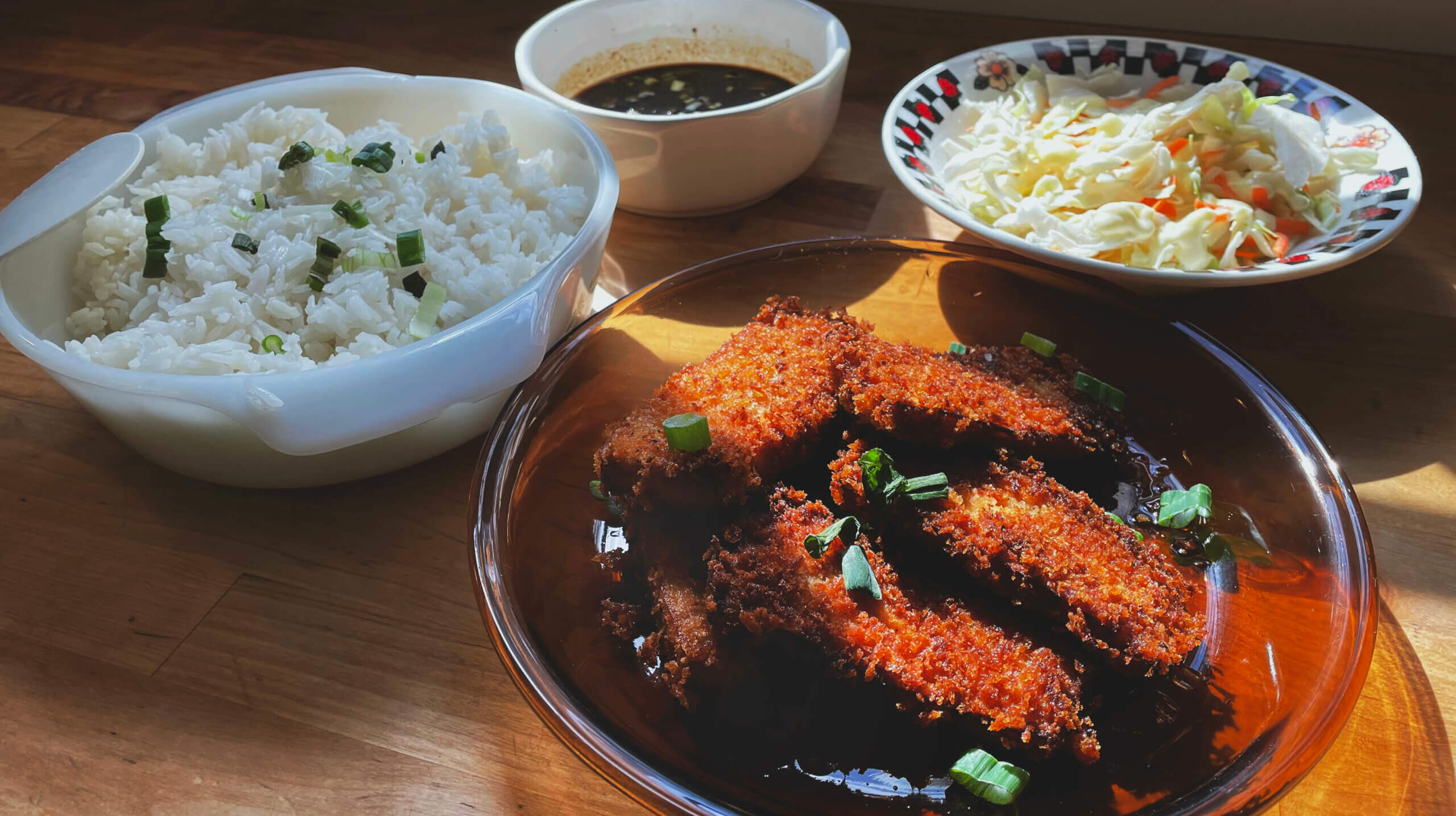 Tofu Katsu Recipe
Servings: 2-3
Time: About 30-45 mins minimum
Difficulty: Medium
Ingredients:
Tofu Katsu:
12 ounces extra-firm tofu
1/2 cup (60g) of any unsweetened/unflavored non-dairy milk
1/2 cup (60g) of rice or tapioca flour
2 cups (240g) of gluten-free bread crumbs
high heat, neutral oil for frying (vegetable, avocado, canola)
Marinade:
1 tablespoon crushed garlic
1/2 tsp grated ginger
2 tablespoon tamari or coconut aminos
2 tablespoons mirin, rice vinegar, or apple cider vinegar
1 tsp cracked pepper
1 tablespoon water???
Tonkatsu Sauce:
leftover marinade
2 tablespoon ketchup
2 tablespoon Lee Kum Kee Vegetarian Stir-Fry Sauce or hoisin sauce
1-1.5 tsp organic brown sugar, molasses, sugar, or maple syrup
~1 tablespoon water (if needed to thin out the sauce)
Garnish (Optional):
Thinly sliced scallions/green onions
Toasted sesame seeds
Instructions:
Prepping The Tofu:
Drain and slice the tofu into 1-inch strips.
Press the tofu on a layer of paper towels or a clean tea towel to gently press down a couple of times or place a weight like a heavy plate to remove some of the moisture for about 5-10 mins. (After this, you can freeze the tofu per Food52's instructions and then thaw it out when ready to marinate).

While the tofu is being pressed, in a 9×9 baking pan or shallow bowl, combine all the ingredients for the marinade and whisk together.
Add the sliced tofu to the marinade bowl. The marinade should cover most if not all of the pieces. You may gently coat each slice as you add them in. Marinate quickly on the counter for about 10-15 mins or cover and refrigerate for a couple of hours or overnight for more infusion.

---
Battering The Tofu:
Place the non-dairy milk, flour, and panko into three separate shallow bowls or high-edge plates.

Remove the tofu onto a paper towel or clean a tea towel-lined plate. Set aside the remaining marinade to make katsu sauce.
Dip the tofu slices into the milk, then dredge them in the flour, and then back into the milk, followed by dredging them in the panko crumbs.

Place the coated tofu back onto the original plate and repeat the steps until all the tofu is coated.

---
It's Fry Time:
In a frying pan, add enough oil (about 1/4 inch /.5 cm deep) to shallow fry the tofu. Heat the oil to be around 350F (176C) to 375F (190c) in temperature.
Add a few tofu slices to the pan, but be sure not to crowd it.

Fry on each side for about 5 minutes until golden brown.

Remove from the pan and dab lightly on a paper towel to remove excess oil.
Place fried tofu into an oven-safe dish and keep it in low temp oven (150F/65C) to stay warm until you're finished frying and ready to serve.
---
Finishing And Platting The Dish:
Combine the remaining marinade with the katsu sauce ingredients. Add a little water if needed to thin the sauce out and add sweetener to taste.

Make steamed rice as instructed on the package.
Thinly slice cabbage or create a cabbage slaw.

Kewpie isn't vegan, but you're welcome to sub it would for your favorite vegan mayo! I usually add a small amount of sugar sugar or maple syrup to sweeten it ever so lightly!

Add about half a cup of rice onto the plate, spreading out a little. Add the cabbage/slaw (using your favorite vegan mayo) next to the rice.
Carefully remove the tofu from the oven and place a few slices on the rice.
Drizzle the katsu sauce or serve on the side.
Garnish with scallions and/or sesame seeds! Enjoy!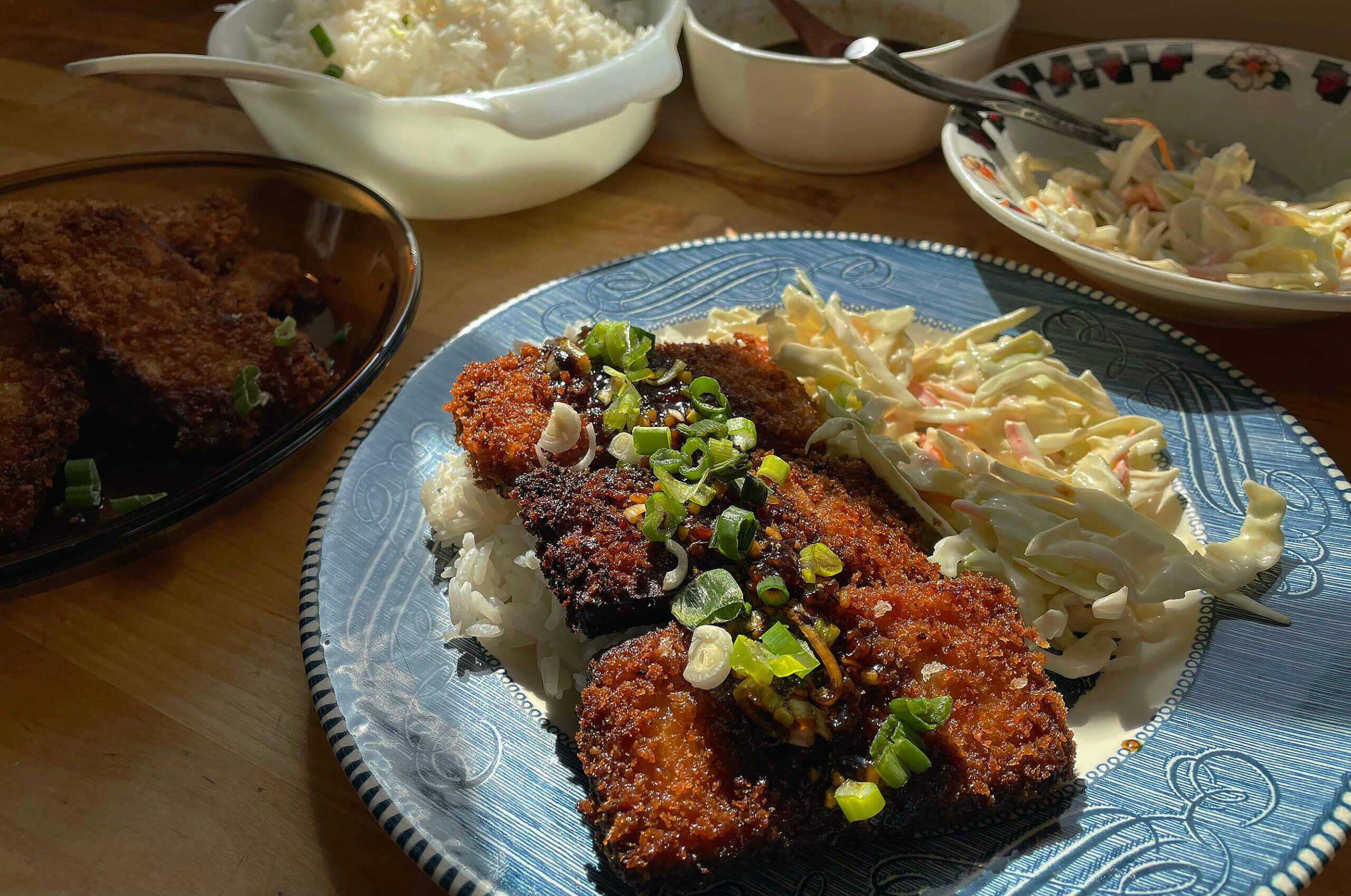 FAQ
What to do with leftovers?
Rice bowls. RICE BOWLS. I personally like to make bibimbap, but honestly, any veggies in the fridge that need to be used go into the rice bowl and are topped with pan-fried tofu katsu leftovers.
Can I meal prep this?
Yes, you can! Double the recipe or how many times you wish and you can make this to last several days. Just warm the tofu up in the microwave or oven.
What if you can't find extra firm tofu?
Firm tofu would work, but I would highly recommend freezing your tofu so it would be firmer. Soft or regular tofu, unfortunately, will not work well. It will more than likely fall apart during one of the steps, either battering or frying, which can be dangerous so I would not encourage that.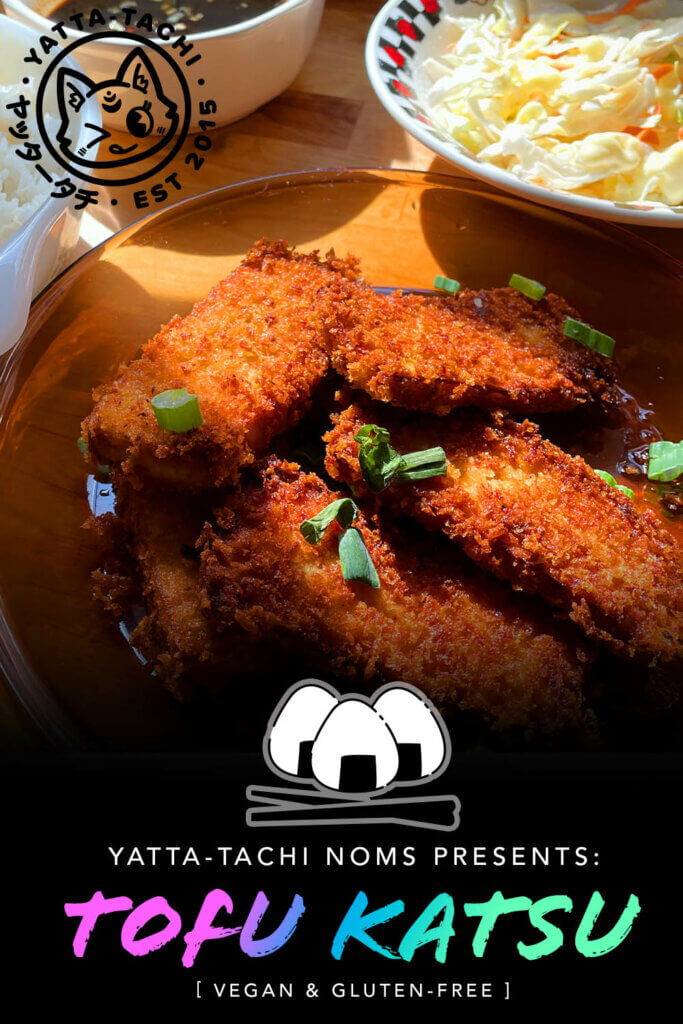 Big thank you to our supporters
From their continous support, we are able to pay our team for their time and hard work on the site.
We have a Thank-You page dedicated to those who help us continue the work that we've been doing.
See our thank you page