Typically people think of sushi, barbecued eel, and delicately arranged desserts when the idea of Japanese cooking comes to mind. However, there is much more to be explored than just these high-end restaurant items. Home cooking is a great way to enter into the food culture of Japan, and that's where Laid-Back Camp comes in.
Laid-Back Camp by Afro is a relaxing slice of life manga. It focuses on five high school girls who take part in the "Outdoor Exploration Club," and the reader accompanies them on their winter camping adventures. Along with the breathtaking scenery that the girls get to explore, the reader also visually experiences the meals that they prepare on these trips. These meals, being assembled outdoors, are often one-pot dishes that can easily be replicated at home, and can also offer the adventurous reader a taste of home-cooked Japanese cuisine.
Readers who want to replicate these recipes can comfortably follow along with the girls in Laid-Back Camp to create delicious, authentic meals, as the scenes in the manga that lead up to food preparation and actual cooking are easy to spot. The girls often head to a local grocery store while on a camping trip to pick up supplies for that evening's meal.
While some ingredients in these scenes may be hard to get in different areas of the world, they can easily be substituted for other items (for instance, Napa cabbage can be replaced by any type of cabbage, and enoki mushrooms can be replaced by another type of mushroom).
Now, onto sample recipes that can be reproduced from the pages of Laid-Back Camp!
Hot Pot
In Volume 1, Chapter 4, Mt. Fuji, and Hot Pot Campout, Nadeshiko makes gyoza hot pot to thank Rin for her recent hospitality.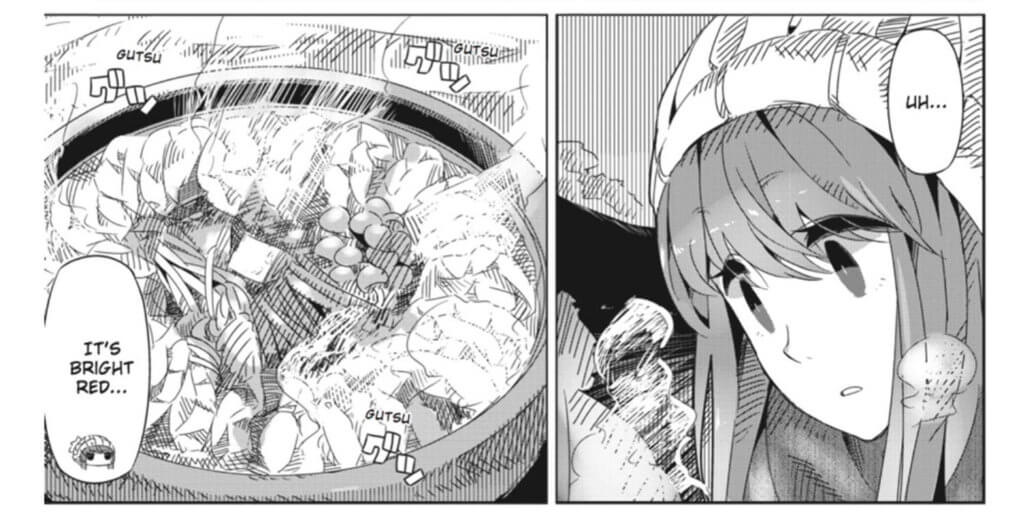 Ingredients:
3 quarts water
2 tbsp. mirin
1 tbsp. shoyu
½ tsp. red pepper paste
12 thawed gyoza
½ pack of enoki mushrooms, roots cut off
3 spring onions, finely chopped
1 head of napa cabbage coarsely sliced
I small handful of your choice of noodle
Directions:
Fill a stockpot with the water, mirin, shoyu, chili paste and bring it to a boil. This is your broth.
Once at a rolling boil, reduce heat to a simmer.
Add the gyoza, roughly chopped Napa cabbage, enoki mushrooms, and long thin noodles of your choice. Let simmer till tender.
Add the spring onions as a garnish and the dish is ready to serve.
This dish is an easy chop and drop dish that is filling and delicious with ingredients that are common in most Asian groceries or can be substituted with similar items, and season the broth to your personal preferences.
---
Grilled Meat
In volume 2 chapters 11 and 12, Nadeshiko and Rin camp at Lake Shibire, where they hear about the local legendary cow spirit. Once Nadeshiko is able to calm her nerves about the possibility of encountering this spirit, they settle in for a meal of grilled meats using shoyu and mirin sauce.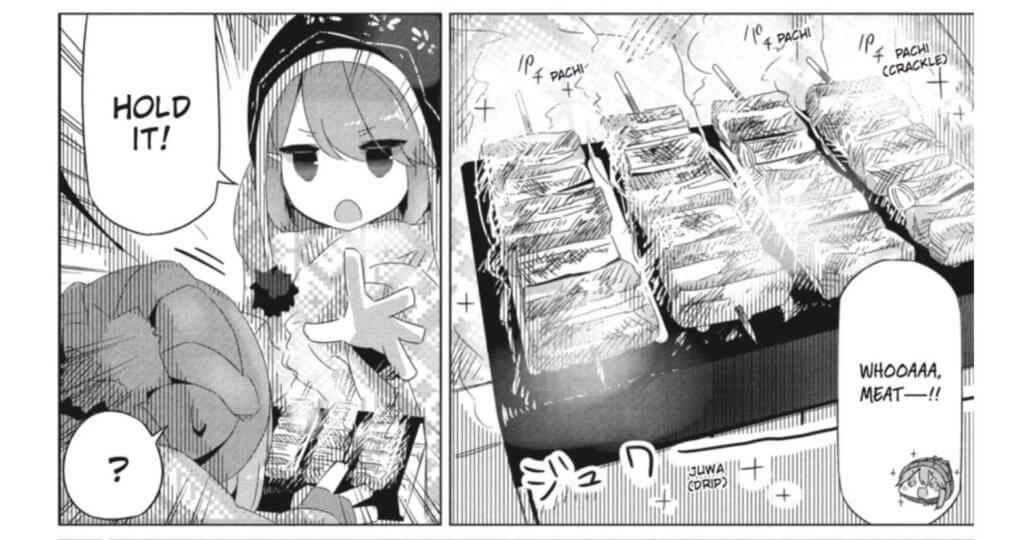 Ingredients:
4-6 pork belly kabobs
3 tbsp. shoyu
1 tbsp. mirin
Directions:
Marinate the kabobs in the shoyu and mirin for ½ an hour.
Grill on a camp stove, bbq or frying pan, turning the skewers every few minutes to brown all the sides.
Cook until the internal fluids of the meat no longer run red.
---
Side of Hot Pot
Ingredients:
1 quart of water
2-inch width of hard kelp
2 carrots cut into bite-size pieces
1 roughly cut scallion
1 block of firm tofu that has been cut into half-inch cubes
1 filet of salted cod chopped into rough chunks (The cod can be replaced with any other strongly flavored fish and does not necessarily need to be salted)
Directions:
Fill a small stockpot with the water and hard kelp, and bring to boil the carrots, scallions, tofu, and cod. If a non-salted fish is used and a stronger salt flavor is desired just add some shoyu to the broth.
---
Ajillo Clay Pot
In volume 9 chapter 47, the members of the Outdoor Exploration Club pair an Italian-inspired dish and a traditional clay pot while camping in the Izu region.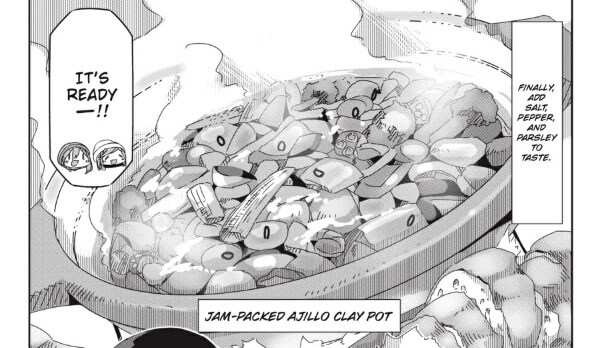 Ingredients:
1 cup olive oil
3 cloves of thinly sliced garlic
2 sliced chili peppers
1 pinch of seasoning salt
2 small eggplants cut into bit sized pieces
1 handful of button mushrooms quartered
A quarter of a package of shimeji mushrooms (roots removed)
3 whole garlic cloves
1 small octopus
6-7 shrimp
2 Weiner sausages cut into half-moons
A dash of paprika
1 can of baby corns
Handful of fresh broccoli
2 yams (coarsely cut)
Salt, pepper, and parsley to taste
Directions:
Add olive oil to a cooking pot, along with sliced garlic, chili peppers, and seasoning salt. Simmer on low heat. Once the garlic is aromatic, add the eggplant, button mushrooms, shimeji mushrooms, and garlic cloves. Turn up the heat to medium.
Once the eggplant softens, add octopus, shrimp, Weiner pieces, a dash of paprika, and baby corns.
Parboil, then add broccoli and yams.
Add salt, pepper, and parsley to taste.
This is a one-pot dish and can be cooked in any style of stockpot.
---
The dishes that I described are just a sampling of many more that can be found throughout the pages of Laid-Back Camp. I urge you to give the series a try, not just for the cooking potential that it offers, but also for its relaxing and scenic views of the mountains on the main island of Japan.
Laid-Back Camp manga is available on RighStuf.
Big thank you to our supporters
From their continous support, we are able to pay our team for their time and hard work on the site.
We have a Thank-You page dedicated to those who help us continue the work that we've been doing.
See our thank you page