KWEH!
I was researching for this #ThrowbackThursday and remembered a series of JRPG's called the Mana series. Once in a while during a discussion of JRPG's, Secret of Mana would be mentioned. You see, Secret of Mana was known for its intriguing gameplay and overall experience as well as its soundtrack.
Secret of Mana has a rather confusing history in the West due to name changes. Allow me to explain. In the beginning, Square (later Squaresoft and now, Square-Enix) developed Seiken Densetsu (聖剣伝説, lit. "Legend of the Sacred Sword"). The game was released in the United States as Final Fantasy Adventure, seemingly a spin-off of the famous Final Fantasy series. Then, Square developed the sequel to the first game and named it Seiken Densetsu 2. The game was published in the States as Secret of Mana, thus beginning the Mana series. Another rather confusing fact, Seiken Densetsu 2 was published in Europe as Mystic Quest. Who could keep up with that many names?!
The main composer for Secret of Mana is Hiroki Kikuta who later also composed Seiken Densetsu 3, Soukaigi, Koudelka, and many other works. In the whole list of the soundtrack, "The Oracle" sounds especially striking to me. It is chilling, haunting, and has a sense of impending doom. After all, you are fighting the second-to-last boss.
What is most interesting is how Kukita incorporated the elements of Balinese Kecak dance/chants and Gamelan as contradictory elements with the more bassy MIDI/electronic style. This has been confirmed in a Reddit AMA and an interview by 1UP.
As a Square game, Secret of Mana also has Moogle appearances. There is actually a Moogle village that you can reach after you fulfill certain requirements.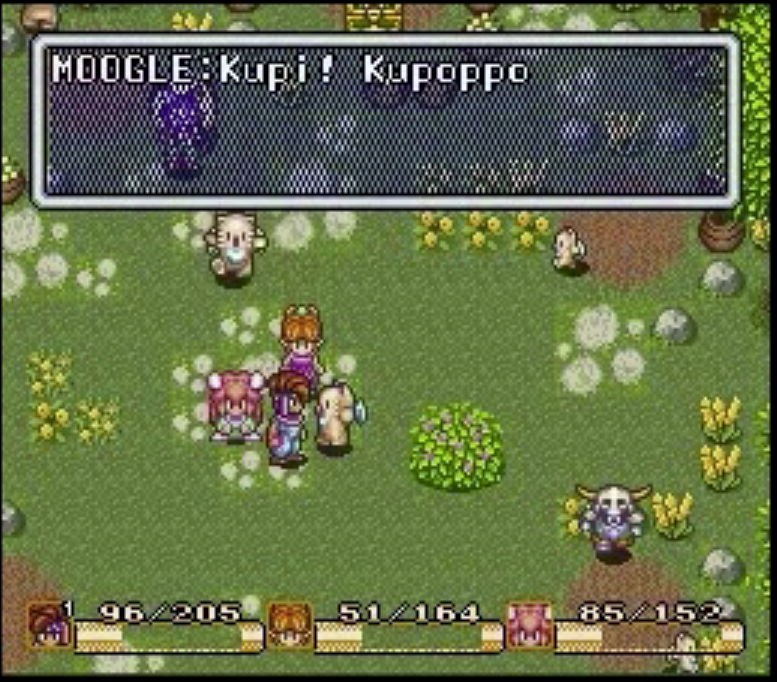 With that, I will see you next Thursday!
Sources: Wikipedia, Final Fantasy Wikia, 1UP, and Reddit,
Big thank you to our supporters
From their continous support, we are able to pay our team for their time and hard work on the site.
We have a Thank-You page dedicated to those who help us continue the work that we've been doing.
See our thank you page