Welcome to the final installment of our Spring 2020 Anime First Impression series! For the uninitiated, here's how it goes: before the start of each new anime season, our readers vote on what series they'd like us to review the first episode of, and we cover the series that get the most votes. Normally we keep it to the top 3, but due to a tie, this time around we're doing four: Kakushigoto, LISTENERS, My Next Life as a Villainess: All Routes Lead to Doom! and Millionaire Detective – Balance: UNLIMITED. Millionaire Detective was the last of those to air, so it's the last one we'll cover.
Here's how Funimation describes the series:
"Detective Daisuke Kanbe has no problems using his own fortune to solve crimes even if he assesses human lives based on their financial worth. Compassionate Haru Kato sees all life as sacred and is sickened by Daisuke's materialistic ways. Can they stop butting heads and overcome their opposing world views for the sake of solving the toughest crimes in the precinct?"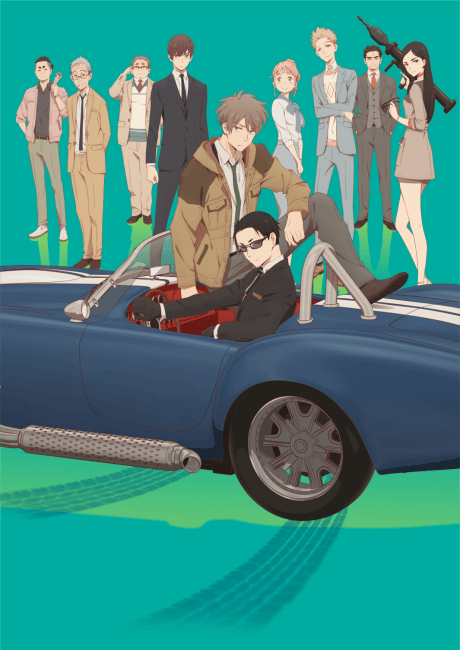 And here's what our team of writers had to say…
The Millionaire Detective: Balance UNLIMITED is like a kid learning to ride a bike that's about to fall over, but somehow he stays upright, he's squirreling around but still rolling, oh my god he's going towards that 5 way intersection where all the accidents happen, we have to stop him, everyone is yelling for him to stop but he's got airpods in, and we never taught him how to use the brakes anyway, oh christ it's too late, he blows through the stop sign, horns wail, tires screech, somehow every car misses him, a fire has inexplicably started, and through the smoke, on the other side of the intersection, you watch aghast as the kid wryly looks back at you, stands up on the handlebars of the still-moving bike, dabs, and does a gainer into a bush.
To put it in a more normal way, The Millionaire Detective: Balance UNLIMITED is a great looking, great sounding, well directed, hilarious, barely-in-control-of-itself show. It abuses logic and the tropes of its genre to make progressively more ridiculous things happen as the show goes on. I wouldn't say I was on the edge of my seat, because it kind of telegraphs all its major developments and jokes. But the exact way it executes them is never what I expected, and I was laughing my ass off at either a well timed gag or just the sheer audacity of the whole thing for most of its runtime.
Special mention must also be made for the music. The killer OP and ED, the jazzy score, and the amazingly goofy leitmotif that plays every time the titular detective uses his limitless bank account to brush a problem aside all pull a ton of entertainment weight. But really the whole package was outstanding, in a kind of ludicrous, massively entertaining way.
This show made me feel like I felt when I first started watching anime, when everything seemed fresh and funny and sexy and most importantly, barely comprehensible. I love it.
Take this anime's title at full face value here because it really is all that. A millionaire detective named Daisuke Kanbe works with Haru Kato – an average detective concerned only with justice. By the end, you'll see their personalities clash, as the characters are on different spectrums.
When you look at Millionaire Detective's opening credits, it'll tell you what you'll be in for. Flows of cash of all currencies raining down. Beautiful women, with their lips close up, with some laying in their underwear. Fist fights, explosions, and gunshots. Everything about this anime screams hedonism and male indulgence over bishonen cheesecake. It's on Mad Men levels of sleaziness and capitalism.
Daisuke Kanbe, on the other hand, is quite the character and may as well be the charm of the show. You can tell he's extremely loaded when he smokes a cigar instead of a cigarette and buys a luxurious car from someone for a road chase. He's a damn near sociopath who does whatever it takes to get the job done, and that involves spending a lot of money.
Overall, Millionaire Detective surprised me with a strong debut and an interesting character. The plot gets interesting as it goes along and I'll be intrigued to see how Daisuke and Haru work together from here on out.
The title states that Daisuke Kanbe – the man that took Twitter by storm over the weekend – was only a Millionaire Detective, but with a bank balance that is as unlimited as the TV anime says it is, then he has to be much more well off. The Millionaire Detective – Balance: UNLIMITED was a roller-coaster of a ride and is probably my favorite first episode I've seen this season so far – not that there's much left to be released with everything being delayed. The fun characters p;aying around in the heart of Ginza and Shinagawa was just so enjoyable to watch, and this is thanks to the team that worked on the show.
Leading the pack at Cloverworks is Sword Art Online director Tomohiko Ito, which exited the franchise at the end of the Ordinal Scale film. He took a lot of the staff with him and they're working hard to bring the world of Tokyo back to life in a way only Ito and his team can.
Having worked in Ginza previously, and walking across the bridge featured in the climax – a bridge well known to foreigners in Tokyo as the one to the Shinagawa Immigration Office, a vile place – every moment I spent watching The Millionaire Detective – Balance: UNLIMITED I could recognize key points in the areas. Ito has always been great at recreating Tokyo to suit the needs of the story and characters, and his team did a perfect job capturing the areas shown off in the first episode.
Other than just tone, the voice acting and character animation was on point, making me fall in love with Kanbe's ruthlessness in a heartbeat. I'm super pumped to see what comes next and see where the overall story goes.
You can watch The Millionaire Detective: Balance UNLIMITED on Funimation, Wakanim, and AnimeLab
Big thank you to our supporters
From their continous support, we are able to pay our team for their time and hard work on the site.
We have a Thank-You page dedicated to those who help us continue the work that we've been doing.
See our thank you page