Welcome to the first installment of our Summer 2020 Anime First Impression series! For the uninitiated, here's how it goes: before the start of each new anime season, our readers vote on what series they'd like us to review the first episode of, and we cover the three series that get the most votes. This season our Top 3 were Deca-Dence, The God of High School, and Rent-a-Girlfriend, with The God of High School being the first of those to air.
Here's how Crunchyroll  describes the series:
"Jin Mori has proclaimed himself the strongest high schooler. His life changes when he's invited to participate in "God of High School," a tournament to determine the strongest high schooler of all. He's told that if he wins, any wish he makes will be granted… All the participants are powerful contenders who fight their hardest for their own wishes. What awaits them at the end of the tournament? A chaotic battle between unbelievably strong high school students is about to begin!"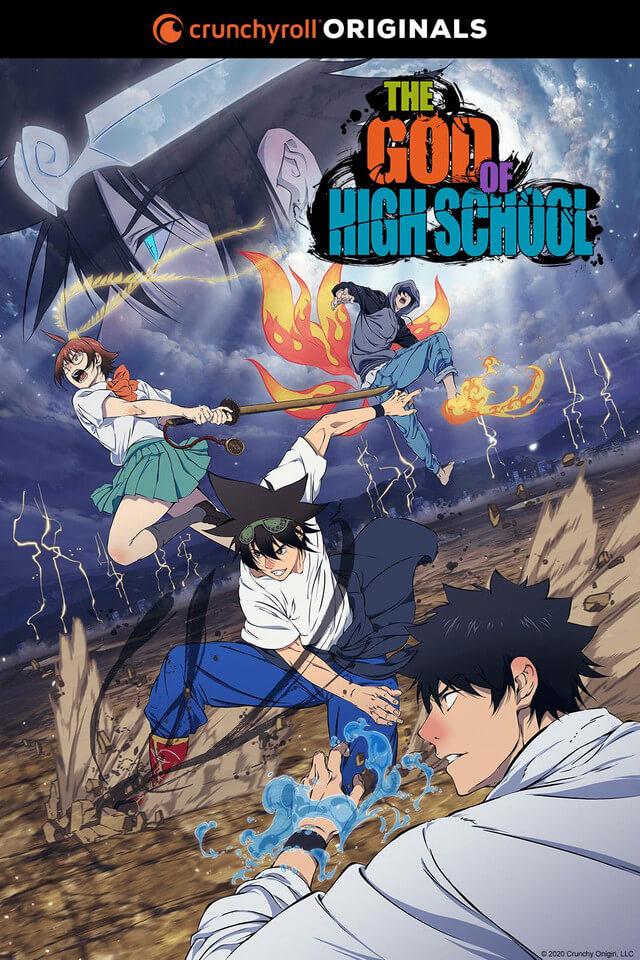 And here's what our team of writers had to say…
The God of High School is another of Crunchyroll's highly anticipated and heavily hyped original anime series. In terms of first impressions, the anime makes a pretty good one so far, promising incredible fight sequences, quirky characters, and a large, connected story. I've seen people complain about the character designs, but I think they're fine in most cases and can't offer any comparisons since I'm not familiar with the original webtoon.
What I really appreciate about The God of High School is its high confidence in believing in its own crazy world-building and story so far. To me, anime is all about crazy fights, loud characters yelling at each other, and hanging out together after school. The anime draws on a lot of these elements and uses it to deliver a familiar, yet awesome experience in its debut episode.
Get hyped up with the opening and ending credits, as they are another highlight of the anime. Overall, I'm looking forward to following Jin Mori and his newfound friends and see where the story goes.
DISCLAIMER: I'm contracted to Crunchyroll – who are the lead producers on "The God of High School" – as their Japan Correspondent for Crunchyroll News. Personally, I had no input in production.
As the second WEBTOON adaptation from Crunchyroll, The God of High School will likely be the second-biggest premiere of the season after the second season premiere of Re:ZERO -Starting Life in Another World-. Unlike the other WEBTOON adaptation, Tower of God, I was going into The God of High School blind, not knowing what to expect.
Frankly, I was surprised at what I got. The fight scenes were super clean and well-choreographed, which isn't surprising considering the fight scenes are mostly motion-captured from actors and then CG'd into the scene, not that you could really tell the fights were CG. In terms of style, director Sunghoo Park knocks it out further than Mira can bat. Each frame is oozing in style, humor, and attention to detail unmatched by other series. You can really feel that Park is an "animation" director.
One of my favorite aspects of the episode was the use of modern technology and how society and technology interact with each other. Earlier in the day, I saw someone on a phone streaming to the internet in Tokyo, then came home and saw the same thing in The God of High School. It's not often you see that kind of modern detail in an anime series.
On the other hand, the biggest issue with the first episode is that the "hook" to reel me into watching the next episode was missing due to the 30-minute runtime. Just as the episode got going, it ended, making me feel unfulfilled. My recommendation is to wait for a bunch of episodes to be released and binge-watch them; it feels like the show is made for that type of watch style rather than watching week by week.
Picture this: it's 9:00 AM on a weekend in late spring. Warm, but not too warm. You wake up to a breeze blowing through your open window. The sun is shining. The sky is empty of clouds. You slowly get out of bed and make your way to your kitchen. You pull a large, juicy orange from your refrigerator. You pull a big tall glass from your cupboard. You take a long, sharp knife from the drawer and slice the orange in half. You squeeze the orange halves over the sink and watch the nutrient-rich juice drain away. You dig your teeth into the peels and scrape the remaining pulp directly down your throat. You spike the knife into the linoleum. You yell and spin-kick the glass off the counter.
That's what it's like to watch The God of High School. It's pure pulp shot straight into your pulp processor. A parade of senseless violence, low on mental nutrients and high on wild, destructive fun. The plot is hilariously thin, but it never needed one anyway. It's just an excuse to get the kids to start running around and beating the bejeezus out of each other, and while there are a few hints that a deeper story will reveal itself later, it's totally unnecessary to your enjoyment of the show.
The show is helped along by some great comedic timing and combat choreography. The animation isn't exactly super smooth at all times, but it does ooze nostalgic style from every pore. The character designs are a bit dated, but it's clearly aiming for a very specific early 2000's vibe. The God of High School could fit right alongside Air Master or Tenjho Tenge in some parallel universe Adult Swim anime block.
As long as you don't need silly things like "lore" or "deeper philosophical meaning" in your anime, The God of High School promises to be tons of fun. I expect to hoot and cheer excitedly at it every week, just like I did when real kids really fought at my real high school every week.
---
You can watch The God of High School on Crunchyroll and VRV.
Wondering where you can watch the Summer 2020 Anime season? We got you covered! See our Summer 2020 Anime & Where to Watch them list!
Big thank you to our supporters
From their continous support, we are able to pay our team for their time and hard work on the site.
We have a Thank-You page dedicated to those who help us continue the work that we've been doing.
See our thank you page