Back in December, I headed to Tokyo to return home for winter vacation. While there, I decided to check out the Doraemon exhibition, known as ドラえもん展 (doraemon ten) in Japanese. For the exhibition, different artists took on the task of recreating the world of Doraemon in their own style, as well as expressing what Doraemon means to them. What happened when professional artists entered Doraemon's world? Keep scrolling to not only check out some of their art, but hear what they had to say about Doraemon and the work they created, too.
Note: the following information comes from the exhibition's display placards. Some text has been changed for the sake of clarity (i.e., typos, grammatical mistakes, etc.).
あんなこといいな 出来たらいいな / Wouldn't It Be Nice If We Could Do Such a Thing
Artist: 村上隆 / Takashi Murakami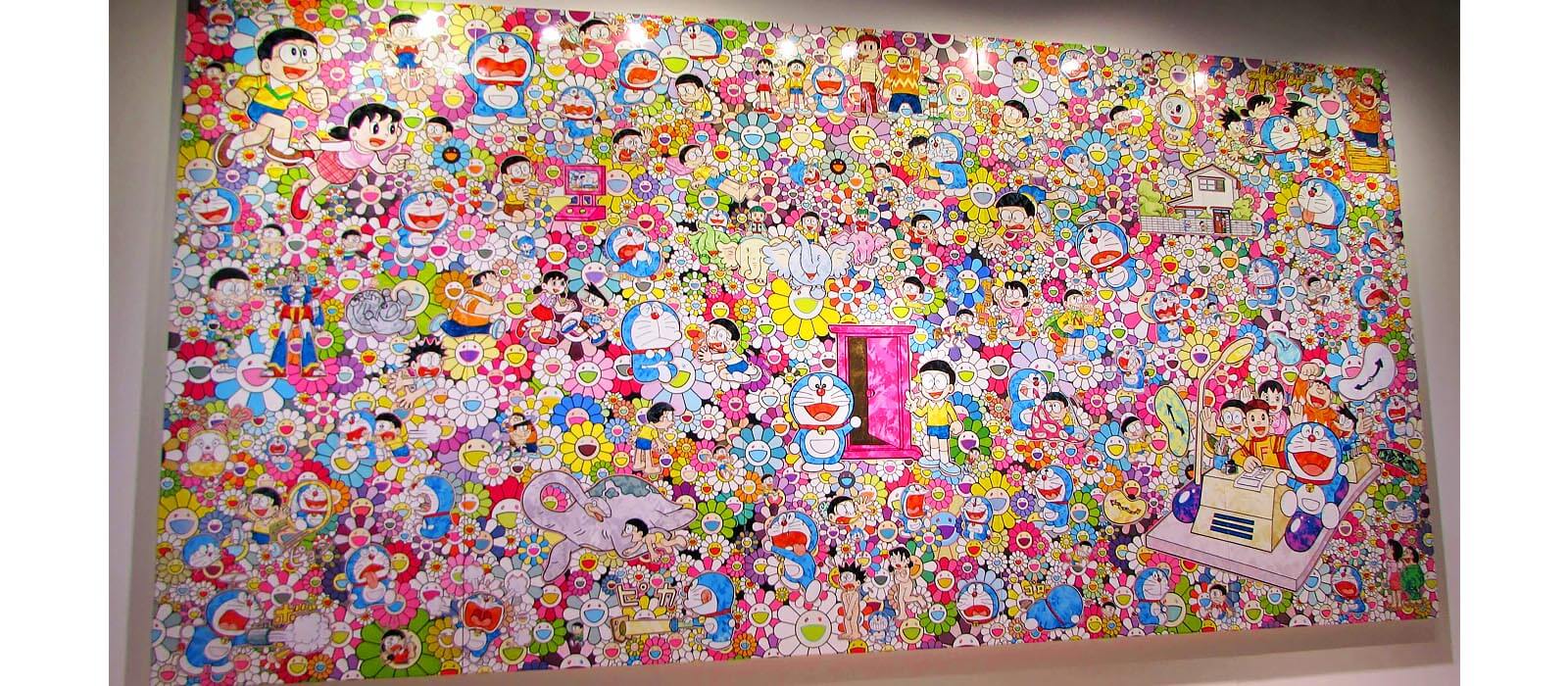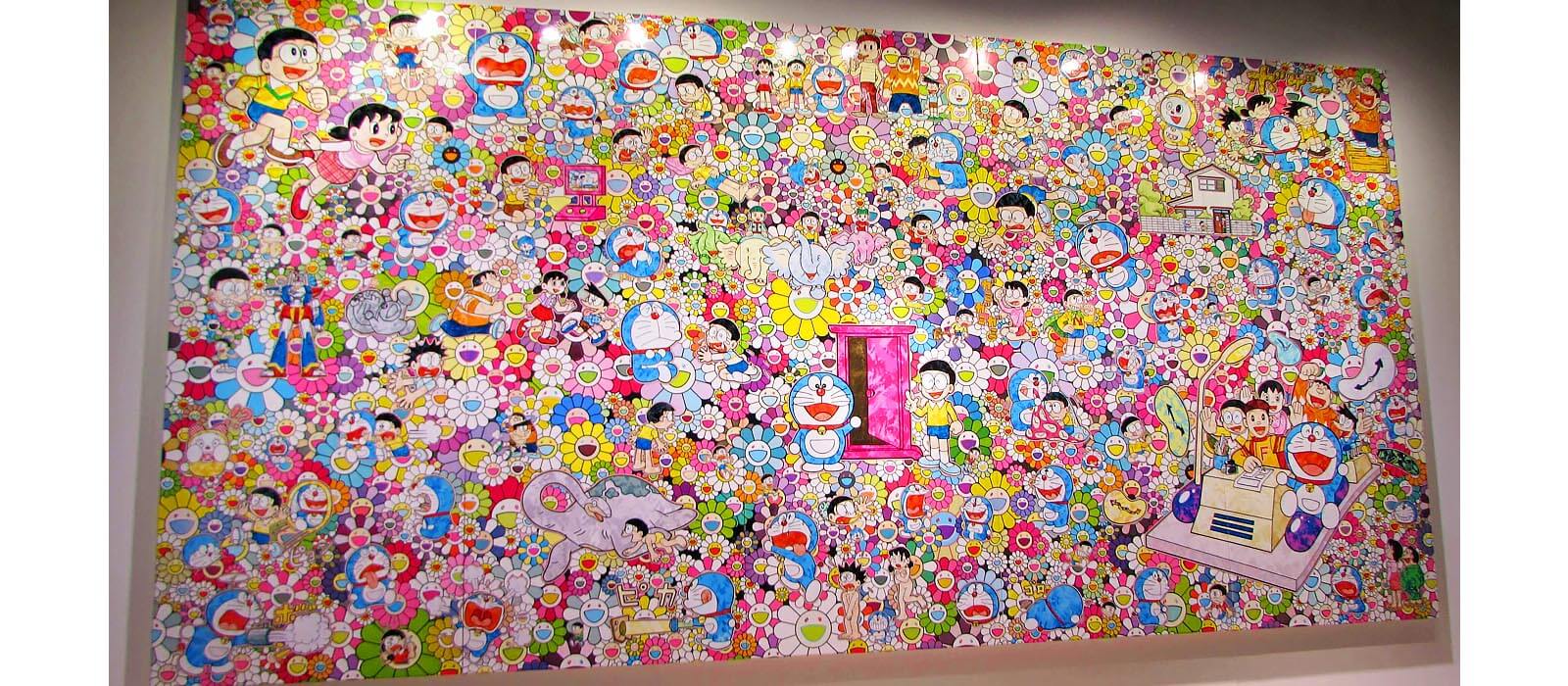 "While I was pondering over what was the most important thing in the Doraemon series, I realized that maybe Fujiko F. Fujio himself held the key. When I inserted him into the picture, it was as if the whole thing had suddenly come alive. The development of manga in Japan after the Second World War is unprecedented; there's been nothing like it anywhere around the world. It's an art form, an aspect of culture that Japan pioneered and developed. This time around, I'd like people to approach this work as a response to the question of how contemporary artists should address the behemoth that is manga, and to sense through it the incredible depth of Doraemon and the quintessential essence of manga as an art form."
2017. Acrylic, gold leaf, and platinum leaf on canvas mounted on an aluminum frame.
---
重力ちょうせつ機 / Gravity Adjuster
Artist: Mr.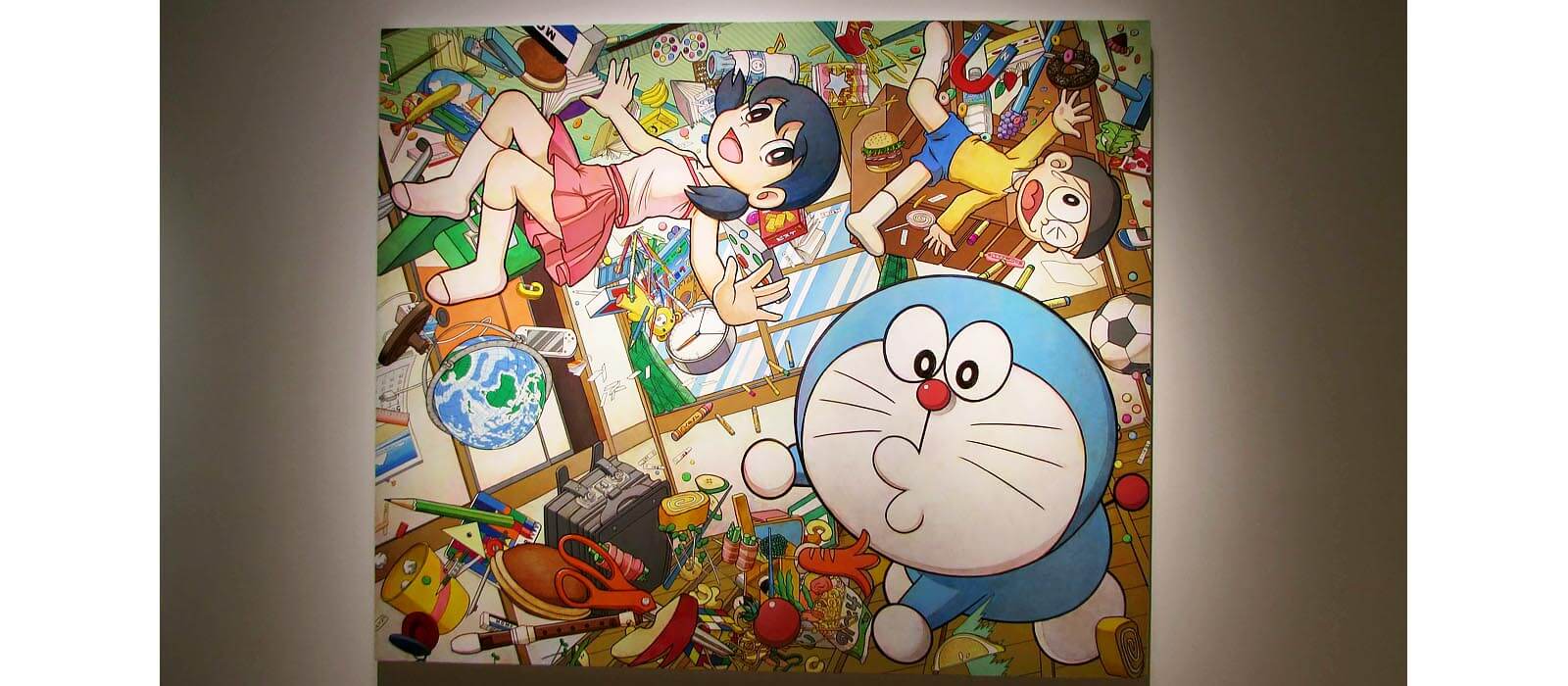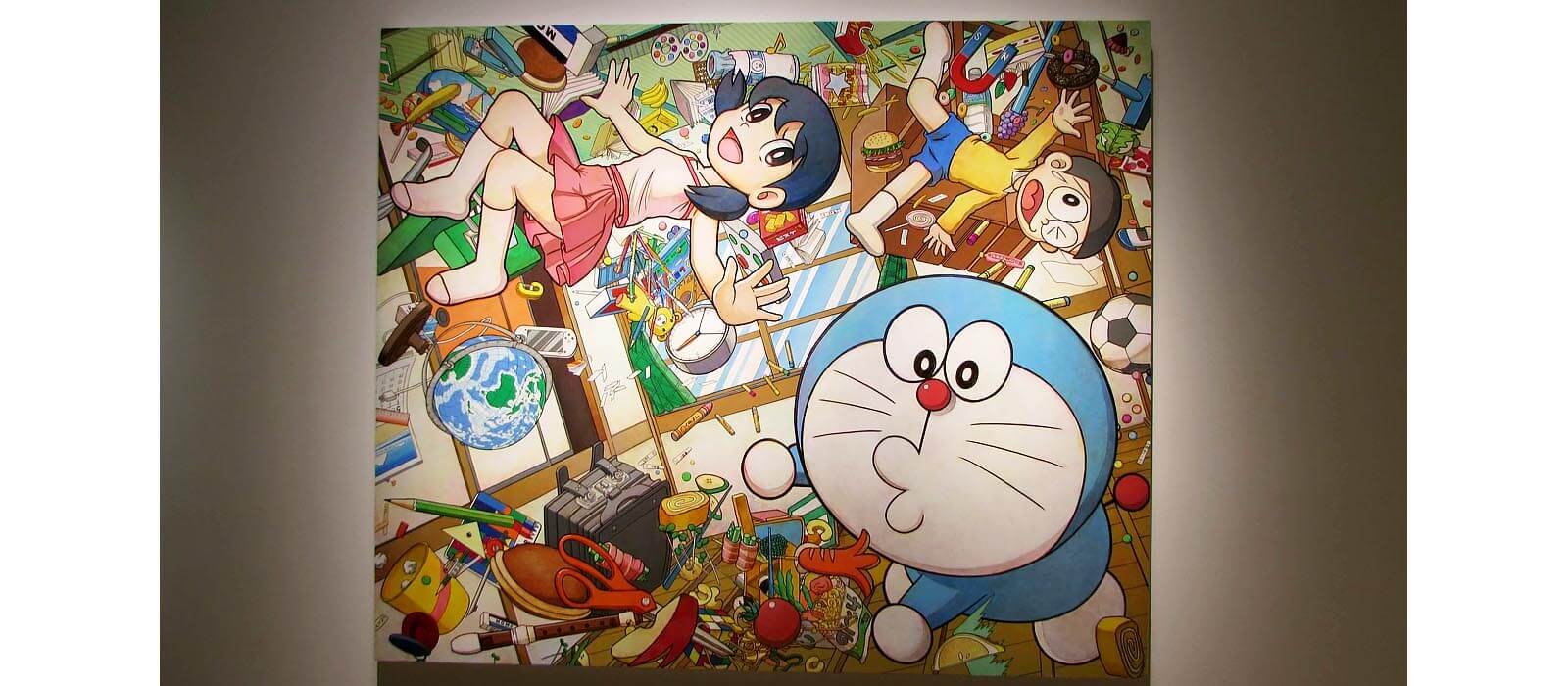 "I dreamed up a scene where everyday elements coexist with the out of the ordinary. I studied the Doraemon manga to get an accurate grasp of the layout of Nobita's room – which also often appears in the animation – and then re-created this as accurately as I could. Flying freely around the room are things like items of stationery, candies, toys, and so on, which have been freed from gravity by the 'Gravity Adjuster,' one of Doraemon's Gadgets. It could be that objects that belong to children's every day lives seem nostalgic and rather out of the ordinary to us adults. I hope that the painting allows people to experience the world of – where the present commingles with the future – coming together with their everyday worlds."
2017. Acrylic on canvas.
---
波上群仙図 / Hermits on the Waves
Artist: 福田 美蘭 / Miran Fukuda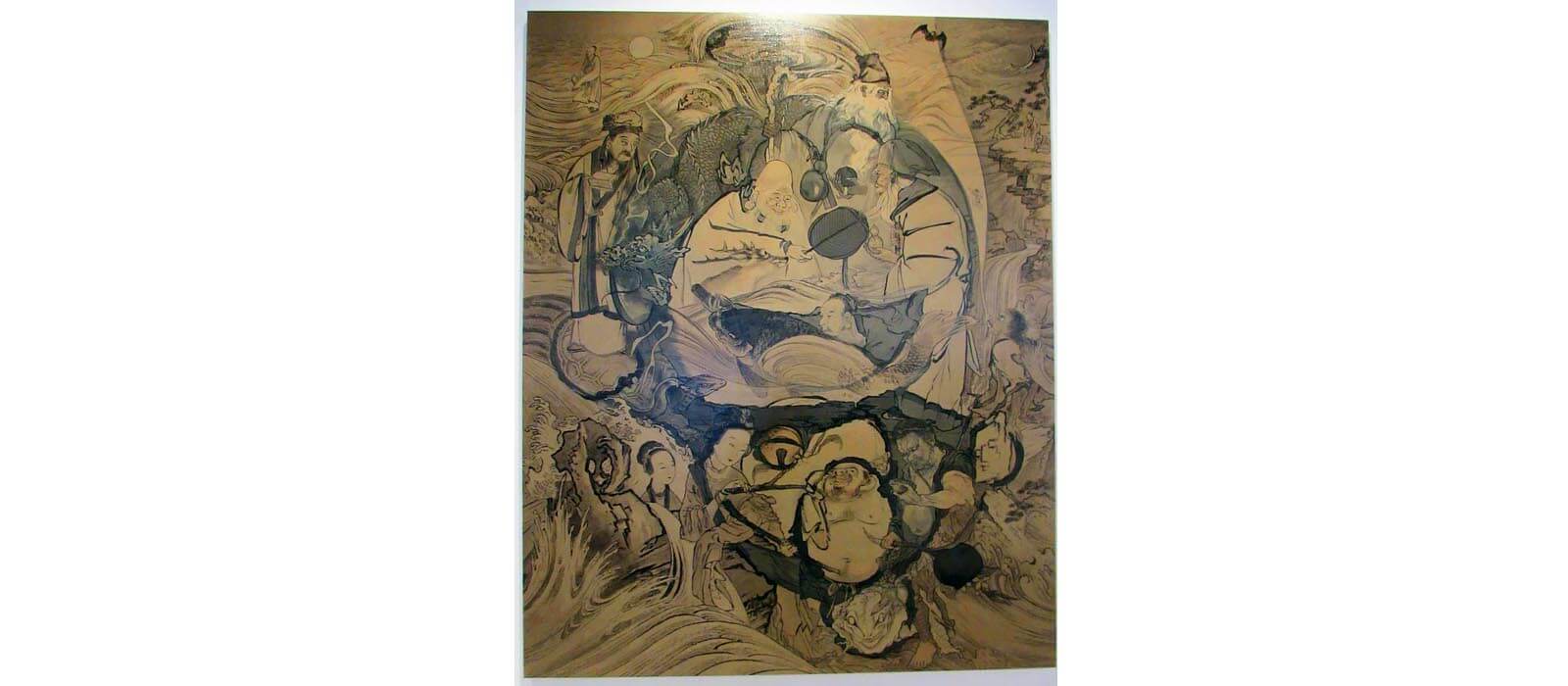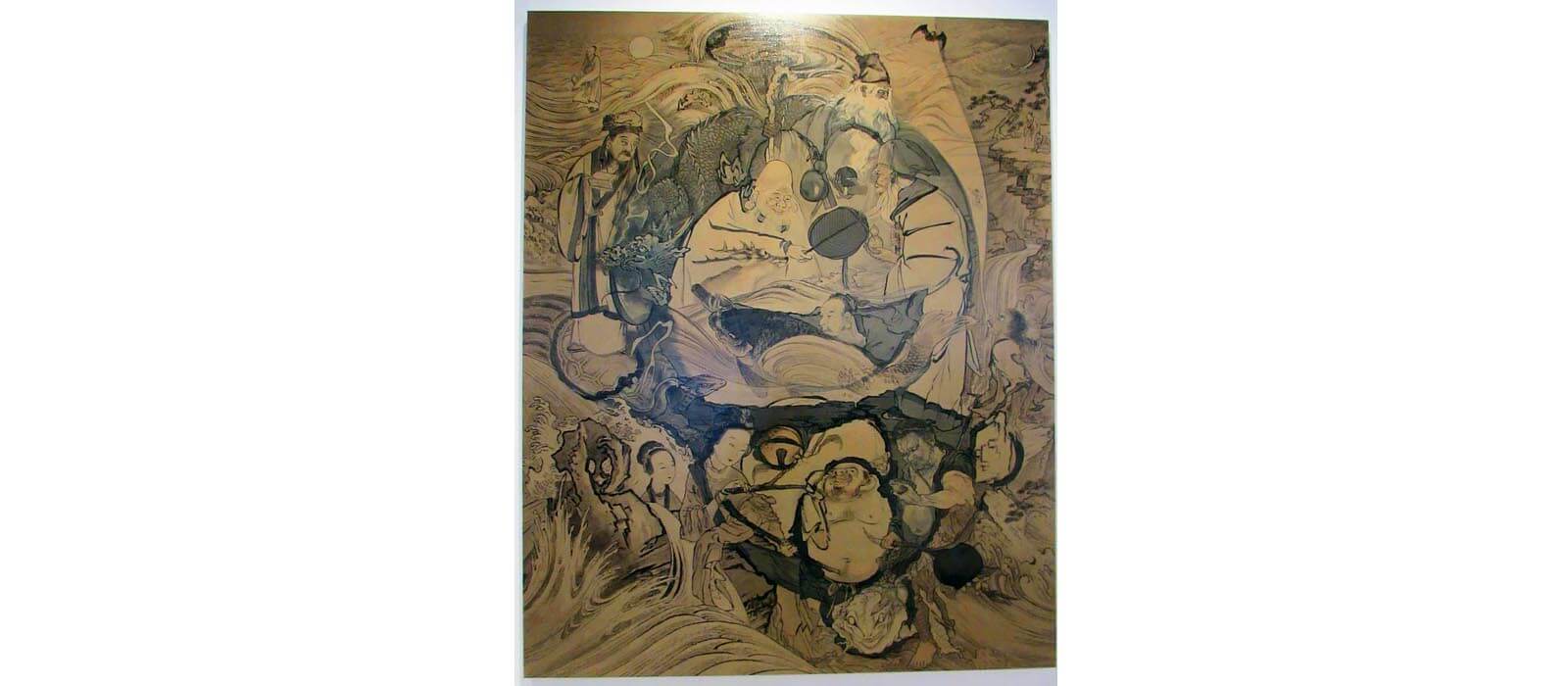 "This forms a pair with the work I created for the last exhibition, but this time, I chose ancient Chinese hermits as my theme. Hermits are immortal beings who live in the mountains and use mysterious techniques, valuing a way of life that is not influenced by commonplace views. The various narratives about them, which draw on a Taoist view of nature that is both mystical and mythical, have been passed down through history for the sense of the out-of-this-world fantasy they offer. When engaging with fantasy that opens the door through to another world, we feel both a sense of awe, and also the courage to examine our everyday lives more closely. I feel like that's something that's shared absolutely with the Doraemon series. So I decided to create a double image, with hermits walking on water and talking amicably, while Doraemon flies over the waves with his Hopter."
2017. Acrylic on panel.
---
しずかちゃんの洞窟 / Shizuka's cave
Artist: 鴻池 朋子 / Tomoko Konoike
"When I received the request to participate in this show, I immediately started wondering how Shizuka was doing, and replied almost straightaway that I had decided to create Shizuka's cave. The allure of the Doraemon manga lies in all those rounded lines. When I tried drawing like that myself, I had the sense that not just Fujiko F. Fujio but all kinds of Japanese manga artists from history were living on in those lines. They come together as a crowd, giving Doraemon all that effervescent energy. I felt that if even a little of that effervescence would rub off on me, then there was no doubt that something unexpected and fun would happen in the work I produced."
2017. Crayon drawing on leather, fur (4D Pocket).
---
ノー・アイテム・デー / NO-TOOL-DAY
Artist: 山口 晃 / Akira Yamaguchi
"I decided on a manga-like presentation, so I would be happy for you to read this work as manga. But do please also have a go at looking at it as an image. For example – after reading a certain amount of characters, please next try gazing back on them without reading them – and you may find that slightly different things appear.
"I hope you will experience a deepening of your awareness whilst gazing blankly at it. Please, enjoy."
2017. Sumi (Japanese ink) and pen on Japanese paper.
---
ドラス / DORAS
Artist: 森村 泰昌&ザ・モーヤーズ / Yasumasa Morimura & THE MOHYAS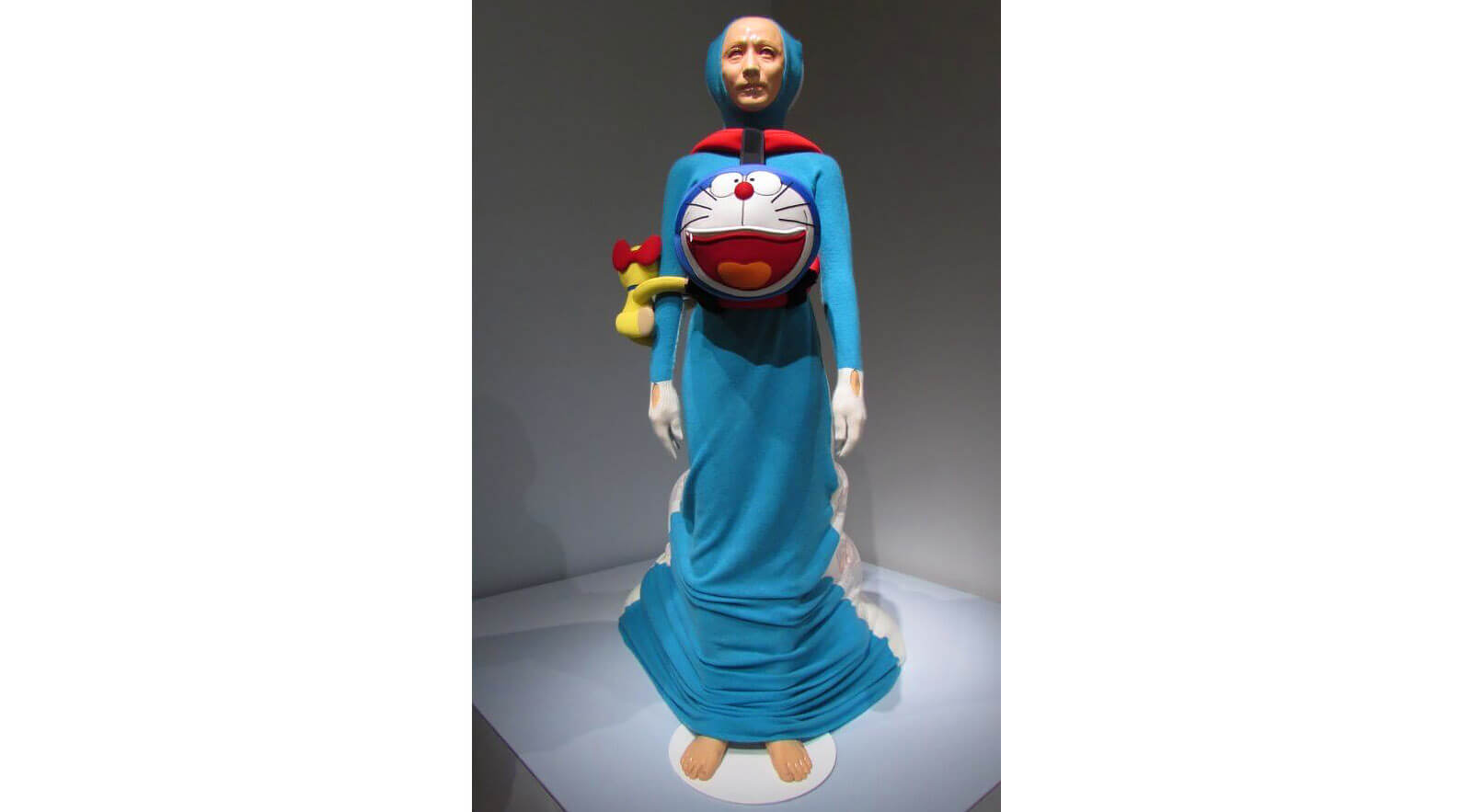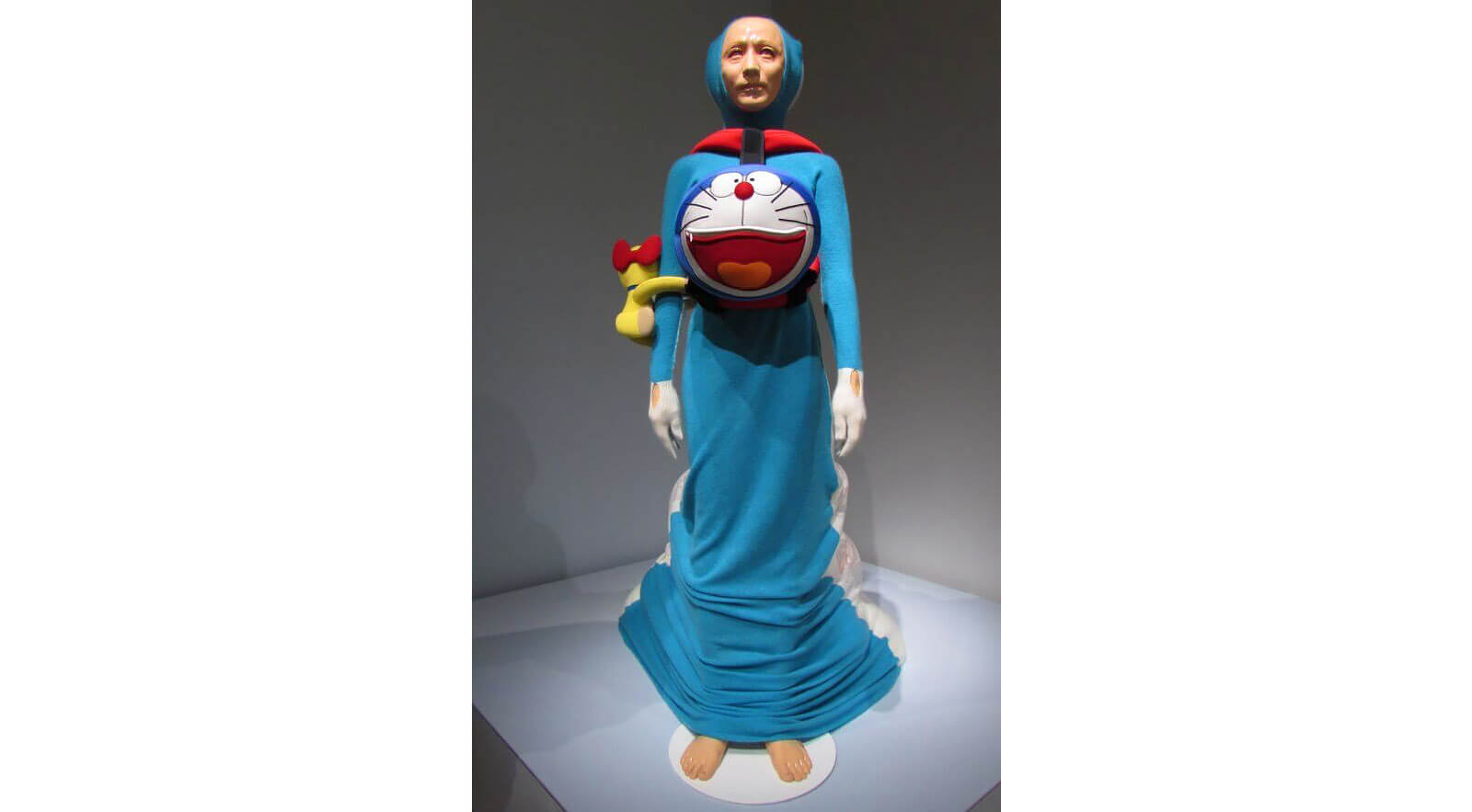 "I created a dress based around Doraemon, and then put it on a doll created in my image. I wasn't intending to create a Doraemon costume, though, but a dress that drew on the world of Doraemon to create an elegant look. It's Doraemon's dress, i.e. a DORAS. It's got a cosmic feel to it, but it's also charming and elegant. I hope my viewers will feel like they, too, want to try wearing the DORAS."
Artwork shown at "THE Doraemon exhibition" in 2002. Dress: cashmere 97%, polyurethane 3%. Bag: polyurethane. Shima Seiki: whole garment, transfer print.
---
静かな決意 / Determination
Artist: れなれな / RenaRena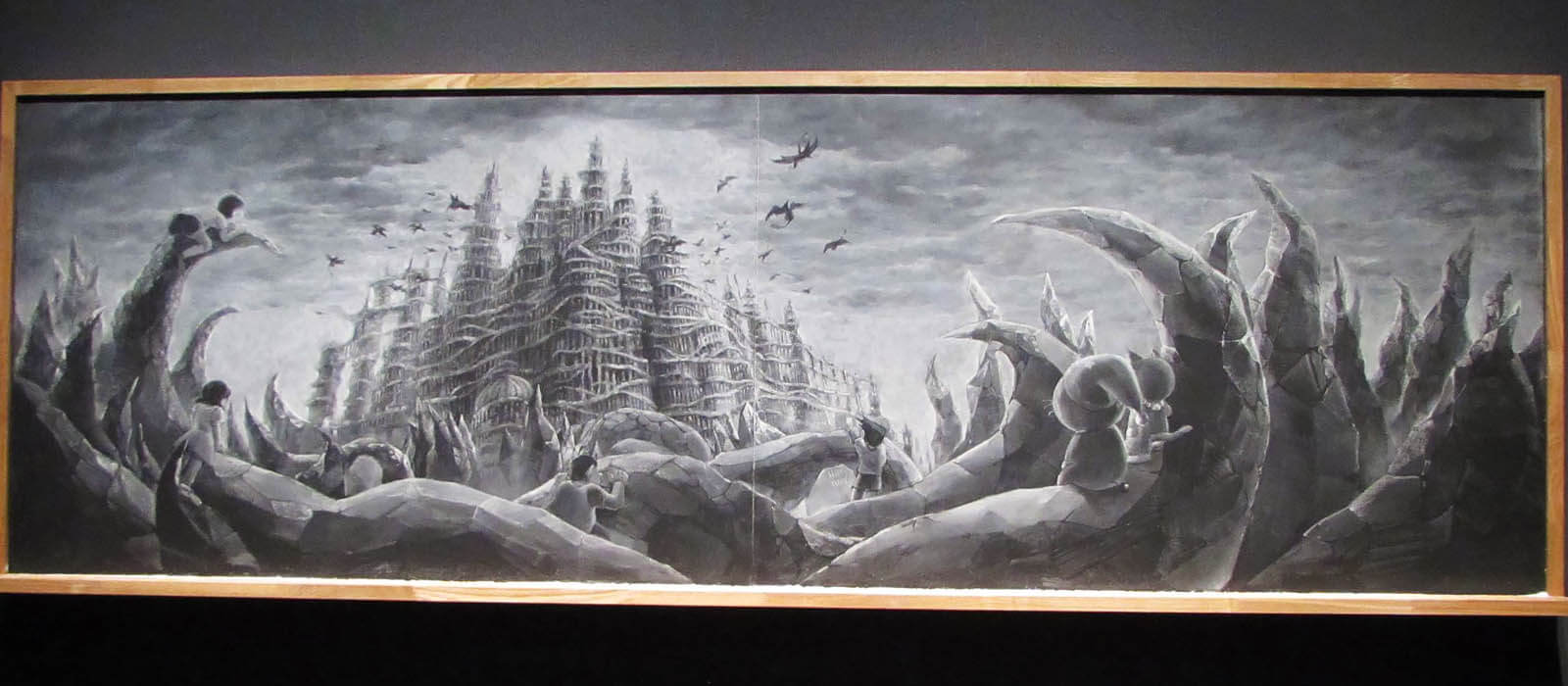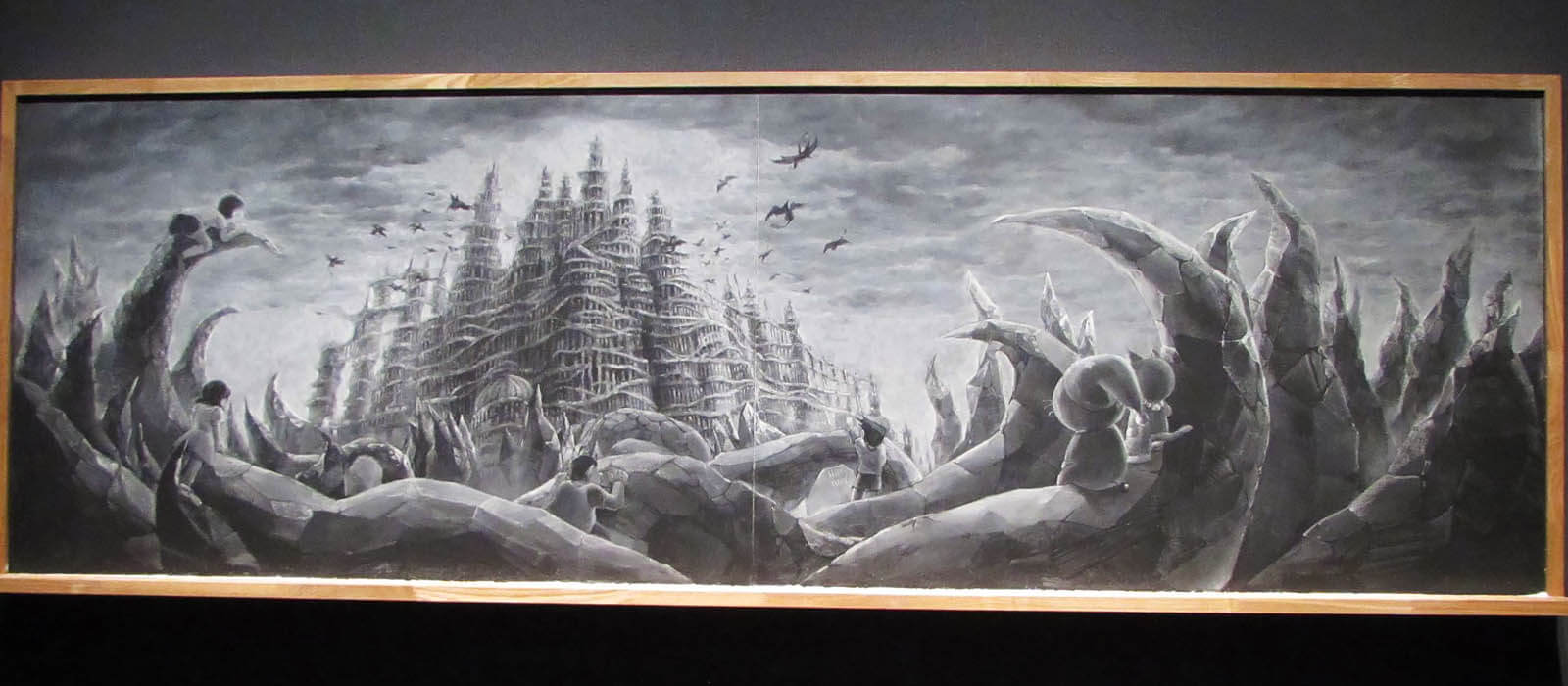 "I have presented the backdrop to the Doraemon stories – one of those things that we all look at frequently in our everyday lives without realizing it – by itself. The backdrop: the stage for the action, the place that makes the characters' existence possible. But, just as the existence of landscape paintings suggests, it can sometimes be interesting to focus on those backdrops rather than on the characters. Doraemon the Movie: The New Nobita's Great Adventure into the Underworld really stirred up that kind of feeling in me. With this work, I wanted people to re-experience something they've already seen in a different way. I hope that it might make people want to rewatch or reread Doraemon, or else to look more carefully at the world around them."
2017. White chalk on blackboard, white ink painting based on aerial perspective with sfumato technique. Based on Doraemon the Movie: The New Nobita's Great Adventure into the Underworld.
---
To the Bright〜のび太魔界大冒険〜 / To the Bright: Nobita's Great Adventure into the Underworld
Artist: 篠原 愛 / Ai Shinohara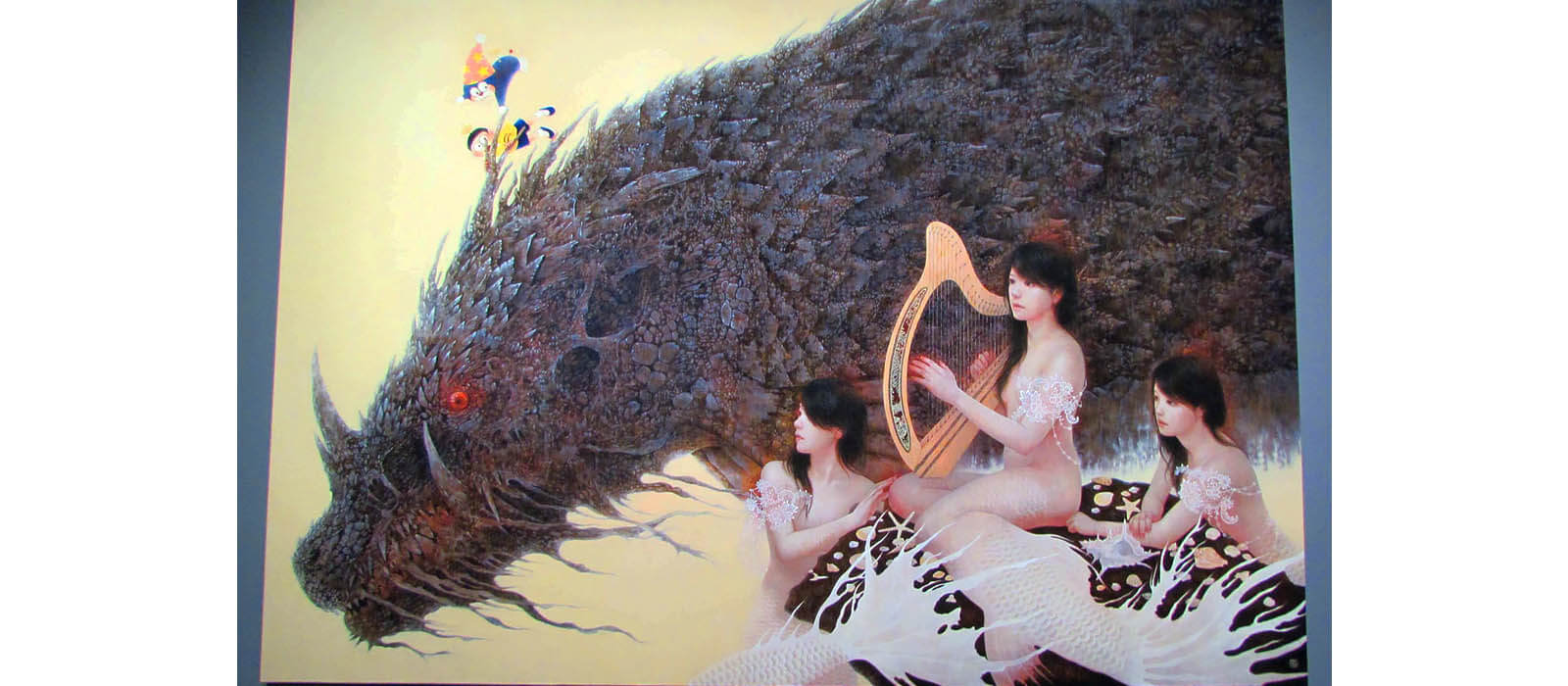 "In the Underworld, Nobita encounters an island with Mermaid Demons and the Whale Demon. In the movie, they're his enemies, but I wanted to see them all playing around and having fun with one another, so I created a happy parody.
"My style when I paint with oils is so different from the original art in the manga that I really struggled with putting this painting together. I would like it if people could approach it with curiosity, as an expression of how Doraemon might look when rendered in oils."
2017. Oil on canvas. Based on Doraemon the Movie: The New Nobita's Great Adventure into the Underworld.
---
選んだゆめときぼう / A Chosen Dream and Hope*
Artist: 中里 勇太 / Yuta Nakazato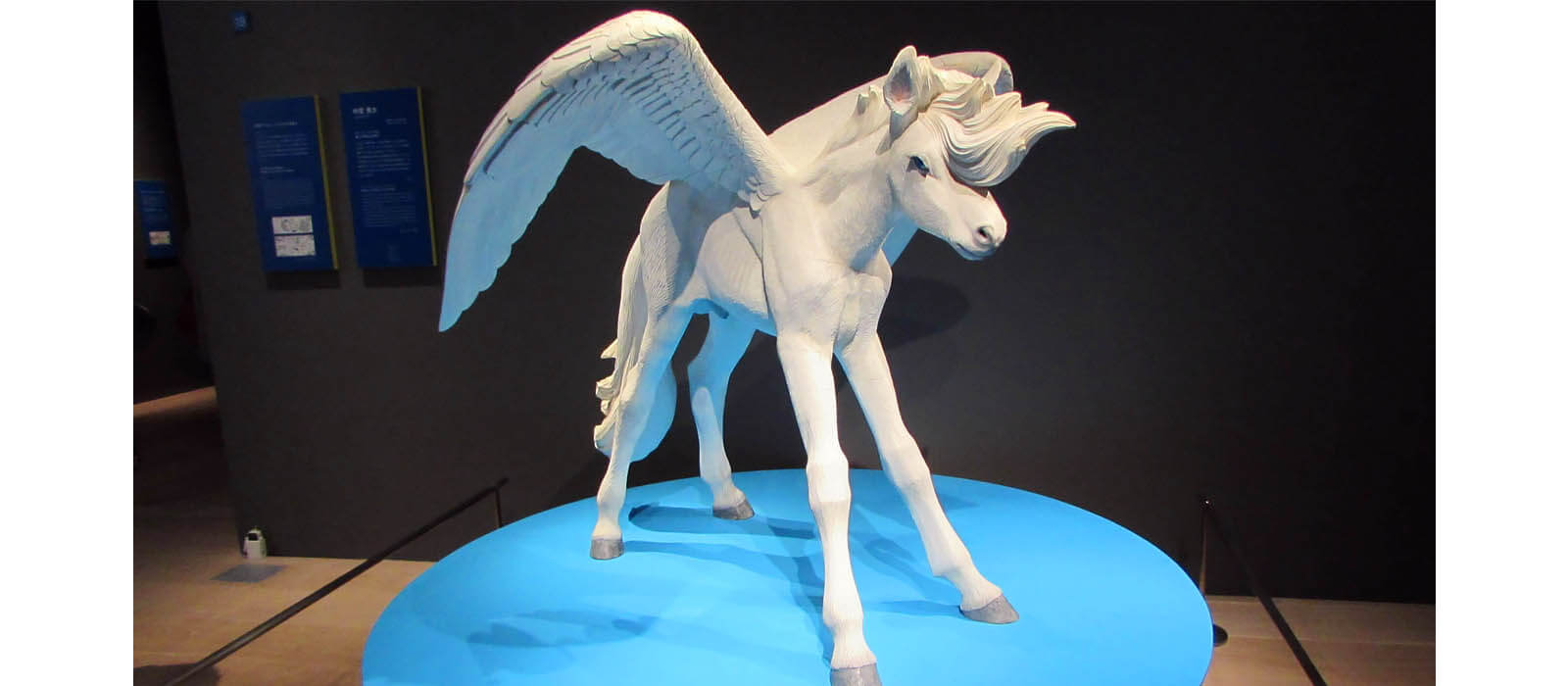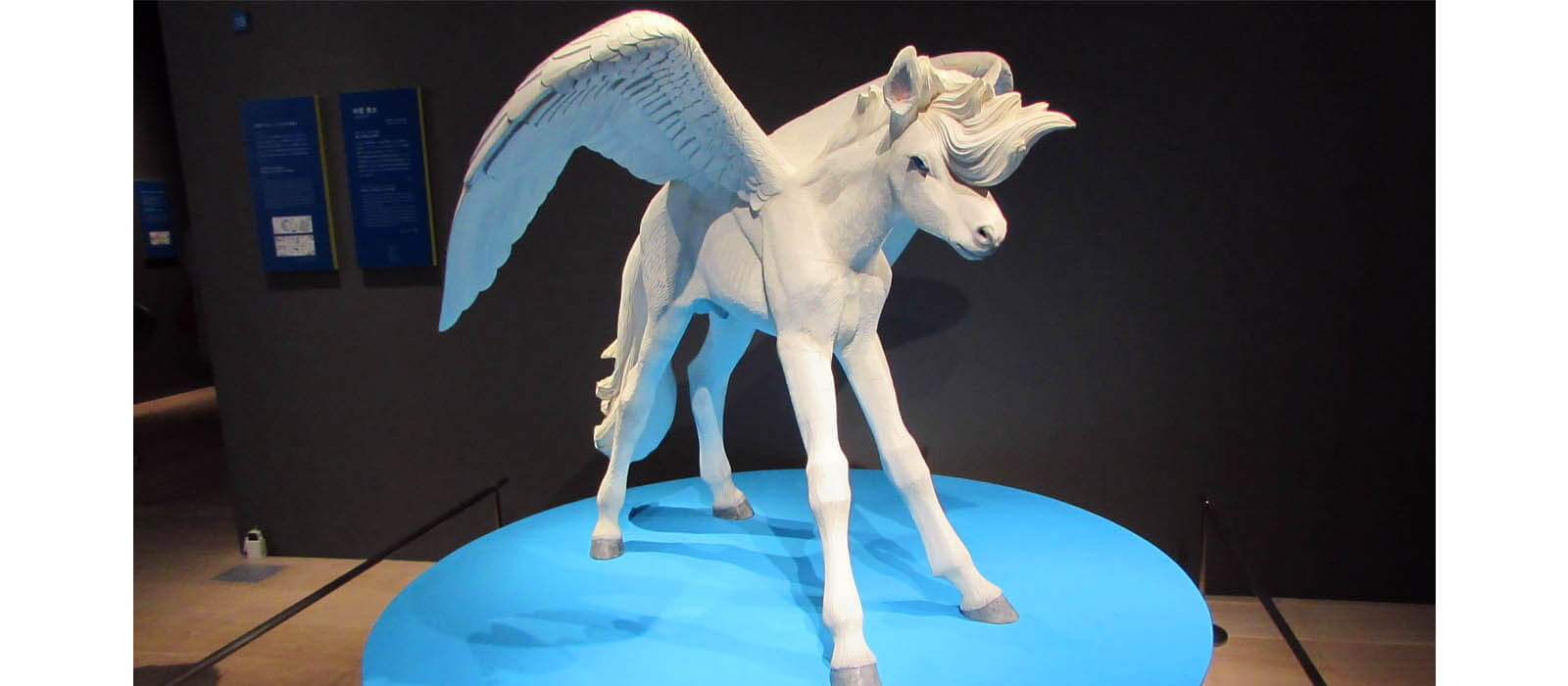 "These are the three animals that Nobita dreams up and brings into existence using Doraemon's Gadgets: Pega, Guri, and Doraco. I feel like these three really symbolize the whole Doraemon world, so I took them as my starting point for this work.
"When carving these creatures from wood, sitting in front of them for long periods of time, I found my attention turning to Doraemon-related issues that aren't dealt with in the manga or anime–issues related to growing up, the worries and preoccupations of adolescence, the question of living the life you want to–so that I feel the characters' inner workings are brought out into the open through my sculptures."
2017. Paint on Camphor wood. Based on Doraemon the Movie: Nobita and the Birth of Japan.
*Note: the exhibition's translated title for this piece was Chosen a Dream and a Hope.
---
僕らはいつごろ大人になるんだろう / I wonder when we'll grow up
Artist: 坂本 友由 / Tomoyoshi Sakamoto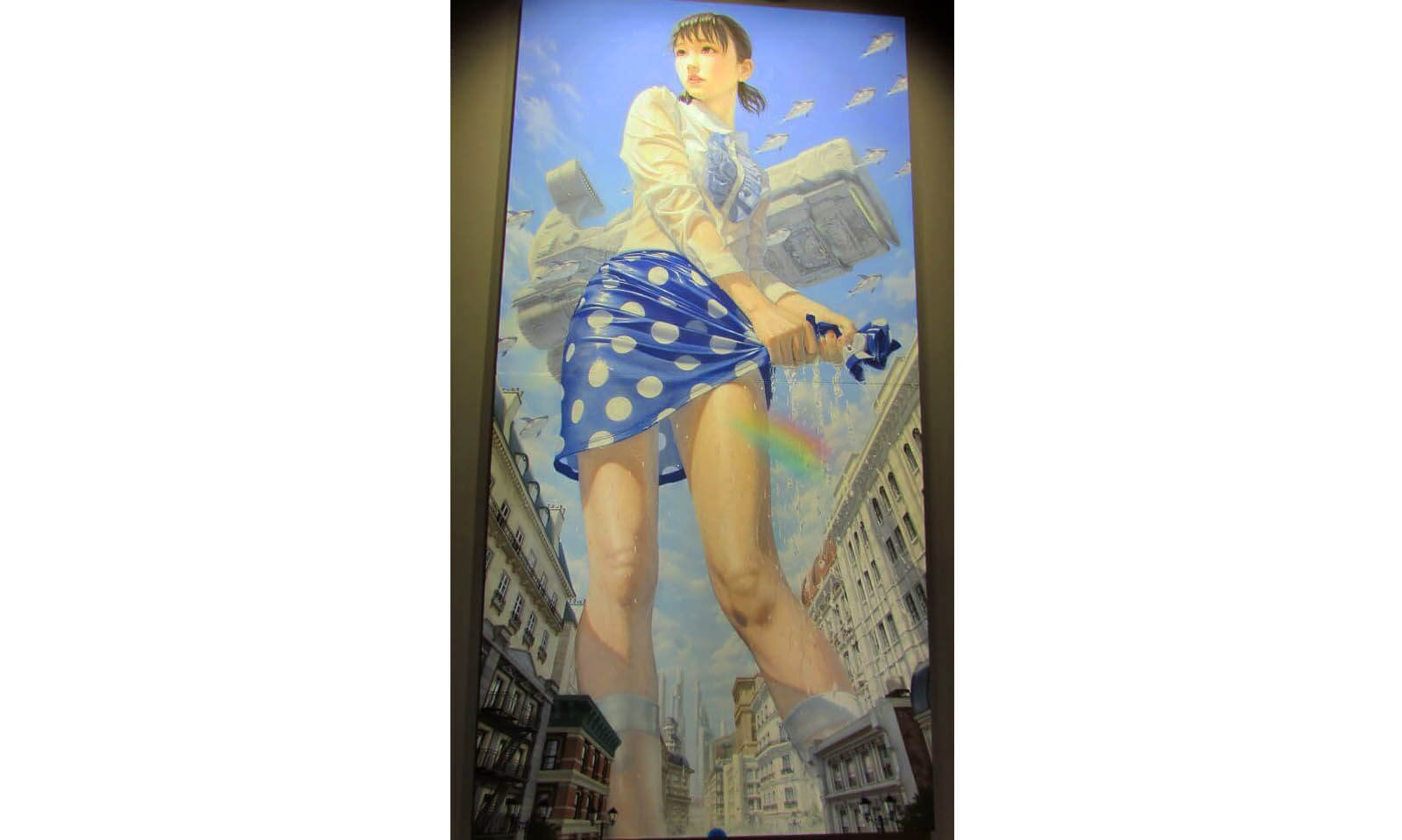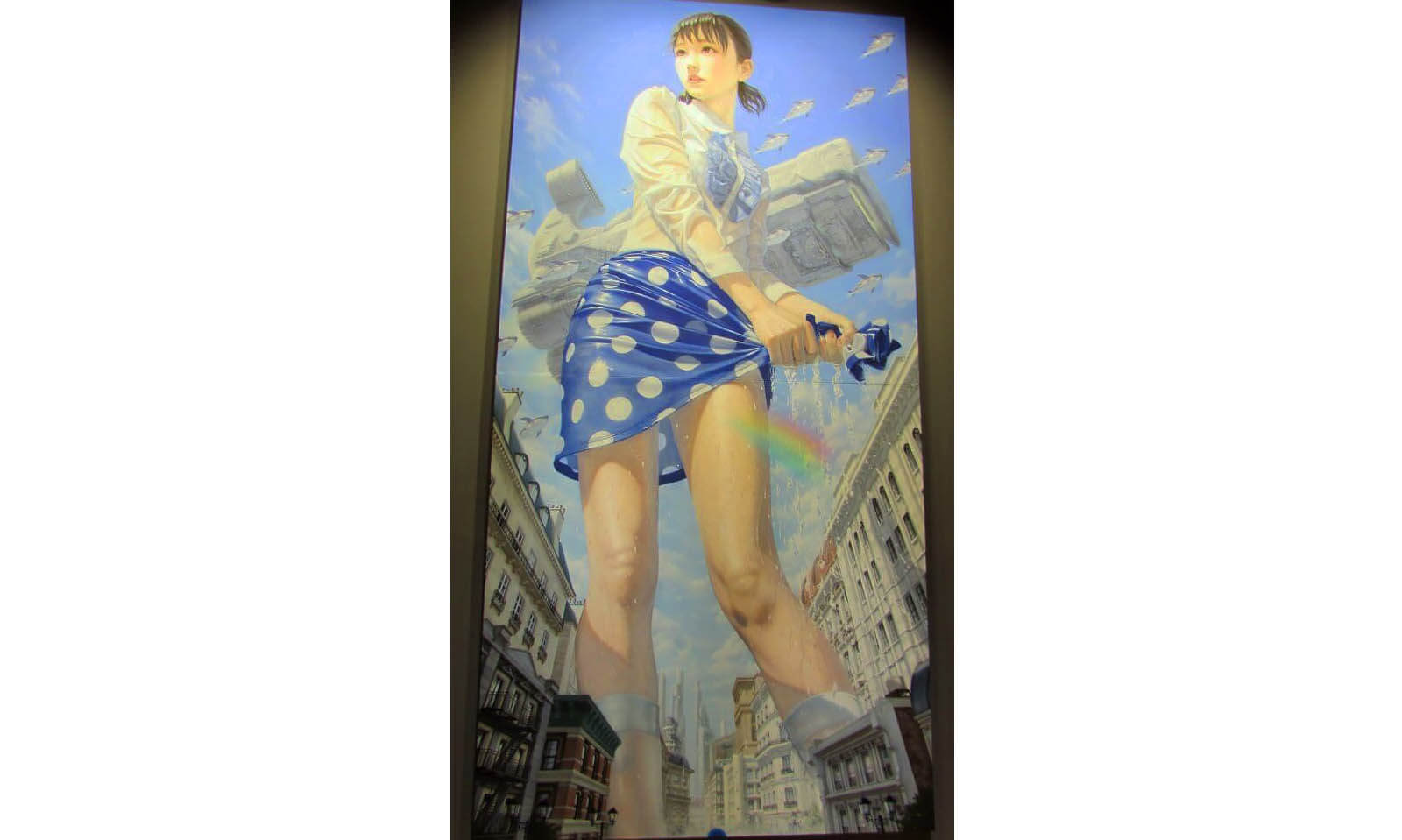 "I'm a fan of large paintings, because they give the viewer an experience that's different from usual. I think it's probably a similar thing to watching a movie on the big screen. The ones experiencing that sense of occasion isn't just us viewers, though. The guys on the screen have also been plucked out of their everyday lives and thrown into a great, big adventure. I thought I'd try and use a climactic scene as a way of pinning down that sense of the extraordinary, and sharing it. In confronting danger, the characters grow as people, and take a step toward adulthood. I feel like the story of that growth is a kind of parallel world unique to Doraemon the Movie. In creating this work, I felt like I'd like to add my own painting to one of the Doraemon characters' parallel worlds."
2017. Acrylic on canvas. Based on Doraemon the Movie: Nobita's Little Space War.
---
山本空間に突入するドラえもんたち / Doraemon and Friends Plunging into the Yamamoto World
Artist: 山本 竜基 / Ryuki Yamamoto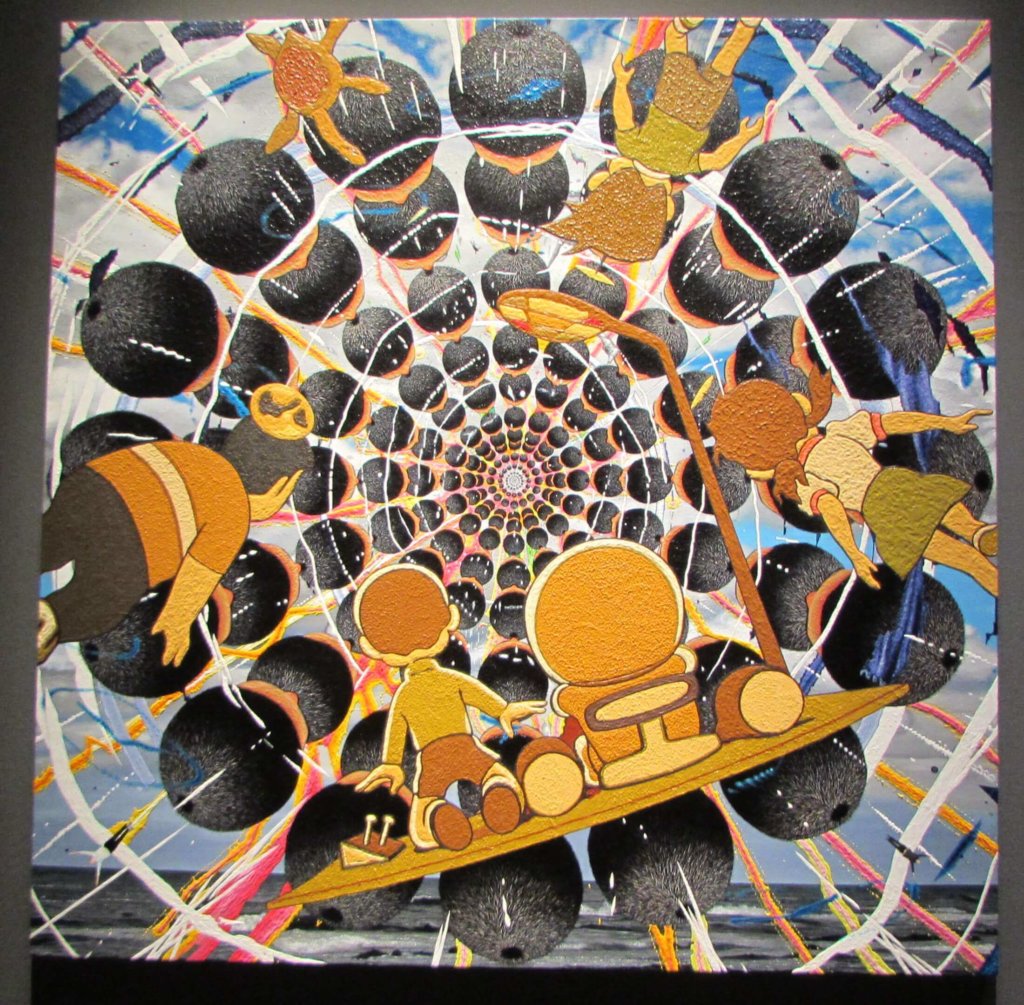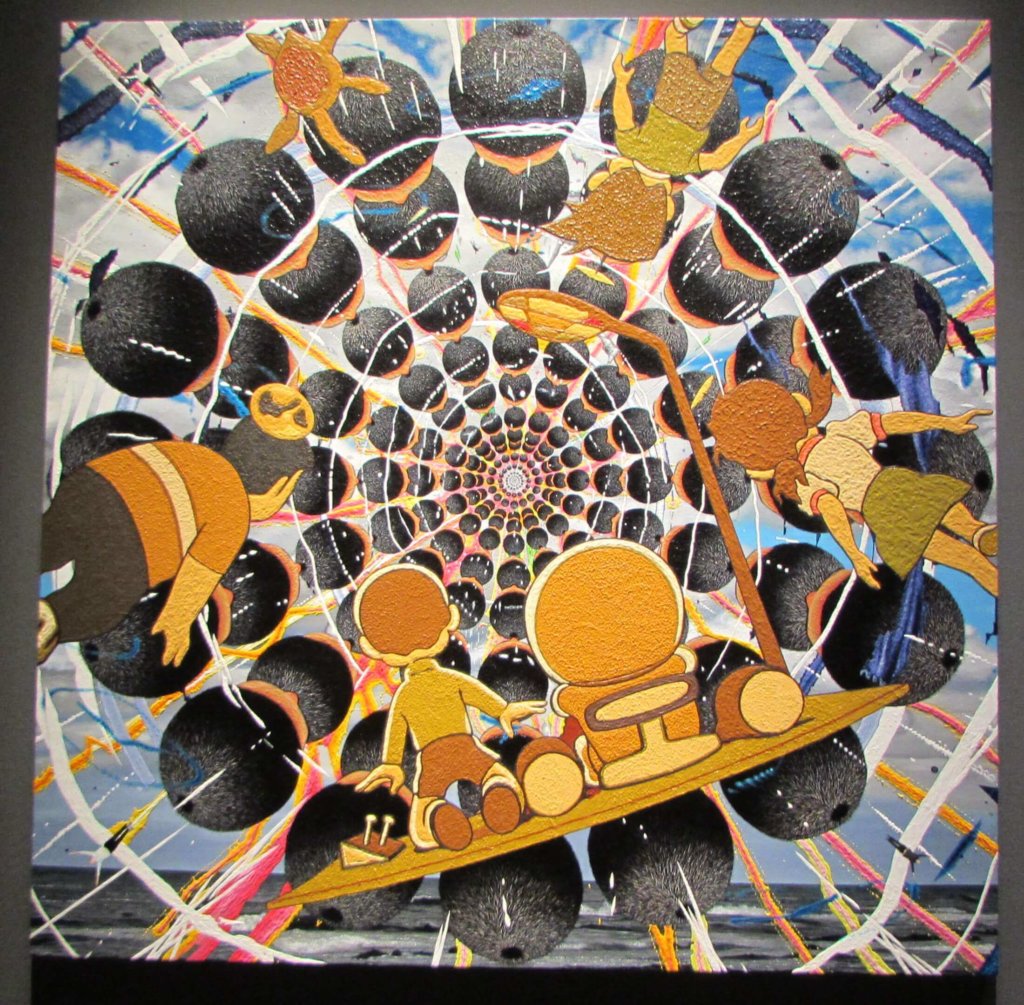 "The first manga someone bought me as a kid was Doraemon: Nobita's Dinosaur. It was the start of my strong connection with Nobita and the way he thinks. I still treasure my copy of it today, in part because the person who bought it for me was my grandma, who I adored. Because of all those memories attached to it, I decided to concentrate on that movie for my piece this time. In Doraemon: Nobita's Dinosaur, the 'time machine' malfunctions, and Doraemon and the gang are sent to America as it was in the Cretaceous Period. As I watched that, I'd think about how much I wanted them to come to my world–that is, Yamamoto World–too. I took that desire as the basis for this work, creating a picture of the moment they break through into the Yamamoto world. Thinking about what they're going to do once they get here makes me grin from ear to ear."
2017. Acrylic on canvas. Based on Doraemon the Movie: Nobita's Dinosaur.
---
ときどきりくつにあわないことするのが人間なのよ / Sometimes humans do things that just don't make sense.
Artist: 近藤 智美 / Satomi Kondo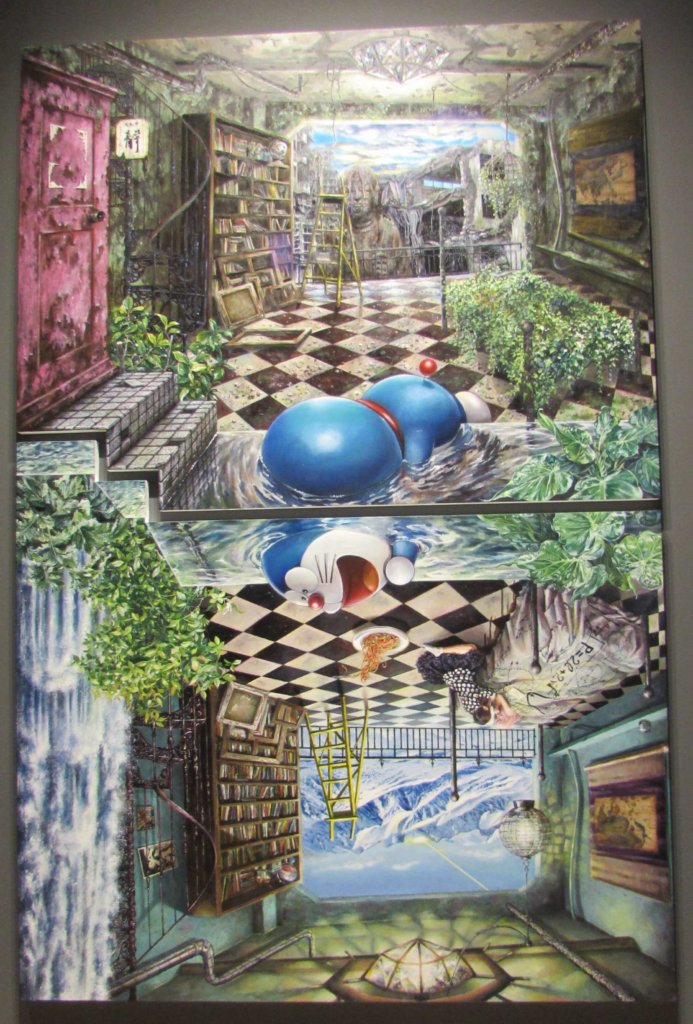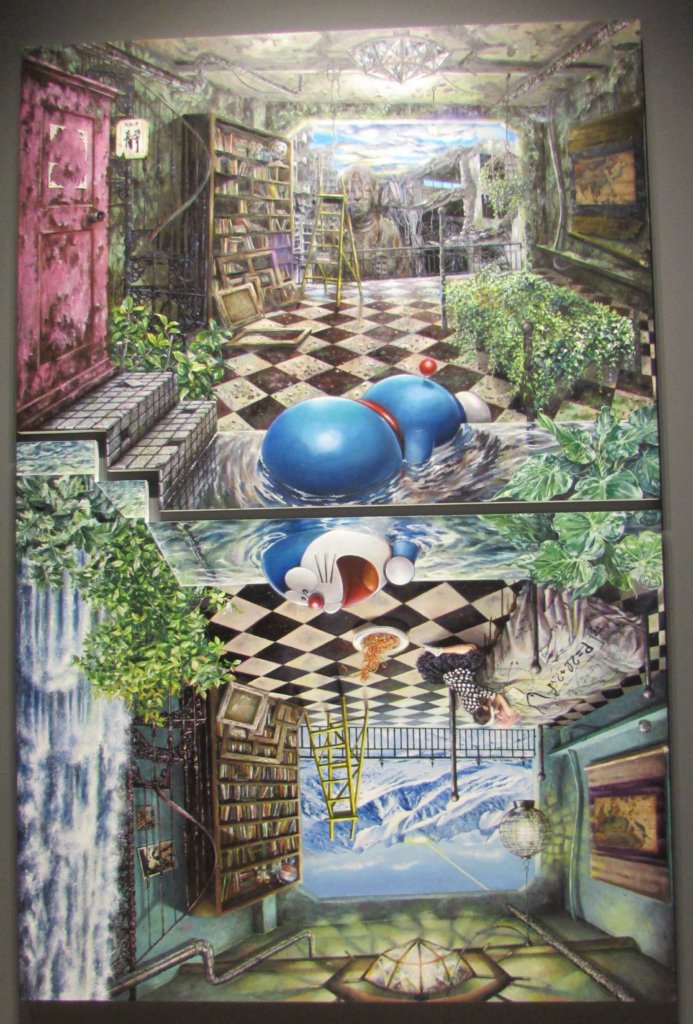 "Before I saw Doraemon the Movie: Nobita and the Steel Troops, I used to have dreams featuring something like the mirror world that appears there, and that was the departure point for my picture this time. Dredging up my memories of the past wasn't a pleasurable experience, but I managed to remember even the smell of the house I grew up in, back at the time when Doraemon was a close friend of mine. This movie is quite unique in that it's mainly about the complicated feelings and relationship between Shizuka and the robot girl, Riruru. During that interaction, Shizuka says to Riruru, 'Sometimes humans do things that just don't make sense.' I feel like this line is open to multiple interpretations, but in my case, I felt like it applied to the painting itself. So I surrendered to the illogicality of it, and went about the painting honestly and straightforwardly."
2017. Oil and acrylic on panel. Based on Doraemon the Movie: Nobita and the Steel Troops.
---
さいごのウエポン / Final Weapon
Artist: 増田 セバスチャン / Sebastian Masuda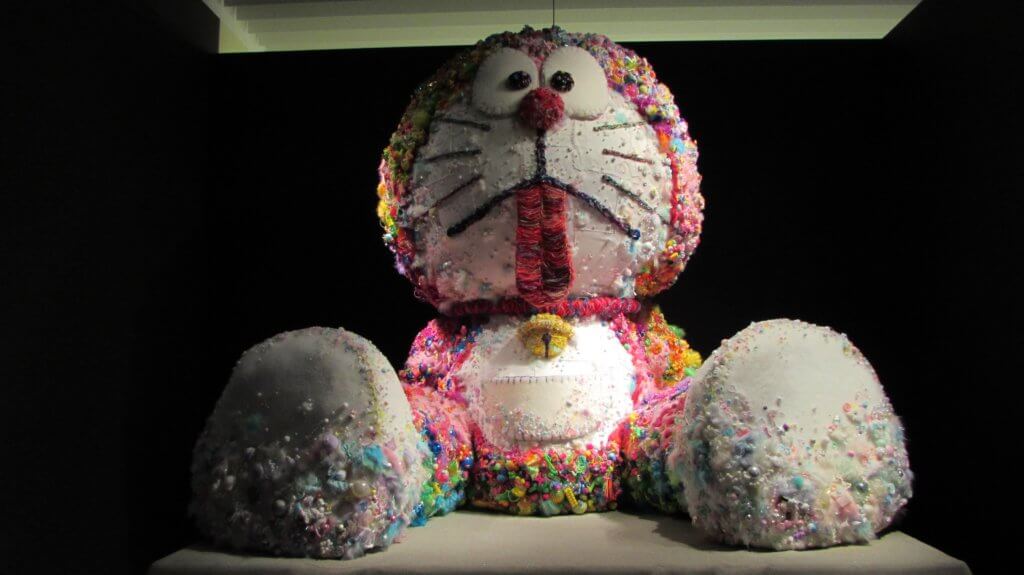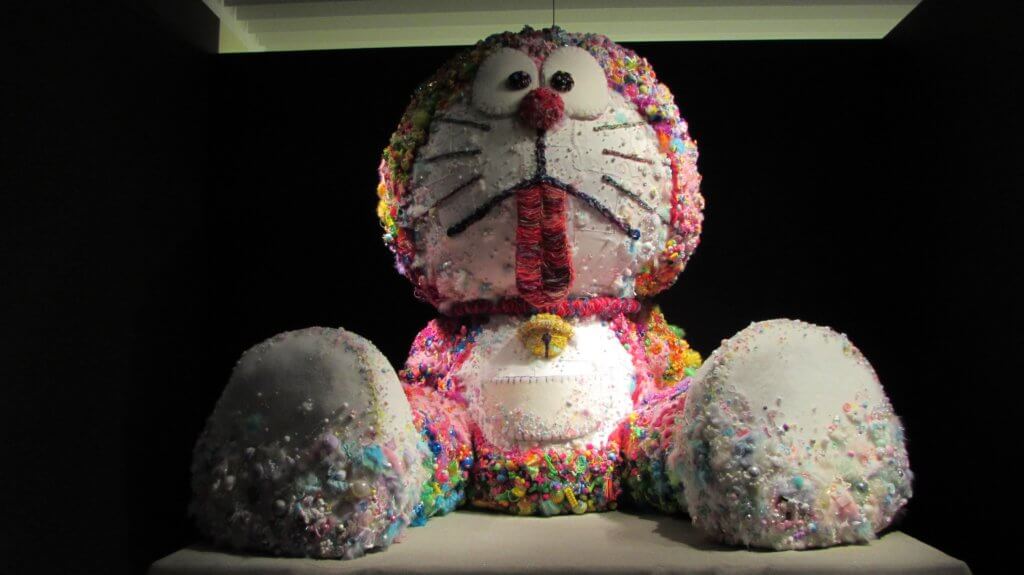 "What if Doraemon were around in this age? What if he wasn't?"
"In Doraemon the Movie: Nobita's Dorabian Nights, the real world has gotten mixed up with the world of fairy tales. That seems a bit to me like how sometimes the things that we see happening on TV or on the internet, seem to be taking place in a world that has no connection with ourselves. And yet, in that case, it's reality. The starting point for this work was the idea that, in this age of ours, a Doraemon toy is suddenly found abandoned, standing in a desert somewhere.
"When is this? Is this the past, or present, or future? Where is this? Why am I here? Laughs, sadness, joy, suffering. Anger, anger, and more anger.
"The 'Final Weapon.' If only Doraemon were here, he'd have the solution to all our problems…"
2017. Wood, cloth, cotton, plastic, yarn. Based on Doraemon the Movie: Nobita's Dorabian Nights.
---
Find out more about the artists featured in the exhibit by checking out their social media:
Are you a fan of Doraemon? What did you think of the artwork? How about what the artists had to say? Let us know which ones are your favorites (and why) down in the comment section below!
Big thank you to our supporters
From their continous support, we are able to pay our team for their time and hard work on the site.
We have a Thank-You page dedicated to those who help us continue the work that we've been doing.
See our thank you page