KWEH!
This #ThrowbackThursday is a little different in format. I will be presenting a selection of songs from a respected anime song singer of the older generation. Isao Sasaki has been serenading manly anime themes since the 1970s. So, let me introduce the man himself and several of my favorite songs by him.
Who is Isao Sasaki?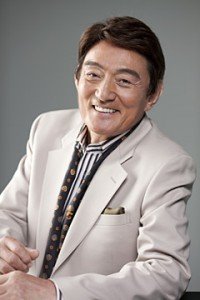 Sasaki Isao (佐々木 功, ささき いさお) was born in 1942. Professionally, his name appears in hiragana rather than kanji. He has acted in several tokusatsu, sentai dramas, and movies, and provided his voice acting skills in anime. Sasaki has also voiced the official Japanese dubs for Sylvester Stallone and Christopher Reeve (the 1980s Superman movies).
That said, he is most famous for his singing career. I had heard one of his songs long ago before I knew anything about Japanese anime culture and the singer himself. That song is the opening for Grendizer. To me, Sasaki is the equivalent of Andy Williams (Moon River, anyone?) of the oldie anime songs. Both singers have amazing masculine voices, always perform in dapper outfits, and have their respective signature songs. To date, Sasaki still exudes much charm, joy, swagger, and grace despite his venerable age of 74.
My Music Selections
Since Sasaki has many songs to choose from I have selected several numbers that I would like to introduce to you. Let's start with one of Japan's beloved super robots, Getter Robo!
Getter Robo (ゲッターロボ!Gettaa Robo!)
https://youtu.be/tS6cwTphZTw
The song starts out fast and powerful and it gets even more intense. Sasaki's vocals deliver a powerful onomatopoeia of, "GAN! GAN! GAN! GAN!" The song oozes with action, a sense of speed and urgency, epic-ness, heroism, and teamwork as often portrayed in the anime. It is a definite heart-pumping song. Though the finish is short and rather abrupt, it leaves a lasting and energizing impression on me.
---
Casshern (たたかえ!キャシャーン, Tatakae! Casshern)
https://youtu.be/aG2W05xJ76o
You get a sense of immediacy when the song starts. Sasaki's vocal comes in strong, encouraging Casshern to fight for mankind. He also calls out to Friender, Casshern's robotic dog sidekick, to help out. The ending series of drum beats feels like a "To Be Continued…" that alludes to Casshern's long and tiresome journey. It is a rather ambiguous aftertaste that asks me to continue watching Casshern's story.
---
Galaxy Express 999 (銀河鉄道999, Ginga Tetsudou 999)
The theme of Galaxy Express 999 (銀河鉄道999, Ginga Tetsudou 999) is a slow building ballad, much like the movie. The song slowly builds up to a melancholic chorus with a somewhat uplifting and wonderful instrumental section in the middle. Coupled with Sasaki's potent and soulful delivery, the song is something to savor. The second serving of the chorus is a tad more cheerful. It finishes slowly with a pang of sadness and a sense of awe.
---
JAKQ Dengekitai (ジャッカー電撃隊, Jakkaa Dengekitai)
https://youtu.be/rfDURuqvYvM
The song begins with mystery and urgency. As the calls of "JAKQ (pronounced as Jakkaa)" echo, I get a sense as if they are being summoned. Sasaki's vocals arrive at the scene and immediately take charge, accompanied by almost tribal chants. The chorus, however, brings the excitement down a notch to a ballad-y sequence. Probably alluding to the thankless nature of the team's job in keeping peace. The short ending seems to mirror the mysterious nature of the team. Maybe they disappear as quickly as they arrive?
---
Space Battleship Yamato (宇宙戦艦ヤマト, Uchuu Senkan Yamato)
This is one of my personal favorite anime songs of generations before. True to its militaristic tone, it starts with blasts of brass instruments and shots of drum beats. It screams patriotism, wonderment, heroism, and grandeur. When the chorus comes in, the emphasis is placed on the namesake, "Uchuu Senkan Yamato," very much in reverence. This song is one that commands respect. Isao Sasaki's deep voice is perfect as the weapon of choice.
Those are just a taste of his soulful, soothing, yet manly voice. I am wondering if there are any Isao Sasaki fans among you readers. Sound off below!
Sources: Wikipedia (Isao Sasaki), Anime News Network (Isao Sasaki), Wikipedia (J.A.K.Q. Dengekitai), and MyAnimeList.
Big thank you to our supporters
From their continous support, we are able to pay our team for their time and hard work on the site.
We have a Thank-You page dedicated to those who help us continue the work that we've been doing.
See our thank you page