KWEH!
It is a little late for a show from the romantic comedy/drama genre because Valentine's Day just passed some days ago. Okay, I take that back–there is no such thing as being too late for a drama rom-com title. Let's get to it! I present: the introduction to Hana Yori Dango, a super popular series that you may or may not heard of.
Groovy song, right?
History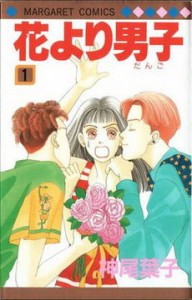 The original manga was penned by Yoko Kamio in 1992 and ran until 2003. The number of volume totals to 37 books. In 1996, Toei Animation created the anime television series. The story of the television anime differs slightly from the manga. Understandable since the manga was still ongoing at that time.
The name Hana Yori Dango (花より男子) is a bit of a pun. The literal meaning of the title is "Boys [Preferred] over Flowers". But dango is also a name of popular sweet snacks similar to mochi. It is usually served on a skewer. Our supreme leader, Katy, tried making dango cookies in this post.
Brief Story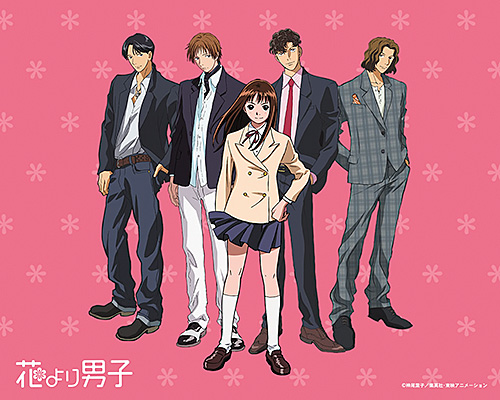 Tsukushi Makino comes from a middle class family. She enrolled in and was accepted at Eitoku Academy, an elite school for those with high social standing and lots of digits in their bank accounts. The school students are controlled by the "Flower Four", or F4, a group of four boys lead by Tsukasa Domyouji. Domyouji is the arrogant son of Japan's wealthiest and most powerful family.
F4 quickly noticed Makino for her distinctly different behaviors, values, and personalities. Unlike other girls at school, Makino was annoyed by the high and mighty attitude of Domyouji. As she gets more involved with the group and school, she begins to fall in love with Rui Hanazawa, F4's cool, quiet, and more laid-back member. Of course, things are not always what they seem and feelings will be broken and mended. Such is the nature of teenage life.
Various Other Media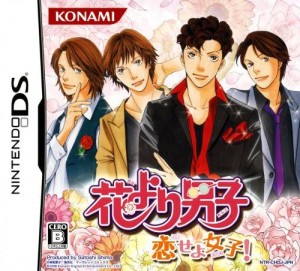 On top of the TV animation, Hana Yori Dango has been adapted into: live-action movies, an anime film (a re-imagining of the characters and certain parts of the story), musicals, drama CDs, and even games.
Hana Yori Dango was a Big Craze in Asia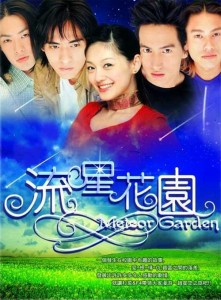 Speaking of adaptations, many countries in Asia were really crazy about the franchise. No, it is not because of the manga, but because of a Taiwanese adaptation of the story. Called Meteor Garden, the 2001 adaptation placed the story in Taiwan.
It starred Barbie Hsu (then an already famous singer in Taiwan), Jerry Yan (as Tsukasa Domyouji's equivalent character Daoming Si), Vic Zhou (Hanazawa Rui or Hua Ze Lei), Ken Chu (as Nishikado Soujiro or Xi Men), and Vanness Wu (as Mimasaka Akira or Mei Zuo).
The popularity of the show also launched the four leading guys as the boy band F4. They continued to perform together years after the show ended, proving their own staying power and skills as entertainers and a singing group. Though, in 2007, they ceased using the name F4 due to objections by the Japanese publisher Shueisha. Instead, the group renamed itself JVKV.
Meteor Garden was broadcast in many different Asian countries such as Singapore, Hong Kong, Indonesia, and the Philippines.
Reportedly, Indonesia also created a TV drama based on the Taiwanese drama. It is called Siapa Takut Jatuh Cinta, which roughly translated as "Who's Afraid to Fall in Love".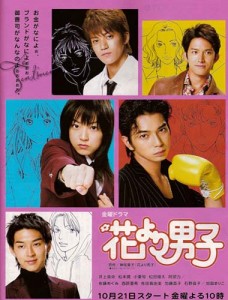 Oh, the craze did not stop there. Japan also has its own J-Drama adaptation. Hana Yori Dango (TV) aired in 2005. Among the cast, people are probably most familiar with Jun Matsumoto (affectionately called MatsuJun by his fans) playing as Domyouji. It returned in 2007 with Hana Yori Dango Returns with the same cast, picking up after where the first season left off.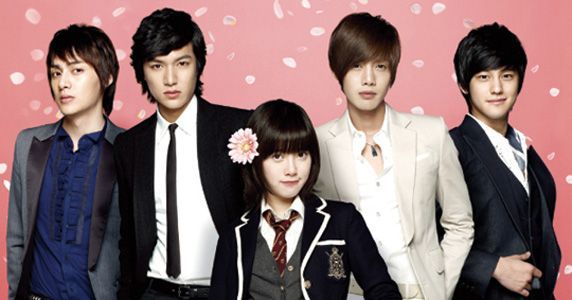 No, we are not done. South Korea also adapted the story. Boys Over Flowers (TV series) takes the same story concept and characters and recreated them with K-Drama flair. Again, many eyes were glued to the TVs because the series became extremely popular when it launched in 2009.
Mainland China also followed with its own TV drama in 2009. However, this one is supposedly unlicensed. The name of the show was altered to Meteor Shower and all the character names are also changed.
Phew. Wait, there is more! MTV India aired Kaisi Yeh Yaariaan, a 2014 adaptation loosely based on Hana Yori Dango. The premise starts similarly with a young girl getting admitted to a super elite school (this time via scholarship) and becoming the target of the band of the most elite boys. Well, this time they are named FAB5 because the writers decided to increase the number. Just like the original material, Kaisi Yeh Yaariaan has all the love polygons, intrigue, drama, romance, and true love ending.
Okay, I think that is the end. *gasp wheeze hack cough*.
New Season (Sequel)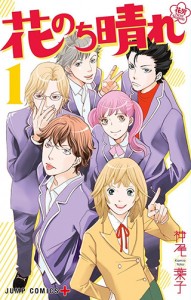 Early last year, Viz Media added the first three chapter of the new Hana Nochi Hare ~HanaDan~ Next Season, or Boys over Flowers 2, to its digital magazine Weekly Shonen Jump. Yup, this is a new manga written by Yoko Kamio. It takes place after the graduation of the original characters. From Wikipedia's description of the story, it seems to thematically rely on the idea that people often hide their real selves. By the way, the group is now called Correct 5 and consists of one girl and four boys.
If you are interested in the original series, Viz Media used to publish the physical books back in 2003. Now you can get the digital version on your preferred devices by clicking this link to Viz Manga. Or if you are interested in the new Boys over Flowers 2, you can jump in here.
For those of you who have read Next Season, please let me know why the group is called Correct 5. I am rather curious.
Next week's TBT will be a special one. Involving someone named Gregory Vendramini and one of his favorite games ever. Stay tuned!
Sources: Hana Yori Dango Wikia, Anime News Network (manga information), Wikipedia (Boys over Flowers), MTV India, and Anime News Network (Season 2).
Big thank you to our supporters
From their continous support, we are able to pay our team for their time and hard work on the site.
We have a Thank-You page dedicated to those who help us continue the work that we've been doing.
See our thank you page