KWEH!
It will almost be a full moon when this article is up. Believe me, I checked. But that has nothing to do with our #ThrowbackThursday this week. Full Moon o Sagashite is a sweet love story dealing with deaths, aspirations, mahou shoujo themes, and moving forward.
Full Moon o Sagashite happens to be one series that was mentioned often enough back when it was more popular. I remembered some of my friends bringing up the name often enough that it has stuck with me for quite a long while. It helps that the opening song is very upbeat and memorable.
The song title is "I Love U" by THE★SCANTY.
Its waning and waxing (=p) popularity got me interested in researching it. So really, this article is also my attempt in finding out more about Full Moon.
History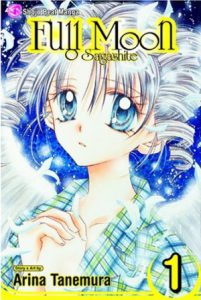 Arina Tanemura (種村 有菜, Tanemura Arina) created Full Moon o Sagashite (満月をさがして, Furu Muun o Sagashite) in 2002. Tanemura stylized the reading of the kanji 満月 as furu muun, instead of the usual mangetsu or mitsuki. The kanji means "full moon." The original manga ran fairly short at seven volumes. In the US, Viz Media holds the rights to distribute the manga.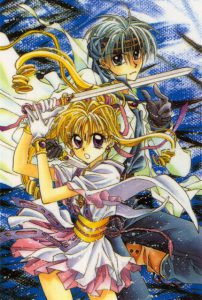 Other than Full Moon, Tanemura has penned other shoujo manga such as Kamikaze Kaitou Jeanne, The Legend of Princess Sakura, and The Gentlemen's Alliance Cross.
By the way, Tanemura had a panel at last year's AnimeFest 2015. Katy, our leader, covered her trip to the convention, as well as Tanemura's panel in this article.
In the same year as when the manga was picked up for distribution, an anime adaptation was made. There are 52 episodes with some differences in the secondary story points and certain parts of the endings. The TV anime was created by Studio DEEN, the studio that produced Sakamoto Desu ga?, Jigoku Shoujo, and Getbackers. The series was directed by Toshiyuki Kato.
The Beginning Story
Mitsuki Kouyama (神山 満月 Kouyama Mitsuki, note that Mitsuki means "full moon" as mentioned above) is a sickly twelve-year-old girl who wants to be a popular singer. Mitsuki has promised her childhood crush, Eichi Sakurai (桜井 英知 Sakurai Eichi), that she will be a singer popular enough so she can finally confess her love to him. Unfortunately, Mitsuki is ridden with a tumor on her vocal chords, making her unable to sing. One day, she is able to see two apprentice shinigami (death gods or grim reapers) who appears before her. Takuto Kira (タクト キラ) and Meroko Yui (めろこ ユイ), the shinigami who only Mitsuki can see, accidentally reveal that Mitsuki only has a year left.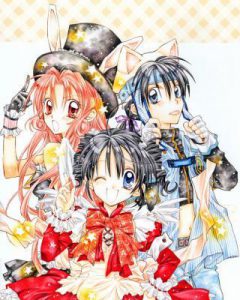 Not wanting to accept her looming death without fighting, Mitsuki braves herself to go to a pop idol audition. The two shinigami manage to stop Mitsuki before she enters the building. Mitsuki was able to move Takuto and convinces him that if she fails the audition, she will obey her fate. Takuto gives Mitsuki a last chance and transforms her by using his own blood to change her into a healthy sixteen-year-old. In an attempt to discourage and sabotage Mitsuki's audition, Takuto disguises himself as one of the judges.
Mitsuki's new alter ego stuns the judges with her performance, including Takuto. She signs on with a record company without any knowledge from her family members. In order to hide her true identity, she chooses the name "Full Moon," a word play on her own name.
Takuto and Meroko end up supporting Mitsuki during her last year of life. A lot of things will happen in this short one year. We will learn that Takuto would end up falling for Mitsuki, about who the shinigami are, about what happens to Eichi, how small the world is, and ultimately, what happens to Mitsuki at the end of her one-year grace period.
Reception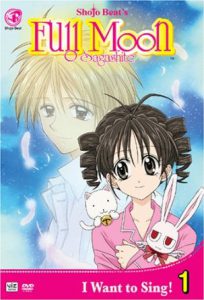 The anime adaptation was well received in Japan when it aired on Tokyo TV. MyAnimeList users' reviews for the anime are also generally positive.
The manga's illustration has pretty amazing detail work. Most of the attention was poured onto the characters. It has cute costumes, humorous effects, and lavish line works on the face and hair. Unfortunately, I am unable to find out if the manga did well. Do any of you know?
On the other side of the news, Viz Media only released eight DVD volumes containing 28 episodes. It is speculated that the company stopped releasing the DVDs due to low sales. Quite a pity.
What Do I Think of Full Moon o Sagashite?
In preparation for this, I decided to speed read several volumes of the manga. I found myself not wanting to stop. I like that the story deals with darker and rather mature themes.
Though I found the theme of suicide rather inappropriate for the intended audience (children, especially girls above 12 or 13 years old), the visual depiction of the events are handled with care. Yes, there is minimal blood (some characters getting small cuts and such) but there is no gore.
I also like the roller coaster ride of misery and tragedy, and hope and optimism in each chapter.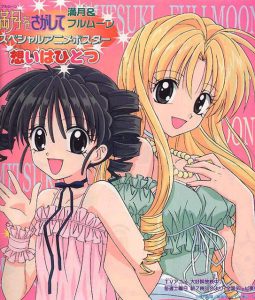 The transformations from young and sickly Mitsuki to Full Moon almost feels like a mahou shoujo trope. Mitsuki changes from someone who is not able to sing into someone empowered to perform similar to Usagi Tsukino becoming Sailor Moon, Minky Momo, or Madoka Magica. However, Full Moon o Sagashite downplays this magical girl aspect heavily, because most of the time, the transformation is not shown at all. At times, Full Moon has to transform back to young Mitsuki if she overexerts herself or if Takuto is considerably weakened.
If by this point, I have piqued your interest, I highly recommend reading the manga since it is fairly short. Now, if only the DVD set were complete…
Sources: TV Tropes (Full Moon o Sagashite), Wikipedia (Arina Tanemura), Anime News Network, The Artifice, Full Moon Wikia, and Fandompost.com.
Big thank you to our supporters
From their continous support, we are able to pay our team for their time and hard work on the site.
We have a Thank-You page dedicated to those who help us continue the work that we've been doing.
See our thank you page