Journey into the romanticized land of working in a bookstore with Honda-san. This skeleton bookseller recounts tales of the variety of customers they have seen in their days – the good and the bad. Take a peek behind the curtain at daily life in a bookstore, from stocking the shelves and handling sales reps to navigating foreign customers and recommendation requests.
The Good Customer Service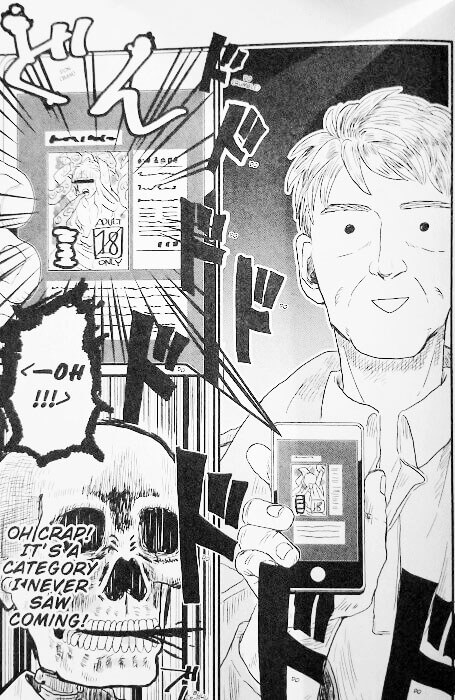 Skull-face Bookseller Honda-san excels at being an extremely relatable story. Who else would make such a perfect self-insert character than a literal skeleton? We've all got one! That's not to say that Honda-san doesn't have their own distinct personality and thoughts, but the appearance of the character just works well with linking your own experiences to the situation they are in.
Honda-san is a real treat of a narrator. Their delightful and sometimes too-innocent seeming personality instantly makes them a protagonist you adore and want to see find happiness and success. The cast of supporting characters is also a delight. They are given unique headgear and matching names, but are far from one dimensional. Through the course of the first volume, you begin to learn their strengths in the bookstore and see their personality really start to develop with each appearance. It brings me great joy to see how they interact with Honda-san in the backroom, much like how I remember the casual and comedic banter with my own coworkers away from customers' eyes.
Regardless of the kind of customer-facing positions you may have held, there are bound to be interactions you come across in this series that make you go "OH MY GOSH – this is just like that one guy I dealt with in the winter of 2012!" It is not all bad stories though; there is a fair amount of happy customers and the small, brief bonds you share when you successfully help them.
The Bad Customer Service
Honestly, I don't know what to say. Skull-face Bookseller Honda-san was a wild ride from start to finish. The only possible thing that may detract from your enjoyment is the name dropping. They mention a lot of real series, publishers, and the like by name – blurring out a letter or two for legal reasons. A lot of these may be obvious to you, but some may fly over your head. In my case, I understood quite a few, but there are plenty that I did not know. This did not stop me from enjoying this first volume, but it may mean that some extra tidbits of humor were lost on me at the moment. I say at the moment because there is an amazing translator notes section in the back that does its best to get you up to speed if you didn't know something.
Checkout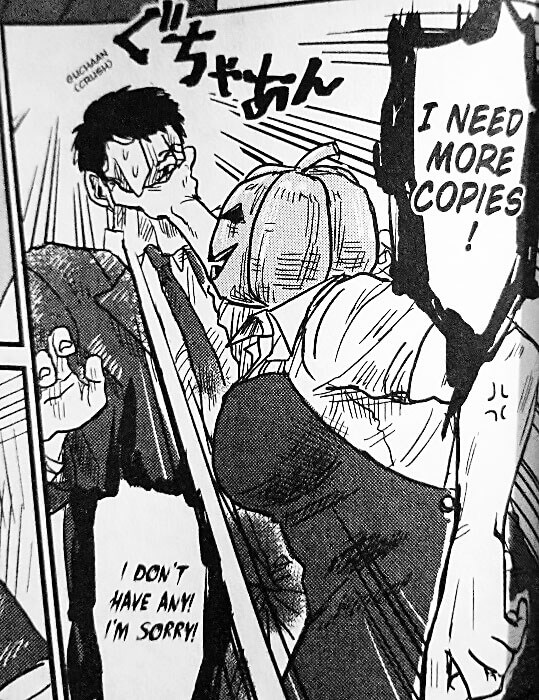 If you have ever worked in the service industry, this is the manga for you. Very briefly, I was a bookseller for a chain specializing in buying and selling used books and other media. Although my customers were not asking for BL (boys' love) and shonen, here in the south what they sought were Amish romances and old battered copies of westerns. While reading this I often thought back to experiences of my own – both in the bookstore and in the large retail giant I worked for previously. These scenarios may be oddly specific, but somehow share a very relatable quality for those that have worked in customer-facing positions. It seems even across the globe, the extreme customer service-oriented method has workers deep in its clutches.
---
Skull-face Bookseller Honda-san is published by Yen Press and is available from Barnes & Noble, and RightStuf.
For more information about Skull-face Bookseller Honda-san, visit Anime-Planet.
Huge thank you to Yen Press for providing us a copy to review!
The Good
Extremely relatable scenarios
Hilarious, outrageous, and expressive art
Feels like an 'inside look' at an industry
Every chapter is comedy gold
The Bad
Not a good fit if you do not know about genres of manga
Large supporting cast features generic descriptive 'names'
Secondhand embarrassment
Flashbacks to your customer service horror stories
Big thank you to our supporters
From their continous support, we are able to pay our team for their time and hard work on the site.
We have a Thank-You page dedicated to those who help us continue the work that we've been doing.
See our thank you page