During this past winter season, we here at Yatta-Tachi watched quite a few shows, some of which got more coverage than others: Haruta & Chika, ERASED, Dimension W, and Grimgar of Fantasy and Ash. While I thought ERASED provided plenty to discuss week after week, there was one other show that came out on top in terms of per episode discussion: Showa Genroku Rakugo Shinju. I was so caught up in ERASED that, despite having very positive first impressions for Rakugo, I let myself fall behind its weekly release. Its layered storytelling through characters' actions, dialogue, scene composition, music, and, yes, the rakugo performances make this a near-perfect show.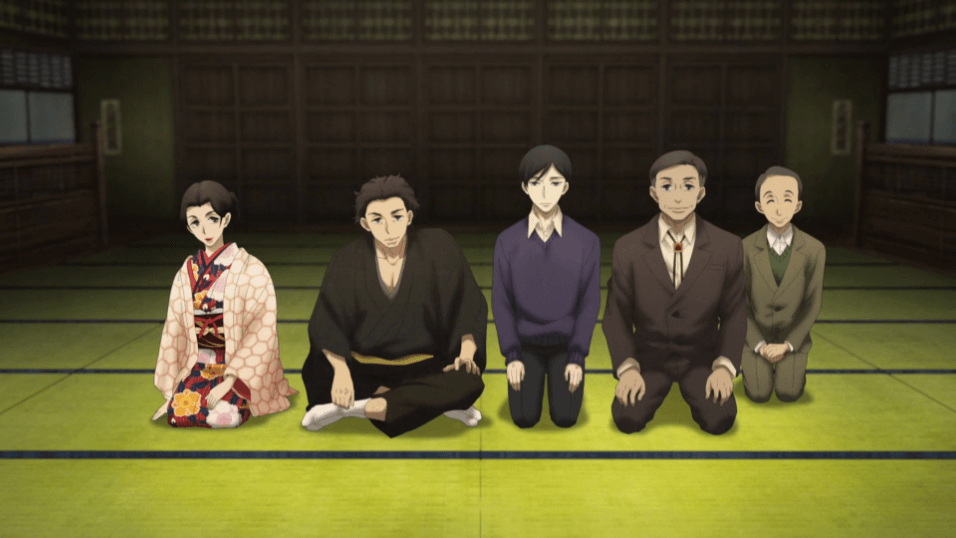 The show's setting predominantly remains in the time of Kikuhiko's youth as he tries to discover his own rakugo. His difficulties are in parallel with his fellow apprentice and friend, Sukeroku. Their friendship is complicated by their own ideologies of what rakugo should be, as well as Kikuhiko's jealousy towards Sukeroku. Witnessing the portrayal of this relationship, as well as the relationships amongst all of the characters in the show, is like breathing in the freshest air after you've been starved of oxygen: the difficulties aren't spelled out in all caps for the audience; subtlety abounds. We don't get recurring moments of Kikuhiko saying "I'm not good enough" or "Why can't I beat him?" Are there moments he mentions his frustrations through thought? Yes, but the important factor is when he brings those up. The way events play out is so carefully crafted and purposeful. There isn't a single wasted scene in the show, something I was quite struck by. Each moment holds a purpose, whether it's to further develop the characters, their relationships, or move the story to its next point of discussion. The characters feel multifaceted: even though he tells his story much like a rakugo performance, with developments even reflecting elements of rakugo stories told throughout the show, no member of the cast feels like a caricature. This is quite the achievement: there are some characters that appear maybe a handful of times, but they are given enough diversity in their appearances to feel like actual people rather than two-dimensional plot devices.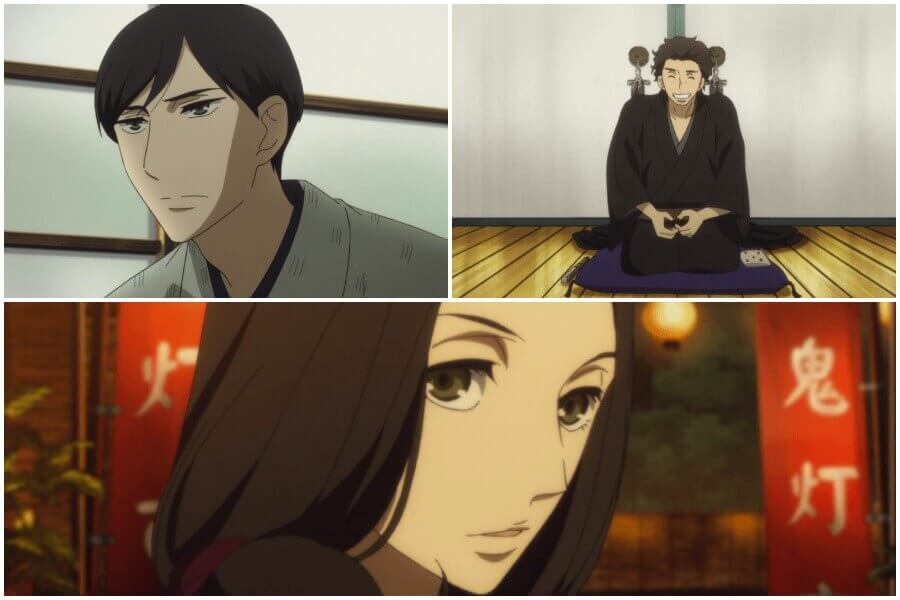 The acting plays a huge role in this. If ever there was an anime that was perfectly cast, it's this one. The range of emotions and situations these characters undergo and find themselves in is large, and the voice actors really nail the subtleties of their characters. Akira Ishida, the voice of Kikuhiko, and his older self under the name of Yakumo, has the difficulty of playing the same character at two very different points in his life, and he gives both performances such nuance and weight. His rakugo scenes, while not as immediately entertaining as Sukeroku's (acted wonderfully by Koichi Yamadera), have such depth to them. His stand-out moment, if forced to pick only one, is Kikuhiko's telling of "Shinigami." The way he is able to transform his voice along with his character's perspective while also maintaining himself for the rakugo tale is absolutely incredible. Of note is the fact that the show's three leads (Kikuhiko, Sukeroku, and Miyokichi) are played by veteran voice actors; Ishida may be famous to many fans for his portrayal of Kaworu Nagisa from the Evangelion franchise. Yamadera, also in Evangelion as Ryoji Kaji, is likely famous to many fans as the Japanese voice for Spike Spiegel from Cowboy Bebop. Finally, Megumi Hayashibara, playing Miyokichi here, starred in both Evangelion and Cowboy Bebop as Rei Ayanami and Faye Valentine, respectively. It comes as no surprise that veterans of voice acting were cast for these roles: their expertise is easily apparent, and it makes perfect sense to cast individuals with experience in a variety of mediums (radio, TV shows, tokusatsu shows, etc.), let alone genres in the anime industry.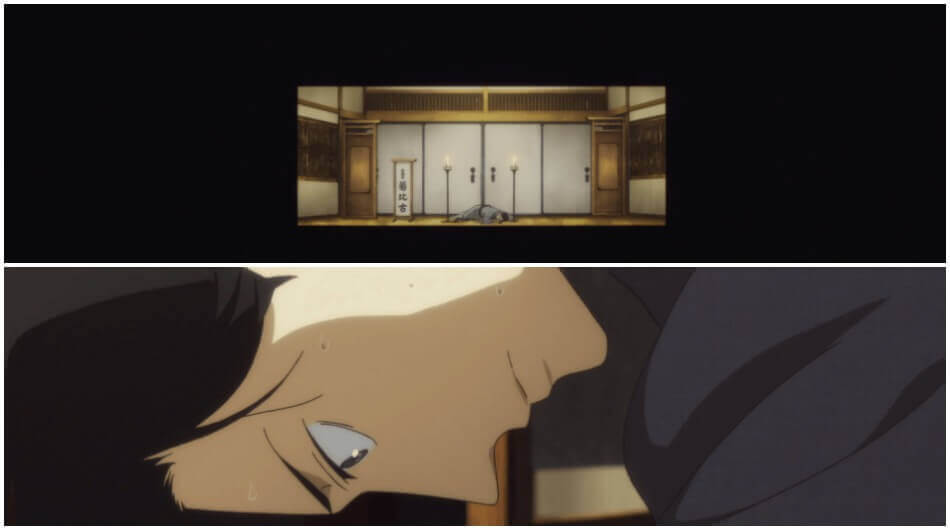 The moment Kikuhiko tells "Shinigami" as a shun'ichi is also lifted via the direction. Mamoru Hatakeyama's direction for this scene, as well as the show overall, is masterful. Each scene is loaded with nuance and meaning. The emotions that are invoked just by the direction are incredible: "Shinigami" is filled with pain, loneliness, and despair, all while portraying the height of Kikuhiko's skilled performance. Hatakeyama's direction is further enhanced by Kana Shibue's music composition. The soundtrack for Rakugo is perfect. The balance of instruments that were more modern to Japan at the time versus those within Japan's classic history is spot-on, and no piece comes off as being filler for the background. The use of music is just as purposeful as everything else in this show. The arc of Kikuhiko's first public performance is fully captured in the music underneath it: the mid-tempo piano melody captures its downward spiral, and as his performance crashes to completion, the piano's melody becomes louder and louder until its abrupt stop, allowing his final line to be said in silence. There are so many other instances of the soundtrack acting as an important force in the show's storytelling, and its an element that doesn't seem to get fully explored in many modern anime.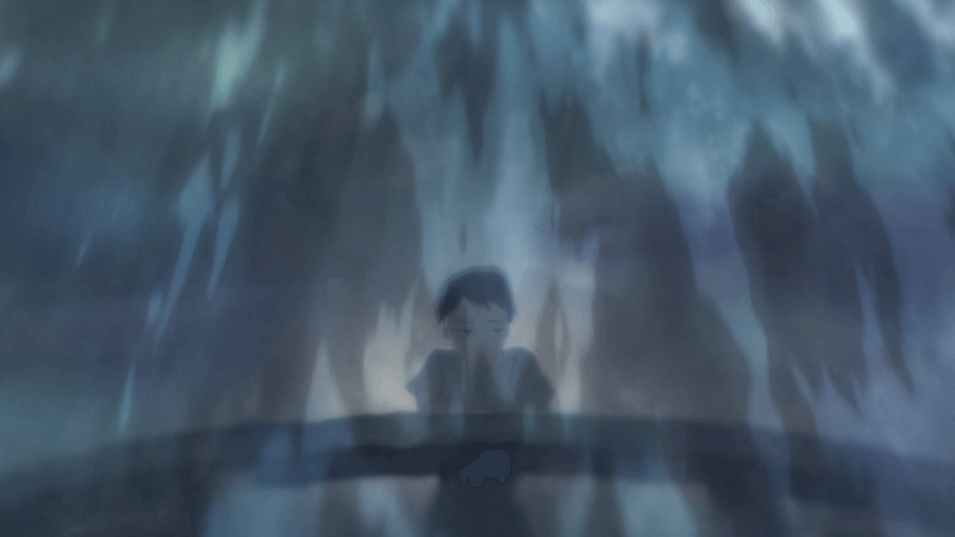 The animation shines during the rakugo performances, and while it isn't necessarily poorly done the rest of the time, it doesn't stand out that much. There's some use of CG, as is the case with most shows nowadays, though its use here is more limited than I've seen in other works as of late: shots of water and banners swaying in the breeze are a few areas where I noticed it. Even when it is used, it isn't too poorly done, despite it still being apparent. If the show has any other weaknesses, it's that there are moments when it gets close to becoming overly dramatic. This isn't a problem most of the time since those few moments usually end up subverting the typicalities of similar scenes. The finale of Yakumo's story, though, left me surprised. While containing subtleties that leave you questioning the actions that take place on the screen, I can't help but feel the conclusion may have been a bit over the line in terms of dramatics. In a show about rakugo, though, this sort of thing may be rather appropriate. I was also a little disappointed that the end of Yakumo's tale doesn't return us to the present in which it began, but further along in time. These gripes, though, pale in comparison to what the show offers.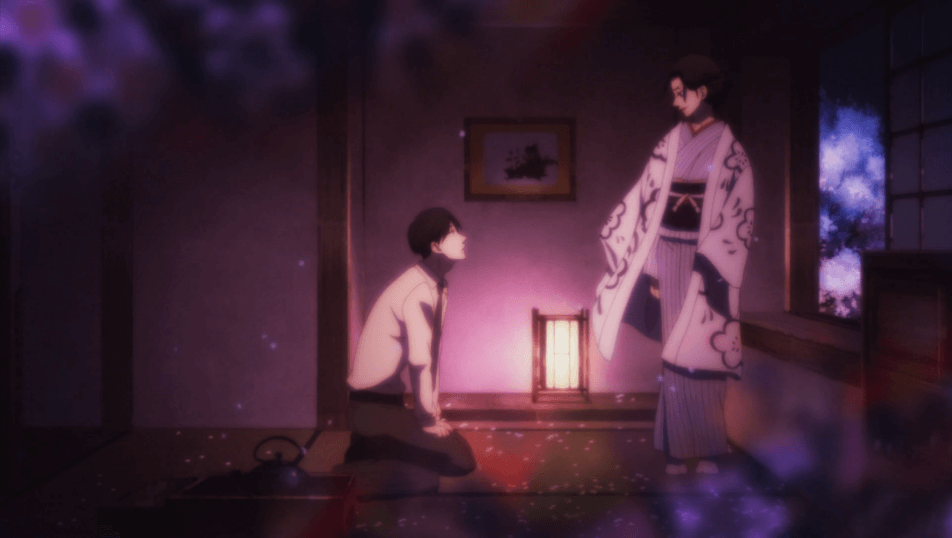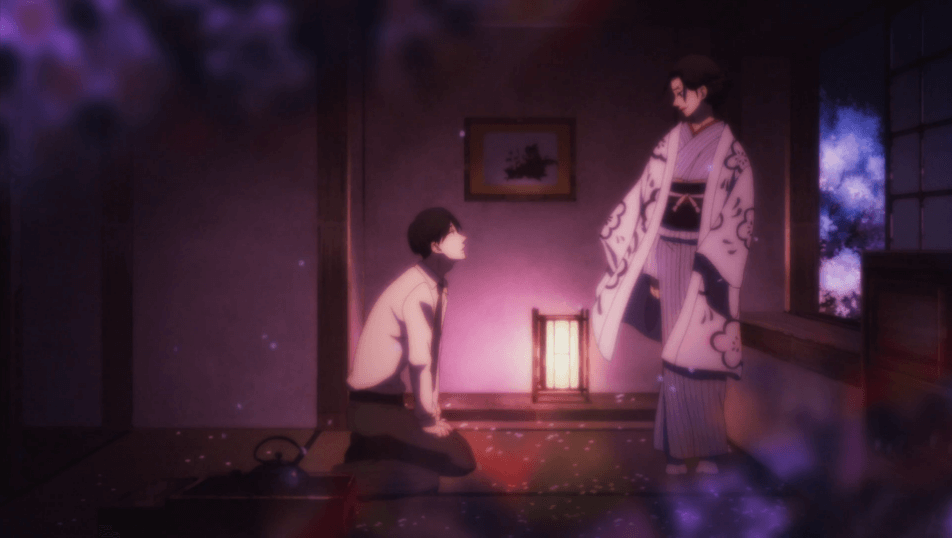 The story all of these factors help to create is one of intrigue and pain, humor and sorrow. These emotional highs and lows are characterized by the rakugo stories told throughout, though the show isn't solely about rakugo. It comments on Japan's development during the post-World War II era, using rakugo as a point of entry for the discussion. From societal and gender roles to propriety and the flow of time, Rakugo explores so much in its twelve episodes without feeling strained or overwhelming. This is the advantage of subtle storytelling, and the show benefits exponentially from it. There's nothing like seeing expert craftsmanship at work, and Showa Genroku Rakugo Shinju not only displays the craft of its characters but its creative team, as well. If you haven't seen it, let your mind be taken back to an earlier point in Japan and experience a story that's well on its way to being a modern anime classic.
The Good
The story is expertly told through excellent directing
The characters are layered and perfectly captured by their actors
The soundtrack matches the era and the mood of each scene perfectly
Side characters are given quite a bit of depth
The levels of drama and humor match-up well with that of the rakugo performed
The Bad
The animation can be a little lacking outside of the rakugo performances
Big thank you to our supporters
From their continous support, we are able to pay our team for their time and hard work on the site.
We have a Thank-You page dedicated to those who help us continue the work that we've been doing.
See our thank you page